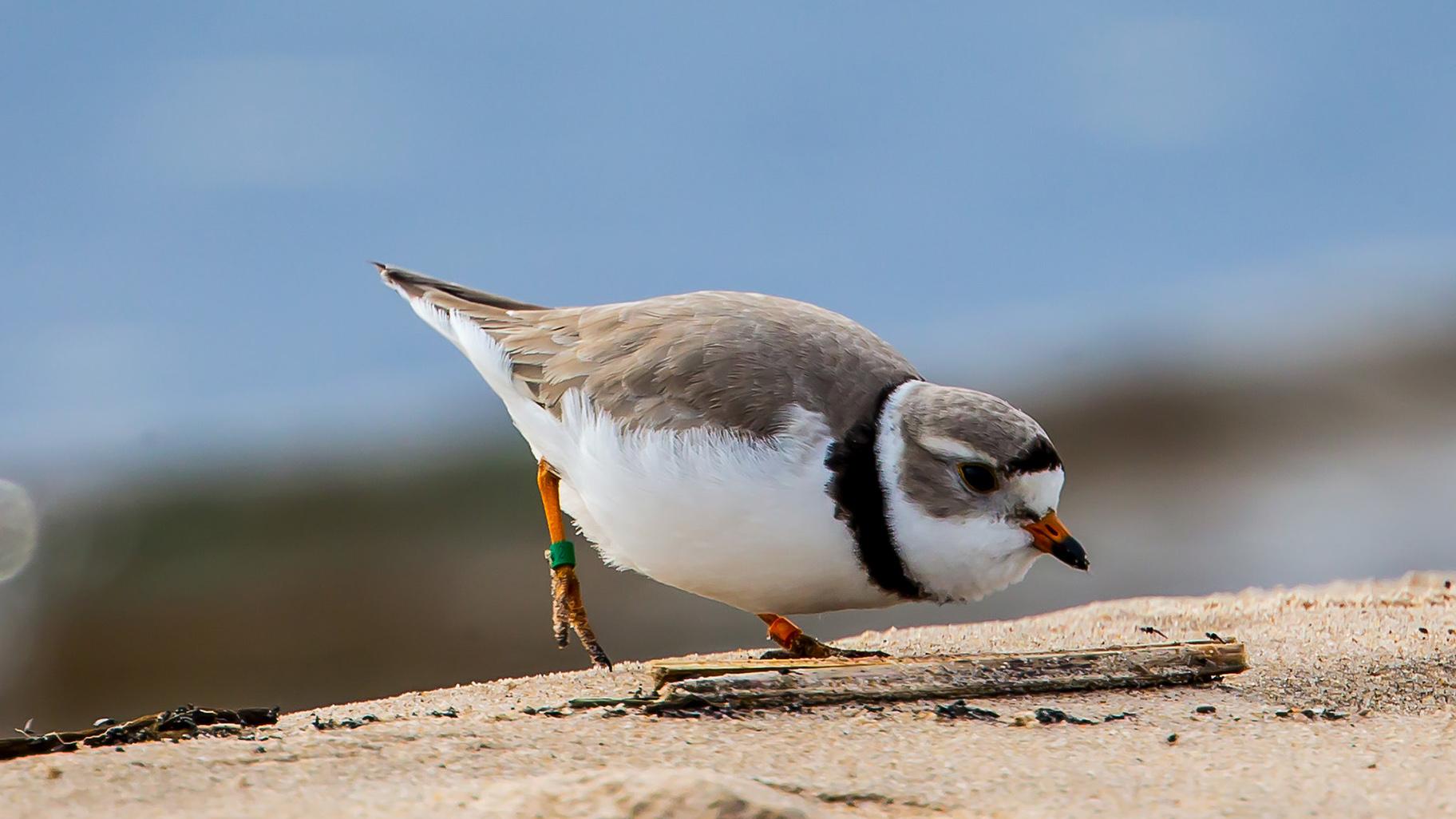 A piping plover on Waukegan Beach in 2018. (Ethan Ellis / Flickr)
Congratulations are in order for Chicago's favorite lovebirds, who are parents again.
Monty and Rose, a pair of endangered piping plovers that stole Chicagoans' hearts in 2019, returned to nest at Montrose Beach back in May, and a clutch of four eggs were spotted by the end of the month. On Thursday, plover monitors reported that all four chicks successfully hatched.
It's exciting news for conservationists, who've been keeping a close eye on the Great Lakes piping plover population, once down to fewer than 20 breeding pairs. In 2019, that number rebounded to 71, and so far in 2020, 47 known piping plover breeding pairs have been recorded. 
Though Monty and Rose were at the center of a media storm in 2019 (their surprise appearance forced the cancellation of a planned music fest), this year they've been able to go about their business in relative privacy, in large part because of the coronavirus-related shutdown of the lakefront. But with the lakefront trail set to reopen Monday, the plovers' guardians are concerned for the birds' safety.  
According to Louise Clemency, field supervisor for the U.S. Fish and Wildlife Service in Chicago, piping plover chicks leave the nest after hatching and run around finding small bugs to feed themselves. While Monty and Rose will be watching out for predators like gulls and raccoons, other threats, such as off-leash dogs or camera-toting curiosity seekers can flush the birds and separate the chicks from adults.
"We are trying to emphasize to people that the lakefront is closed anyway for COVID," Clemency said, referencing the continued closure of lakefront beaches. "But additional precautions are important for the plover chicks, who will be very vulnerable for the next three weeks."
Piping plover monitors — coordinated by the Chicago Audubon Society, Illinois Ornithological Society and the Chicago Ornithological Society — are on-site to protect the nest and explain to visitors the importance of giving the tiny hatchlings space to eat and rest, she said.
People hoping to catch a glimpse of the piping plovers should follow all public health guidelines related to the coronavirus, including maintaining 6 feet of social distance from others and wearing masks, particularly on the trail near the nest, which is narrow. Dogs must remain leashed and people should refrain from encroaching on fenced-off areas. If the piping plovers wander into a public area, give them at least 20 feet of space so they don't get spooked and separate from each other. 
Contact Patty Wetli: @pattywetli | (773) 509-5623 |  [email protected]
---