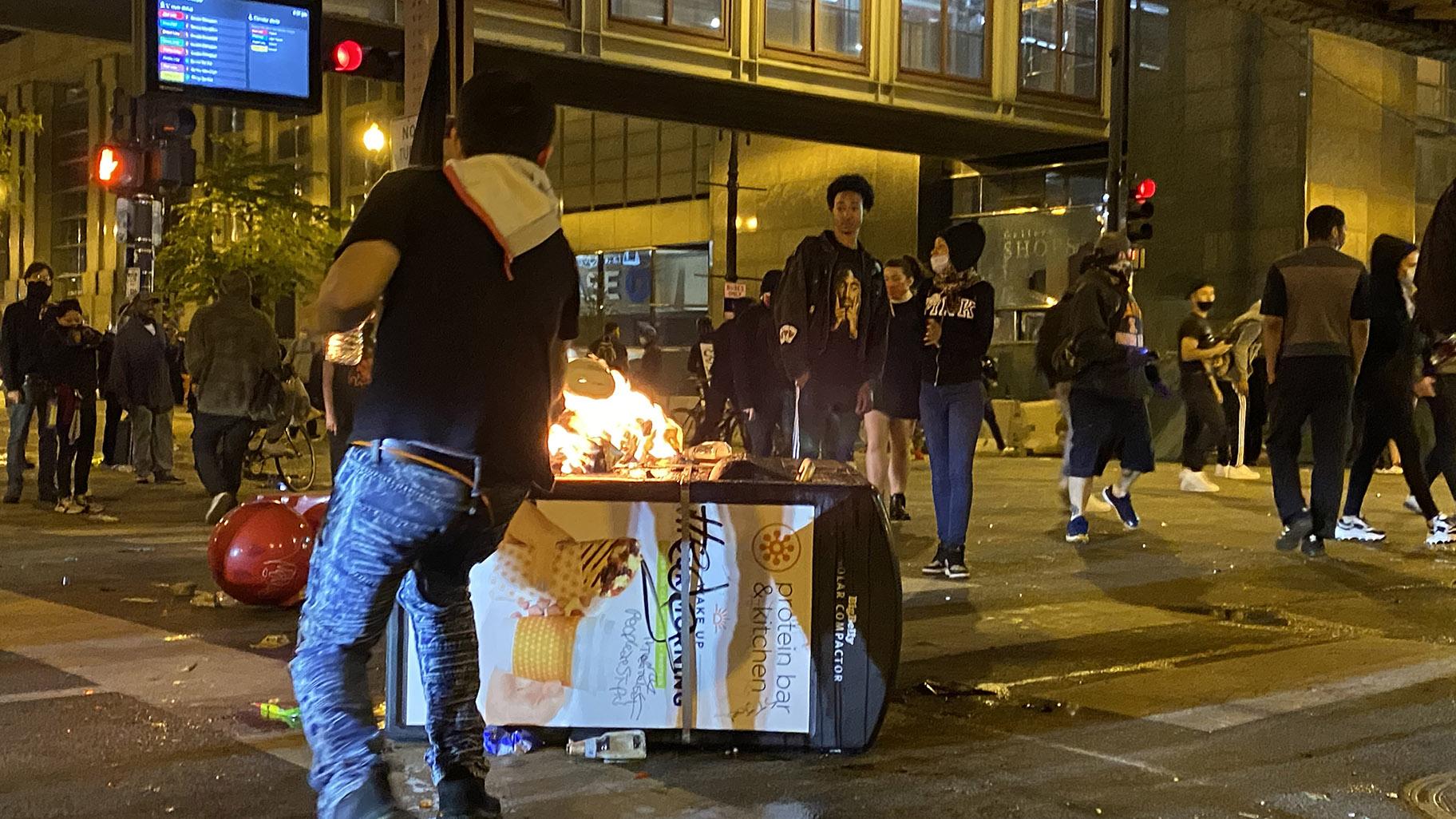 A chaotic scene in Chicago on Saturday, May 30, 2020. (Hugo Balta / WTTW News)
The Chicago City Council violated the Open Meetings Act by holding an online conference call with Mayor Lori Lightfoot in the wake of unrest that swept the city following the death of George Floyd in Minneapolis police custody, according to a lawsuit filed Friday by the Better Government Association.
The calls, arranged by Lightfoot, became routine after restrictions put in place to stop the spread of the coronavirus made it impossible for aldermen to meet in person.
The suit comes after WTTW News obtained a recording of an online conference call held by the mayor's office to brief all 50 aldermen on the city's response to the unrest.
The calls "violated nearly every meaningful (Open Meetings Act) requirement, including the statutory obligation to provide notice of meetings, to allow public comment at meetings, and to make meetings 'convenient' and 'open' to the public," according to the lawsuit.
Law Department spokesperson Kathleen Fieweger said the city believes the "informational conference calls were not subject to the Open Meetings Act" and will contest the lawsuit in court.
The Open Meetings Act guarantees citizen access to "all meetings at which any business of public body is discussed or acted upon in any way," except under limited and specific circumstances. A meeting cannot be closed to the public until an affirmative vote during an open meeting, according to the law. 
The suit filed in Cook County Circuit Court asks a judge to order the City Council to follow the Open Meetings Act by holding such meetings in public and providing advance notice, agendas and an opportunity for public comment. It also seeks the release of minutes and/or recordings of all such meetings, according to the BGA.
Lightfoot said Tuesday that during "tough and difficult times" aldermen and the mayor "ought to be able to have candid conversations."
"There are a lot of incredible emotions that were shared on that call by fellow aldermen," Lightfoot said. "Now all of them don't feel secure or safe coming together with their colleagues because of one individual who decided to illegally tape a conversation that was intended to be a private conversation among all of us. Shame on him. Shame on him. That's what I say."
Contact Heather Cherone: @HeatherCherone | (773) 569-1863 | [email protected]
---