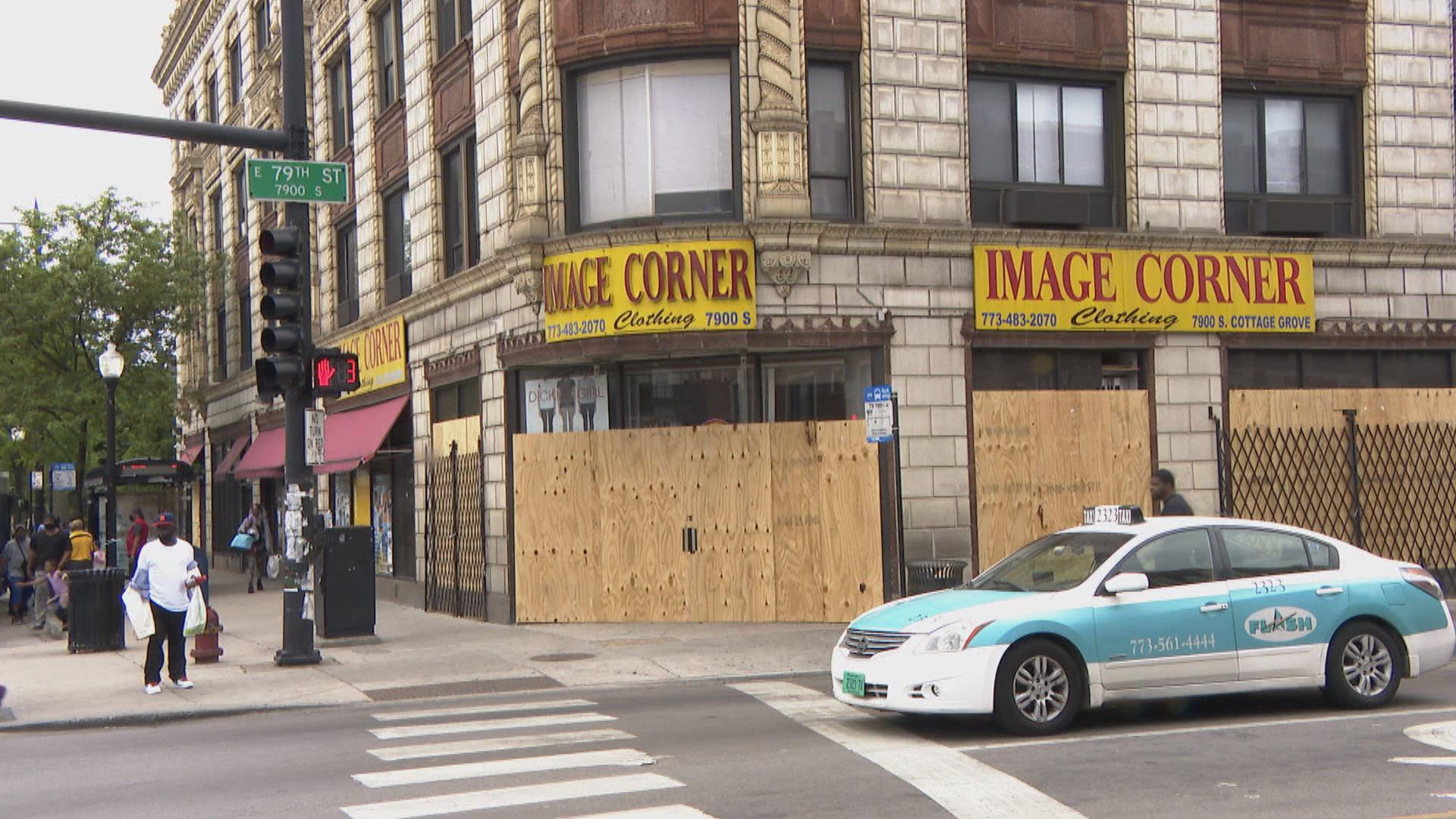 A business is boarded up in Chicago's Chatham neighborhood on the city's South Side on Wednesday, June 3, 2020, following unrest over the killing of George Floyd. (WTTW News)
City officials announced Saturday they were prepared to spend as much as $1.2 million to hire 100 private security guards to patrol the South and West sides to protect businesses from a second weekend of looting and damage.
Mayor Lori Lightfoot awarded emergency, no-bid contracts to Illinois Security Professionals, AGB Investigative Services Inc. and Monterrey Security on Friday using her authority under Gov. J.B. Pritzker's Monday disaster declaration in Cook County.
The unrest was sparked by the death of George Floyd in the custody of Minneapolis police on May 25.
"In response to requests for additional supports and to free up our police personnel to be as nimble as possible in responding to district-level calls for service, the city partnered with local businesses to ensure they had additional security to safely operate after experiencing looting and property damage last week," according to a statement from the mayor's office.
The private security guards will be assigned to protect shops, grocery stores and pharmacies, officials said. The guards, who are unarmed, do not have policing powers, and will be required to wear visible identification, according to the mayor's office.
Their presence is designed to deter looters and they've been instructed to call police when they see criminal behavior, according to the mayor's office.
We're partnering with local businesses to ensure Chicago's neighborhood commercial corridors can continue to operate safely. (1/3) pic.twitter.com/NnUUuhD8uq

— Mayor Lori Lightfoot (@chicagosmayor) June 6, 2020
They are all visibly identified and solely in place to monitor activity on commercial corridors and notify CPD if any illegal activity occurs. This extra set of eyes and ears will support efforts to deter looters. (3/3)

— Mayor Lori Lightfoot (@chicagosmayor) June 6, 2020
---
The final cost of the security guards will be determined by the need for their services Friday, Saturday and Sunday, according to the mayor's office.
The mayor's decision to hire private security guards to patrol the South and West sides brought an immediate and furious response from two North Side aldermen, who said it would make the tense situation in Chicago worse and threaten black and Latino Chicagoans.
"It's even more concerning [because] we've heard from hundreds of neighbors this week who feel police make them feel less safe, not more," Ald. Matt Martin (47th Ward) tweeted. "We need to take these concerns seriously, and not add unaccountable security officers to the streets."
In addition to the private security guards, Lightfoot ordered city workers to use 300 garbage trucks and salt spreaders to block off streets leading to business districts on the South and West sides to prevent damage and looting.
Streets were also blocked off downtown, where thousands of people gathered to protest Floyd's death and call for police reform in Grant Park and Union Park.
Photos and Video: Death of George Floyd Draws Thousands to Chicago's Union Park for Rally, March
A 9 p.m. to 6 a.m. curfew remains in place in Chicago.
Lightfoot's decision to hire private security to help South and West side businesses came after a week in which she endured repeated criticism that her decision to use 375 National Guard troops to block off downtown allowed unrest to spread unchecked to the South and West sides.
Lightfoot called that criticism "not true and illogical."
Aldermen pleaded with the mayor on Sunday to help them protect businesses in their wards from more looting, according to a recording of an online conference call obtained by WTTW News.
On that call, Ald. Pat Dowell (3rd Ward) asked Lightfoot to use the National Guard to protect grocery stores and pharmacies, but the mayor said "they are not a magic tool, they are the military." 
In other cities, National Guard troops have made things worse, "not better," Lightfoot said.
All Monterrey Security "employees go through a rigorous background check, extensive classroom and field training and have been certified by the State of Illinois," according to a statement from the company.
Representatives of Illinois Security Professionals and AGB Investigative Services Inc. could not be reached Saturday.
Along with Ald. Daniel La Spata (1st Ward), Martin objected specifically to the city's contract with Monterrey Security, citing reports from the Chicago Tribune.
In 2017, a man died after he was detained on suspicion for shoplifting by a Monterrey Security guard "who shoved a knee into his neck, according to video of the encounter," the newspaper reported.
Floyd, whose death sparked both peaceful protests as well as looting, died after a police officer pinned his neck to the ground for 8 minutes and 46 seconds. That officer has been charged with murder in connection with Floyd's death.
In addition, Juan Gaytan — the founder of Monterrey Security — was named in the affidavit filed by federal law enforcement agents that prompted disgraced former Ald. Danny Solis (25th Ward) to cooperate with the investigation into allegations that Ald. Ed Burke (14th Ward) abused his office, as first reported by the Sun-Times in January 2019.
Burke pleaded not guilty and is awaiting trial on 14 counts of racketeering, bribery and extortion.
Gaytan, a former Chicago police officer, founded Monterrey with Solis' brother. Gaytan resigned from the department in 2002, just before the Chicago Police Board weighed a recommendation that he be fired for threatening to shoot a citizen during an arrest, according to the Tribune.
Federal agents accused Solis of working with Gaytan to accept a bribe from a construction company to speed approval of a 500-room hotel and data center near McCormick Place.
Neither Solis nor Gaytan have been charged with a crime.
On May 1, city officials agreed to pay Monterrey Security up to $290,536 to provide "unarmed security guards for COVID-19 management locations."
Illinois Security Professionals and AGB Investigative Services Inc. do not have any active city contracts, according to the city's Department of Procurement Services' website.
Contact Heather Cherone: @HeatherCherone | (773) 569-1863 | [email protected]
---