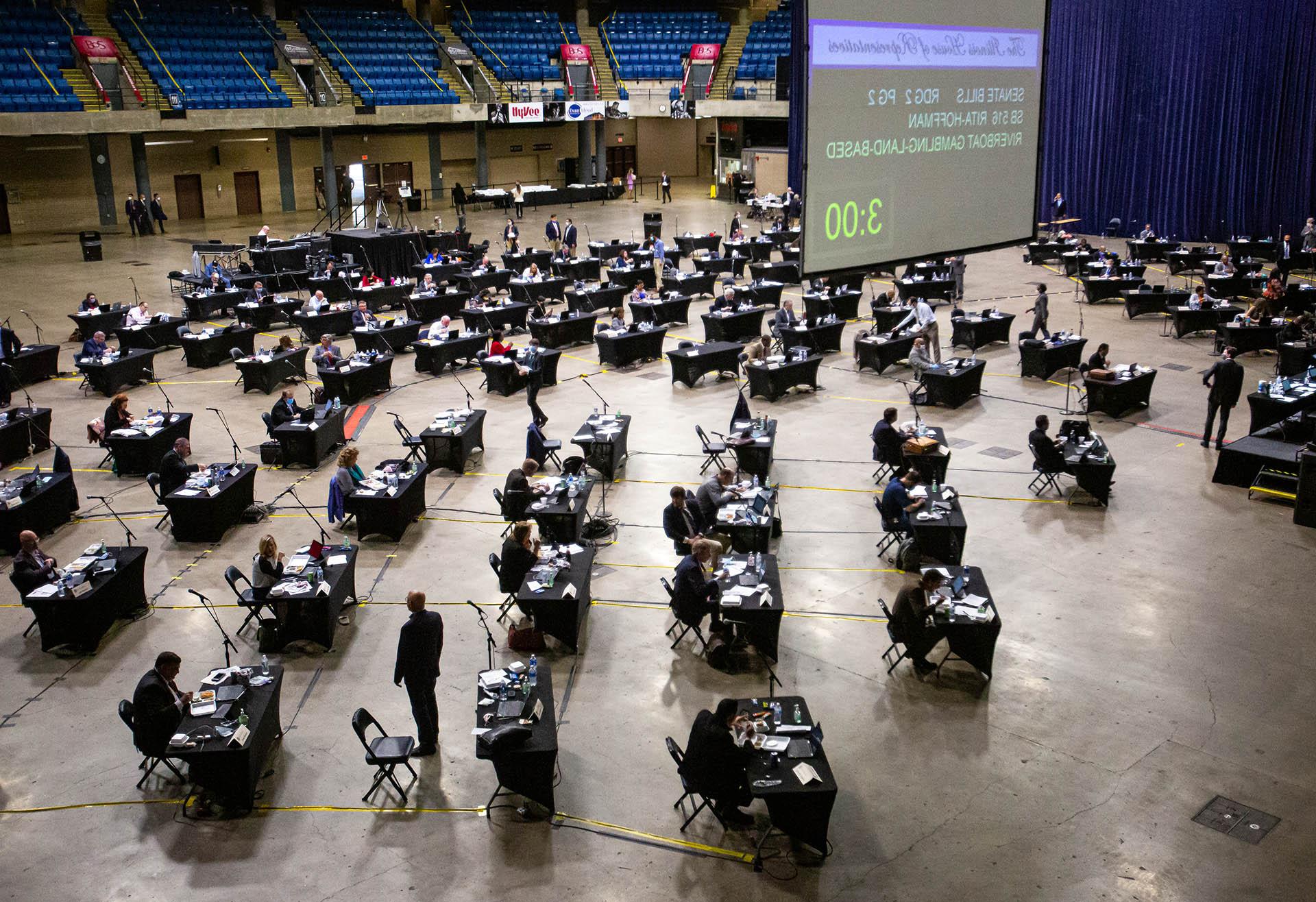 Lawmakers prepare an extended session of the Illinois House of Representatives to begin at the Bank of Springfield Center, May 23, 2020, in Springfield. (POOL PHOTO / Justin L. Fowler / The State Journal-Register)
Illinois has had its share of financial troubles in the past, but this marks the first time in modern times that a global pandemic has complicated the budgeting process.
The state's answer to that — "a series of tough choices," as House Majority Leader Greg Harris described the new budget — is to rely on borrowing up to $5 billion from the federal government, with the hope that the state will end up needing to borrow less should the feds will come through with additional aid in light of the devastation wreaked by COVID-19.
"This is an incredibly difficult budget-making year in Illinois and every one of the other 49 states. Our state has been ravaged by a pandemic," Harris said.
The tactic, Democrats say, gives Illinois stability but also flexibility to adjust, at an uncertain time.
"There is so much we don't know today that we hope to know in a few months," Senate President Don Harmon said of the spending and borrowing plan. "We don't know the depths of the economic hit we've taken from this virus, we don't know how much we're going to have to spend in order to respond to it. We don't know whether voters are going to approve a constitution amendment in November. We don't know how the federal government is going to respond – though I believe that they will. And we don't know who's going to be in charge in Washington for the next four years. In the next several months we're going to know all of that."
Democrats approved the final budget measures late Saturday and in the wee hours of Sunday morning (the Senate adjourned at 1:35 a.m. after a 15 1/2-hour session day) over Republicans' unanimous objections. They say the plan's reliance on borrowing is a dangerous gamble.
"What we've heard today is a budget that is balanced only on a wing and a prayer," Rep. Tom Demmer, R-Dixon, said. "It relies on $5 billion in borrowing. Or magical revenue that comes from the federal government with no strings attached."
Republicans complain that the budget is out of balance, that Democrats crafted it without their input, that it paves the way for state legislators to receive pay raises even as unemployment reached a record high of 16.4% in April and that it gives Gov. J.B. Pritkzer too much broad spending leeway without appropriate legislative oversight.
"We also see unprecedented levels of authority over Illinois taxpayer dollars being granted to one person, being ceded from the legislature to the governor," Demmer said.
Demmer said the budget "gives a longer leash to an executive branch that has not earned it."
"We have not had a productive relationship with the governor's office over many aspects of the stay-at-home order or the Restore Illinois plan. We're told we're heard, and not necessarily seeing the results of that," Demmer said. "Do we really believe that allocating this unprecedented level of control is the best way to serve? I suggest he opposite is the preferred path."
Illinois Speaker of the House Michael Madigan, D-Chicago, listens to debate of SB 671, a bill extending emergency rules on telehealth provisions related to the COVID-19 pandemic, during an extended session of the Illinois House of Representatives at the Bank of Springfield Center, May 23, 2020, in Springfield (POOL PHOTO / Justin L. Fowler / The State Journal-Register)
Coronavirus-induced closures mean the revenues coming into the state's coffers are drastically down; though to what extent is unknown.
The last estimate from Pritzker's budget office, dated mid-April, projected a budget gap between $6.2 and $7.4 billion, and revenues for the current budget year that will culminates at the end of June to fall by $2.7 billion. 
The roughly $40 billion spending plan Democratic legislators approved on Saturday – the final day of a whirlwind, four-day special session – largely keeps funding on par with this year's budget.
"If we're going to balance this budget, I would rather not do it on the backs of people who would lose their jobs if we were to cut money to our schools, cut money to our first responders. I don't want thousands of people more out of work," Harris said. "I think we need to balance this budget through a combination of working with the Federal Reserve and sending ourselves on path to a slow, sustainable return to some fiscal normalcy, along with the rest of the country and every other state. And hope that this pandemic wanes so that next year we can begin a process of rebuilding and restoring and renewing our state."
Voters in November will decide whether to amend the state constitution to allow for income to be taxed at a graduated rate. If the question passes, higher taxes on households with incomes over $250,000 would net the state an additional $1.4 billion, based on pre-coronavirus estimates.
Republicans called the measure irresponsible and "insane" and said that it ignores the harsh reality of the state's fiscal situation.
"Eventually the economy that has been great for the last few years is going to decline and when it declines Illinois is going to be in a horrible position and the federal government is not going to be there for us to borrow," Rep. C.D. Davidsmeyer, R-Jacksonville, said. "We have to start now to try to figure out what is a want and a need"
Davidsmeyer called it "extremely frustrating" that the budget does not include any cuts or efficiencies, even though agencies under Pritzker's auspices had prepared plans for 6% reductions.
"We have done nothing to try to cut anything," he said.
At the same time, GOP Rep. Norrine Hammond, whose district includes Western Illinois University, complained that what was described as level funding from the state for higher education institutions is tantamount to a cut, given that the minimum wage will rise in July from $9.25 to $10 an hour.
"There's no consideration for increase in the minimum wage they're going to be on the hook for," Hammond said. "It is not right."
Additional money will go toward the besieged Department of Children and Family Services, which will allow the agency to hire additional child welfare investigators.
The budget package also expands Medicaid to undocumented Illinois residents ages 65 and older who would otherwise be eligible for health care coverage if not for their immigration status.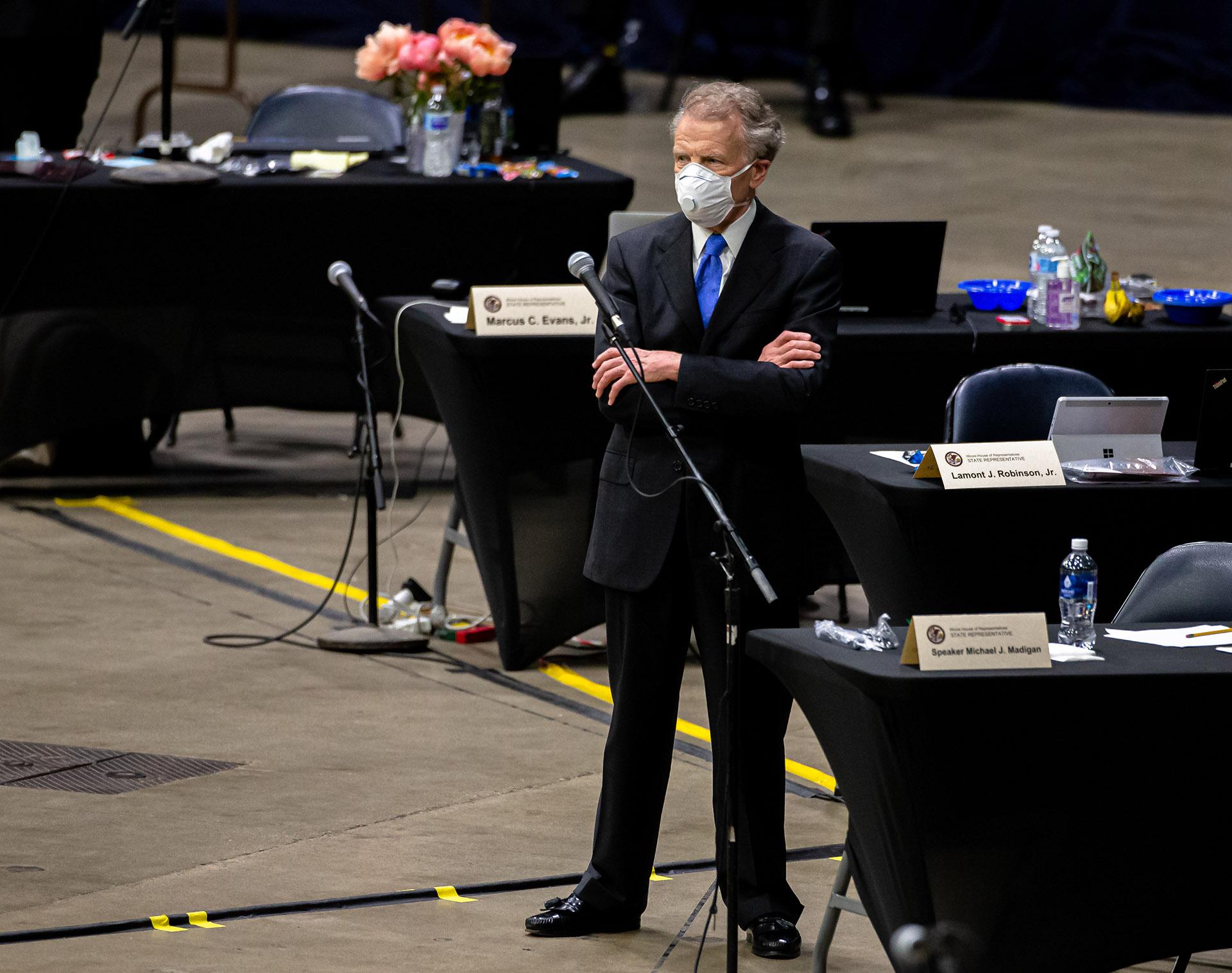 Illinois Speaker of the House Michael Madigan, D-Chicago, listens to debate on SB 264, the state budget for the new fiscal year starting in July, during an extended session of the Illinois House of Representatives at the Bank of Springfield Center, May 23, 2020, in Springfield. (POOL PHOTO / Justin L. Fowler / The State Journal-Register)
Republicans and Democrats are also at odds over how funding will be spent from the federal Coronavirus Aid, Relief and Economic Security (CARES) Act that's incorporated in the new budget.
Cook and the collar counties have received between $1.2 and $1.4 billion in allocations due to a federal formula based on population size.
The new budget spreads $200 million to the rest of Illinois' 97 counties – an amount that Republican Rep. Ryan Spain of Peoria said should be four times that.
"Communities not part of the five collars will be left behind," Spain said, which will have "devastating" results in communities like his, which he said will be forced to lay off first responders.
Democrats have redirected that $600 million to other purposes, including rent relief.
The legislation pointedly directs money to communities deemed disproportionally underserved.
Among the dollars-and-cents line items is a passage labeled "legislative intent" that reads in part:
"The General Assembly recognizes that there are historically underserved populations in the State of Illinois who have been overlooked and discriminated against over the course of this state's history. Today, as Illinois is confronted with an unprecedented public health and economic crisis, these inequities appear more starkly than ever – with our communities of color facing higher infection rates, higher mortality rates, higher unemployment rates, and the looming threat of continued exclusion in a time when equity and just distribution of resources are more vital than ever. The General Assembly recognizes these injustices, and seeks to address them here. It is the intent of this General Assembly to assist our communities most in need with the funds made available by the passage of the CARES Act."
In an emotional speech, Rep. Jehan Gordon Booth, a Democrat from the Peoria area, said the budget makes important investments in youth employment and violence prevention that will "hopefully save the lives of young men and women" like her stepson, who was shot and killed over Memorial Day weekend in 2014.
"For many communities around this state Memorial Day weekend is the kickoff of a very, very bloody summer. For so many communities," she said. "So when we think about these budget lines, many of you may see these lines and these numbers on these budgets, and you look at it like a spreadsheet. But for many communities across this state, those lines, those numbers, literally are life and death. Literally."
The budget appropriates $8.6 billion for the state to pay its full annual payment to the state's pension systems.
In statement, Pritzker said the fiscal year 2021 operating budget headed to his desk "recognizes that massive economic disruption leads to difficult decisions."
"This budget begins to address the financial upheaval we are facing, but more hard choices about how to spend and save these dollars wisely remain to be made," he said. "My administration will implement the spending framework offered to us by the General Assembly and find the necessary savings to meet the moment in front of us. Our work is not yet finished."
Pritkzer said he will appeal to the federal government to pass a national program to help support state and local governments struggling because of revenue losses due to the coronavirus.
Despite Democrats' wishes, that's a political hot potato.
President Donald Trump has cited Illinois as an example of what he said is a poorly managed state and questioned why it deserves a "bailout."
Follow Amanda Vinicky on Twitter: @AmandaVinicky
---