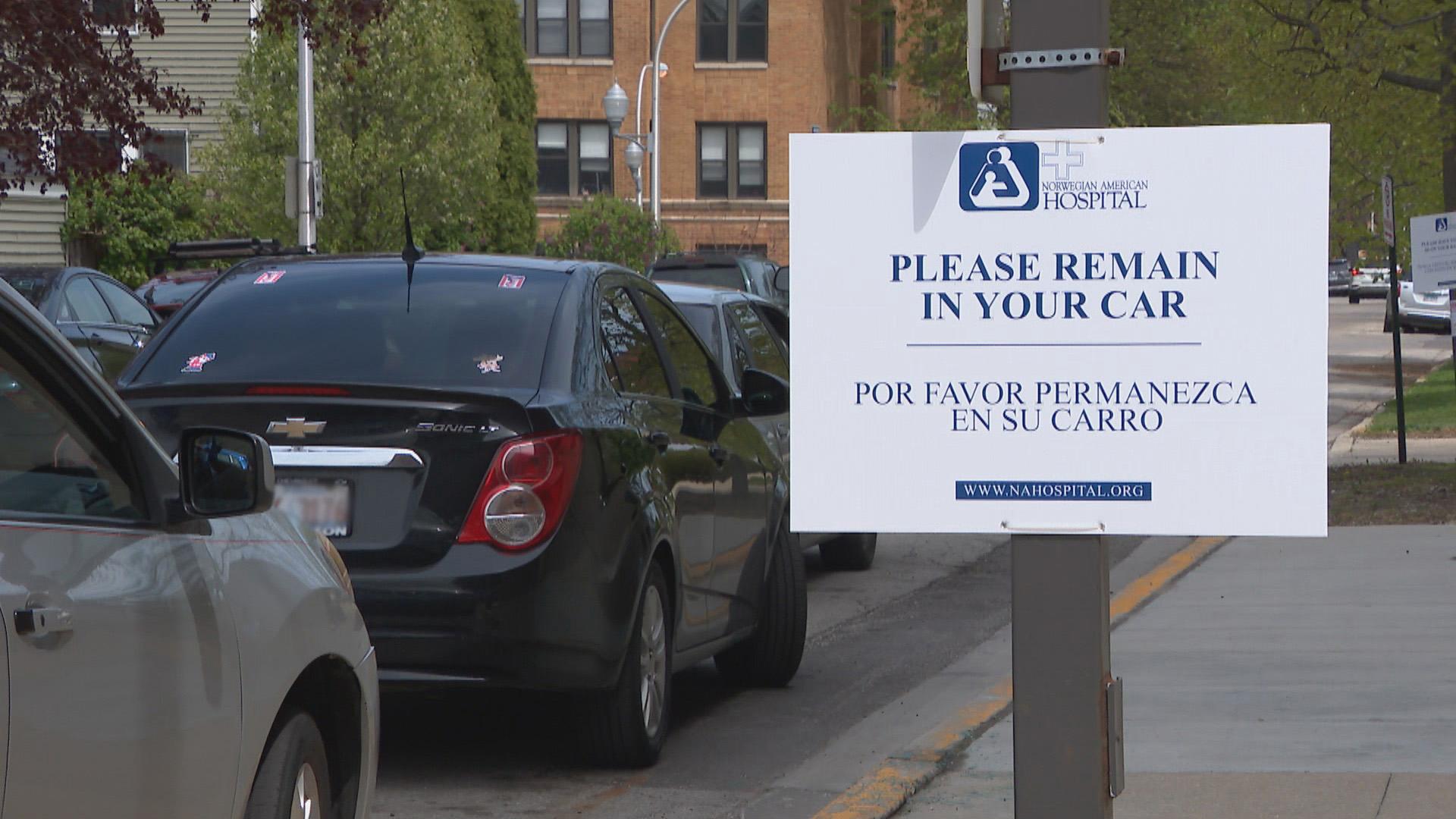 A COVID-19 drive-thru testing facility in Humboldt Park. (WTTW News)
Six new testing sites will open in the coming weeks on the South and West sides of Chicago as officials push to expand the number of tests for the coronavirus in Latino communities, which have been hit hard by the pandemic.
Mayor Lori Lightfoot said the city would partner with a charity founded by two-time Oscar-winning actor Sean Penn, fueled by a grant from Twitter founder Jack Dorsey, in an effort to expand the number of tests performed in Chicago from 3,000 per day to 10,000 per day.
The city must conduct at least 4,500 tests per day before stay-at-home restrictions are lifted in Chicago, according to the plan unveiled Friday by Lightfoot. Approximately 26% of tests conducted each day in Chicago are positive, according to city data. The reopening standards call for that rate to be below 20% for 14 days.
The ability to expand testing in Chicago — for those who are experiencing symptoms as well as those who have no symptoms — represents a "major step" in the fight against the coronavirus, Lightfoot said.
Approximately 44% of Chicagoans who have been confirmed to have the coronavirus are Latino, according to city data. Latinos account for approximately 29% of the city's population.
The new testing sites will be located at Maria Saucedo Scholastic Academy in Little Village, Dr. Jorge Prieto Math and Science Academies in Hanson Park, Kennedy-King College in Englewood, Senka Park in Gage Park and Gately Park in Pullman.
"Right now, we have this very significant surge in the Latinx community," Lightfoot said. "We have to respond to that. One of the ways we are responding to that, among others, is to make sure that we've got testing in those communities."
A new testing site at Guaranteed Rate Field in Bridgeport will be reserved for first responders, Lightfoot said.
Both of Chicago's Major League Baseball stadiums are now being used to respond to the pandemic. Wrigley Field is serving as a food pantry.
Along with the testing site at Sox Park, the sites at Saucedo and Prieto schools will open this week, Lightfoot said, with the other sites coming online later in May.
The new sites will conduct newly approved saliva-based tests for the coronavirus, said Dr. Allison Arwady, commissioner of the Department of Public Health. 
That is crucial, because Chicago still does not have enough supplies to conduct the more typical test that uses a nasal swab, Arwady said.
Contact Heather Cherone: @HeatherCherone | (773) 569-1863 | [email protected]
---