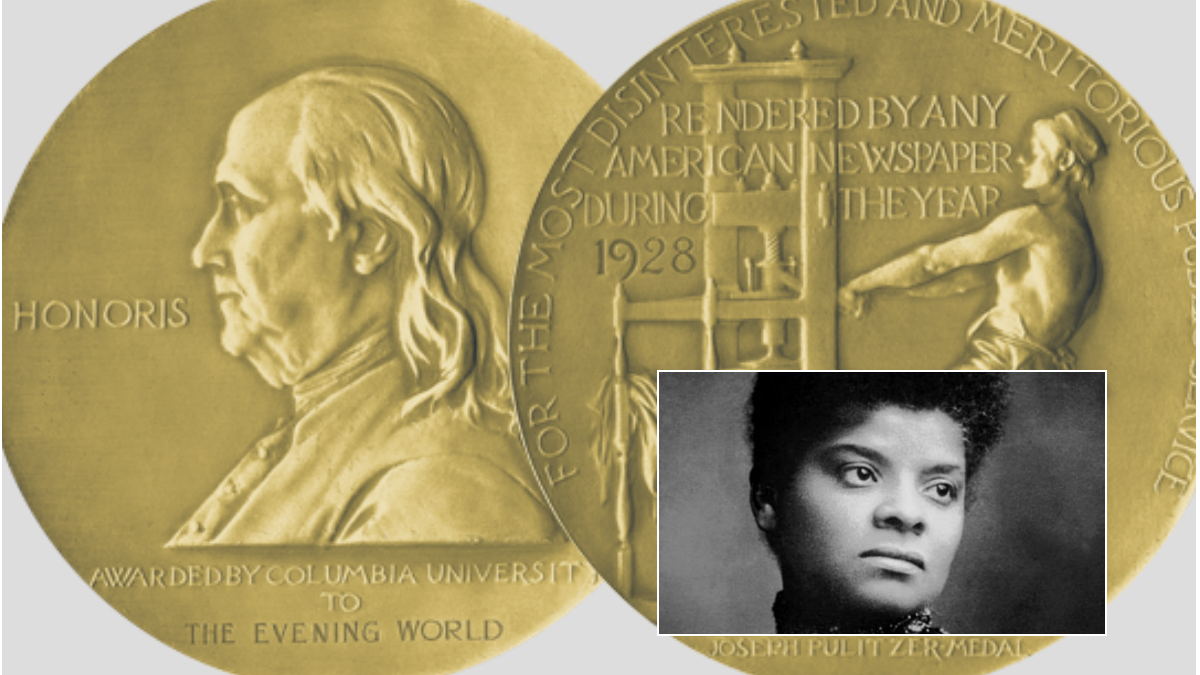 Pioneering journalist Ida B. Wells was awarded a posthumous Pulitzer Prize special citation in 2020. (Pulitzer Prize; inset, Wikimedia Commons)
Pioneering journalist Ida B. Wells was awarded a posthumous special citation during Monday's announcement of the 2020 Pulitzer Prize winners.
The honor was long overdue, according to Nikole Hannah-Jones, herself a 2020 Pulitzer recipient in the commentary category for The New York Times Magazine's 1619 Project commemorating the 400th anniversary of slavery's beginning.
Hannah-Jones shared her thoughts about Wells on Twitter: "I WOULD NOT BE without her. She never got the recognition she deserved when she was living, sometimes even from her own people. Black women who dared challenge the white narrative were mercilessly castigated."
In acknowledgement of Wells' role as a groundbreaking role model, Hannah-Jones, along with fellow journalists Ron Nixon and Topher Sanders, founded The Ida B. Wells Society for Investigative Reporting in 2016 as "a news trade organization dedicated to increasing and retaining reporters and editors of color in the field of investigative reporting."
The Pulitzer board recognized Wells "for her outstanding and courageous reporting on the horrific and vicious violence against African Americans during the era of lynching."
Along with the citation, the board also created a bequest of at least $50,000 in support of Wells' mission, with recipients to be announced at a later date.
Wells' great-granddaughter Michelle Duster released a statement in response to the honor:
It is an amazing honor for my great-grandmother Ida B. Wells to be awarded a posthumous 2020 Pulitzer Prize Special Citation. She spent almost fifty years of her life fighting for justice. She did not have the right to vote until she was in her 50s. She had modest financial resources. So the only thing she had to fight against racist oppression and the violent practice of lynching, was the truth.
Ida used journalism as a tool to fight for justice. She faced great danger and endured harsh criticism. Her printing press was destroyed. Her life was threatened. But she truly believed that by collecting names, dates and circumstances around the lynchings that she could transform attitudes and impact policy and laws.
The fact that she received this honor in 2020 is fitting. It is the centennial of the 19th Amendment and an election year. So all of her work is relevant in the context of where we are today in this historic moment.
Born into slavery in Mississippi in 1862 and then freed by the Emancipation Proclamation, Wells is perhaps best known for her anti-lynching crusade, published in pamphlets such as "Southern Horrors" and "The Red Record." In her adopted hometown of Chicago, she famously led the opposition against a ban on African American exhibitors at the 1893 World's Columbian Exposition. 
An early civil rights leader, Wells is widely credited as one of the founders of the National Association for the Advancement of Colored People (NAACP). She died in 1931, but wouldn't receive an obituary in The New York Times until 2018, when the significance of her contributions was belatedly acknowledged in a section titled "Overlooked." In 2019, Congress Parkway was renamed for Wells.
Pulitzer Prizes are awarded in journalism, books, drama and music. Posthumous citations are fairly rare, having previously been bestowed on Scott Joplin, George Gershwin, Duke Ellington, Thelonious Monk and John Coltrane. 
Attaching a bequest to a citation has only occurred once prior, to Maryland's Capital Gazette newspaper, where five staff members were killed in a mass shooting in 2018.  
---
What an amazing honor for my great-grandmother #IdaBWells to be recognized by @PulitzerPrizes almost 90 years after she gained her wings! Her life is a testament to the importance of #truthtelling, even in the face of danger. May she continue to be an inspiration! #Pulitzer https://t.co/S16e7GL8nS

— MLDwrites (@MichelleDuster) May 4, 2020
Ida B. Wells & I were awarded the Pulitzer on the same day. How can I not believe that the ancestors intervened on this moment? I'll say more later.For now I will sit in the truth of how she, how they, cleared a path for me, how they endured so that I & the #1619Project could be. https://t.co/k85VXFEVTt pic.twitter.com/ctnjENFa7R

— Ida Bae Wells (@nhannahjones) May 4, 2020
I can't describe how this makes me feel. Thank you Ida B. Wells for being an inspiration. So many of us would not be where we are without you paving the way. https://t.co/UhnpPbptUd

— nixonron (@nixonron) May 4, 2020
I've been trying to come up with sentences worthy of summing up how it felt to be awarded @PulitzerPrizes the same day as Ida B. Wells for a project I led on the legacy of slavery for the @nytimes, a newspaper that in 1894 called Wells a "slanderous and nasty-minded mulattress."

— Ida Bae Wells (@nhannahjones) May 5, 2020
---
Contact Patty Wetli: @pattywetli | (773) 509-5623 |  [email protected]
---