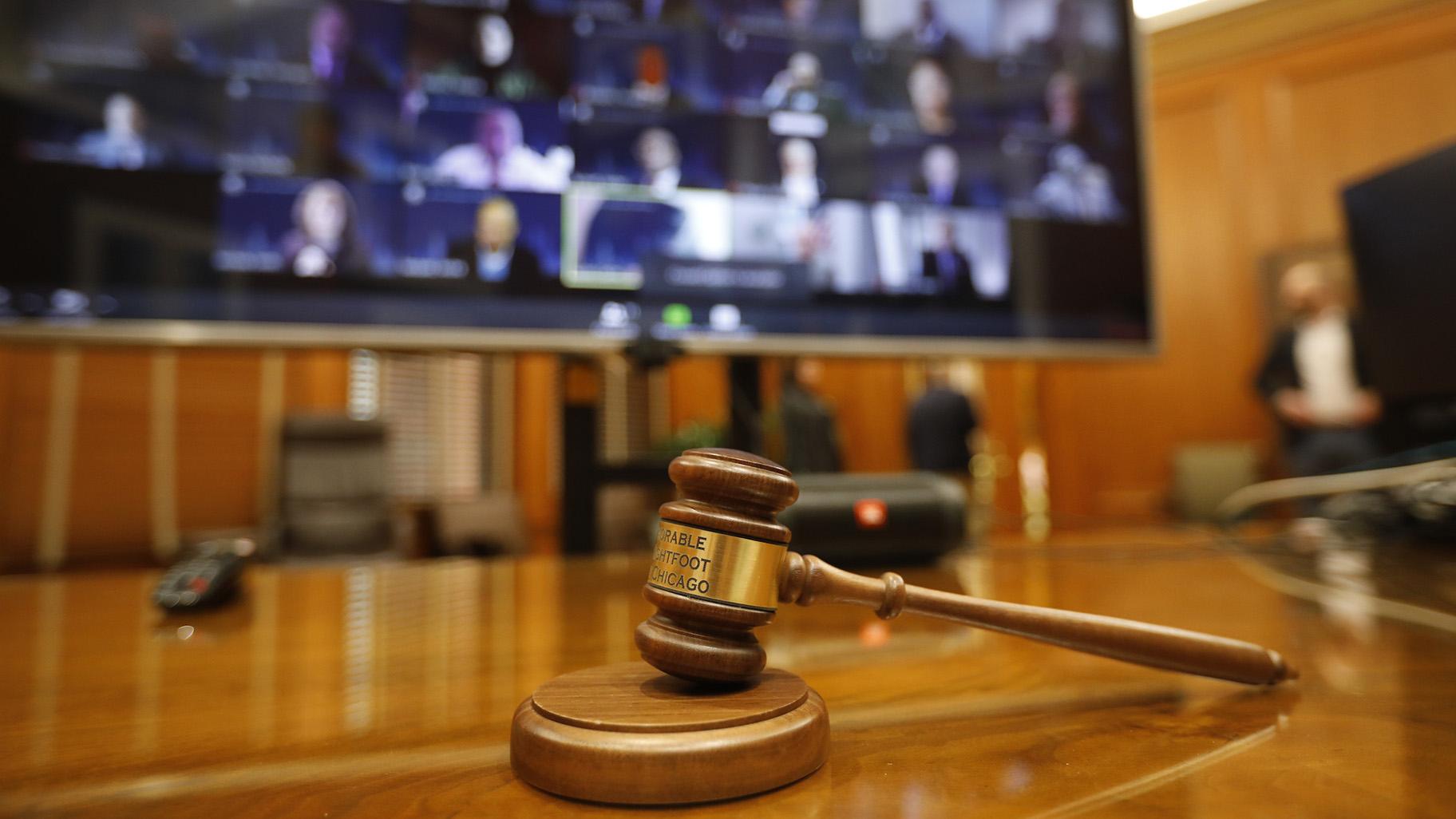 Mayor Lori Lightfoot presides over the city's first virtual City Council meeting on April 15, 2020. (@chicagosmayor / Twitter)
Aldermen advanced a measure Tuesday that grants Mayor Lori Lightfoot expanded spending and contracting authority to respond to the coronavirus pandemic without the approval of the City Council.
After nearly five hours of debate—and an hourlong recess prompted by fears that the measure did not have enough support to advance—the City Council's Budget Committee voted 23-10 in favor of the mayor's proposal.
Eight of the aldermen who voted against the ordinance are members of the City Council's Black Caucus, which has emerged as a concentrated source of opposition to Lightfoot and her initiatives. Black Caucus Alds. Sophia King (4th), Leslie Hairston (5th), Roderick Sawyer (6th), Greg Mitchell (7th), David Moore (17th), Howard Brookins (21st), Jason Ervin (28th) and Carrie Austin (34th) voted no. 
They were joined by two members of the City Council's Progressive and Latino Caucuses Alds. Mike Rodriguez (22nd) and Carlos Ramirez-Rosa (35th).
A final vote is set for Wednesday by the full City Council.
The measure gives Chief Procurement Officer Shannon Andrews the authority to approve emergency contracts of up to $1 million to respond to the coronavirus pandemic. In addition, Budget Director Susie Park can spend federal and state relief grants to respond to the pandemic, and move funds within city departments if she deems it necessary.
Park is also required to give the City Council's Budget Committee weekly summaries of pandemic-related spending and contracts.
In all, the city has spent $5.6 million to respond to the pandemic and has committed to spending another $65 million, Park said. The city expects to spend $150 million by the end of June, she added.
Ald. Chris Taliaferro (29th) quizzed Park about why the city paid an Addison-based furniture company $689,000 to make face shields rather than a Chicago firm.
"True transparency is when you tell me what you are doing before you do it, not after you do it," Taliaferro said.
Several other members of the Black Caucus said they were furious that African American-owned firms had not gotten contracts to respond to the pandemic, which has taken a heavy toll on black Chicagoans.
"You can't let expediency totally wreck us because that way you'd be killing us in two ways: physically dying and economically dying," Ervin said.
Approximately 60% of Chicagoans who have died from the coronavirus are black, even though black Chicagoans account for 30% of the city's population.
If approved, the measure is set to expire June 30, which Lightfoot called "an outside marker" for when the pandemic is expected to peak and begin to recede. If Dr. Allison Arwady, the commissioner of the Chicago Department of Public Health, determines that the pandemic is still raging, the mayor's emergency powers could be extended.
The version of the ordinance advanced Tuesday by the committee was significantly revised after several aldermen objected to it, with many saying it amounted to a mayoral power grab that endangered the City Council's status as a co-equal branch of government.
Budget Committee Chair Ald. Pat Dowell (3rd) said the measure was not perfect, but struck the "best balance between the moral need to save lives in our communities" while ensuring that taxpayer funds are spent wisely.
Originally, the mayor's proposal granted Andrews the authority to "enter any contract or amendment to a contract as she deems necessary" without requiring firms to disclose potential conflicts of interest. 
The final version of the ordinance requires economic disclosure forms to be submitted within 60 days. Andrews said she wanted to ensure the requirement for those disclosures did not become a "speed bump" when responding to the pandemic.
The measure also allows Assets, Information and Services Commissioner David Reynolds to enter into rental agreements for space needed to respond to the pandemic. It also allows administrative hearings on city-issued citations to be postponed until the public health emergency passes.
In addition, the measure allows the Plan Commission, the Zoning Board of Appeals and other commissions to meet remotely—and to impose "reasonable limitations on the number or class of speakers." 
If necessary, Aviation Commissioner Jamie Rhee will return to the City Council to offer rent reductions, rent deferrals and other breaks to tenants of O'Hare and Midway Airports, Park said. The original version of the ordinance granted that authority, but drew opposition from several aldermen.
While the aldermen debated the measure during a virtual meeting, Lightfoot told reporters she was not fazed by the opposition.
"Aldermen always push back," Lightfoot said. "I don't want a rubber stamp City Council."
On Monday, Lightfoot said the original version of the ordinance "had a lot of other things in it that weren't necessary or relevant at this time."
Several aldermen—including a number who ended up voting for the measure—said the mayor did not need expanded powers, since the City Council can now meet virtually to conduct business.
Ald. Anthony Beale (9th), who has frequently clashed with the mayor, said he did not understand why his fellow aldermen would give up authority to the mayor.
"Since we are all safe at home saving lives, we could meet every week," Beale said. "We're on Zoom right now, and we can Zoom two, three times a week."
Lightfoot also faced pushback from some of her closest allies, including Ald. Brendan Reilly (42nd), whom Lightfoot picked to serve as president pro tem of the City Council.
Reilly called the original proposal "a major overreach and a step too far" that could have put the City Council "squarely in the trunk of the car" watching while the mayor responds to the pandemic.
However, the revisions mean the measure is no longer "a blank check," Reilly said.
"These are unique times that demand extraordinary actions," Reilly said.
Contact Heather Cherone: @HeatherCherone | (773) 569-1863 | [email protected]
---