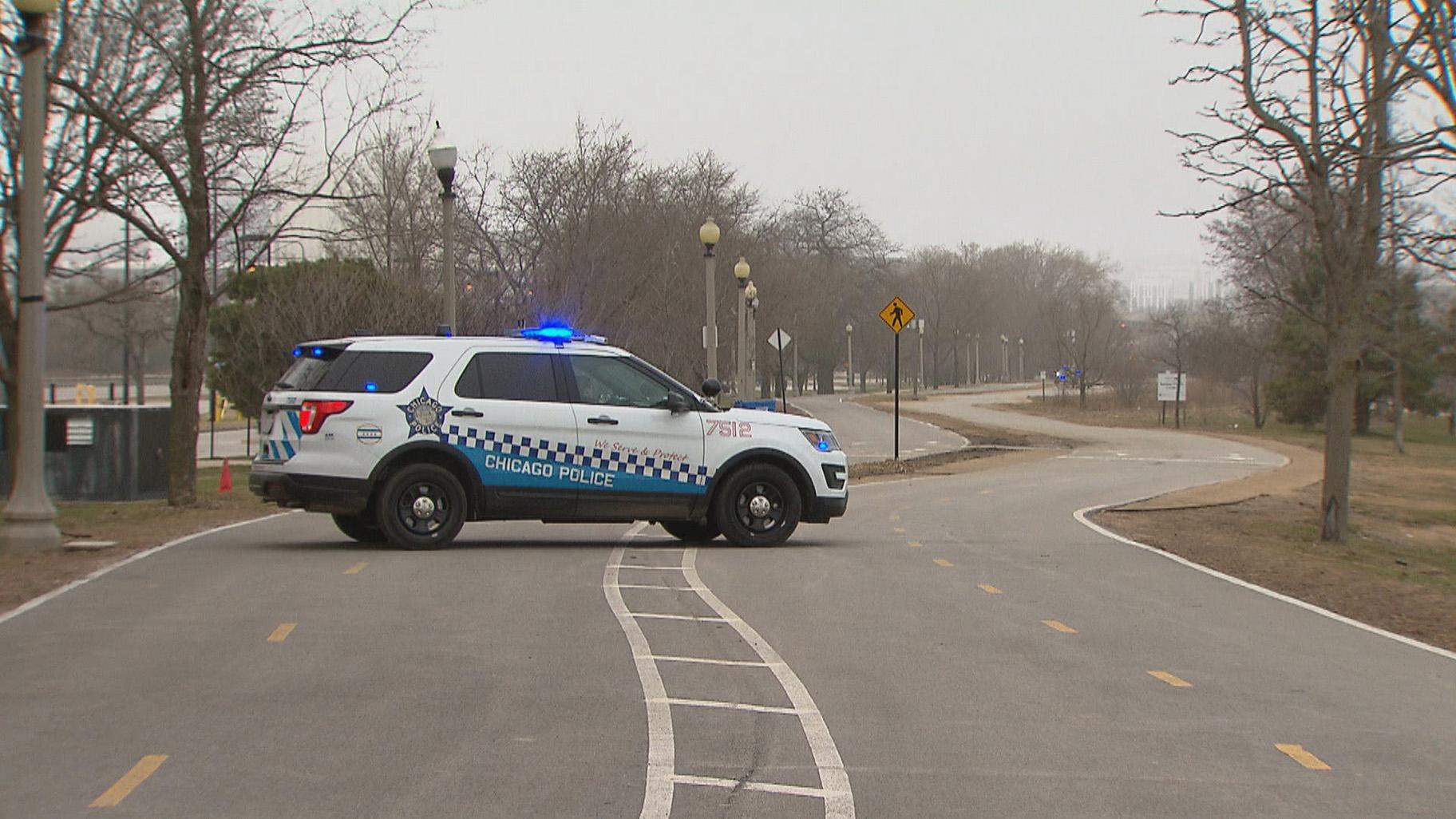 A scene along Chicago's lakefront on Thursday, March 26, 2020. (WTTW News)
Stay at home if you can. Stay away from parks, the lakefront and bike trails. Don't congregate in large groups, because if you do, you could be arrested.
That was the message Thursday from Mayor Lori Lightfoot and interim Chicago Police Superintendent Charlie Beck as the city closed off more areas to the public in support of Gov. J.B. Pritzker's stay-at-home order, a move made last week to curb the spread of COVID-19. According to the Illinois Department of Public Health, there have been 2,538 confirmed cases of the virus across the state.
Beck said his department issued warnings on Wednesday to 56 separate groups of people and made one arrest for failing to abide by the governor's order.
Lightfoot was livid about crowds seen along the Lakefront and 606 trails this week following her pleas to the public to avoid any activity that prevents social distancing and could further the spread of COVID-19. Those areas, along with city parks and playgrounds, are now closed down.
"Now while today's measures may seem extreme to some people, I won't hesitate to take any further action needed as dictated by the science and the data if we need to do more to reinforce to those of you who have failed to get the message," she said. "You cannot congregate, pure and simple."
With the statewide stay-at-home order in place for nearly two more weeks, what do these new closures mean for the police department's enforcement efforts? We answer those questions below:
Can I be punished for violating the governor's order?
The city and Chicago Police Department have said enforcement of the order is not intended to penalize individuals, but rather to keep people safe during the pandemic. That said, there are penalties for repeated violations.
"What people are going to be given is a warning, and most people comply with that," the mayor said Thursday. "But if not, then we'll escalate to writing a ticket. And unfortunately, if we have to go beyond that, we will arrest. That should never happen because people – meaning you – have to comply."
The police department announced Wednesday it would begin "engaging" with individuals and groups of people who were not "abstaining from non-essential activities."
As Beck said, there were several warnings issued already, but police did not ask for I.D. or document the specific people in those groups. One person was also taken into custody Wednesday for allegedly refusing to follow the order.
What penalties do people face if they violate the stay-at-home order?
Warnings may not qualify as a penalty, but there is the possibility for arrest. Beck noted that people can also be fined up to $500 for failing to obey an officer who is enforcing a health order.
Additionally, he said if there is continued noncompliance, the police department could begin treating violations of the governor's order like traffic citations, in which the offender doesn't get a warning and is instead cited upon being observed.
"I don't want to go there," he said. "I want to do the warnings, but I would need people not to put us in that position in the first place."
As for the one person who was arrested Wednesday, Beck said that came for "failure to obey a health order."
What authority does the CPD have to issue warnings or arrests?
Beck said there is "very specific language" in the city's Municipal Code that allows his department to enforce the governor's order.
"If a police officer is enforcing a health order and the person refuses," he said, "that is absolutely cause for citation and/or arrest and fine up to $500."
Are there specific hours this order is in place?
It is an around-the-clock mandate. There is no time when the order is not in place until at least April 7, 2020.
Does this mean I can't go outside anymore?
No, it does not. Lightfoot, Beck and other officials have made clear that essential tasks and travel are still permitted, as are things like going for a walk and exercising outdoors. But large groups are not allowed under any circumstances.
"Follow the law," Beck said. "Don't make us enforce the law through citation and arrest. Follow the law voluntarily and we wont even have to get to this point."
Contact Matt Masterson: @ByMattMasterson | [email protected] | (773) 509-5431
---