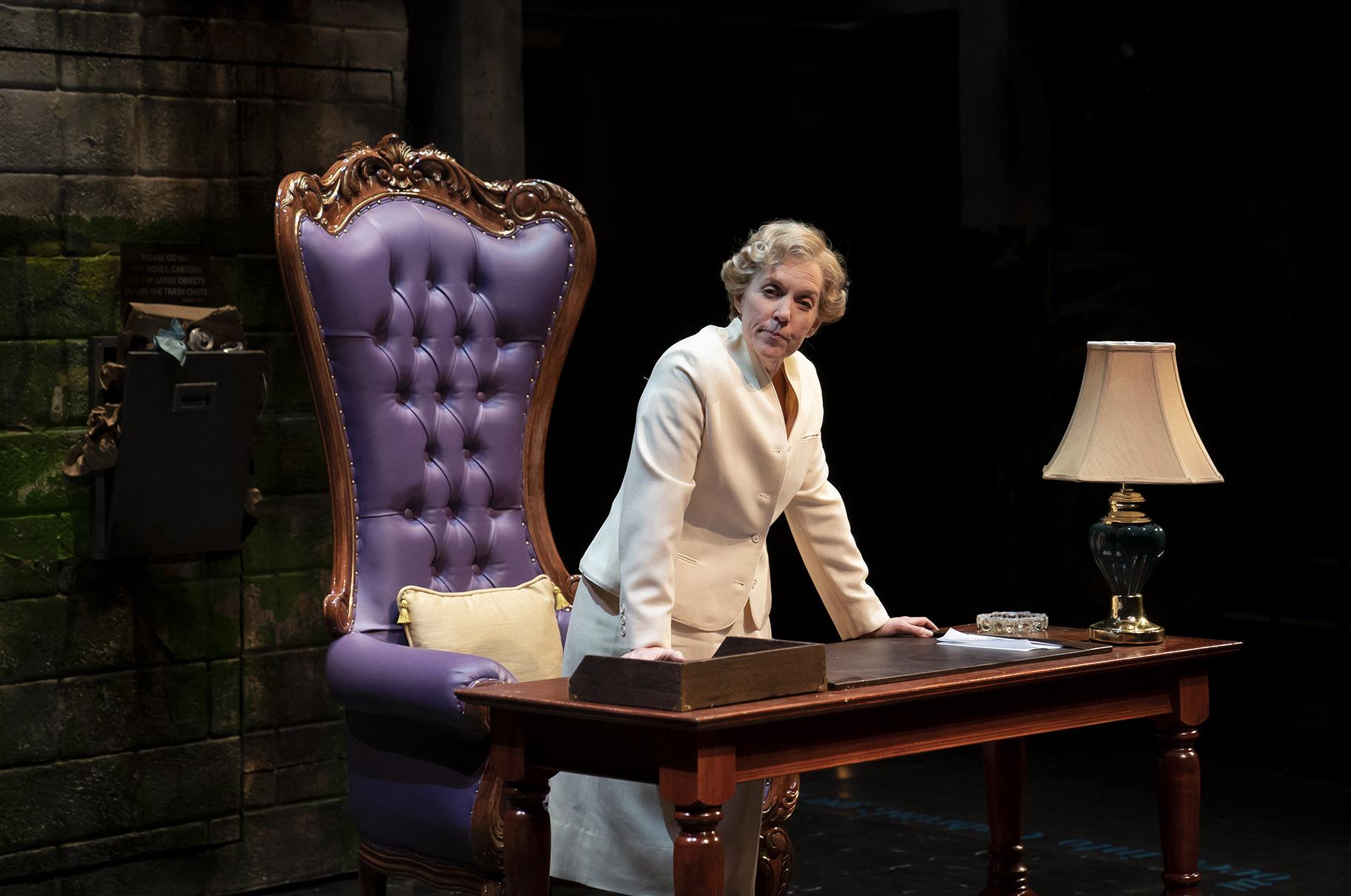 Ensemble member Christine Mary Dunford in "Her Honor Jane Byrne." (Photo by Liz Lauren)
If you arrived in Chicago in the late 1970s and early '80s, the first piece of advice often given was this: "Do not drive anywhere near the area bounded by Halsted, Division, Larrabee and Halsted because the Cabrini-Green Housing Project is a war zone where bullets fly."
Just minutes away from the Gold Coast to the south, and the gentrifying Lincoln Park neighborhood to the north – and at its peak, home to more than 15,000 people – the 70-acre area had been envisioned several decades earlier as a promising public development that would provide decent modern housing for the working poor. But for many reasons it had devolved into a racially segregated ghetto where 23 "brutalist-style," largely isolated apartment towers were allowed to decay, where organized crime syndicates (often in league with corrupt city officials) plied the drug trade among gangs, where cops had become the enemy, and where poverty and violence made life for those residents who were just trying to get along all but impossible.
Although Cabrini-Green was largely leveled by 2011, a particular moment in its history still remains very much alive. That was in the spring of 1981 when Jane Byrne – who a year earlier had become the first woman to be elected mayor of Chicago, and who was well aware of the profound racial issues that plagued the city – announced that she would move into a fourth-floor apartment at Cabrini. She also said she would see to it that conditions there would improve and violence would be controlled.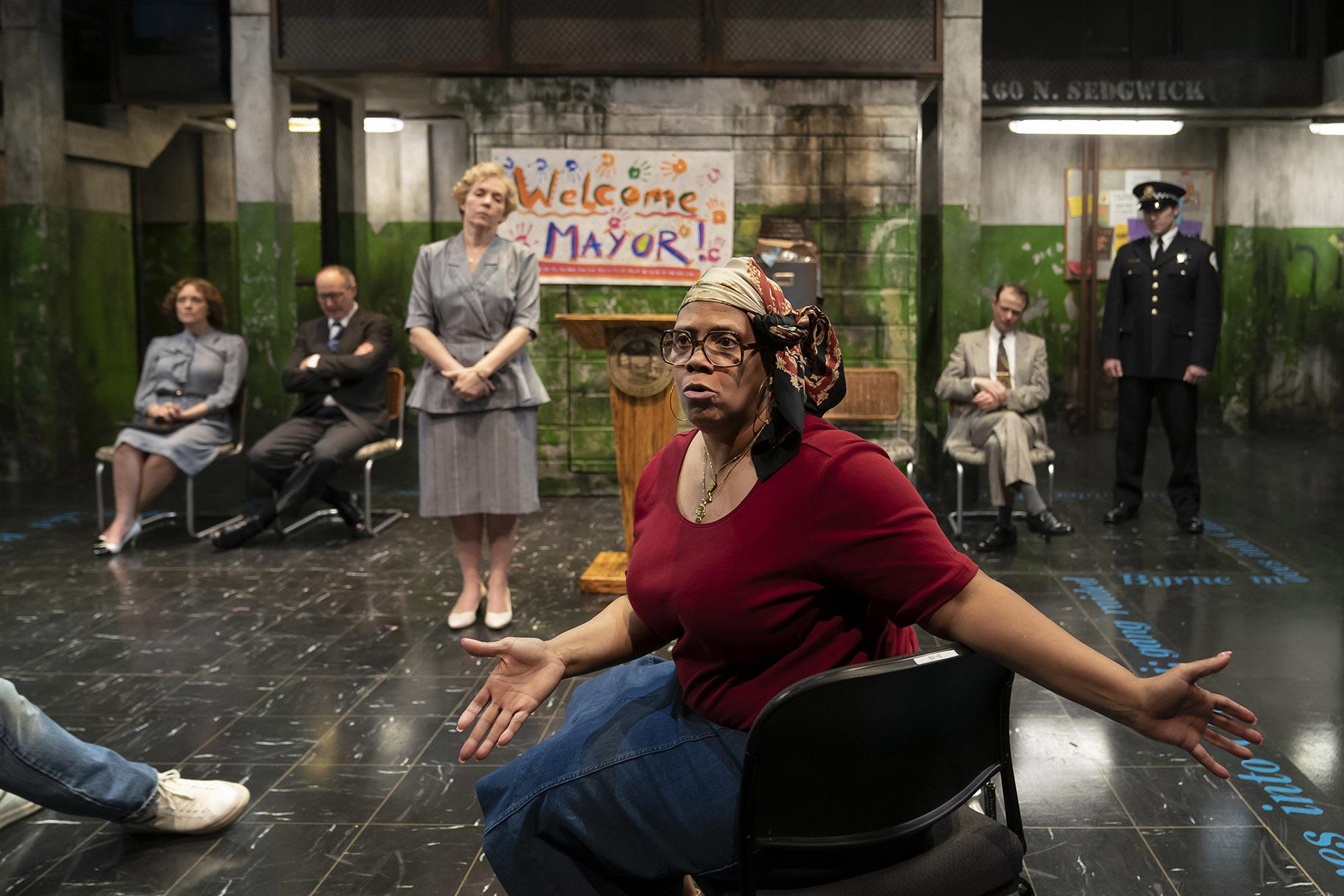 From left: Tracy Walsh, Frank Nall, Christine Mary Dunford, TaRon Patton, Thomas J. Cox and Josh Odor. (Photo by Liz Lauren)
A well-meaning symbolic effort in the quest for change, or an attention-getting piece of pure political performance art? That is the question. And it is explored to simultaneously electrifying and profoundly humanizing effect in Lookingglass Theatre's dazzlingly performed world premiere production of "Her Honor Jane Byrne," a theatrical and sociological gem of a work that should catapult its writer-director, ensemble member J. Nicole Brooks, to genuine fame.
The play is not a documentary/oral history in the manner of "The Project(s)," the late PJ Paparelli's powerful exploration of the subject in his 2015 work for the American Theater Company. Rather, it is a fiercely impassioned and balanced character study of both Byrne and the embattled residents of Cabrini, as well as the alderman, crime boss, cops and others the mayor had to deal with during the 20 days of her "residency" and beyond. And in many ways Brooks, who writes the most terrific dialogue, has created a bravura urban opera, with each character's voice so distinctive, and so emblematic of the forces at work in them, that their verbal outbursts become spoken arias. Every one of her characters is larger-than-life, but they never become caricatures. And it would be impossible to imagine a more perfect cast to bring them to life.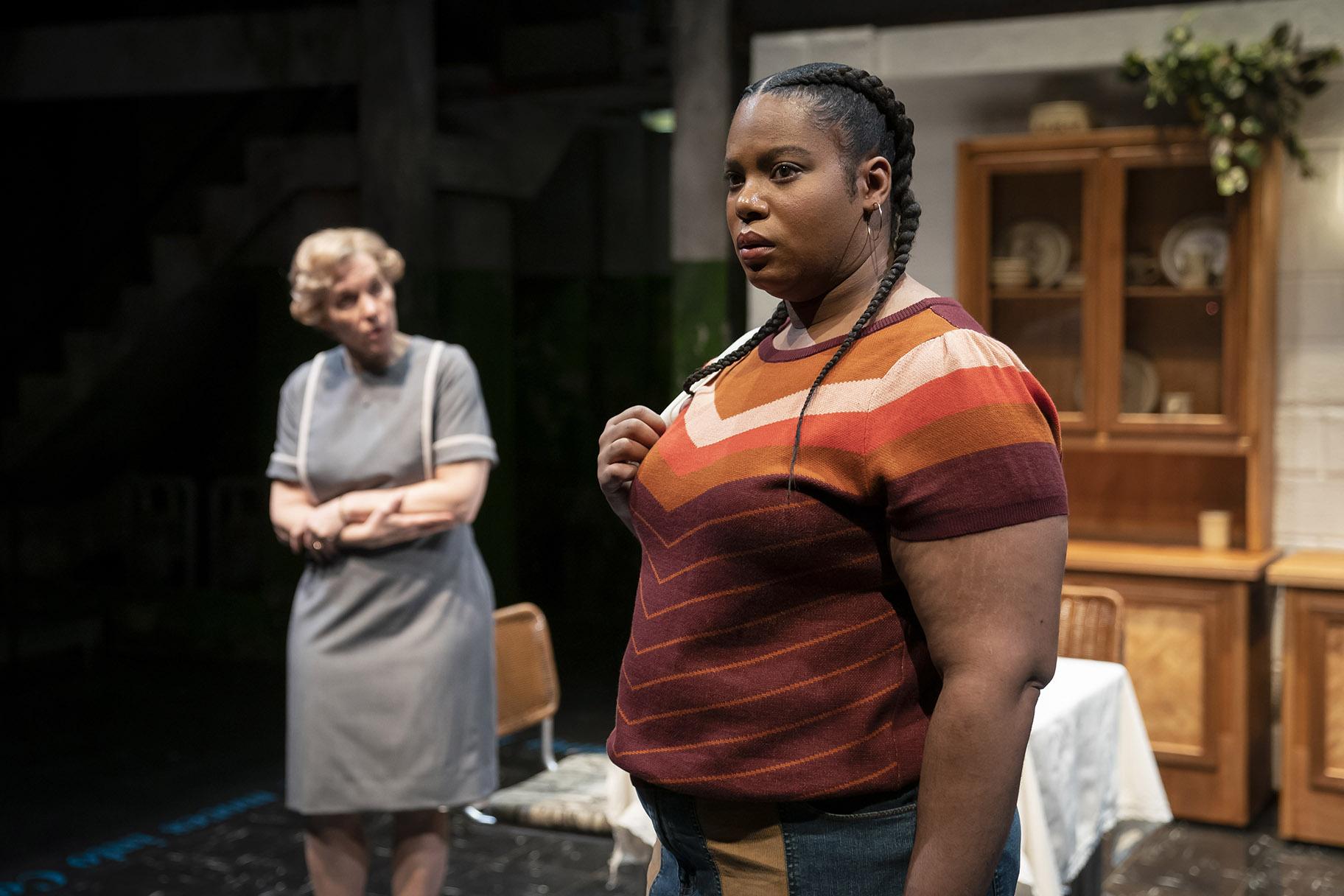 Ensemble member Christine Mary Dunford, left, and Nicole Michelle Haskins. (Photo by Liz Lauren)
To start with there is the Mayor, Her Honor Jane Byrne, whose uncanny portrayal by Christine Mary Dunford is so physically and emotionally real that she might easily be mistaken for a clone. Dunford delivers an award-worthy performance on every count – from her facial expressions and voice to her body language and emotional breaks. Extraordinary.
Mentored by Mayor Richard J. Daley, and what some might describe as "a tough broad," Byrne, who was raised in a well-to-do Irish Catholic family with immigrant roots, was whip-smart and fearless in the face of Chicago's macho political world. But Brooks also exposes her vulnerability, particularly in two brief but beautifully rendered scenes in which her passion for her first husband, William P. Byrne (Josh Odor), a Marine Corps pilot who died in a plane crash just three years into their marriage, is made palpable, as is her much later second marriage to a Chicago journalist (played by Frank Nall), with whom she clearly had quite a different connection.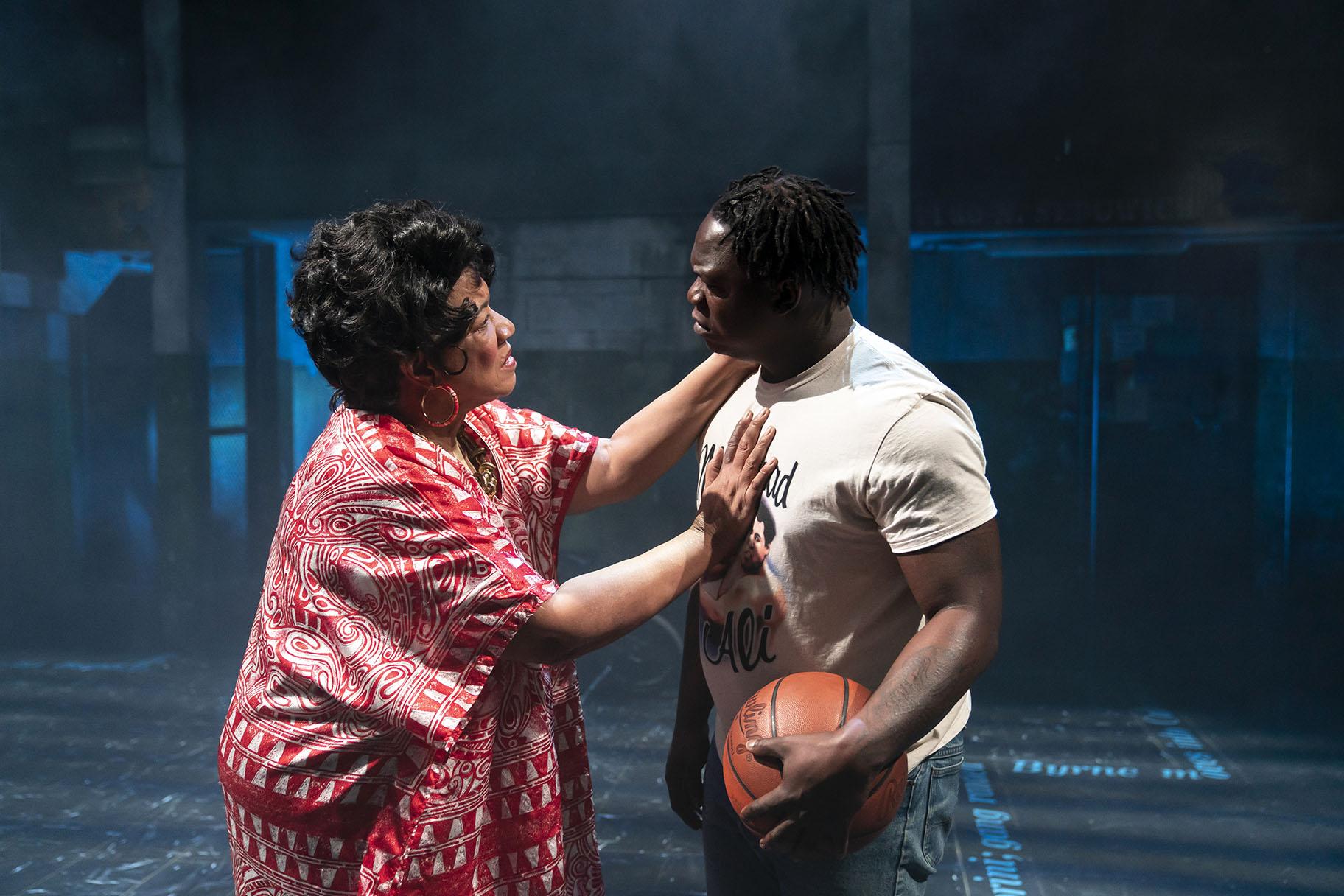 Renee Lockett and Willie "MudLife Roc" Round. (Photo by Liz Lauren)
But Dunford is far from alone. Taron Patton gives the most blistering performance in her long career in the role of Marion Stamps, the angry activist who was an acolyte of the Chicago-bred Black Panther, Fred Hampton, and who has no patience for Byrne.
Nicole Michelle Haskins is all fire, determination and frustration as Tiger, the young woman who loses her job because she is late to work after the usual elevator malfunction at Cabrini, and who gradually bonds with Byrne. Renee Lockett is ideal as Byrne's welcoming, cake-baking neighbor at Cabrini who suffers the greatest heartbreak as caretaker for her hope-starved teenage grandson (a terrific, slow-burn portrayal by Willie "Mudlife Roc" Round). And Thomas J. Cox perfectly captures the essence of Alderman Roti, a long-term, wholly compliant functionary of the Daley "Machine" with close mob ties.
Last, but by no means least, there is the irresistible comic relief supplied by Robert Cornelius as Black Che, a lanky "seen it all" hipster, streetwise hustler, self-made intellectual and fancy dresser who sells second-hand books from a grocery cart. He engages with the reporter sent to cover the Cabrini story (who wears a bulletproof vest), and finds a most worthy counterpart in her thanks to Brooks' ideally un-stereotypical limning of the character and Tracy Walsh's expertly rendered portrayal.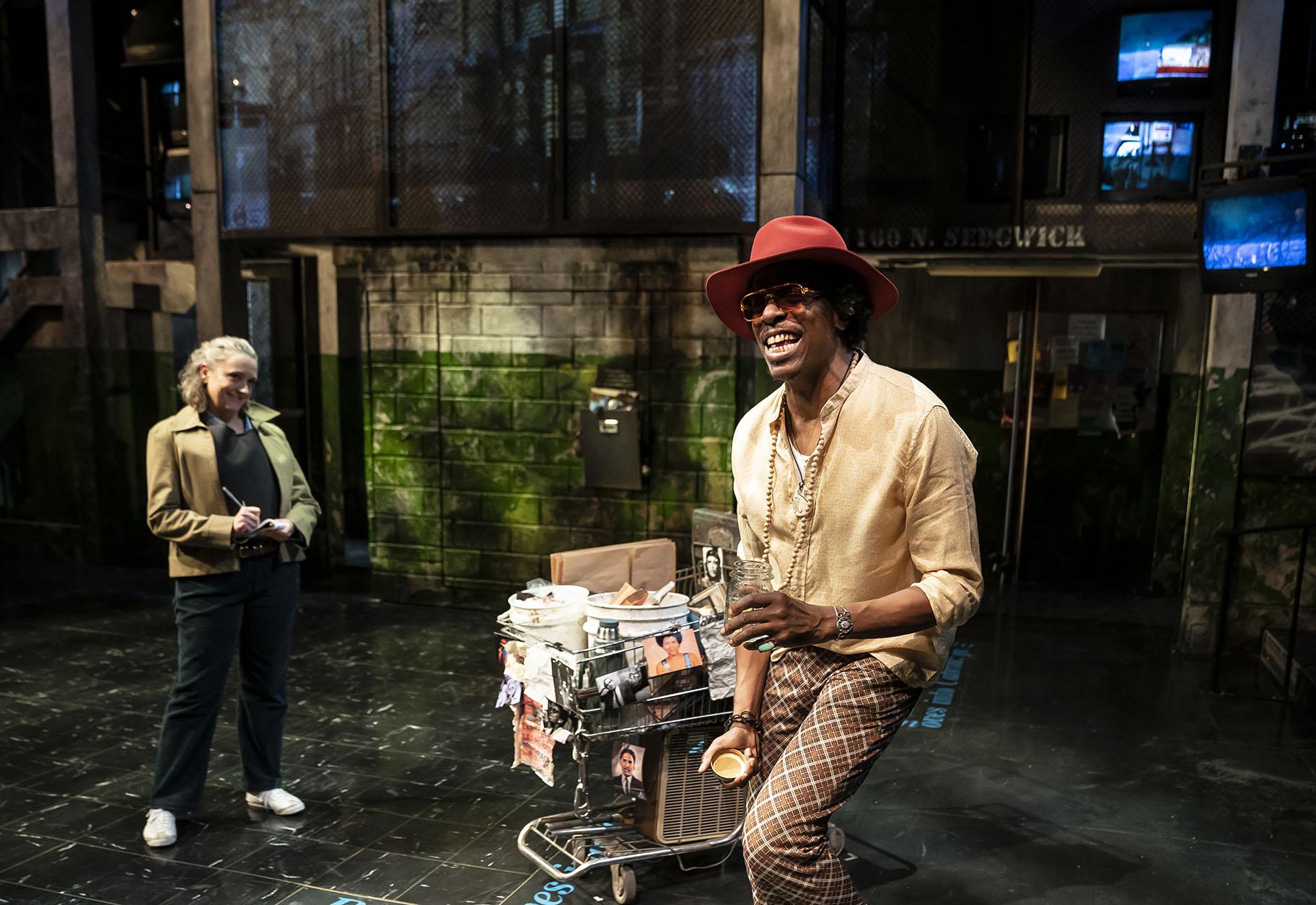 Ensemble member Tracy Walsh and Robert Cornelius. (Photo by Liz Lauren)
The grim concrete walls of Cabrini's towers (the fine design of the ever-ingenious Yu Shibagaki, expertly lit by Christine A. Binder) serve as the backdrop for Rasean Davonte Johnson's evocative collages of archival film and photos of the period, with fine sound design by Christopher M. LaPorte and music by Michael Huey. And Mieka Van der Ploeg's character-defining costumes are spot-on – from Byrne's peplum-jacketed suit and mink coat to Che's red plaid pants and multiple necklaces.
Of course when you drive past Cabrini now you see something quite different. The last of its towers were demolished in 2011, and last year its remaining townhouses were scheduled to be torn down. The area has yet to be fully redeveloped, although "mixed-income and open park space" are supposedly in the works. Brooks might very well want to consider writing an epilogue to her brilliant play. There is still much to be said.
"Her Honor Jane Byrne" runs through April 12 at Lookingglass Theatre, 821 N. Michigan Ave. For tickets ($40-$65) call (312) 337-0665 or visit lookingglasstheatre.org. Running time is 2 hours and 30 minutes with one intermission.
Follow Hedy Weiss on Twitter: @HedyWeissCritic
---