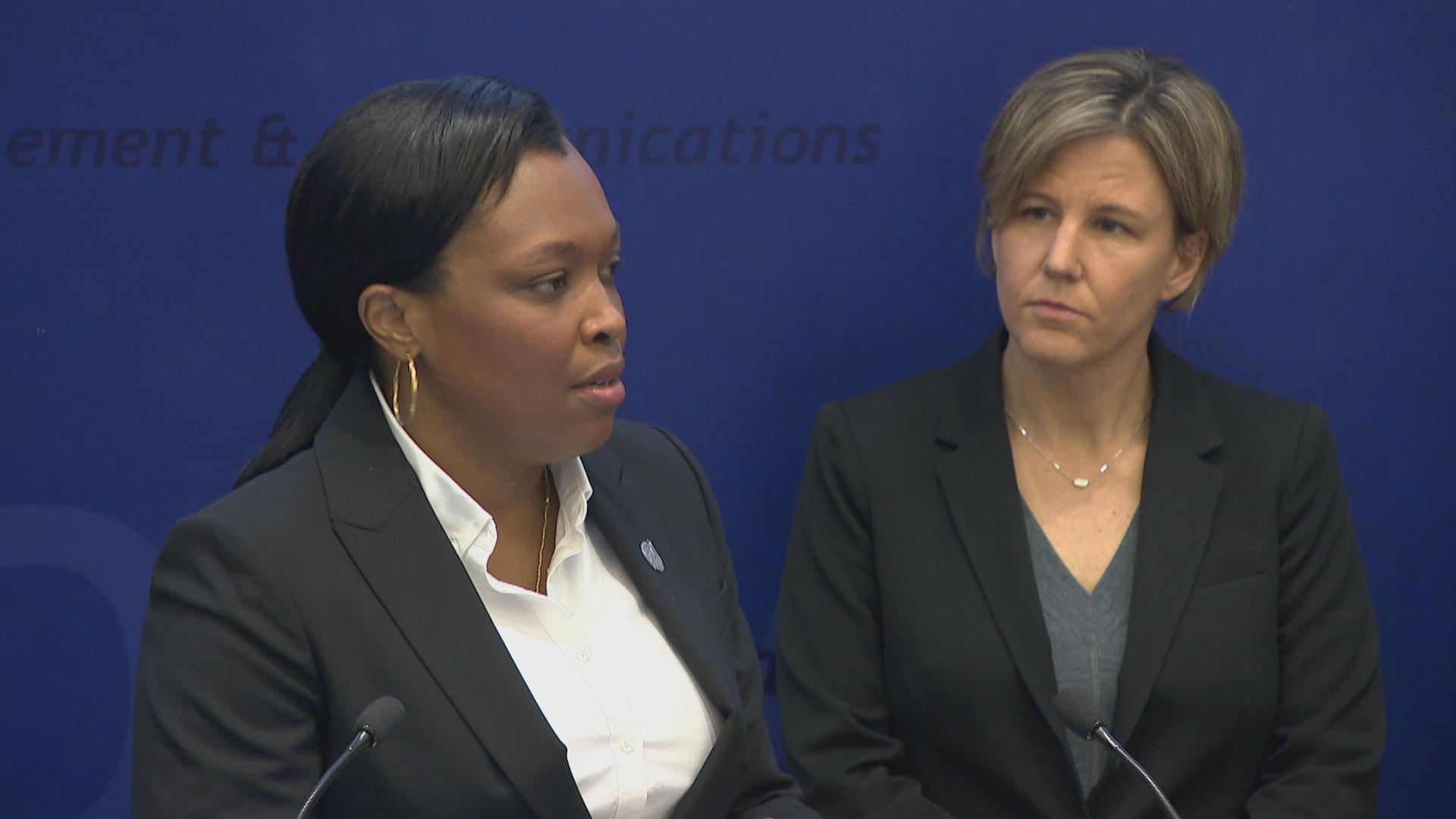 CPS CEO Janice Jackson, left, and Chicago Department of Public Health Deputy Commissioner Jennifer Layden discuss the school district's COVID-19 response at a press conference Tuesday, March 10, 2020. (WTTW News)
No additional students or faculty members at Vaughn Occupational High School on the city's Northwest Side have tested positive for COVID-19 after a staffer there contracted the virus after taking a cruise, and Chicago Public Schools officials say they have no plans to close any additional schools in the city.
The female employee who tested positive last week "continues to do well," city health officials said Tuesday, and after the latest round of testing, no one else at Vaughn has tested positive for the virus.
"While this remains an isolated incident, we are planning for various scenarios," CPS CEO Janice Jackson said during a press briefing Tuesday. "At the direction of the public health experts at the CDPH (Chicago Department of Public Health), there are no plans to close any (other) schools at this time. Should CDPH provide new guidance, we will be sure to update everybody as soon as possible."
A Chicago woman in her 50s who tested positive last week for COVID-19 so far represents the single case of the virus at Vaughn. Late Friday afternoon, the school district announced it would close Vaughn this week "out of an abundance of caution." On Monday, health officials reported four new cases statewide, including two relatives of that CPS employee.
With Vaughn closed, Jackson said the school district is exploring its options to supplement their education with e-learning opportunities.
"We're looking at it for the entire school system because we can't just solve for Vaughn," she said. "It's possible these cases could spread, other schools could be impacted."
But to begin offering online learning, CPS would first need to engage the Illinois State Board of Education to ensure protocols are being followed. For now, CPS is prioritizing "enrichment activities," which is within its control, so staff can offer work for students to do while they're out of their classrooms.
Thus far, CPS has not given specific guidance as to what those students should be doing on a day-to-day basis while out of their classrooms.
Beyond learning, CPS and the Greater Chicago Food Depository have prepared food boxes with three days' worth of meals for Vaughn families.
Chicago Department of Public Health Deputy Commissioner Jennifer Layden said their investigation at Vaughn – which includes identifying individuals who may have been exposed to the virus, testing such individuals and actively monitoring them for 14 days – is ongoing.
CPS brought in an outside vendor to sanitize Vaughn and Jackson said the school district will be disinfecting high-touch areas like handrails, light switches and doorknobs in all schools on a daily basis.
Gov. J.B. Pritzker on Monday issued a disaster proclamation – the Illinois equivalent of a state of emergency – which will likely free up state and federal emergency assistance funds to help with the state's coronavirus response.
Layden reiterated that prolonged and direct face-to-face exposure is needed for the virus to be transmitted from one person to another. And while no new cases at Vaughn have sprung up, they will continue testing for the virus.
"It's a day-by-day situation," she said. "We're very encouraged and I think it's positive to see multiple individuals tested who've had symptoms and have tested negative."
Contact Matt Masterson: @ByMattMasterson | [email protected] | (773) 509-5431
---