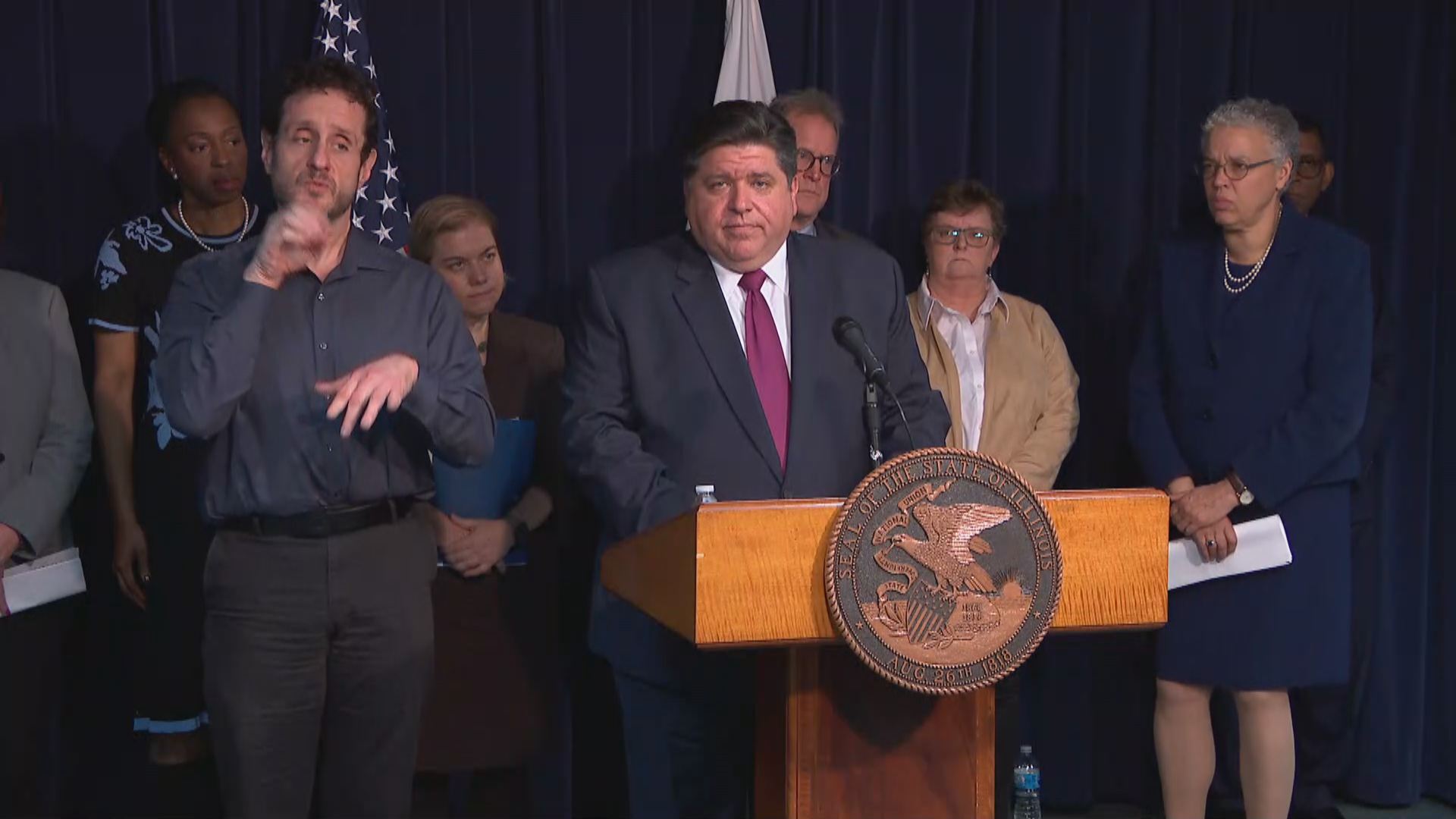 Gov. J.B. Pritzker talks Monday, March 9, 2020 about the novel coronavirus at a press conference. (WTTW News)
State and local health officials now report 11 confirmed cases of COVID-19 in Illinois, and they are warning residents that more will likely come.
On Monday, officials reported four new cases, including two relatives of a Chicago Public Schools employee who also has tested positive for the virus. Classes at Vaughn Occupational School on the Northwest Side, where that employee works as a teaching assistant, are canceled for the week.
The Chicago Department of Public Health says the virus has so far not spread to any CPS students or employees.
"Although more lab tests are pending at this point, the tests that have returned on students and staff have been negative, and that includes people who have visited local emergency departments on their own for testing, as well as those who have been tested as part of the process that CDPH and Chicago Public Schools have established," said Dr. Allison Arwady, CDPH commissioner, at a Monday press conference.  
Three labs across the state – one each in Chicago, Springfield and Carbondale – can now test for COVID-19 and get same-day test results. In addition, the state is testing patients with flu-like symptoms for the virus at select hospitals as a precautionary measure, including seven in Cook County.
Meanwhile, Gov. J.B. Pritzker has issued a disaster proclamation for the state of Illinois.
The designation will likely free up state and federal emergency assistance funds to help with the state's coronavirus response. The proclamation is akin to other states declaring a state of emergency. Pritzker says he will begin updating the public on coronavirus response efforts daily, but says Illinois residents have a role to play as well.
"This is going to affect your daily life," Pritzker said. "But know that your city, your county and your state officials are working hard to stay ahead of this."
Health officials encourage people to take daily preventive measures to slow the spread of the virus, such as frequent handwashing, routine cleaning of frequently touched surfaces and objects, and covering coughs and sneezes. People should stay home when they are sick.
Coronaviruses are respiratory viruses that range from the common cold to more serious illnesses, like SARS and MERS, and are generally spread via droplets in the air when people cough or sneeze, as happens with the common cold. There is no treatment or vaccine for the virus.
Follow Paris Schutz on Twitter: @paschutz
---