Is "most endangered" the kind of list a historic property really wants to land on?
For the James R. Thompson Center and Jackson Park, making their fourth appearances on Preservation Chicago's annual "7 Most Endangered" list, the answer is definitely maybe.
True, the listing means they're still endangered, but they're also still standing and intact.
"It does stress the importance of again spotlighting them in this format," said Ward Miller, executive director of Preservation Chicago, which announced its latest list Wednesday.
Indeed, the majority of properties on 2020's list are repeats, indicating not only their ongoing vulnerability but also Preservation Chicago's continued fight to save what in many cases are considered "lost causes." 
The two newcomers to the list — the Chicago Town and Tennis Club and the Roseland Michigan Avenue Commercial District — illustrate the fine line preservationists walk in their efforts to retain connections to the city's past while acknowledging present realities. 
Poll: Which site is most in need of immediate preservation?
---
Chicago Town & Tennis Club
1925 W. Thome Ave.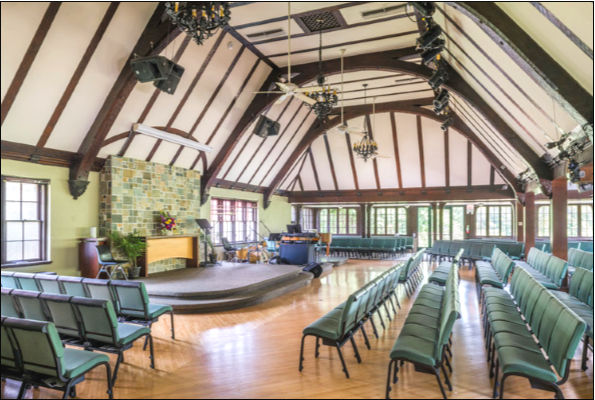 Chicago Town and Tennis Club Building. (Serhii Chrucky / Preservation Chicago)
The Tennis Club, in West Ridge, is a Tudor revival beauty dating to the 1920s, billed as Chicago's answer to Wimbledon and the West Side Tennis Club in New York. A portion of the club's grounds were transferred to the Park District in the 1930s and the main building has long since been repurposed, first by the Elks and most recently by Unity Church of Chicago. 
Misericordia purchased the site in 2018, with the intent of demolishing the Tennis Club and replacing it with much needed housing for people with developmental disabilities. That plan is dependent on a zoning change, yet to be granted. A community meeting held in January, prompted by the zoning request, drew both support for and opposition to the demolition, as reported by Block Club Chicago.
The building has since been placed on a 90-day demolition hold and Preservation Chicago continues to push for a "win-win" solution, one that can accommodate Misericordia's mission but also save the Tennis Club. One proposal is to move the building to adjacent Emmerson Park, where it could serve as a fieldhouse and event space.
Preservation Chicago says: "Through creativity and collaboration, we can achieve a preservation sensitive solution that would accomplish both priorities."
---
Roseland Michigan Avenue Commercial District
Michigan Avenue between 107th and 115th Streets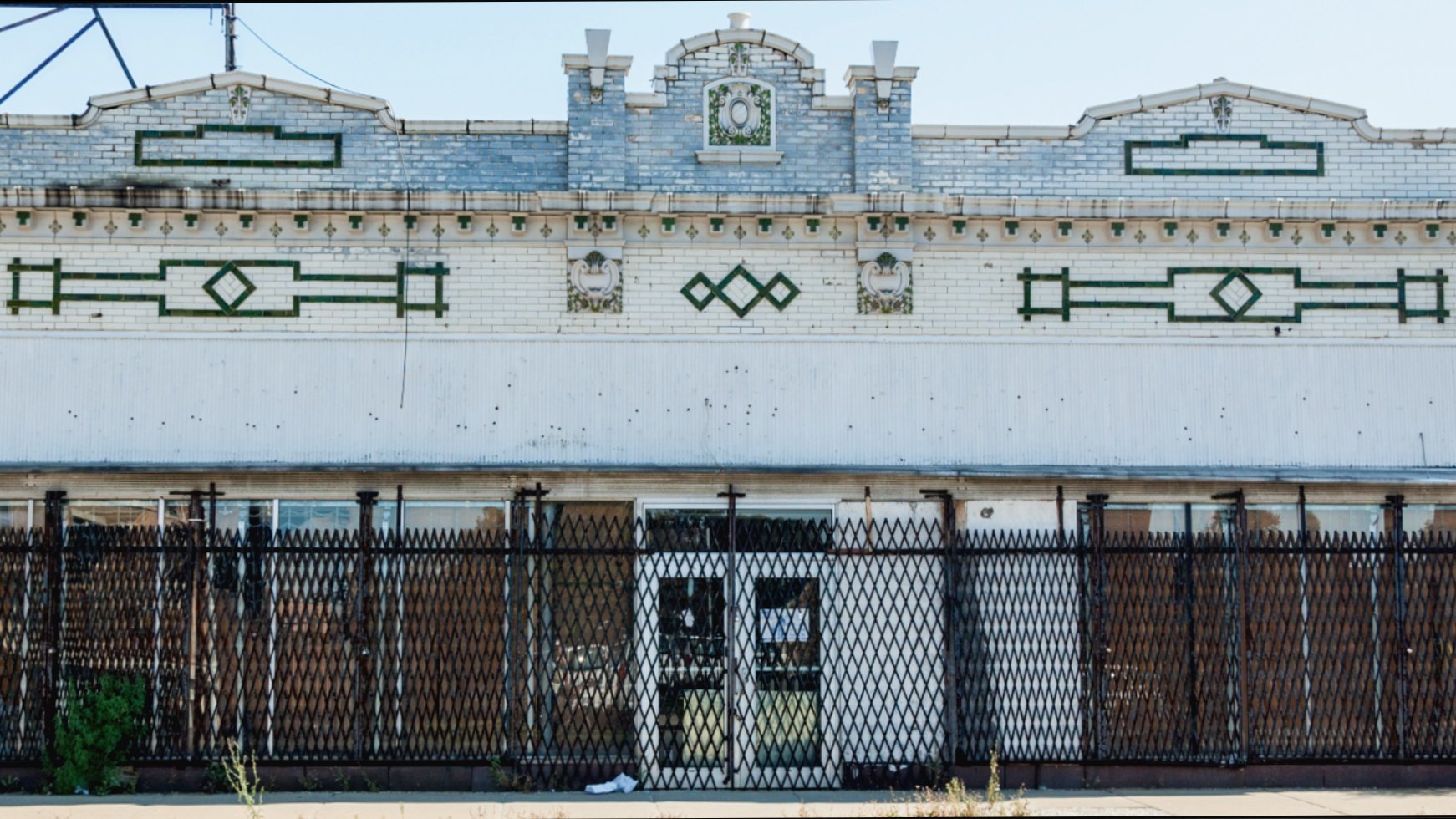 The Roseland commercial corridor was once called the "jewel of the South Side." (Eric Allix Rogers / Preservation Chicago)
Once a major shopping district known as the "jewel of the South Side," this stretch of Michigan Avenue has been in a state of decline for decades and numerous historic buildings have been torn down or suffer from years of deferred maintenance. 
Preservation Chicago says: "It is important to protect and restore what remains to honor the legacy of this remarkable community and promote economic revitalizaion along the Michigan Avenue commercial corridor. It is time to use historic preservation as an economic development driver. With a growing number of visitors expected to visit the Pullman National Monument site adjacent to Roseland, Roseland has a great opportunity to capitalize on those visitors by investing in its existing historic buildings, enforcing building code violations by negligent building owners and sensibly developing vacant parcels along the corridor."
---
The James R. Thompson Center/State of Illinois Building
100 W. Randolph St.
The Thompson Center's futuristic design represented a revolutionary departure from past design of government buildings. (Gabriel X. Michael)
Chicagoans tend to either love or hate the Thompson Center, describing it alternately as "hideous" or an "architectural marvel" – and sometimes both. At just 35 years old, the building has already worn out its welcome with the State of Illinois, which is aiming to sell the center and put the estimated $300 million windfall to use elsewhere.
Preservation Chicago says: "This Post-Modern People's Palace designed by Helmut Jahn is internationally acclaimed. It is an iconic and integral component to Chicago's downtown and municipal core. There are repurpose options that could retain its critical design features and be a viable and sustainable reuse project. If the State of Illinois does sell the building, the next owner should be required to maintain the Thompson Center's historic character."
---
Jackson Park, South Shore Cultural Center and Midway Plaisance, bounded by Lake Michigan, 56th Street, Stony Island and 71st Street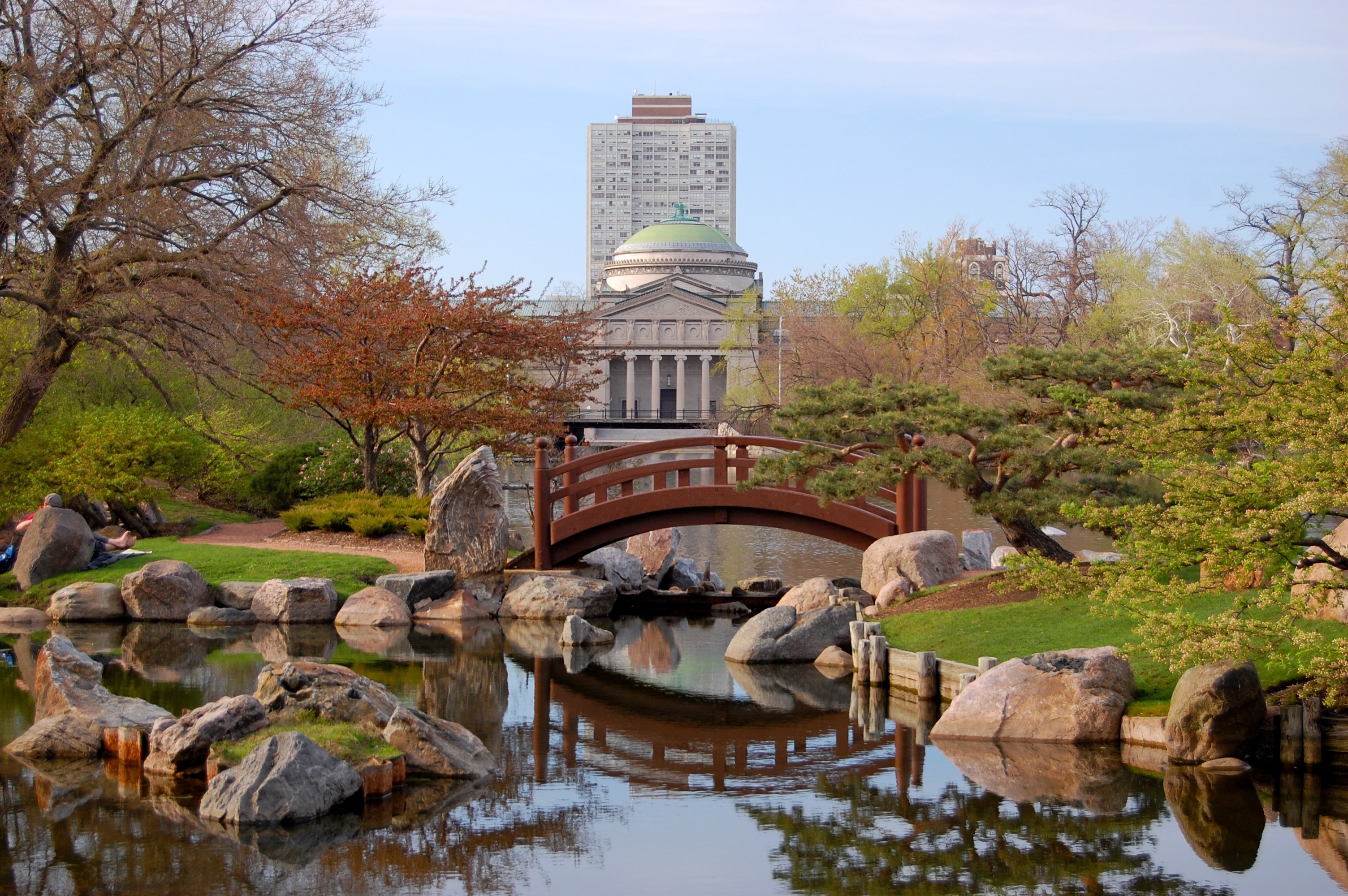 Jackson Park is one of the greatest historic and natural assets of Chicago's South Side, preservationists say, and should not be open to private development. (Eric Allix Rogers)
Plans for the Obama Presidential Center and a PGA-level golf course continue to loom over the fate of these historic sites. The coming year could prove critical in determining whether indeed 20 acres of historic Jackson Park are redeveloped by the Obama Foundation, a move Preservation Chicago says would "completely and unequivocally destroy and change the character and design of this world-renowned Olmsted park."
---
Chicago Union Station Power House
301 W. Taylor St.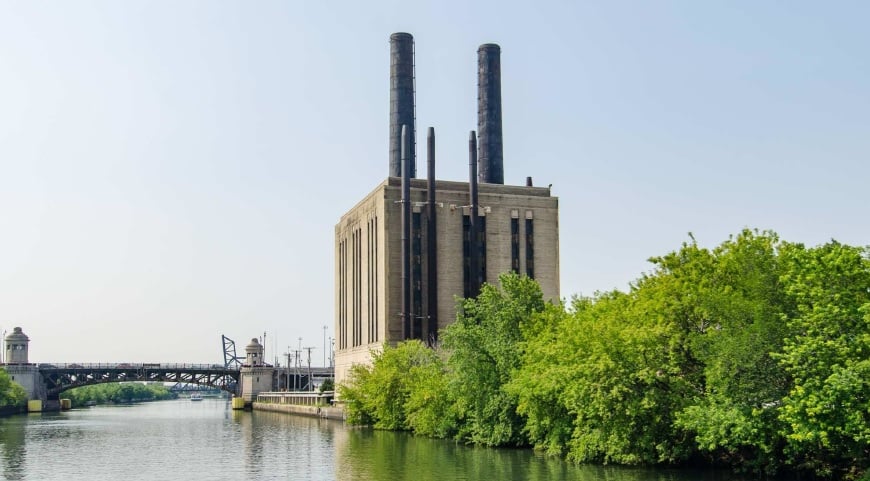 The power station could be repurposed as a data center. (Eric Allix Rogers)
Dating to 1931-32, the art moderne/art deco powerhouse has been out of service since 2011, and Amtrak has indicated the building is marked for demolition, to be replaced by a maintenance shed. Preservation Chicago says the shed could be built elsewhere along Amtrak's vast rail yards, and a new use could be found for the powerhouse, which provides a historic link to Chicago's heyday as the hub of the nation's rail network.
Preservation Chicago says: "We would encourage a clever adaptive reuse (that) could stimulate long-range plans for addressing the riverfront along this stretch of the South Branch and could catalyze the creation of riverfront access, riverfront green space and perhaps even a future Riverwalk."
---
Central Manufacturing District
Pershing Road between Ashland and Western Avenues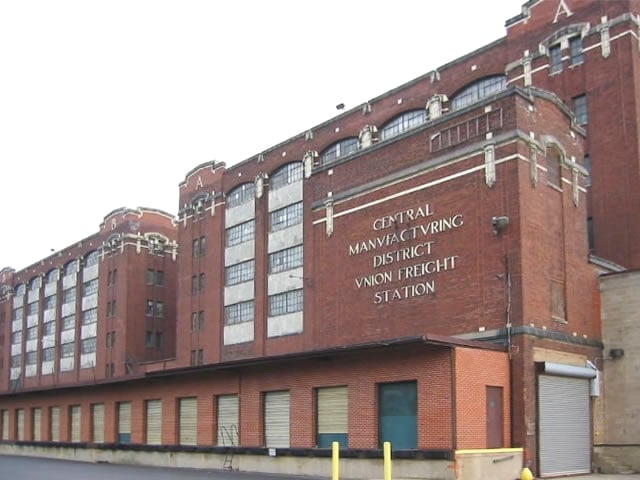 Preservationists are pushing for a Landmark District designation for buildings along Pershing Road. (Payton Chung / Flickr)
Developed between 1917 and 1952, the district served as a national model for industrial parks and at one point more than 200 companies operated within its boundaries, including Wrigley, Goodyear and Westinghouse. Today, many of the buildings are vacant or underutilized.
Preservation Chicago says: "The impressive streetwall along Pershing Road is both breathtaking and massive in scale. These structurally sound buildings could continue to be chipped away at until the City of Chicago designates it a Landmark District and places protections to protect its future and ensure that the community and all stakeholders will have more control over how the area can be developed."
---
Washington Park National Bank Building
6300 S. Cottage Grove Ave.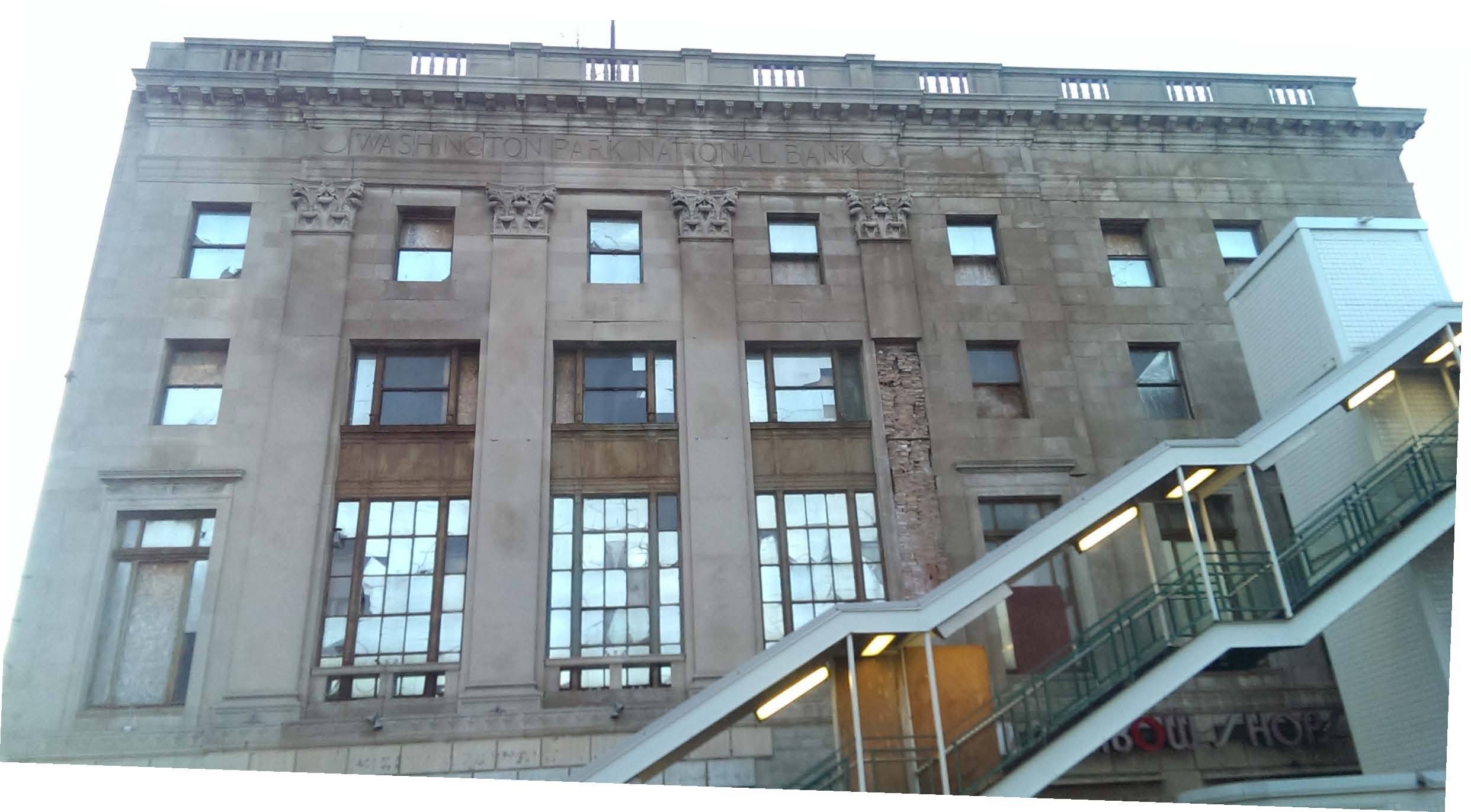 Demolition of the Washington Park National Bank would devalue Woodlawn's history, preservationists say. (Courtesy Preservation Chicago)
Built in 1924, the bank has long been a landmark in the Woodlawn community. In 2016, the property was acquired by the Cook County Land Bank Authority, which then approved the sale of the building to DL3 Realty. Though residents spoke in favor of restoration, the developer plans to demolish the bank in favor of new construction retail/office space.
Preservation Chicago says: "Bigger projects than this, like the old Cook County Hospital and the Post Office were written off for years as insurmountable. Their recent restoration is a victory for Chicago and an inspiration for other developers. Such an impressive and historic building like this one should be adaptively reused. The people of the Woodlawn community deserve to have their history honored and protected. Communities can support both new growth and historic preservation, and we encourage creative solutions to get to that outcome for the Washington Park National Bank Building."
---
Contact Patty Wetli: @pattywetli | (773) 509-5623 |  [email protected]