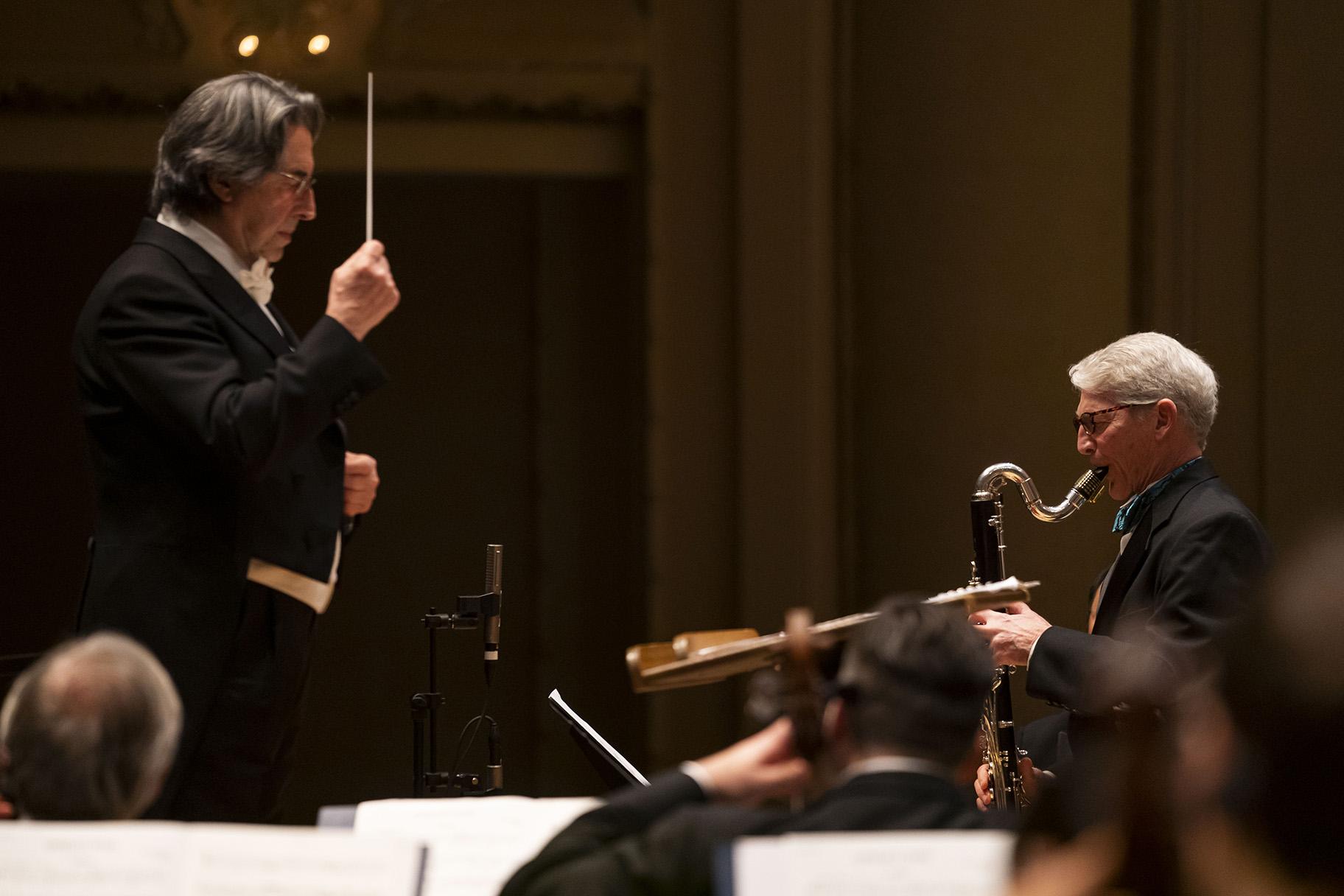 Zell Music Director Riccardo Muti conducts the world premiere of Nicolas Bacri's "Ophelia's Tears" with the Chicago Symphony Orchestra and CSO Bass-Clarinet J. Lawrie Bloom on Feb. 20, 2020. (Credit: Todd Rosenberg)
Roll over, Beethoven, and tell Chicago the news. Apologies, Chuck Berry. But perhaps audiences already know the news, and this explains why the Chicago Symphony Orchestra's current four performances of two of Beethoven's most familiar works – his "Symphony No. 2 in D Major" and "Symphony No. 5 in C Minor" – are all but sold out. Add the fascinating world premiere of contemporary French composer Nicolas Bacri's "Ophelia's Tears, Concertante Elegy for Bass Clarinet and Orchestra" (commissioned by the CSO for J. Lawrie Bloom), and there is added reason to try to nab a ticket if you can.
What Maestro Riccardo Muti and the orchestra have made continually clear throughout this year of celebrating the 250th anniversary of Beethoven's birth is how thrillingly modern the composer's work can feel. And this is not because of any calculated dissonance, or fractured structure and rhythms, but rather, because the emotional power and beauty of his music is imbued with such a potent life force, such instantly comprehensible shifts of mood, and such a wildly vibrant (yet never bombastic) sense of triumph in the face of adversity that his music – especially as it is rendered by the CSO – has an irresistible immediacy.
Of course the subtext of all this is the undeniable fact of Beethoven's increasing deafness while in his early 30s, and the fact that the music he created clearly echoed in his head and his heart, and that he no doubt "heard" it even more loudly, and felt it more deeply, than his hearing audiences.
In many different ways that same emotional turmoil also finds its way into "Ophelia's Tears," which conjures the mental breakdown of Shakespeare's famous character (Hamlet's girlfriend), who is driven to suicide by the actions of the Danish prince, and her brother and father.
The concert opens with "Symphony No. 2" (which began just a bit sketchily on opening night, but quickly caught fire), announcing itself briefly and boldly and then quickly shifting to a lyrical theme that was richly played by the strings, and with a notably beautiful performance by flutist Stefan Ragnar Hoskuldsson and the rest of the wind section, plus horns.
One of the more intriguing aspects of the piece is the way certain themes are echoed by the distinctive "voices" of each section of the orchestra, with the dramatic accents supplied by timpani master David Herbert, and with Muti's meticulous shading of each mood and transition (including a winningly playful exchange between the various instruments), giving everything a sense of fully living in the moment. The sweeping speed and lightness of the work's fourth and final movement was full of urgency and a gorgeous whirl of sound that swept through the orchestra on the way to a wild chase to a big-bang finale.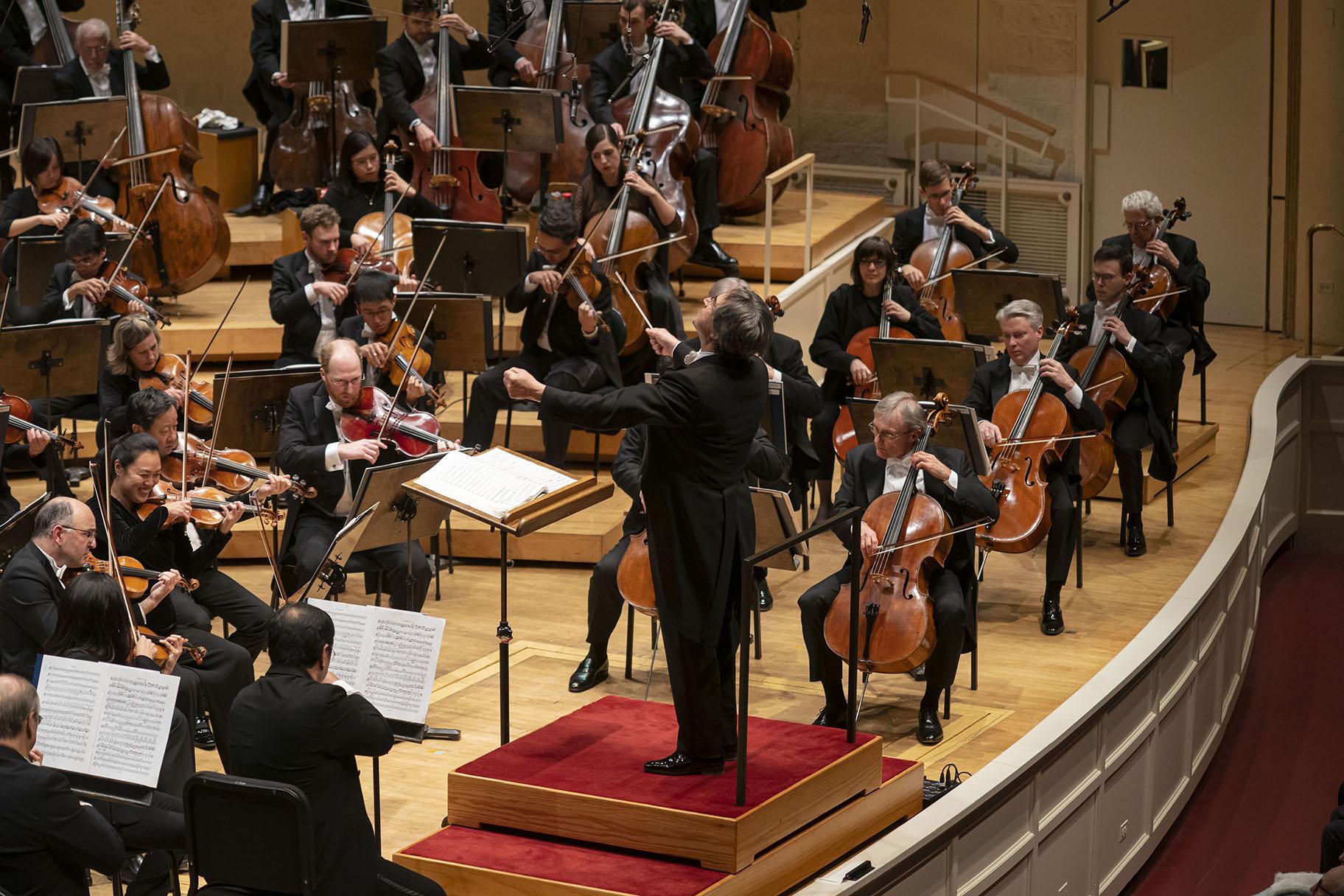 Zell Music Director Riccardo Muti conducts the Chicago Symphony Orchestra in a program featuring Beethoven's Second and Fifth Symphonies on Feb. 20, 2020. (Credit: Todd Rosenberg)
"Ophelia's Tears," with its trajectory of "Tragedy, Madness and Death," came next, with Muti and Bloom's fellow musicians enthusiastically welcoming him to the stage with his large bass clarinet, an instrument often hidden in a back row of the orchestra, now in full view.
Bacri's choice to use this deep, resonant, baritone-voiced instrument to conjure the inner workings of a young woman's mind is most intriguing. And it works. A wild pounding on timpani announces the shattering of a young mind, and that cataclysmic mental break is further suggested by erratic rhythms and a sense of agitation, with the steadier and more aching sound of Bloom's clarinet emerging fully, and then ceding to a percussive cacophony (with Cynthia Yeh and Patricia Dash hard at work), and the low strings that suggest Ophelia's profound anguish.
Ophelia's escalating madness is palpable, too, with a kind of wandering feeling that suggests her gradual descent. Hamlet's madness was mourned by Shakespeare ("Oh, what a noble mind is here o'erthrown"), and now Bacri has given us a musical companion piece worthy of the ill-fated Ophelia.
The iconic opening chords of the grand "Symphony No. 5" are in our DNA, and still command our full attention. And with the sounding of French horns, this masterwork fully takes off and conjures a storm – at once interior and public – that is alive with a thrilling grandeur and energy that never feels pompous, but rather, emblematic of the exuberance that comes with a personal triumph and a sense of joy in being alive.
Muti and his musicians find a way to make it all sound like you are hearing Beethoven engaged in a great conversation with himself – alternately anguished and exultant, introspective and unabashedly celebratory. And no matter how many times you may have heard this symphony, the CSO, which plays it thrillingly, makes it feel freshly penned. Glorious.
This concert will be repeated Friday and Saturday at 8 p.m., and Sunday at 3 p.m. at Symphony Center, 220 S. Michigan Ave. For tickets ($46-$268) call (312) 294-3000 or visit cso.org.
Note: Following Sunday's concert, Maestro Muti (marking the end of his Winter residency with the CSO) will head to the Grainger Ballroom for a CD signing of the newly released CSO Resound recording of Shostakovich's "Symphony No. 13 in B (Babi Yar)." It is a work that, sadly, could not be more timely.
Follow Hedy Weiss on Twitter: @HedyWeissCritic
---