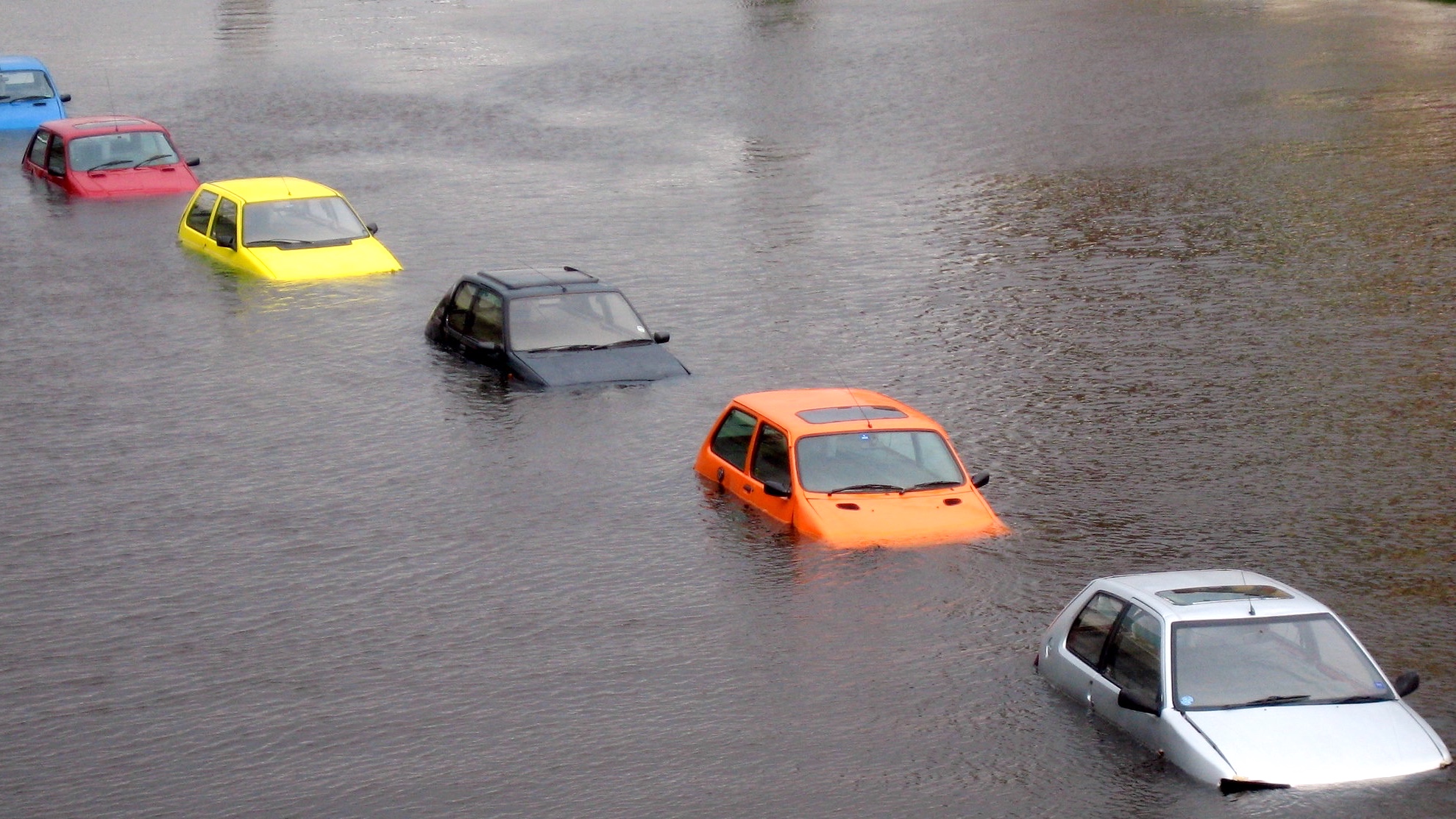 The installation "Come Hell or High Water" by British artist Michael Pinsky shows a fleet of semi-submerged cars in the River Tyne in 2006. Today, scientists expect increased flooding due to climate change. (Akuppa John Wigham / Flickr)
On Wednesday, members of City Council approved a climate emergency resolution introduced last month that calls on the city to "initiate a Climate Mobilization to reverse global warming and the ecological crisis."
"We join over 1,300 other jurisdictions in sounding the alarm," said Ald. George Cardenas (12th Ward), a co-sponsor of the resolution.
Sounding the alarm and responding to it, however, are two different matters. 
Speaking at a press conference following the council meeting, Mayor Lori Lightfoot said: "I think anybody who's awake recognizes that we're in a climate crisis and so I appreciate the representatives of City Council highlighting and bringing this to the fore."
But when asked about tangible next steps related to the resolution, Lightfoot said the city is already addressing the manifestations of climate change, specifically damage to the city's shoreline caused by rising lake levels. "We're pushing our federal partners, particularly members of Congress that represent the state and the region, to join with us and make sure that there are monies appropriated so that the Army Corps of Engineers can ... continue the work up and down the lakefront on the North and the South Side."
"I appreciate the expression" of the climate emergency resolution, she said, "but there's a lot of hard work that has to be done and we will do it."
Ald. Matt Martin (47th Ward), who co-sponsored the resolution, said his colleagues' passage of a climate emergency isn't toothless.
For one, it sends a message, he said.
"With a federal administration that is essentially making policies and statements that indicate they're denying the scope if not existence of climate change, then it's incumbent upon cities and states to pick up the slack," he said.
Beyond a statement of the city's values, Martin said passage of the resolution should prompt residents to ask: "'OK then, what next? And how quickly?' Because if you declare a state of emergency with regard to climate then it necessitates a response or set of responses that reflect the gravity of those words."
Shoring up the lakefront is a way to respond to the negative impacts of climate change already being felt, but won't mitigate future affects, he said.
To "roll back the severity ramp that we're on right now," Martin ticked off a number of measures, some already proposed and awaiting council approval, that would cut down on greenhouse gas emissions. 
Steps to that end include supporting infrastructure for electric vehicles and expanding the city's electric bus fleet, along with building more bus rapid transit lanes to encourage increased ridership. Improving the city's tree canopy, which has been hit hard by the emerald ash borer, is another area of opportunity, as is a rethinking of the city's waste management practices.
"When you think about composting, we aren't doing anything," said Martin. "Let's look at what other jurisdictions are doing so that we can start to lay the foundation. Let's talk with other experts. Where should we be five, 10 years from now, and then chart a course to that. I feel we can't wait another year or two or three for certain things to come to pass. We need to be moving aggressively, multiple balls in the air."
So think of the passage of the resolution like City Council dialing 911. The phone is ringing. And ringing. 
Contact Patty Wetli: @pattywetli | (773) 509-5623 |  [email protected]
---