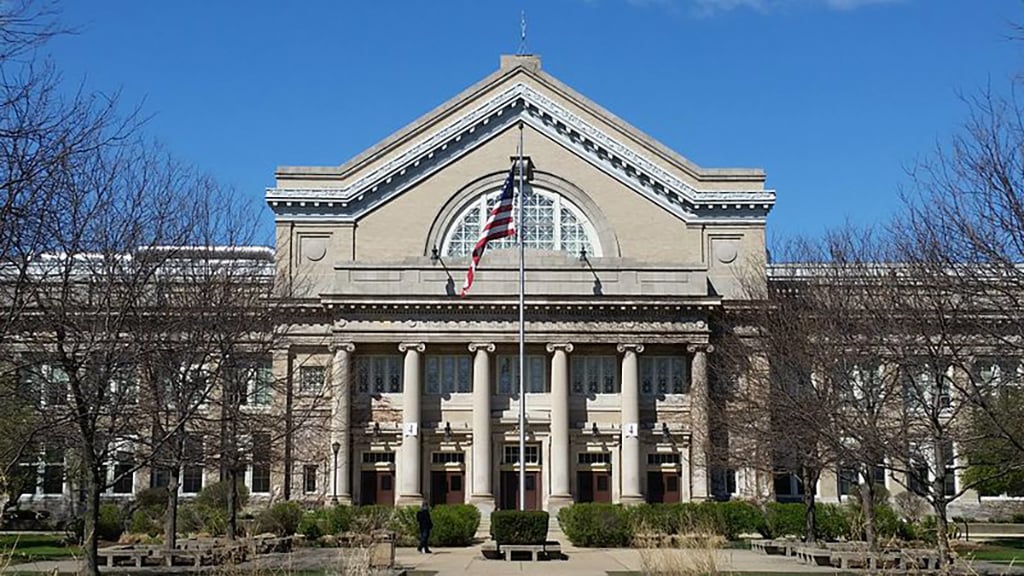 Senn High School (Wikimedia Commons)
The Senn High School teacher who was accused by a Hispanic student of telling her to "go back to your country" after she refused to stand for the pledge of allegiance has been removed from the school.
Senn Principal Mary Beck sent a letter to parents and families Thursday informing them that the teacher had been pulled while Chicago Public Schools' Office of Student Protections and Title IX (OSP) looks into the allegations made against him.
"At the conclusion of OSP's investigation, a final determination will be made regarding whether it is appropriate for this individual to return to Senn," Beck wrote. "I will update the school community when a final determination is made.
"I know this week has been difficult for our school, and I want you to know that the concerns our students have expressed have been heard. I'm committed to implementing the agreements I made with our students to heal our community."
The move came a day after Senn students held a sit-in protest inside the school, calling for the teacher to be removed.
In a social media post, a female Senn student said she and another girl were approached by two teachers "in an aggressive manner" after they refused to stand during the pledge during an assembly last month.
One of those teachers asked "if our legs were broken," according to the post, and whether or not they received free lunch at the school, going on to say the students were disrespecting those who died in order for them to have that lunch.
One of the students then left, but the other said the teacher continued peppering her with questions about why she refused to stand before telling her to "go back to my country," according to the post.
WTTW News is withholding the names of both the student and teacher involved.
After meeting with students, Beck made a series of pledges to the Senn community, including: providing a space for a student town hall, helping students better understand the process for reporting inappropriate behavior, creating an office to assist in that reporting and providing cultural training for all staff.
"Please know that I am taking these agreements seriously," Beck said in the letter, "and remain committed to providing your children with a safe, positive learning environment where they can reach their full potential."
Contact Matt Masterson: @ByMattMasterson | [email protected] | (773) 509-5431
---