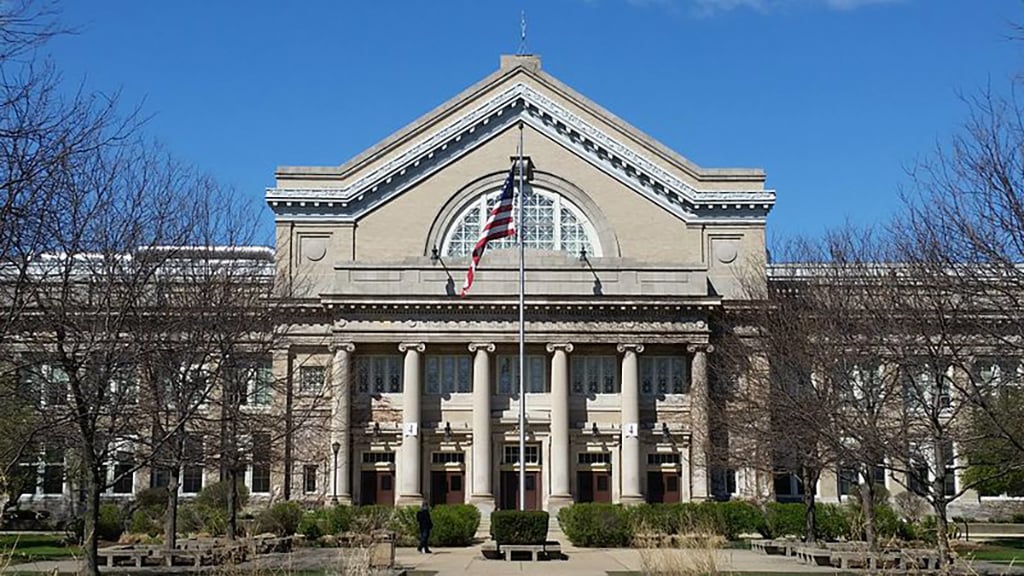 Senn High School (Wikimedia Commons)
Update: Senn High School Staffer Removed Amid Investigation Into Racial Discrimination Allegations
Students inside a North Side high school staged a sit-in Wednesday following allegations that a school staffer told a female student to "go back to (your) country" after she refused to stand for the pledge of allegiance.
Videos posted to social media Wednesday show Senn High School students filling the hallways inside the school chanting "We are Senn" and calling for a teacher to be removed amid claims that he discriminated against a student during an assembly last month.
Senn High School student protests going on - complaints about gym teacher racially profiling and forcing students to stand for the anthem went unanswered. #Twill pic.twitter.com/UsPRVppJyJ

— Kyle Hillman (@kylehillman) February 12, 2020
---
In a social media post, the student said she and another girl were approached by two teachers "in an aggressive manner" after they refused to stand during the pledge. The teachers told the students they would either have to stand or leave, the post claims.
One of those teachers asked "if our legs were broken," according to the post, and whether or not they received free lunch at the school, going on to say the students were disrespecting those who died in order for them to have that lunch.
One of the students then left, but the other said the teacher continued peppering her with questions about why she refused to stand before telling her to "go back to my country," according to the post. When the student responded that she was born in the U.S., the teacher became more irritated and allegedly told her again to leave.
The student who made those claims did not immediately respond to a request for comment. WTTW News is withholding the names of both the student and teacher involved.
More than 41% of the Edgewater neighborhood school's 1,500 students are Hispanic, according to Chicago Public Schools data.
During the sit-in, another student claimed the same teacher had previously mocked his disability two years ago.
"And he's still here," that student said in the video. "What did (Principal Mary) Beck say? 'Well that's how he is.'"
Beck sent a letter to Senn parents and families Wednesday saying she learned of the incident "a few weeks ago" and handled it "in accordance with CPS policy." She said she met with the students affected by the incident and "created a number of solutions to increase student voice and student safety."
"Overall, there was a lot of emotion to work through for students," Beck wrote. "There were also some concerns of follow up to past incidents that we are investigating immediately. I am relying on my staff and, asking you as parents, to help guide our students through processing these feelings. We will have counselors and social workers available for students."
Beck also noted that "as a precaution," there were additional CPD officers at the school on Wednesday.
Chicago police responded to the school during the Wednesday protest and one girl was arrested. Police said two students began fighting around 10 a.m., and when a 55-year-old administrator attempted to intervene, he was pushed to the ground by a 15-year-old girl.
That girl was taken into custody and charged with battery, a police spokeswoman said.
A CPS spokesman said he is aware of the assembly incident and the district has opened an investigation into the allegations, adding that they "support the students who have peacefully raised their concerns."
"CPS is committed to fostering learning environments that embrace and support all students, and the alleged actions of the teacher in question run counter to our beliefs and priorities as a school district," district spokesman James Gherardi said in a statement.
The district said the "unacceptable language" allegedly used by the teacher violated its anti-discrimination policy. CPS students are allowed to organize peaceful protests and sit-ins, according to the district, which said it "will continue to work with students to ensure their voices are heard and concerns are addressed."
Contact Matt Masterson: @ByMattMasterson | [email protected] | (773) 509-5431
---