They are making music with a mission. A rousing Chicago gospel group brings a modern approach to traditional spirituals as they work toward social justice.
We caught up with the Adrian Dunn Singers at rehearsal to see what inspires them to raise their voices.
TRANSCRIPT
Jay Shefsky: At the historic Chicago Temple in the Loop, a rehearsal room comes alive as the Adrian Dunn Singers reinvent an old gospel song.
Adrian Dunn, The Adrian Dunn Singers: Chicago is really like the birthplace of modern gospel music. There's so much rich history in Chicago. I'm originally from Cleveland, Ohio, so growing up as a kid we looked to Chicago for like all of the latest trends in the industry with New Direction Choir, Joshua's Troupe, Chicago Mass Choir, Clay Evans and Fellowship, Cosmopolitan, The Tommies. There was so much happening in the Chicago Gospel music scene.
Shefsky: They recorded their new album live in the sanctuary of First United Methodist Church at Chicago Temple – where Dunn leads the gospel choir.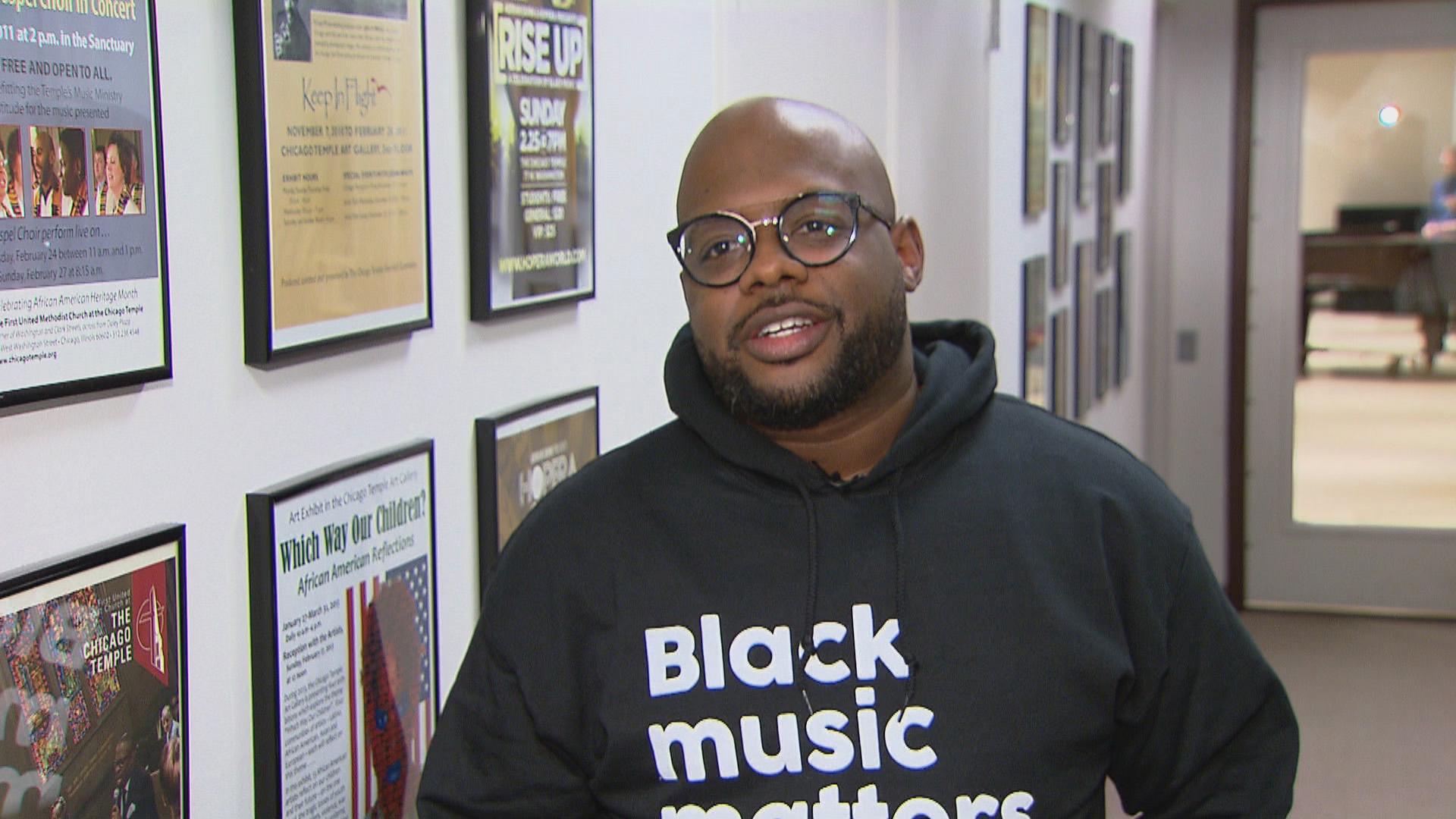 Adrian Dunn (WTTW News)
Dunn: My goal was to give the world a modern look at the spiritual.
What does it mean today, for black people today to sing "Wade in the Water"? What does it mean for those of us who are millennials and folks, like my parents, the baby boomers? Our version of this is different. Our expressions are different. Our vernacular music is different, and so therefore these arrangements deserved something very different.
Shefsky: The new arrangements are inspired by and dedicated to young black men who have died violent deaths.
Dunn: I remember Trayvon Martin. I remember watching the video of Philando Castile's murder, which is why I wrote the arrangement of "Wade in the Water." Like "Wade in the water" for me was a reaction. And when I wrote [the arrangement for] that one song I was like, wow, let me keep writing because there was then Eric Garner and then there was Freddy Gray and then and then and then, right?
Shefsky: The singers tour from coast to coast under the banner "Black Music Matters."
Dunn: The Black Music Matters tour was a way for me to say to the world that this is important, that we need to hear from black voices. We need to hear from not just white composers who write about black folks, we need to hear from black folks, black composers, black artists, black singers, black groups, on our own, perspectives.
This is my resistance. This is my way of changing the world, of changing the hearts and minds of people who have not been able to see black men as people, as human beings, as folks who are compassionate. I felt like this was the best way that was life giving, that did not feel like something that was divisive or controversial, but a way that uses the legacy of my ancestors and the legacy of my people. It preserves that history, but it also continues to tell the story.
---
The Adrian Dunn Singers new recording is called "Redemption."
There is an album release concert this Sunday at the University of Chicago's Logan Center for the Arts. They will be joined by members of the Chicago Children's Chorus and the Destiny Praise Chorale from Chicago's West Side.
---
More about Adrian Dunn
In addition to being the founder and director of the Adrian Dunn Singers, Adrian Dunn has also sung with the Chicago Symphony Chorus and the Grant Park Chorus, and he teaches voice at both Roosevelt University and the New Music School.
We asked him about his many influences.
"I listen to all types of music. I'm a kind of older school hip-hop, not old-old, but my generation old, which is like Common, Jay-Z, old school Kanye. I love gospel, love jazz, Robert Glasper. I'm a voice teacher so I love all the great divas, and Jazmine Sullivan and India Arie, and the people of my childhood – Dru Hill, Boys II Men. I love all those folks, so I'm really kind of a sponge of all types of stuff.
"And my favorite classical composer is Richard Strauss. I love the contributions of Strauss and Mahler and Beethoven. These are some of my favorite folks to sing when I have my opera cap on."
---