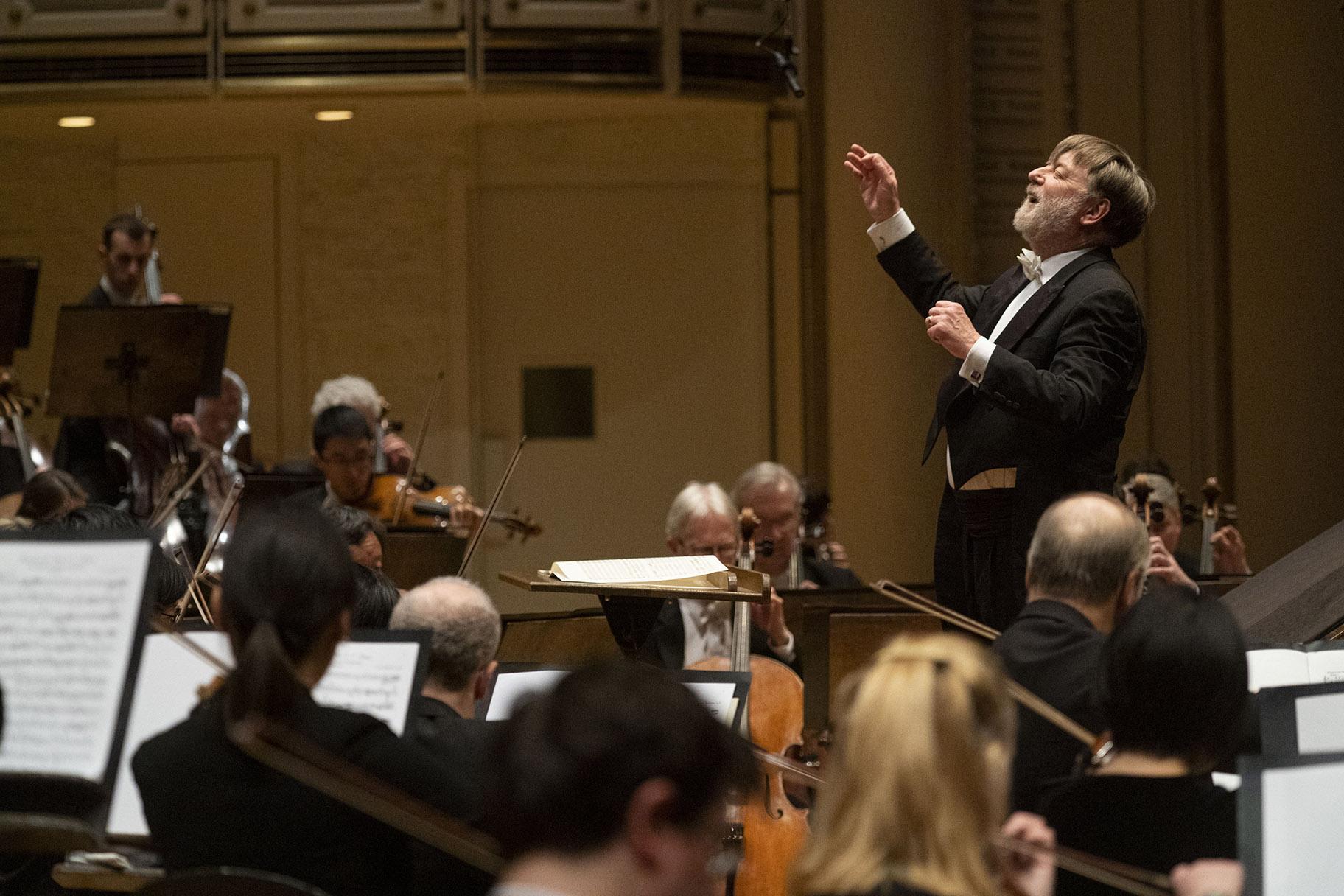 Sir Andrew Davis leads the Chicago Symphony Orchestra in a program of works by Tippett and Beethoven at Symphony Center on Jan. 30, 2020. (Photo credit: Todd Rosenberg)
Fresh off a grueling but much heralded European tour, the CSO has returned to the Symphony Center stage with Sir Andrew Davis, music director of Lyric Opera of Chicago, guest conducting a program featuring two works by Beethoven that continue the celebration of the 250th anniversary of the composer's birth, along with two brief pieces by the 20th century English composer, Sir Michael Tippett, that are receiving their first CSO performances.
The astonishingly beautiful, extraordinarily fluid interpretations by English pianist Paul Lewis of both the Beethoven "Piano Concerto No. 1 in C Major" and "Piano Concerto No. 4 in G Major" will linger in memory for a long time to come. And given the English "accent" of the concert, it was impossible to listen to Lewis and not think of Shakespeare, and of Hamlet's advice to a troupe of itinerant actors: "Speak the speech, I pray you, as I pronounced it to you, trippingly on the tongue." For Lewis' performances of both concertos flowed with such total seamlessness, such exquisite articulation, and such a distinctive overall approach that it felt as if he were channeling both Beethoven's music and Hamlet's advice. More than that, it was as if Lewis were experiencing Beethoven in the very act of notating his creation. Remarkable.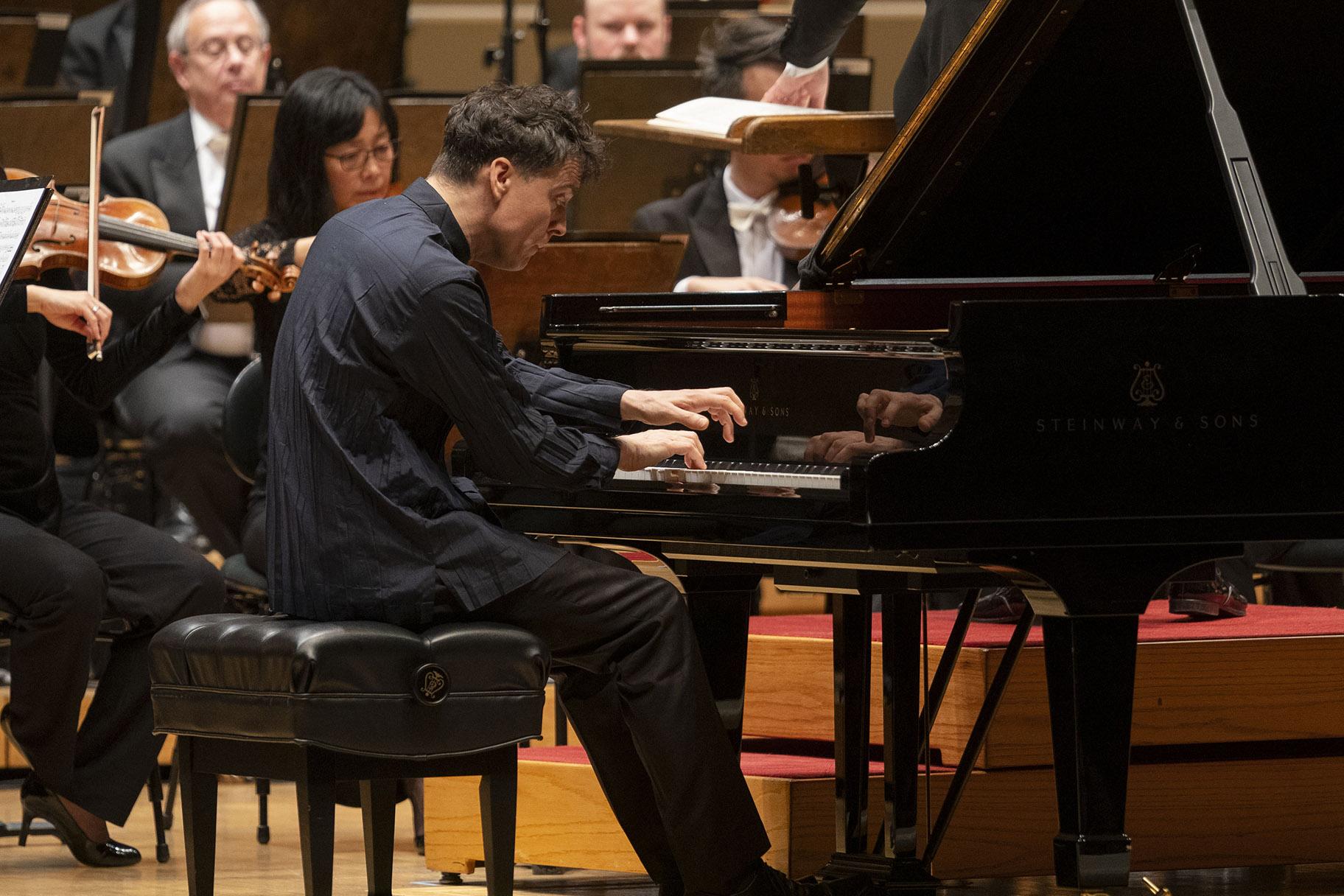 Pianist Paul Lewis performs Beethoven's Piano Concerto No. 1 with the Chicago Symphony Orchestra on a program that also featured Lewis as soloist in Beethoven's Piano Concerto No. 4. (Photo credit: Todd Rosenberg)
In addition, as has become continually clear throughout this intensive season of Beethoven, the composer's music possesses a timeless quality – a sense of inner life and emotional immediacy that makes it feel utterly fresh and modern even if it is familiar. Of course there also is the gorgeous melodic lines, rhythmic brilliance and drive of the music and Lewis tapped into all of it.
But before going on about Beethoven and Lewis, a few words about Tippett, whose music Davis told the audience he has loved since the age of 15. Opening the concert was the composer's "Little Music for String Orchestra." Written in 1946, in the wake of WWII, the 10-minute piece suggests a mix of subtle sadness and mourning as well as the speed and lightness of an awakened optimism. Opening the second half of the program was Tippet's more overtly modern, six-minute "Praeludium for Brass, Bells, and Percussion," which Davis said brought to mind a battle in the Trojan War, but which I might have titled "Church and State" with its intriguing mix of church bell chimes and a haunting use of brass and drums.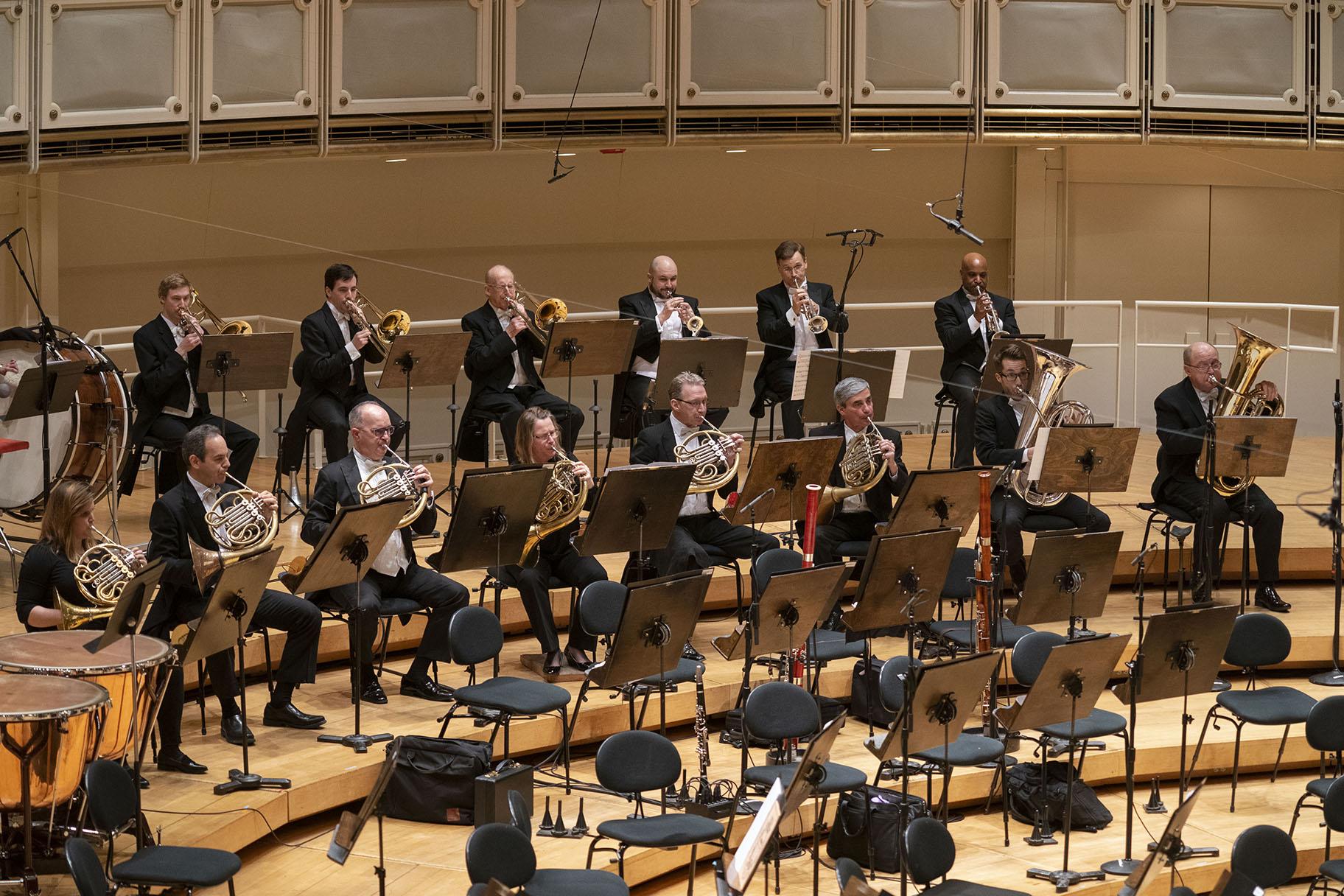 The Chicago Symphony Orchestra Brass performs Tippett's Praeludium for Brass, Bells and Percussion at Orchestra Hall on Jan. 30, 2020. (Photo credit: Todd Rosenberg)
Back to Beethoven. The "Piano Concerto No. 1" begins with a triumphal sound and a string segment that suggests lingering echoes of Mozart. Lewis instantly took hold if the music with delicacy, brilliance and speed and impeccably elegant phrasing, with the orchestra in total synchrony throughout. The second movement, dreamy and thoughtful, was enhanced by the warmth and sweetness of the winds (cheers for John Bruce Yeh on clarinet) and Lewis' quiet perfection. And then it was on to the rapid-fire exuberance of the final movement, all conjured by the pianist's stunning ease in even the most frenzied passages.
The "Piano Concerto No. 4" is Beethoven's genius writ large. And from the work's spare opening bars for the piano (quickly echoed by the orchestra), to the grand finale, Lewis' masterful shading of moods, and flawless pianistic diction were breathtaking – at turns conjuring an almost whistling sound, an impressionistic shimmer, a great gallop and a storm of solo playing, with the orchestra an ideal partner to his distinctive interpretation.
This concert will be repeated Feb. 1 at 8 p.m. and Feb. 4 at 7:30 p.m. at Symphony Center, 220 S. Michigan Ave. For tickets ($41-$253), call (312) 294-3000 or visit www.cso.org. Running time is 2 hours with one intermission.
Note: Symphony Center and the CSO have just announced their extensive programming plans for the 2020-2021 season. Among just a few of the opening highlights are:
• Maestro Riccardo Muti conducting the CSO's annual free concert in Millennium Park featuring Beethoven's "Leonora Overture, No. 3" and Rimsky-Korsakov's "Scheherazade" (Sept. 17).
• Muti and the CSO in a program featuring Mozart's "Concerto for Flute and Harp" and Schubert's "Symphony No. 9" (Sept. 18 and 20).
• Muti and the CSO joining forces with the Chicago Symphony Chorus for performances of Beethoven's massive "Missa Solemnis" (Sept. 24, 25, 26).
• "Amadeus" Live, with the CSO and Chorus performing the score to Milos Forman's film version of the Peter Shaffer play (Oct. 8).
For a complete overview of next season's offerings visit www.cso.org.
Follow Hedy Weiss on Twitter: @HedyWeissCritic
---