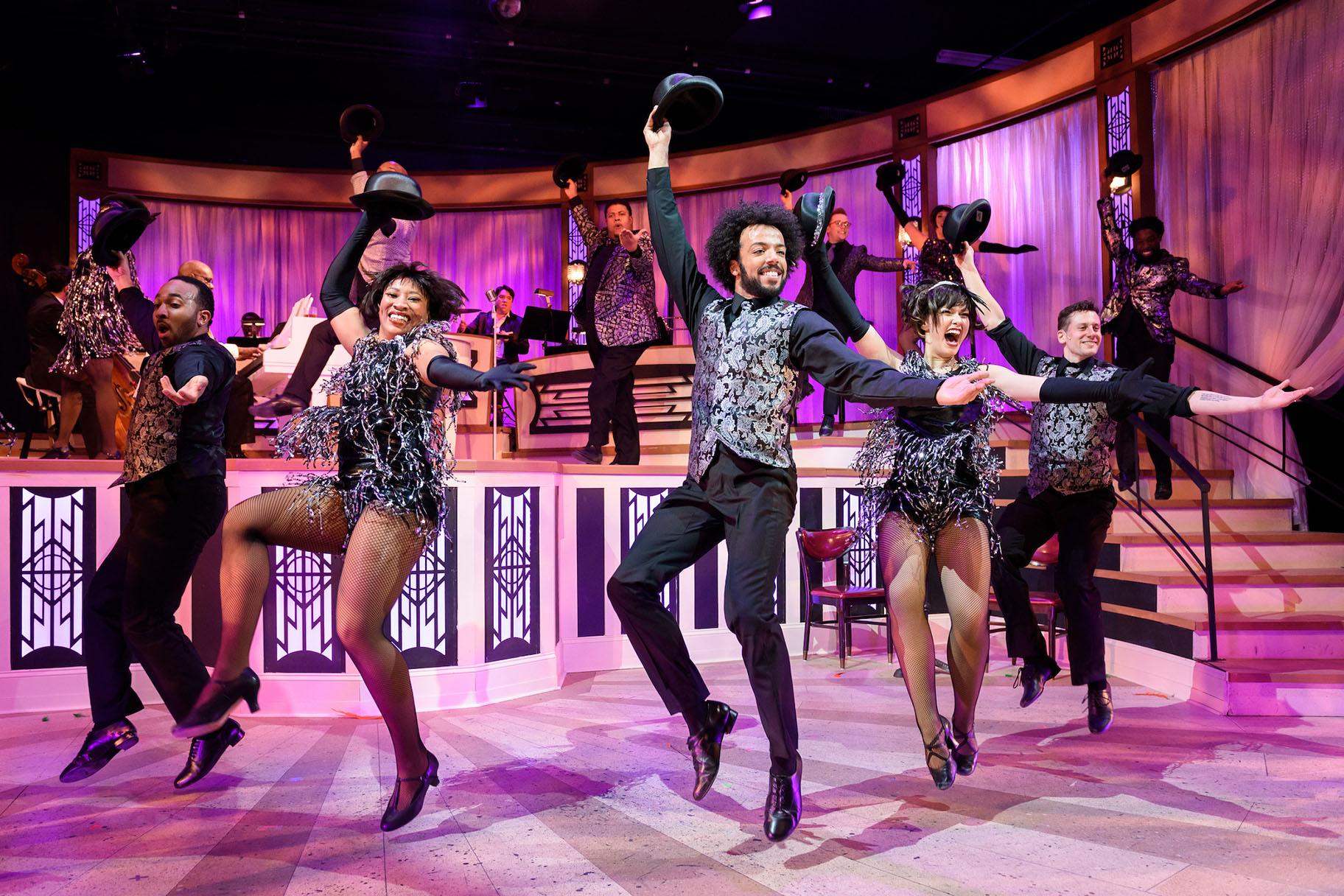 From left: Chuckie Benson, Terri K. Woodall, Joey Stone, Madison Piner and Tristan Bruns in "Rockin' in Rhythm" from "Sophisticated Ladies" by Porchlight Music Theatre. (Photo by Michael Courier)
Note to Broadway (and other commercial producers), wherever you may be: A knockout revival of "Sophisticated Ladies" – the musical revue of Duke Ellington classics originally conceived by Donald McKayle and only rarely revived since its Broadway debut in 1981 – is now burning up the stage of the Ruth Page Center for the Arts courtesy of a Porchlight Music Theatre production that could easily be airlifted onto a New York stage without a single alteration.
So, come and see it if you can. And let the blazing talent of its multitalented, 15-person Chicago-based cast, the ingenious work of its co-director/choreographers Brenda Didier and Florence Walker Harris, the irresistible swing of its jazz-centric band under the splendid music direction of pianist Jermaine Hill, the elegance of Angela Weber Miller's black-and-white art deco set, the glittery beauty of Theresa Ham's costumes and the impeccable sound design of Robert Hornbostel convince you that this show deserves a life that extends far beyond its current stage.
From left: Terri K. Woodall and Tristan Bruns in "Kinda Dukish" from "Sophisticated Ladies." (Photo by Michael Courier)
Yes, think Broadway, or the Apollo Theatre in Harlem, or a London stage. Or anywhere that the sound of classic jazz combined with bravura tap dancing, and a collection of larger-than-life personalities who can turn every song into a one-act play, can attract an audience happy to "swing" along. For as the song by Ellington and lyricist Irving Mills proclaims, "It Don't Mean a Thing (If It Ain't Got That Swing)." And "swing" this revue – which also should enjoy an extended commercial life in Chicago – most certainly does as it dramatizes more than two dozen treasures from the Ellington songbook with breathtaking exuberance and emotional force.
Each of the show's principal singers has a distinctive title, with Lorenzo Rush Jr. as the shape-shifting Raconteur who can romance the Danseuse (sparkling Lydia Burke) with "Music Is a Woman," or who can "Take the A Train" with the ever-show-stopping Donica Lynn (whose scale-climbing scat singing might just have Ella Fitzgerald doing a double-take in jazz heaven). Lynn also is the Chanteuse who can easily put you "In a Sentimental Mood."
Playing the slinky, delightfully devilish Jazzbo is Donterrio Johnson, with power-voiced Molly Kral as the Soubrette who can turn up the heat with "Hit Me With a Hot Note," and John Marshall Jr. as the sweetly charming young Hipster who can sweep moonlight across the stage while dancing with a broom and singing "Everything But You." And for pure astonishing poetry-in-motion there is Eustace J. Williams as the Danseur, who makes it clear he's "Got to Be a Rug Cutter," and dances up a storm with two of the show's phenomenal Sophisticated Gentlemen hoofers (Chuckie Benson and Joey Stone).
From left: Joey Stone, Eustace J. Williams, Donterrio Johnson and Chuckie Benson in "I've Got to Be a Rug Cutter" from "Sophisticated Ladies." (Photo by Michael Courier)
The storytelling is key in every song, from the be-feathered showgirl routine of "The Mooch" (featuring Sophisticated Ladies Shantel Cribbs, Madison Piner, Jenna Schoppe and Terri K. Woodall), to the seductive "Caravan," to "I'm Checking Out," the no-nonsense breakup song with Lynn and Rush, to an acrobatic swing dance frolic set to "Cotton Tail," and perhaps best of all, to the absolutely brilliant card-shuffling and gambling number that features all the sensational men in the cast including Tristan Bruns and Kaimana Neil. (Yet another big plus is that despite the aerobic workout for every performer in this show, the marvelous lyrics penned by Ellington's gifted collaborators are meticulously enunciated.)
Applause, too, for the terrific musicians including Hill on a glossy white grand piano, Darius Hampton and Jonathan J. Golko (reeds), Sam Wolsk (trumpet), Stephanie Lebens (trombone), Marcel Bonfim (bass) and Justin Kono (drums).
From left: Donterrio Johnson, Lydia Burke and Eustace J. Williams in "Love You Madly/Perdido" from "Sophisticated Ladies." (Photo by Michael Courier)
Throughout, the genius and range of Ellington's music is amplified by the sheer polish, playfulness and electricity of this production. It is, in the words of master lyricist Billy Strayhorn, "Something to Live For."
"Sophisticated Ladies" runs through March 6 at The Ruth Page Center for the Arts, 1016 N. Dearborn St. For tickets ($39-$66) call (773) 777-9884 or visit PorchlightMusicTheatre.org. Running time is 2 hours and 10 minutes with one intermission.
Follow Hedy Weiss on Twitter: @HedyWeissCritic
---