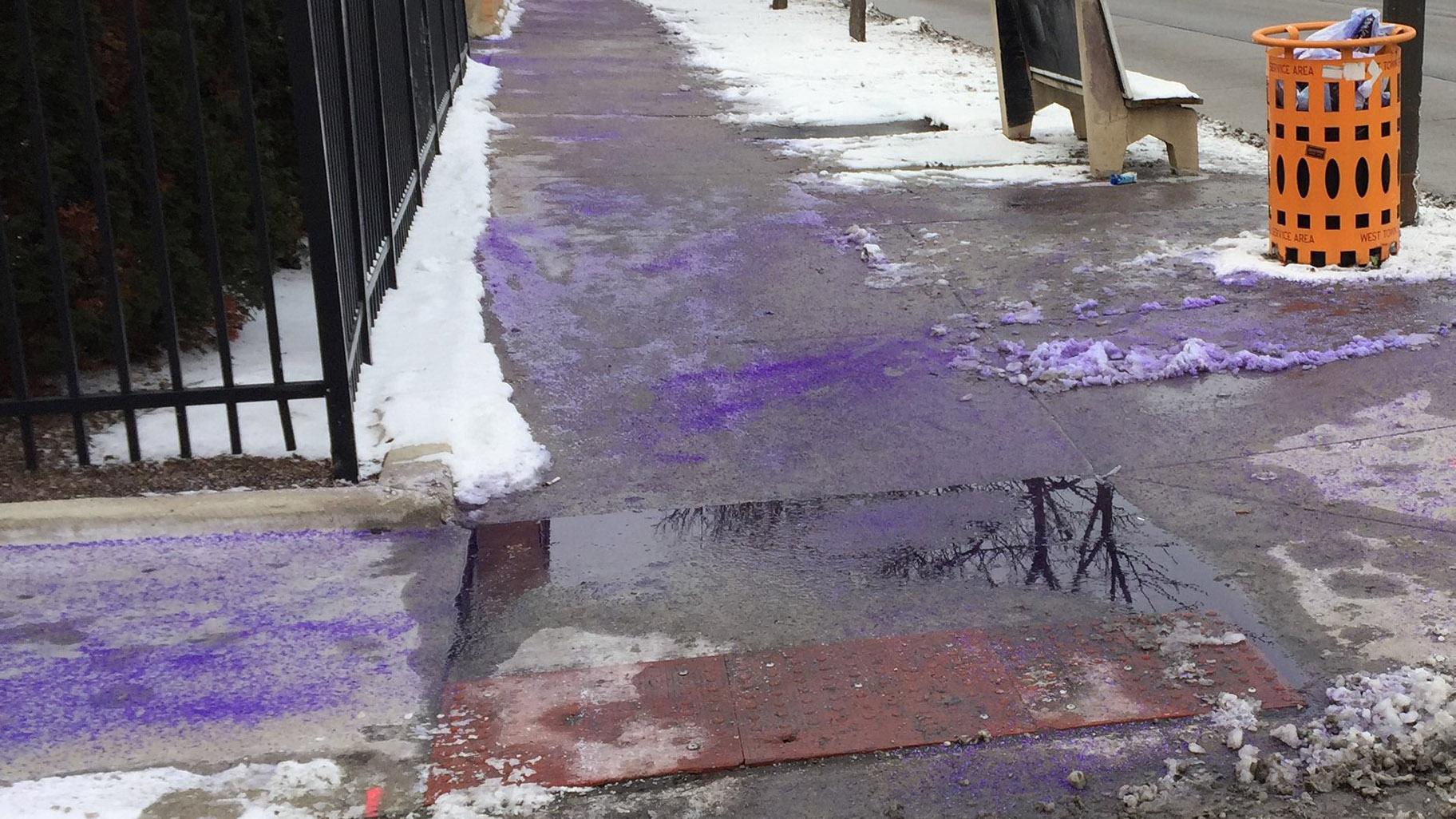 The MWRD labeled this image "how not to salt." (Facebook / Metropolitan Water Reclamation District of Greater Chicago)
When it comes to the use of salt as a de-icer, less is more.
So says the Metropolitan Water Reclamation District, along with a host of clean water advocacy organizations including the Northwest Water Planning Alliance, the Lower Des Plaines Watershed Group, the Conservation Foundation and the Lower DuPage River Watershed Coalition. As part of the Salt Smart Collaborative, the groups are collectively encouraging municipalities and residents to use a light hand when applying salt on sidewalks and roadways.
MWRD's message is "go easy on the salt," citing the negative impact excessive salting, which eventually makes its way into sewers, not only has on waterways and aquatic life but trees, plants and animal paws.
A 2018 study, "Freshwater salinization syndrome on a continental scale," revealed that changes in salinization have affected 37% of the drainage area of the U.S. over the past century, most prominently and most rapidly in the Eastern and Midwestern areas of the country. The use of road salts is a prime culprit, the study concluded.
Acknowledging that ice poses a serious threat to pedestrians and motorists, MWRD makes the case for more judicious use of salt and other de-icers, which are not designed to melt ice but rather to break the bond between ice and pavement.
Some tips:
• A little goes a long way. A 12-ounce mug of salt will suffice for a 20-foot driveway or 250 square feet of sidewalk. If there's salt left on the ground after the ice melts, too much was used. Instead of letting this excess leach into the ground or sewers, sweep it up.
• Untreated salt doesn't work when temperatures are lower than 15 degrees, so don't bother spreading it. 
• Spread salt evenly instead of wasting it in large clumps.
• Try more eco-friendly options such as calcium chloride, magnesium chloride, calcium magnesium acetate and potassium acetate.  
"Imagine your sidewalks, driveways, parking lots and roads are like the food on your dinner table," MWRD Commissioner Cam Davis said in a statement. "You don't want to over-salt any of them, and, if you can avoid salting altogether or find alternatives, it's better for everyone's health."
Contact Patty Wetli: @pattywetli | (773) 509-5623 |  [email protected]
---