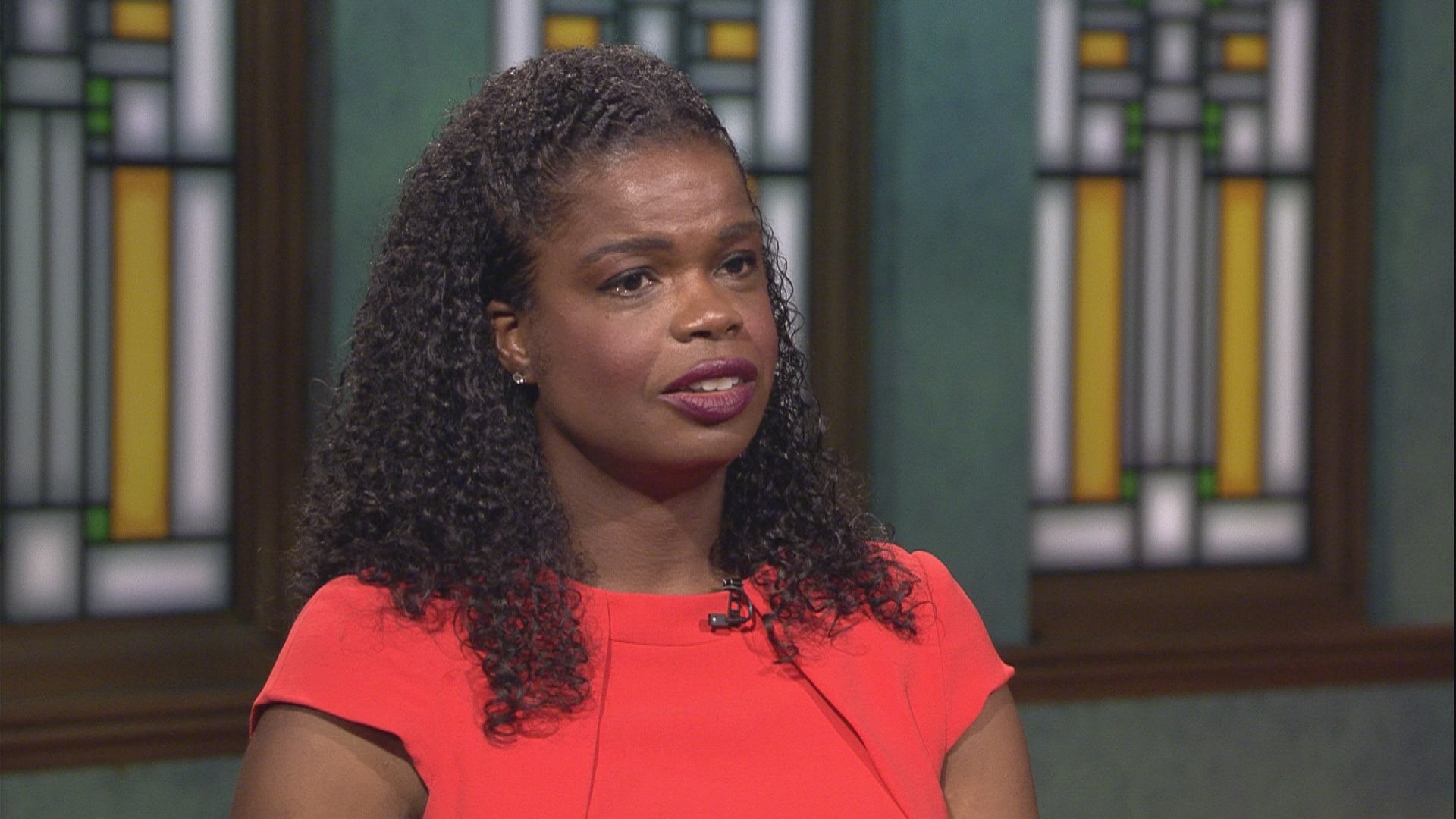 Cook County State's Attorney Kim Foxx appears on "Chicago Tonight" on Sept. 17, 2019. (WTTW News)
The retired appellate judge who successfully petitioned for a special prosecutor to take over the Jussie Smollett investigation is now seeking to bar Cook County State's Attorney Kim Foxx from using taxpayer dollars to pay for her own outside counsel.
Sheila O'Brien on Thursday filed a petition for a writ of mandamus, asking Cook County Judge Michael Toomin to order Foxx to "cease and desist" using public funds to cover the costs of the attorney she hired to represent her in the ongoing probe into Smollett's alleged hoax attack.
"The hiring of outside counsel in defense of the Office of State's Attorney is not provided by the Illinois statutes," O'Brien wrote in the brief three-page motion. "Kim Foxx, in her role as State's Attorney, has a clear duty to comply with the Illinois statutes."
Crain's Chicago Business earlier this month reported that Foxx has retained former Northern District of Illinois chief judge Ruben Castillo, now of the Akerman law group, and would be using tax dollars to pay him.
That move comes as Dan Webb – who Toomin appointed as special prosecutor last year – continues his investigation into Smollett and the circumstances under which Foxx's office dropped felony disorderly charges against the former "Empire" star, who was accused of orchestrating a racist and homophobic attack upon himself.
"We are reviewing the matter and continue to cooperate fully with the office of the special prosecutor," a Cook County state's attorney spokeswoman said in an email Thursday.
Smollett was first charged last February, a month after he told Chicago police he'd been the victim of a hate crime near his Streeterville residence by two men who shouted slurs, beat him and tied a rope around his neck. But after weeks of investigation, detectives determined Smollett had hired two brothers to carry out the staged attack on himself and lied to police about it.
The actor faced 16 charges, which were abruptly dropped in March after Foxx recused herself from the case and appointed her own top assistant to take over. Foxx later claimed she hadn't recused herself in a "legal sense," but simply used the term colloquially to state that she was stepping away from the case.
O'Brien in an email said a hearing date had not yet been scheduled to argue her motion seeking to bar Foxx from using taxpayer dollars.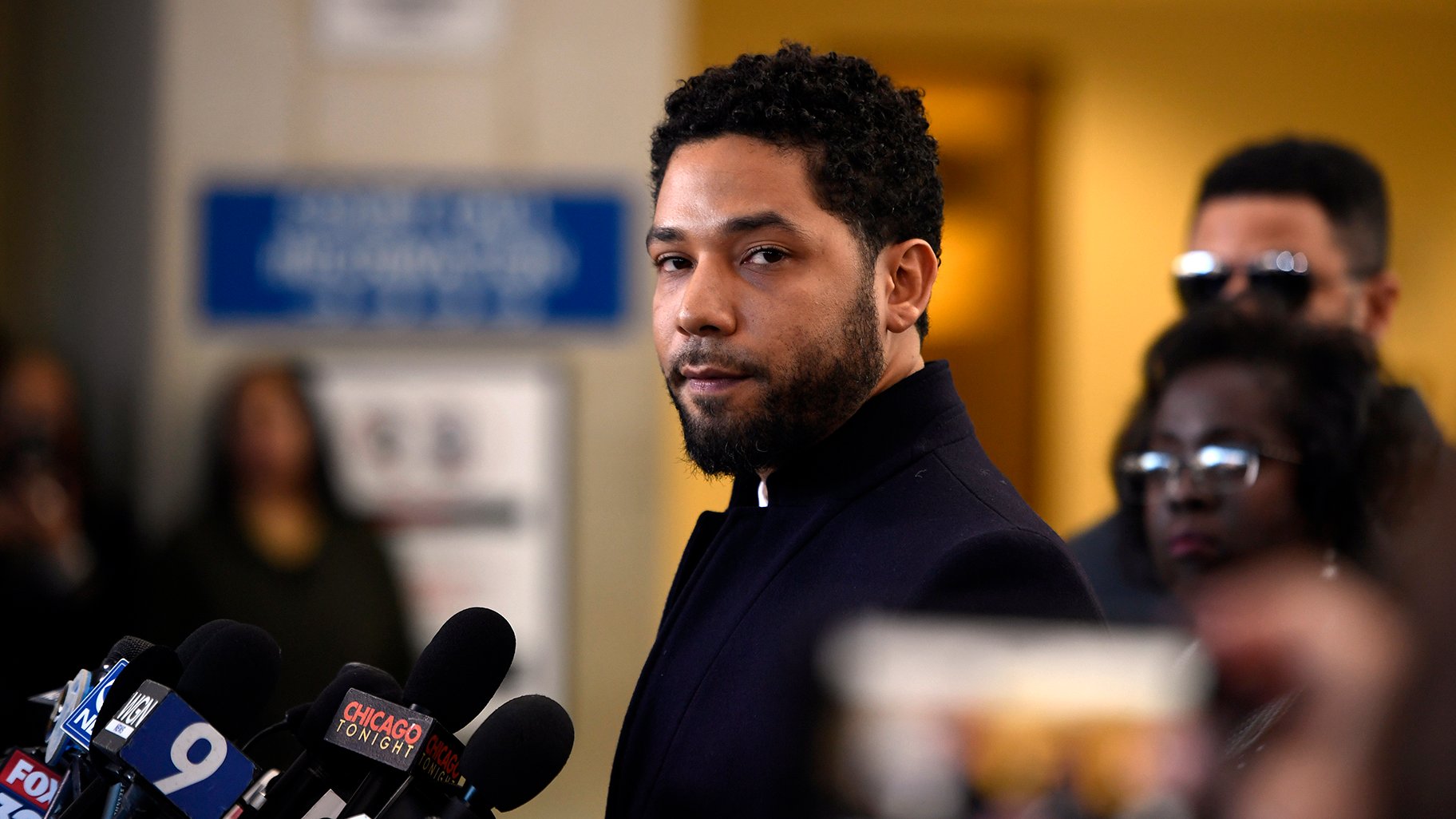 Actor Jussie Smollett talks to the media before leaving Cook County Court after his charges were dropped, Tuesday, March 26, 2019. (AP Photo / Paul Beaty)
Webb is tasked with investigating two aspects of this case: whether there are grounds to prosecute Smollett for filing a false police report, and whether Foxx or anyone in her office involved in the case engaged in improper conduct or committed any criminal offenses.
A former U.S. attorney who's served as special prosecutor in multiple high-profile cases, Webb was appointed to the Smollett case last August after O'Brien filed a petition arguing that Foxx and her office mishandled the prosecution of Smollett.
A day after news broke that Foxx had retained Castillo, the Chicago Tribune reported that a Cook County judge had ordered Google to turn over a year's worth of Smollett's personal data – including photos, emails and location information – to Webb's team.
Smollett, meanwhile, remains embroiled in a legal battle with the city of Chicago, which is suing the actor in federal court for $130,000 – the sum it says the Chicago Police Department spent on overtime investigating the alleged hoax attack.
He, in turn, filed a countersuit against the city and several others late last year, claiming he was the victim of a malicious prosecution. On Wednesday, Smollett's attorneys filed a response in federal court asking a judge not to dismiss his suit.
"(T)he Counterclaim details how the City Defendants made false statements, intentionally ignored evidence that undercut the hoax narrative, and initiated proceedings against Mr. Smollett even though they lacked any reliable evidence that Mr. Smollett made a false police report," his attorneys wrote, "all so that the City Defendants could close a high-profile investigation to avoid further public scrutiny."
Contact Matt Masterson: @ByMattMasterson | (773) 509-5431 | [email protected]
---