It was a moving memoir that became an Oscar-winning 1995 film starring Sean Penn and Susan Sarandon. "Dead Man Walking" premiered as an opera in 2000. After more than 60 productions around the world, the show is now headed to Lyric Opera of Chicago for the first time.
We got an exclusive invitation for a dress rehearsal of "Dead Man Walking" on Wednesday, and recently spoke with the force behind the book, film and opera: Sister Helen Prejean.
TRANSCRIPT
Phil Ponce: "Dead Man Walking" tells the true story of a murderer, and the nun who became a spiritual advisor to him on death row.
Sister Helen Prejean recalls meeting the condemned man who wrote to her more than 35 years ago.
Sister Helen Prejean: The first time I went to visit him, they locked me in a room, they said, "We'll go get your man," and I was nervous about him because I was thinking, well, anybody can write nice letters, I've never been with a murderer before, this guy murdered somebody. And then the guards brought him in – I was on the other side of a heavy mesh metal screen – and I looked through that screen I went, my God, he's a human being. He had a human face. I thought if you murdered somebody your face looked mean, you know, and I met him, and not to make him a hero – he did a terrible crime with his brother of killing two innocent teenage kids – but I got to know him as a human being, and I began to learn every human being is worth more than the worst thing they've ever done.
And then my journey into human rights, inalienable human rights, began.
Ponce: The opera features a libretto by Tony Award-winner Terrence McNally and music by Jake Heggie.
Prejean says she didn't know anything about opera, but she had a request.
Prejean: The one thing I did say to Jake Heggie when we talked before he did the opera was, "Please don't do that atonal stuff where we can't hum a tune. We gonna have a melody, aren't we, when we leave?" And I find myself singing part of the aria of the Sister Helen character.
When Tim Robbins was working on the film of "Dead Man Walking" he kept saying, "The nun is in over her head." And it's really, really true. I was thrown to the criminal justice system, I didn't know how the courts work, I didn't know that you could really be innocent and be condemned to death. I knew nothing. So walking with this man and accompanying him, his name was Pat Sonnier was the first, and since then I have accompanied six people to execution, and I'm with a seventh man on death row now.
But the opera of "Dead Man Walking" is about more than the death penalty. It's about dealing with deep hurt, either against us or people we love and how you come out of that, that's an equal part of the journey. Everybody in the opera of "Dead Man Walking" is on a journey.
Ponce: Prejean has a new memoir about her spiritual awakening, called "River of Fire."
Prejean: The reason I'm out on the road giving talks, the reason I wrote the books, the reason I'm glad about the opera and the film of "Dead Man Walking" and getting it out there is because I witnessed what it means to render a human being completely defenseless, which you don't even do with prisoners of war. In the Geneva Conventions, you cannot take a prisoner of war, tie his hands behind his back, lead him to a wall and shoot him. It's the killing of a defenseless person that is the moral atrocity in the act.
The witnessing of that first execution, and in fact in "River of Fire" that's the preface, that's what leads to the whole journey. And I write that, "They killed a man with fire one night. They strapped him in a wooden chair and pumped electricity through his body until he was dead." His killing was a legal act. No religious leaders protested that night, but I was there. I saw it with my own eyes, and what I saw set my soul on fire, a fire that burns in me still.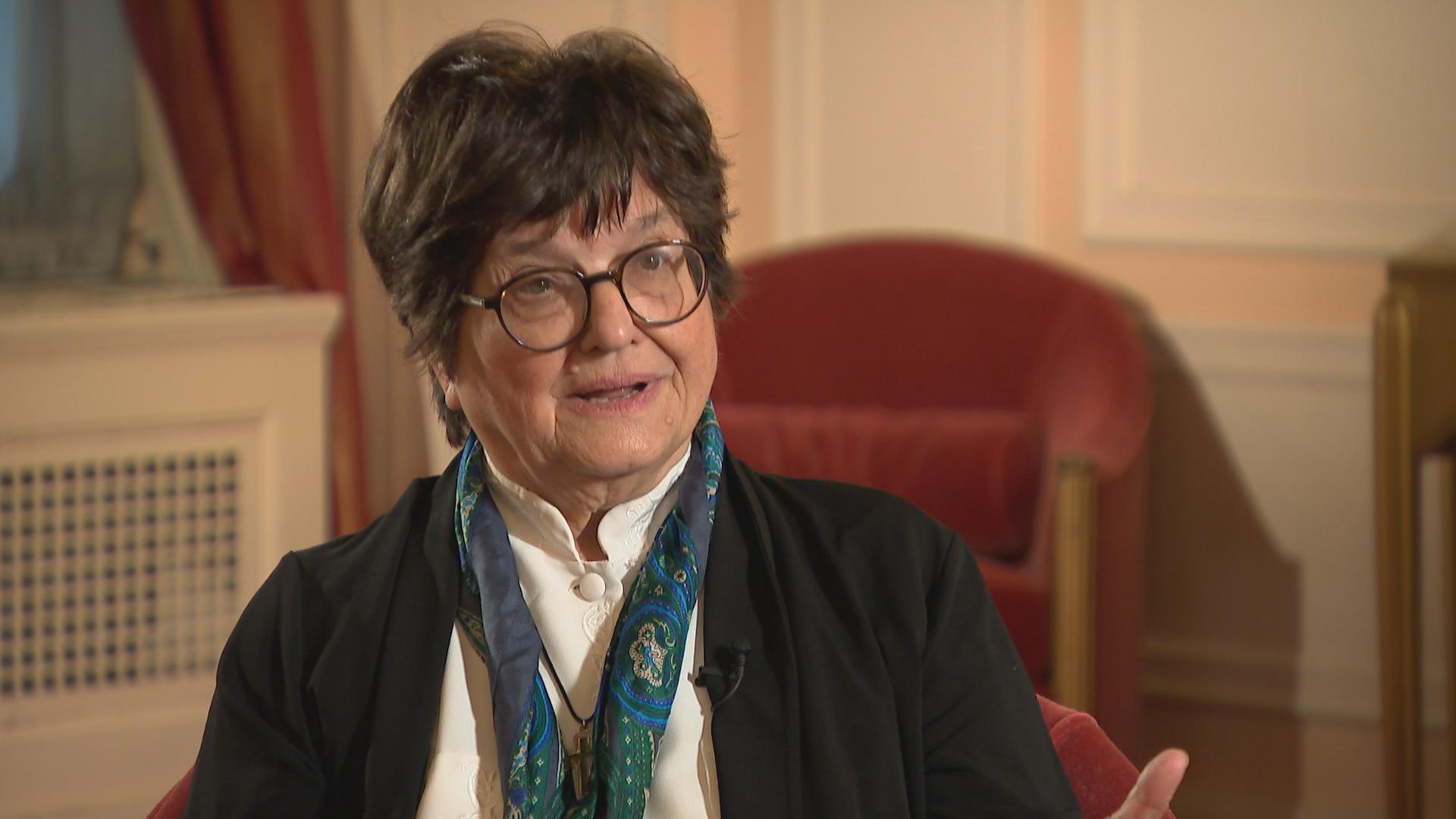 Sister Helen Prejean speaks with WTTW News.
I believe if executions were public we'd shut down the death penalty tomorrow.
The seeing of that act is where you recognize it for what it is.
In the opera of "Dead Man Walking" of course it's through the prism of murder and execution, but the real journey is going to be in the hearts of people.
We all know personal hurt, or people we love who've been hurt, and how do you get out of that? Do you put your energies into getting even, or is there a whole way so that you can come out intact as a loving, intact whole person without giving in to the rage and anger?
---
More on this story
"Dead Man Walking" opens this Saturday at Lyric Opera of Chicago. It has six performances through Nov. 22.
---
Related stories:
John Leguizamo Brings 'Latin History for Morons' to Chicago
Lyric Opera Names Its Next Music Director: Enrique Mazzola
3D Ghost of Maria Callas Gives a Remarkable Performance at Lyric Opera
---