Chicago was introduced years ago to an Afro-futuristic character seen flying throughout the city in big bright googles.
Those googles quickly garnered national attention as Chicago artist Hebru Brantley began creating more characters to accompany Flyboy and his Flyboy universe. 
Brantley's work has since been featured in exhibitions around the country, and his work has been collected by big names from the world of music – Beyonce and Jay-Z – and even politics – former Mayor Rahm Emmanuel.
We visit Brantley's new installation Nevermore Park, which he describes as an interactive, immersive experience.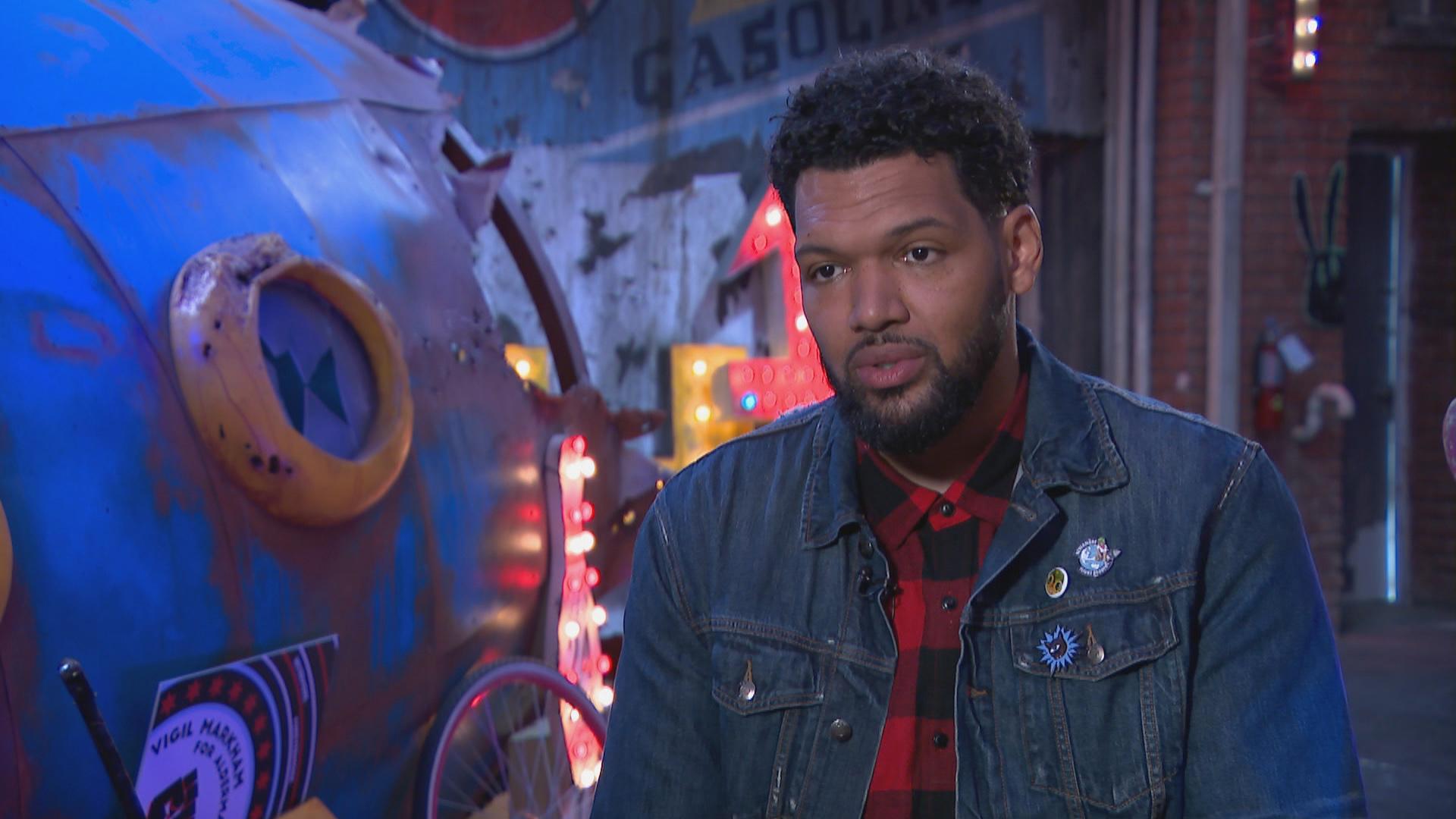 Chicago artist Hebru Brantley speaks with "Chicago Tonight." (WTTW News)
"You can physically live in this space," Brantley said. "You can engage in this space in a way that if I create a painting that lives with you, it's something that can be transformative to a space. But this is an entire space. Being able to engage and go into things, that completely changes everything."
Brantley's exhibit introduces the world to the home of his Afro-futuristic characters. He says he wanted to debut his touchable art in the place where he was first inspired.
"Everything is a place that's made up, is in our narrative, is a part of our story," Brantley said. "It's the city of my birth, obviously it's where I come from. Growing up here, we didn't always get the cool stuff. It was important. This is where the ideas started, this is where my inspiration really came from. Growing up here, my experiences have informed all that goes into this world, all that goes into these paintings and theses creations. So it just made logical sense. And I knew Chicago would support."
Tidbits of Chicago's history can be seen sprinkled throughout Nevermore Park.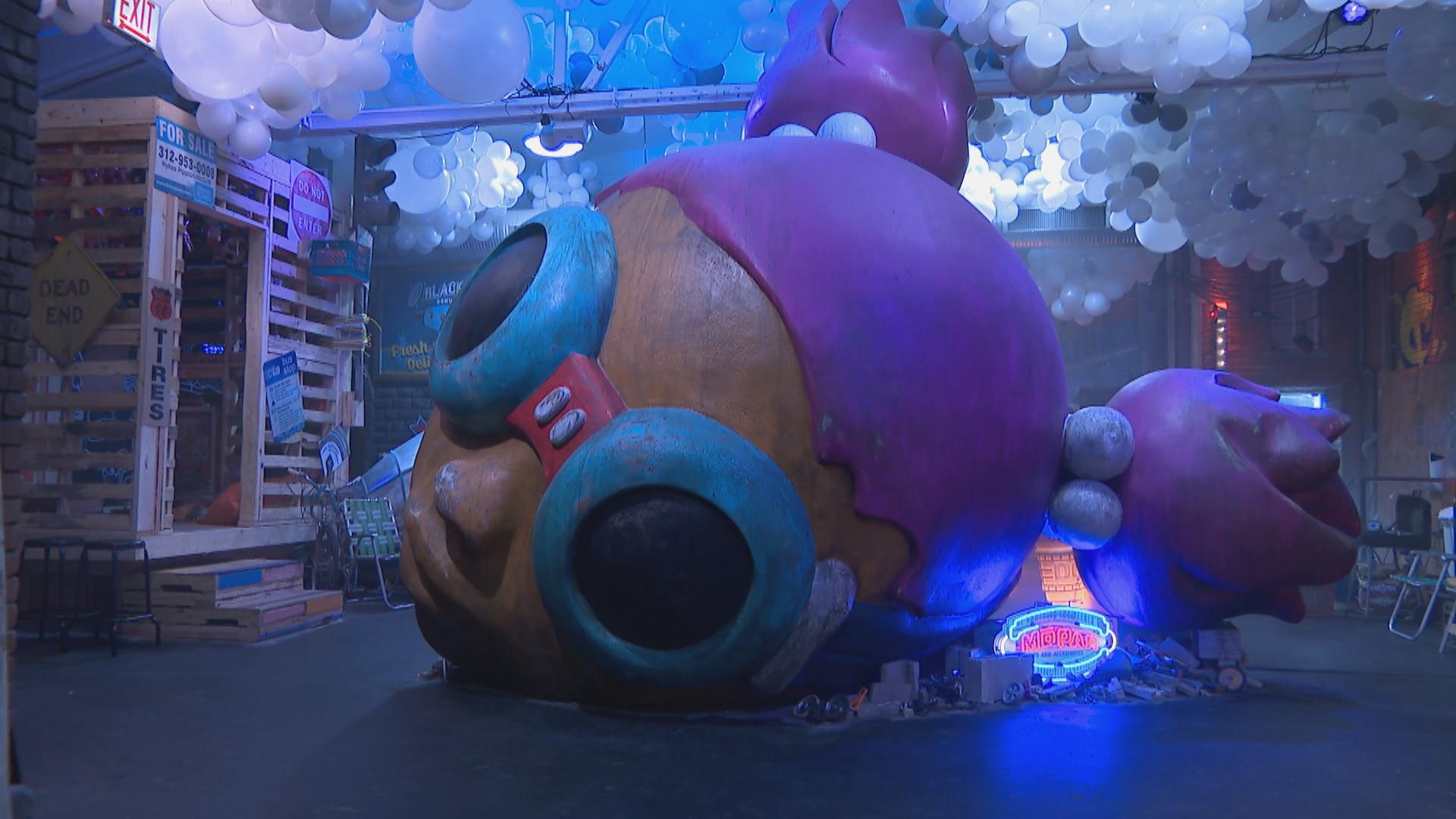 Bright neon signs lead you throughout the Pilsen-based exhibit. Reruns of "Sanford and Son" can be seen flashing across TVs. A Tuskegee Airmen jacket hangs from a chair, paying homage to what Brantley refers to as a Flyboy. A newspaper stand sits with everything you need, from bubble gum to sunglasses to any issue of Jet and Ebony magazine. An oversized head of Lil Mama, another of his characters, sits in the center of the floor, with Aaliyah's "One in a Million" playing as you enter the back of her head. A traditional "L" train invites you to sit for a ride – should you choose to walk to the back of the train, you'll find a Pullman train car where you can listen to a Victrola. Childhood toys hang from the ceiling of a comfy clubhouse where you can try on a pair of googles worn by his characters. Beyond that sits a "Cloud Room" playing a remixed version of Chance the Rapper's "Angels," a music video the Chicago artists collaborated on in 2016.
If it feels like you have entered another universe, you have. A Flyboy's universe.
"Escapism is important to a degree," Brantley said. "Times are tough. I think to have a bit of that to remind people it's not always bad – or allowing people to escape their situation if not for an hour. I wanted to sort of bottle nostalgia. It's such a potent … it's almost like a drug, right? People really respond to it, I know I do. That sense of sort of wonderment."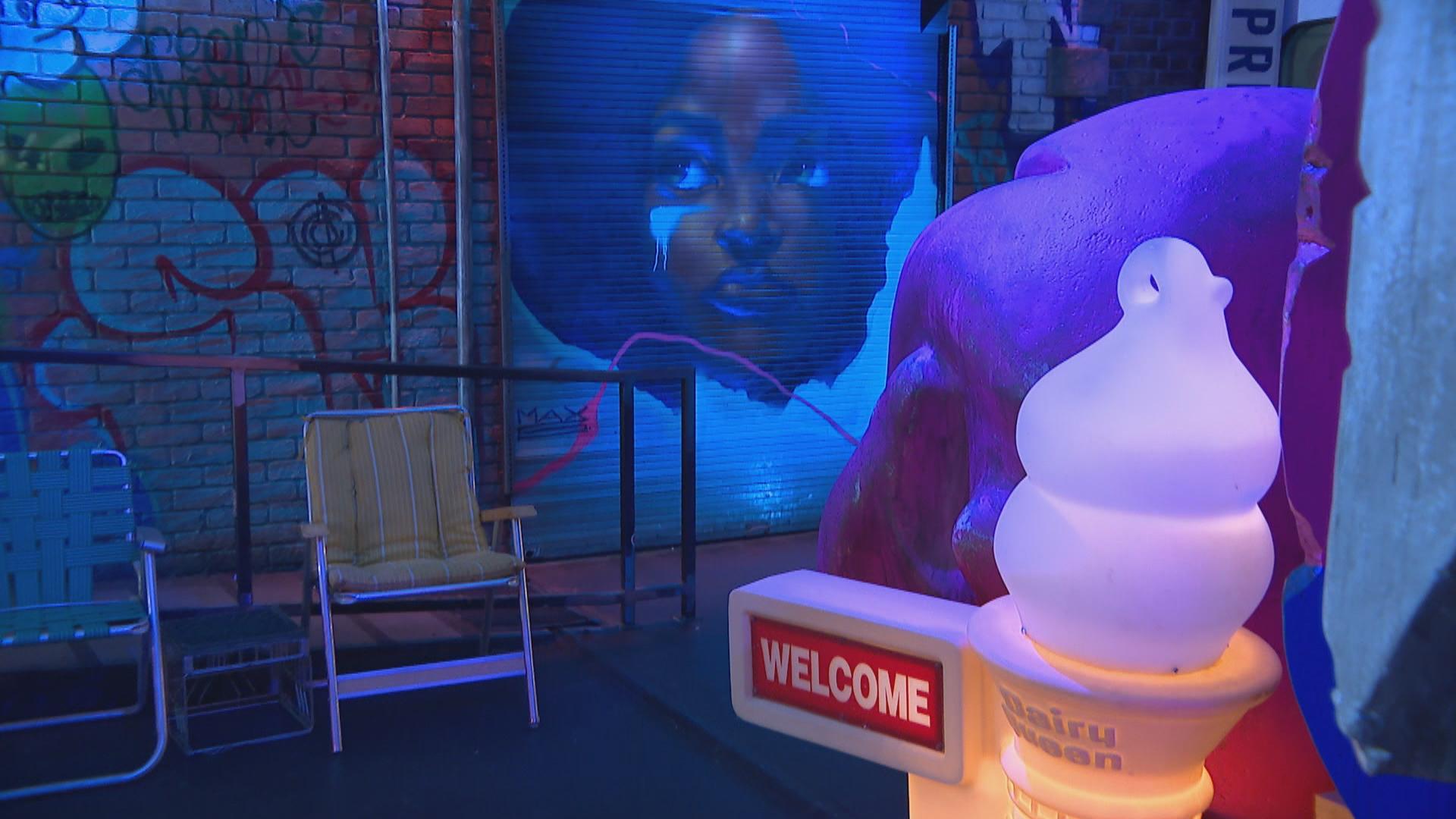 While the creation of Nevermore Park is still what the artist describes as a "pinch me" moment, Brantley hopes this Flyboy universe encourages the next generation of creatives to push themselves beyond their comfort zones and just do it. 
"When people come through the space and get to experience parts of this, even if they don't fully understand how it connects or what correlates to what, the intention is to inspire. The intention is to show and put my hand up and say 'Hey, I'm here, I did a thing.' I don't profess to have done it right, or the best but, I did it."
---
More on this story
Nevermore Park is now open through Dec. 29 at 949 W. 16th St. Tickets cost $28. Beginning in December, it will be open on Wednesdays during select hours to welcome free scheduled tours to Chicago Public Schools groups. These visits are sponsored by Brantley's media company, Angry Hero.
Note: This story was first published Oct. 24, 2019. It has been updated.
Follow Angel Idowu on Twitter: @angelidowu3
Angel Idowu is the JCS Fund of the DuPage Foundation Arts Correspondent.
---
Related stories:
Hebru Brantley's New Art Show Takes Flight in Elmhurst
At the Art Institute, a Panoramic View of Andy Warhol's Artistic Output
'Pop America' Reframes Pop Art, Expands Notion of 'America'
---