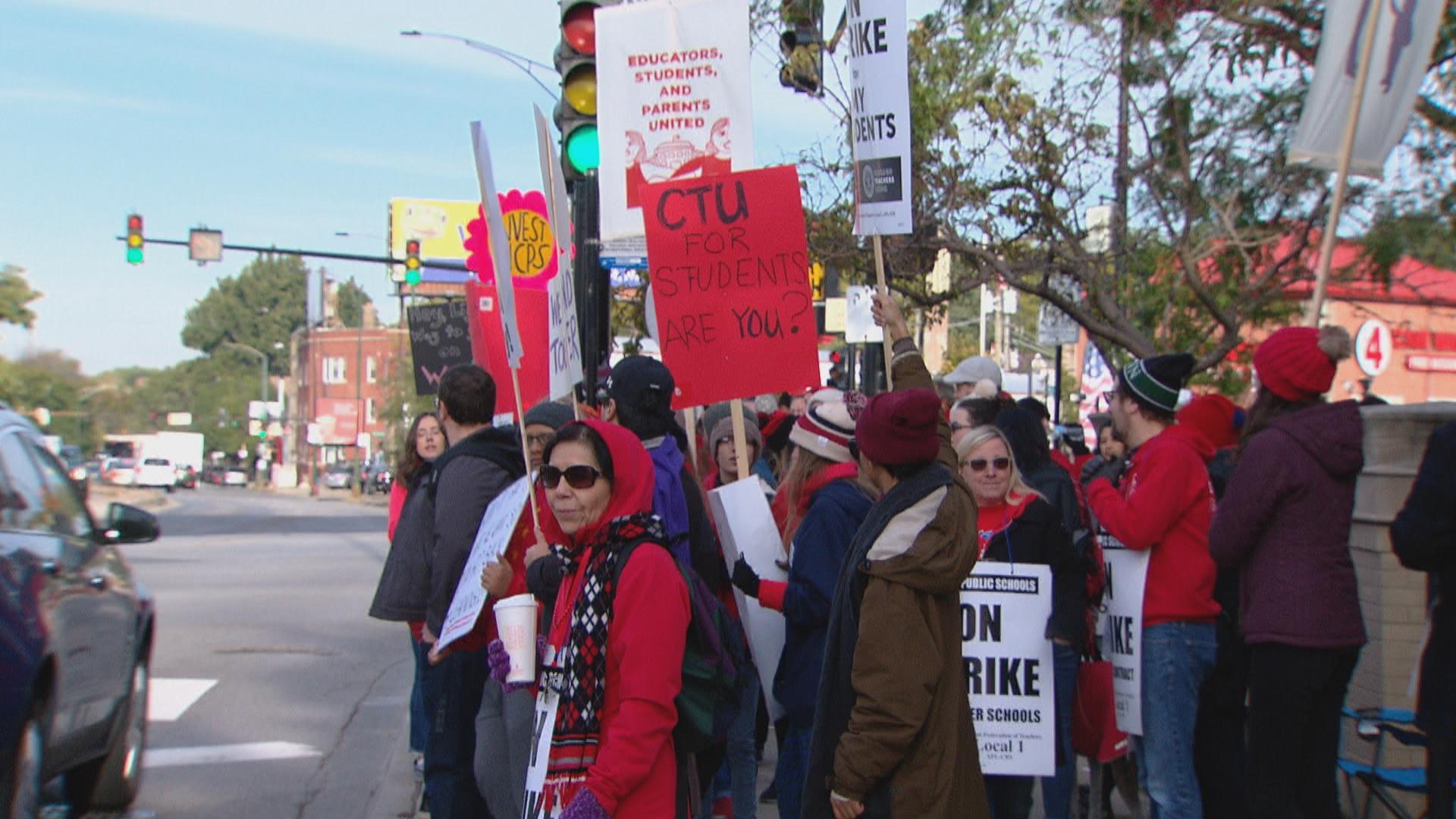 Chicago teachers hold signs and walk the picket line on day two of a strike on Friday, Oct. 18, 2019. (WTTW News)
For the third day, school is not in session at Chicago Public Schools as the district and the Chicago Teachers Union work toward a contract agreement. Though both sides agree progress has been made, issues of class size and staffing levels appear to remain as sticking points.
"We have seen movement and wins around serving … homeless students," said Jennifer Johnson, CTU chief of staff at a Sunday evening news conference. Johnson also touted what she called CTU "wins" for school counselors and early childhood educators.
"We proposed a class size (counteroffer) tonight, we worked very hard on it. We're still in a place where we need CPS to make more serious reductions in class size," Johnson said.
CPS claims it's made a solid offer regarding the issue.
"Our class size offer would allocate over $10 million to support additional staffing for the relatively small number of overcrowded classrooms in the district, and our staffing proposal would go above and beyond the public commitment Mayor Lightfoot and I made over the summer to hire hundreds of additional social workers, nurses and special education case managers," CPS CEO Janice Jackson wrote in an email.
On Saturday, CTU touted progress at the bargaining table, including what it called "eight tentative agreements, especially on a charter moratorium and on pipeline for hiring more teachers of color."
The city's contingency plan remains in place Monday. School buildings will be open with non-union personnel on hand to serve students that arrive. CPS says breakfast and lunch will be served and supper will be given to students to take home. While the strike is on, CTA rides are free for students.
CTU members will again take to the picket lines beginning at 6:30 a.m. Monday. The union said a youth action rally will take place at 1 p.m. Monday at City Hall, followed by a 2 p.m. march from Union Park at Washington Boulevard and Ogden Avenue.
---
Related stories:
Strike Day 2: City Wants 10-Hour Daily Bargaining Sessions With CTU
What Happens If a Teacher Crosses a Picket Line and Goes to Work?
CTU President: Lightfoot Spreading 'Falsehoods' About Negotiations
Mayor Lightfoot: Where's CTU'S Urgency?
CPS Teachers, Staff Take Their Case to the Streets with Rallies Across the City
---