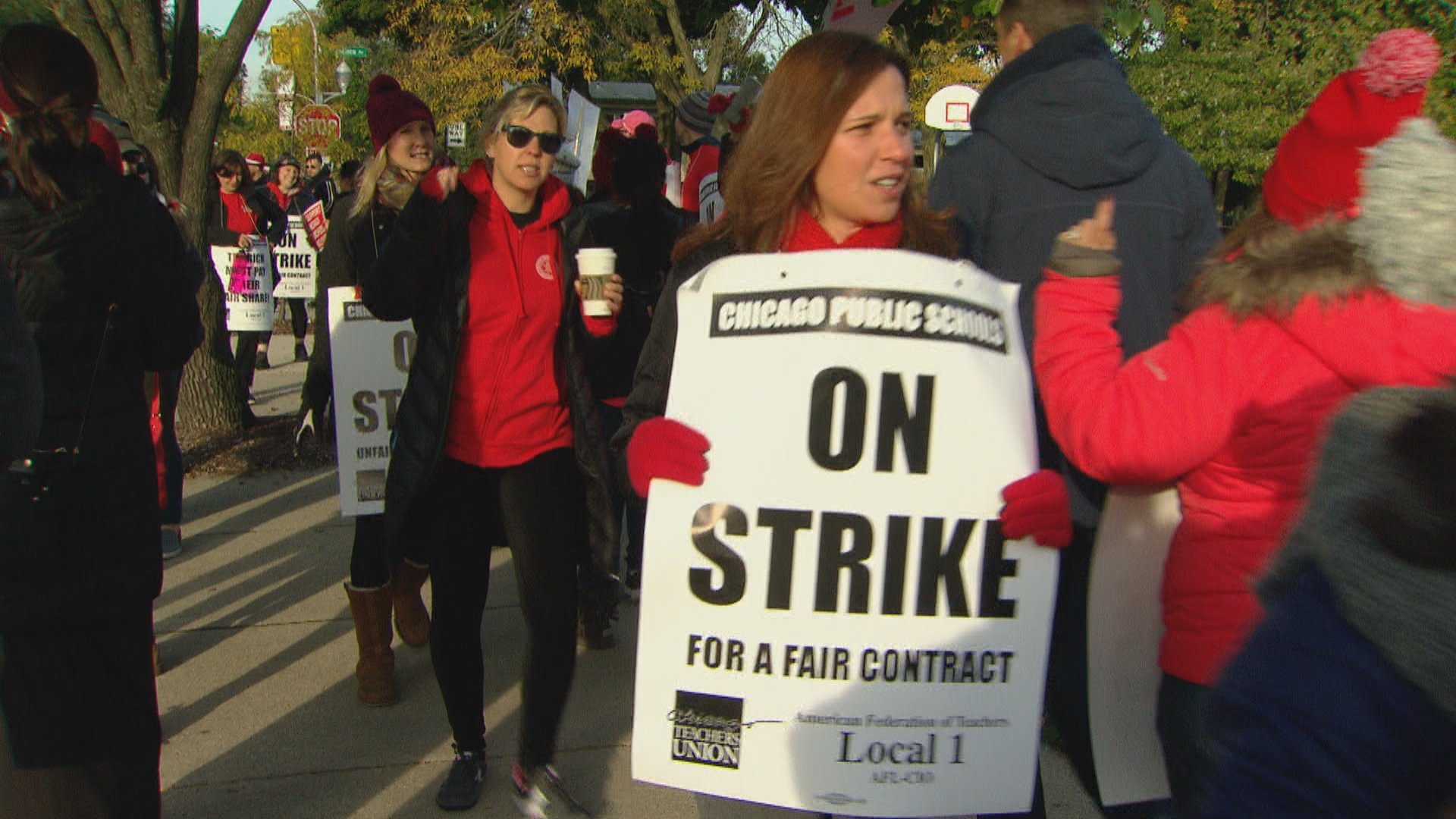 Chicago teachers marched Friday on the second day of the CTU's strike. (WTTW News)
Tens of thousands of Chicago teachers have taken part this week in marches and rallies outside Chicago Public School buildings through the first two days of the ongoing teachers strike. But what would happen if one of those teachers crossed the picket lines to go back to work before a contract is finalized?
The Chicago Teachers Union has made it clear that it expects each and every one of its 32,000-plus members to be on the picket lines each day as long as the strike continues.
"A bargaining unit member who doesn't report for picket duty is harming themselves and their colleagues," the union wrote in a statement on its website. "We need everyone to stand firm and united. How much we win at the bargaining table and how long it takes depend on our solidarity and strength in the streets."
Not showing up is one thing, but actually breaking ranks and going to work during the strike is a far different issue.
A "scab," as CTU defines it, is anyone who crosses picket lines to go to work.
"The action of scabs undermines our strength and solidarity," the union states on its website. "Scabbing – crossing or working behind a picket line – is a very serious violation of our constitution, which lays out clear mechanisms to bring charges against any member at your school who crosses our picket lines."
The union's constitution outlines how that process can play out. Specific charges must be levied in writing and turned in to the CTU's recording secretary, describing the "overt act" and when and where it occurred.
These charges are described broadly as "acts [that] allegedly bring the Union into disrepute, or allegedly do the Union and the cause of union labor definite harm," but the constitution does specifically mention "crossing or working behind a Union picket line."
From there, the union's Executive Board must decide whether the charges warrant a trial. In such cases, witnesses can be called, and the accused may testify before the Executive Board determines their innocence or guilt. If the accused is found guilty, they may be suspended or expelled from the union.
"There are many reasonable reasons that a co-worker might be nervous about striking – fear of retaliation, financial difficulties, or worries about whether we can win," the union states. "Acknowledging that you understand and can even relate to their concerns can often help as you talk to them about why the strike and our unity is so important. But, although we understand their fear, they are never an excuse to cross the picket line or be a scab."
Friday marked the second day of the teachers strike. If the CTU and the city do not reach a contract over the weekend, the strike will continue into next week.
---
Related stories:
Mayor Lightfoot: Where's CTU'S Urgency?
CPS Teachers, Staff Take Their Case to the Streets with Rallies Across the City
Chicago Public Schools Teachers to Strike Thursday
Parents of CPS Students Sound Off on Teachers Strike
What Chicago Families Need to Know About Possible Teachers Strike
---