Chants of "fair contract!" and "Mayor Lightfoot, get on the right foot!" rang through the air outside Chicago Public Schools around the city on the first morning of the Chicago Teachers Union and SEIU support staff walkout.
Passing cars and trucks blared their horns in support of picketers, including some city garbage trucks, CTA buses, and even a Chicago Police Department squad car. The mood at six schools WTTW News visited throughout the four-hour Thursday morning demonstrations was upbeat, with loud music, chanting, and plenty of coffee and pastries to lift strikers' spirits.
"This beautiful spread, this table, was all set up for us (by the community.) We didn't ask for any of this," said Maureen Lowrance of Peterson Elementary, gesturing to a generous table of provisions set up on the sidewalk outside what appeared to be a largely empty school building. "We've had a really positive, supportive reaction from the community." Lowrance hopes the mayor and CPS leadership recognize that they and teachers are "fighting for a common cause."
Debbie Yaker, a teacher at Hanson Park Elementary in Belmont-Cragin and a CTU delegate, said despite the passionate protests, teachers weren't itching for a strike. "It's taking away from our kids. Because I'm a special education teacher, it takes our kids a little bit more time to do their reading or their math," she said. "We were … getting such good progress started, and now all of a sudden we're at this halt. I just hope whatever progress we've had doesn't end up going backwards."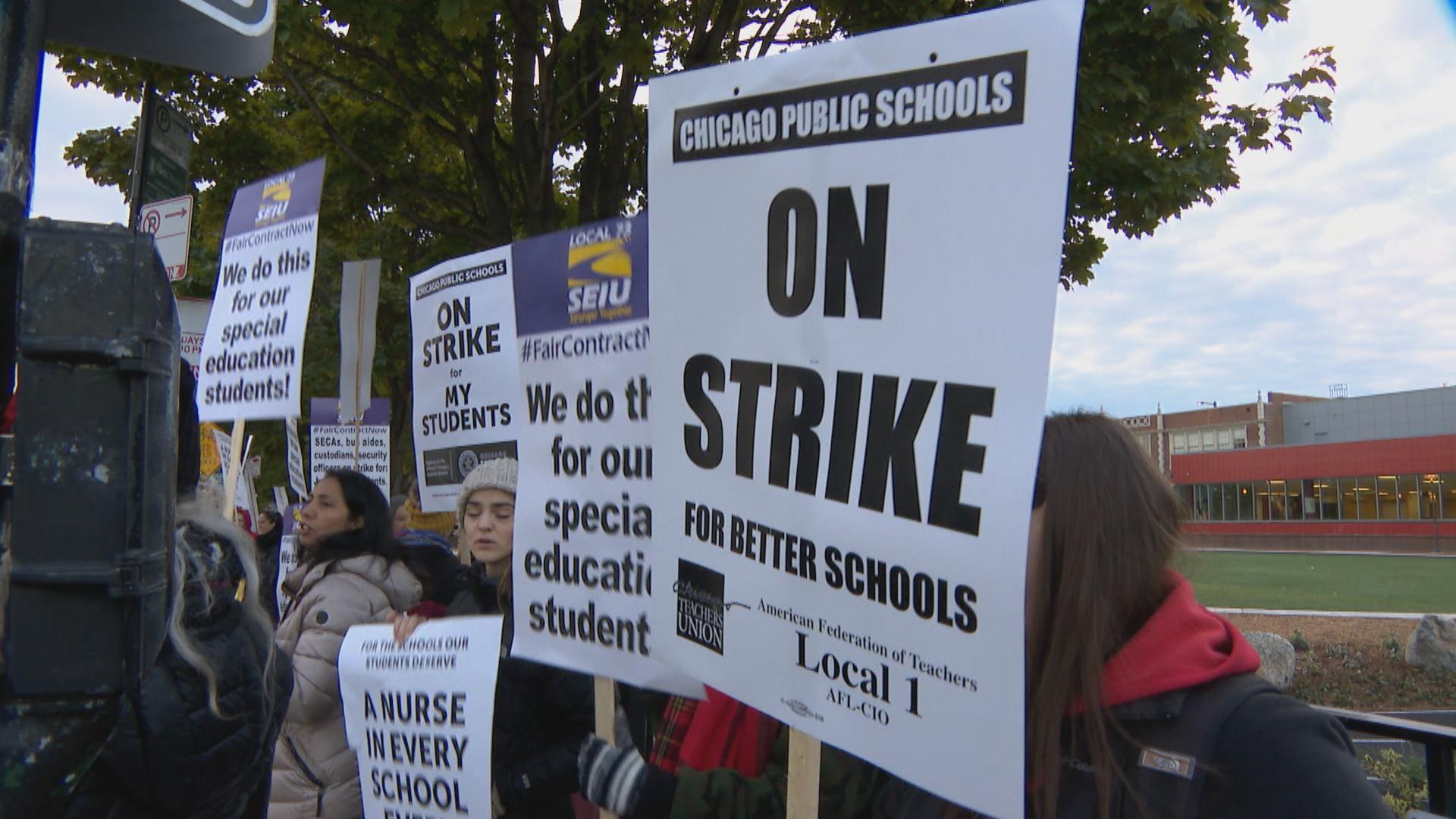 Teachers and support staff on the picket line Thursday, Oct. 17, 2019 at Peterson Elementary in North Park. (WTTW News)
But Yaker said what the city's offered in negotiations so far isn't enough, and that teachers at Wednesday night's CTU House of Delegates meeting stood firm on demands for prep time, class size caps, school support staff, and more. "Our kids deserve what's fair. They deserve what the suburbs are getting, or the rest of the country's getting. Our kids in Chicago deserve the same respect," Yaker said.
Some critics of the strike have said it's merely CTU flexing its muscle against Mayor Lori Lightfoot, since union leadership supported her opponent, Toni Preckwinkle, in the mayoral election. But teacher Robert Nobile of Orr Academy in Humboldt Park disagrees.
"A number of us really did believe what she had said, and we pushed other people – not just us in our households voting for her, but a number of family members that could have been on the fence in the different wards," Nobile said. "You cannot sidestep us. You cannot isolate us and just ignore what the teachers want."
As the clock neared 10:30 a.m. and teachers started to pack up their picket signs and head to a downtown rally, demonstrators outside Little Village Academy kept up their energy courtesy of an upbeat soundtrack that included the legendary Chicago house track "Coffee Pot" by Cajmere – better known by its insistent refrain "it's time for the percolator."
"It's time for a fair contract!" demonstrators shouted. "It's time for a fair contract!"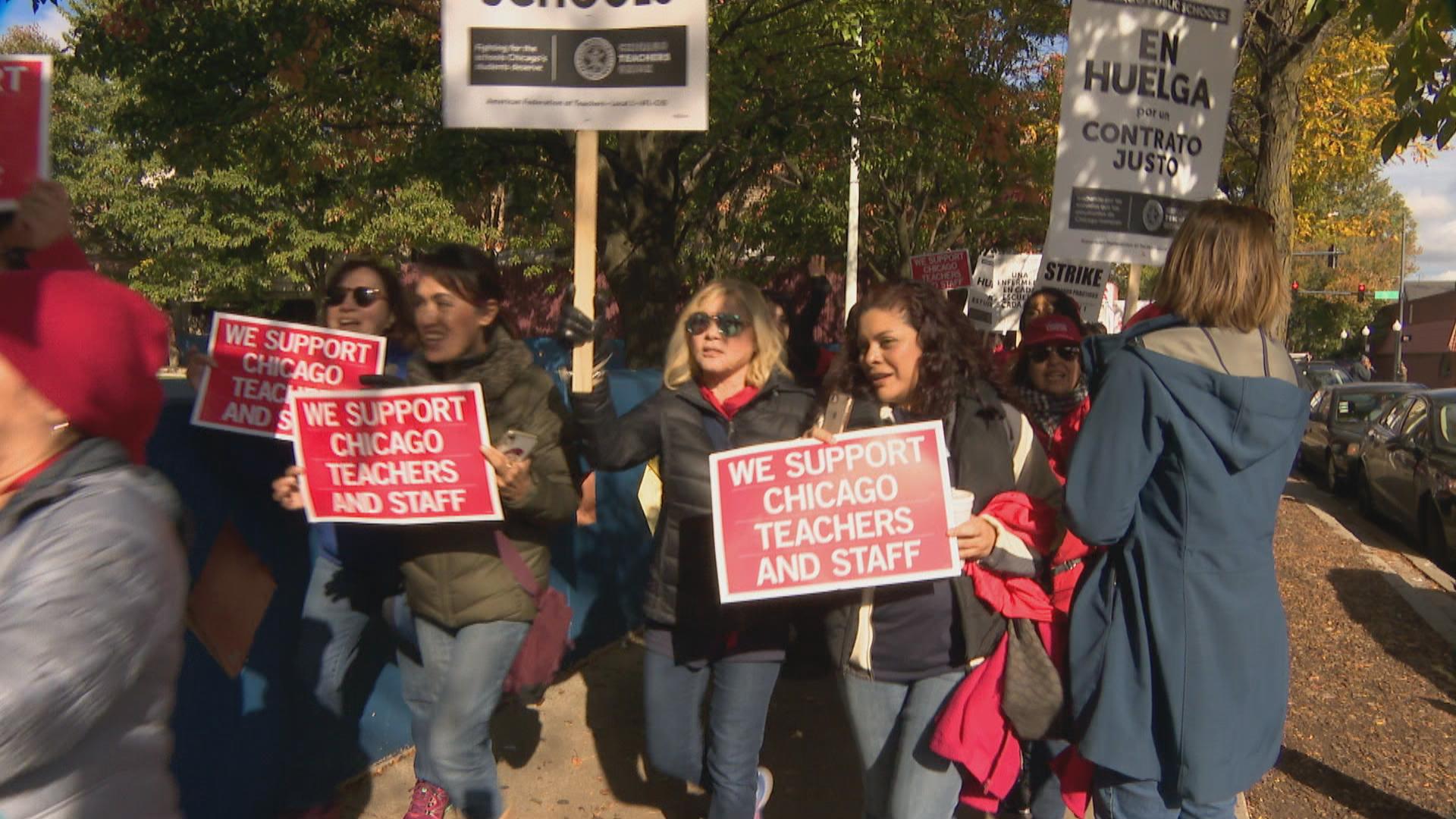 Teachers and support staff on the picket line Thursday, Oct. 17, 2019 in front of Little Village Academy. (WTTW News)
As teachers picket outside, the halls and classrooms inside schools across the city sit empty.
Only the principal, assistant principal and non-union cafeteria staff, custodian and building engineer were at Hanson Park Elementary, where Deb Yaker is the CTU delegate.
The district also sent four staffers from the central office, and a Safe Passage worker sat at the front door, where security usually sits.
Principal David Belanger says only one student came to the school Thursday, a sixth-grader with multiple disabilities. A non-union, agency nurse worked with him.
Belanger says while he recognizes the immense need for the support staff that CTU is striking over, he's just not sure about Thursday's action.
"I was a CTU delegate. My parents and grandparents were autoworkers in Michigan. I hear GM has just settled the strike, so my brother who's a General Motors employee will be going back to work after a month, so I do support unions and their right to strike," Belanger said. "I don't know in this case if this was the right decision."
Thursday afternoon, 25,000 CTU and SEIU Local 73 members rallied downtown with parents and supporters, marching from CTU headquarters to City Hall and then to Grant Park to deliver their message.
CTU leadership took a break from the bargaining table for just over three hours before returning to Malcolm X College to negotiate with the city.
---
Related stories:
Mayor Lightfoot: Where's CTU'S Urgency?
CTU President: Lightfoot Spreading 'Falsehoods' About Negotiations
Chicago Public Schools Teachers to Strike Thursday
Parents of CPS Students Sound Off on Teachers Strike
'There Will Not Be School Tomorrow': Lightfoot Believes CTU Will Strike
Contract Bargaining Wraps Up With No Deal Between CTU, Board of Education
CPS Teachers, Staff Rally and March as Strike Countdown Continues
What Chicago Families Need to Know About Possible Teachers Strike
---