If you've ever passed a favorite building around Chicago and wished you could take a look inside, well, this weekend may be your chance.
Geoffrey Baer explains.
---
What should I check out at this weekend's Open House Chicago?
-Quinn Myers, WTTW
Open House Chicago is literally an architectural open house. Hosted by the Chicago Architecture Center, the event lets you inside more than 300 buildings, many of which you would normally only be allowed to see from the outside. Some are treasures you may never have even heard of, a few of which we've highlighted below.
The Forum in Bronzeville
Let's start on the South Side with an old social hall called The Forum. It's right off the 43rd Street Green Line 'L' Stop in Bronzeville.
The Forum was built back in 1897, when the neighborhood was mostly European immigrants. Later, Bronzeville became a vibrant center of African-American life, and The Forum was one of its cultural hubs. Nat King Cole, Muddy Waters and many more performed here. The space also hosted gatherings of various African-American organizations, which were barred from meeting in other parts of segregated Chicago.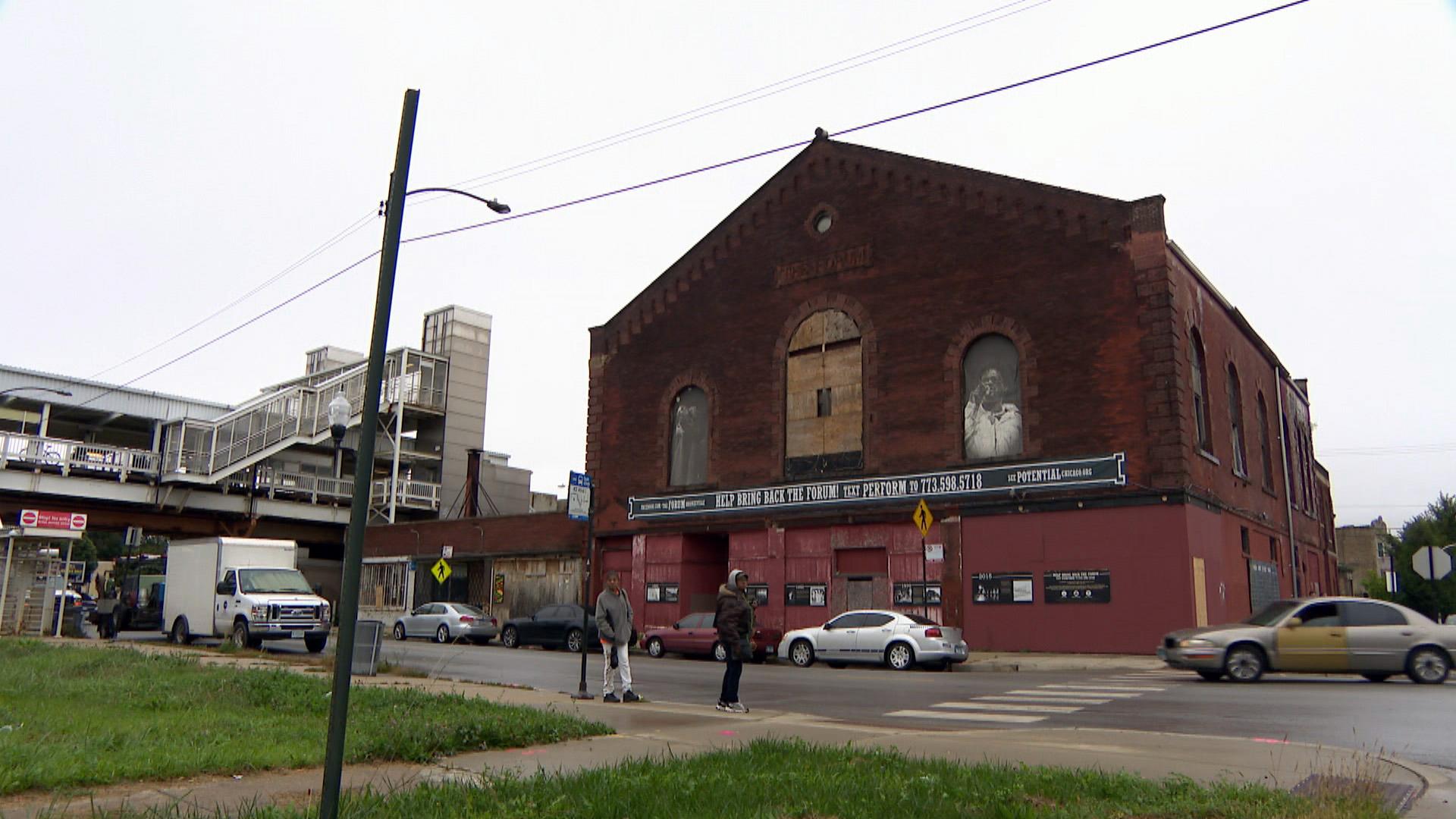 The Forum has been vacant for decades and has gradually fallen into disrepair as the neighborhood suffered from disinvestment.
New owners have been slowly restoring the building in recent years, though it will take a lot more funding before it can host public events again.  
Ling Shen Ching Tze Temple in Bridgeport
Now we're going to head a little ways north to Bridgeport, which has a reputation as a working-class, Irish neighborhood that's produced five Chicago mayors over the years.
In recent decades, the neighborhood has shifted demographically as more Chinese residents have made the area home. That's represented in the Ling Shen Ching Tze Buddhist temple on 31st Street. The building was originally owned by the Catholic Church next door, which used it as a community center. But the building was converted to a temple in 1994.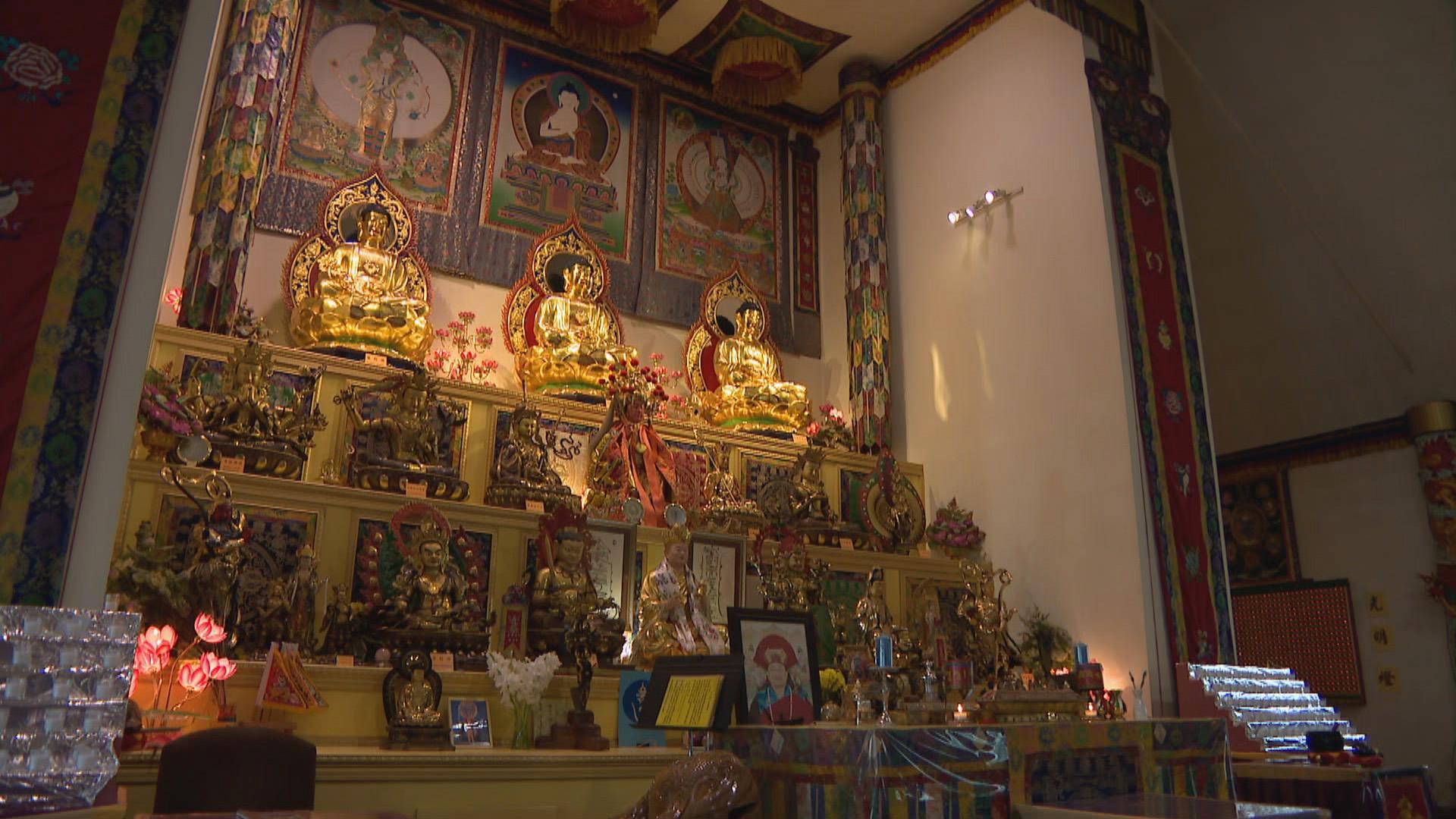 And it was actually designed by the famous architecture firm Burnham and Root in the 1890s. Daniel Burnham is of course the great Chicago city planner who famously said "Make no little plans, they have no magic to stir men's blood."
Today the temple's main room is home to this massive multi-level shrine, where weekly services are held. There are also several smaller chambers used for various services and prayers, like one that holds ashes of the deceased.
NEIU's El Centro Campus in Avondale
Moving up to the North Side, here's a building that anyone who's driven on the Kennedy probably recognizes. It's Northeastern Illinois University's El Centro campus, located in the Avondale neighborhood. It was built to better serve Latinx communities in the area, though all students are welcome to take classes.
The building itself was designed by Chicago architect Juan Gabriel Moreno and opened in 2014. Notice how instead of avoiding the highway, Moreno really embraces it, positioning the building in line with the road's curve.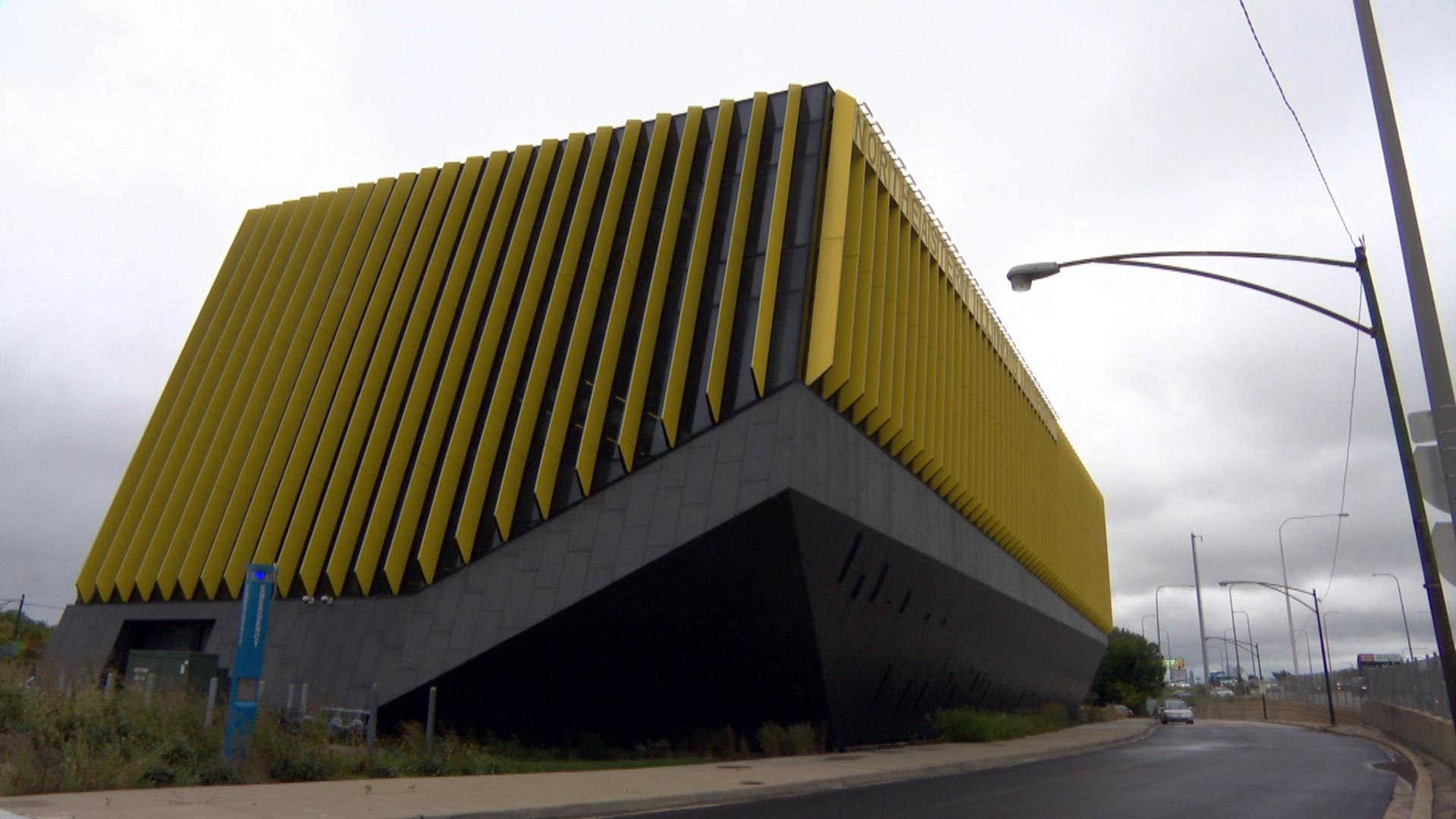 The blue and yellow panels are not for IKEA; they're actually the school colors of Northeastern. And they aren't just ornamental – they actually help cancel out noise from the highway. They're also angled to provide shade from the setting sun in the evenings.
Inside you'll find classrooms, laboratories and meeting spaces, which are all connected by sleek hallways that wrap around the entire building.
Carl Schurz High School in Irving Park
Note: Because of the Chicago Teachers Union strike, Schurz High School will not be participating in this year's Open House Chicago. The school is expected to be included in next year's event.
Chicago also has many architecturally-significant public schools, and one notable example you can visit this weekend is Carl Schurz High School in Irving Park.
The building was designed by Chicago architect Dwight Perkins in the Prairie-style school of architecture, which was defined and made famous by Perkins' contemporary Frank Lloyd Wright.
Perkins was hired as the chief architect of the Chicago Board of Education in 1905. He designed more than 40 schools, including Schurz, which opened in 1910.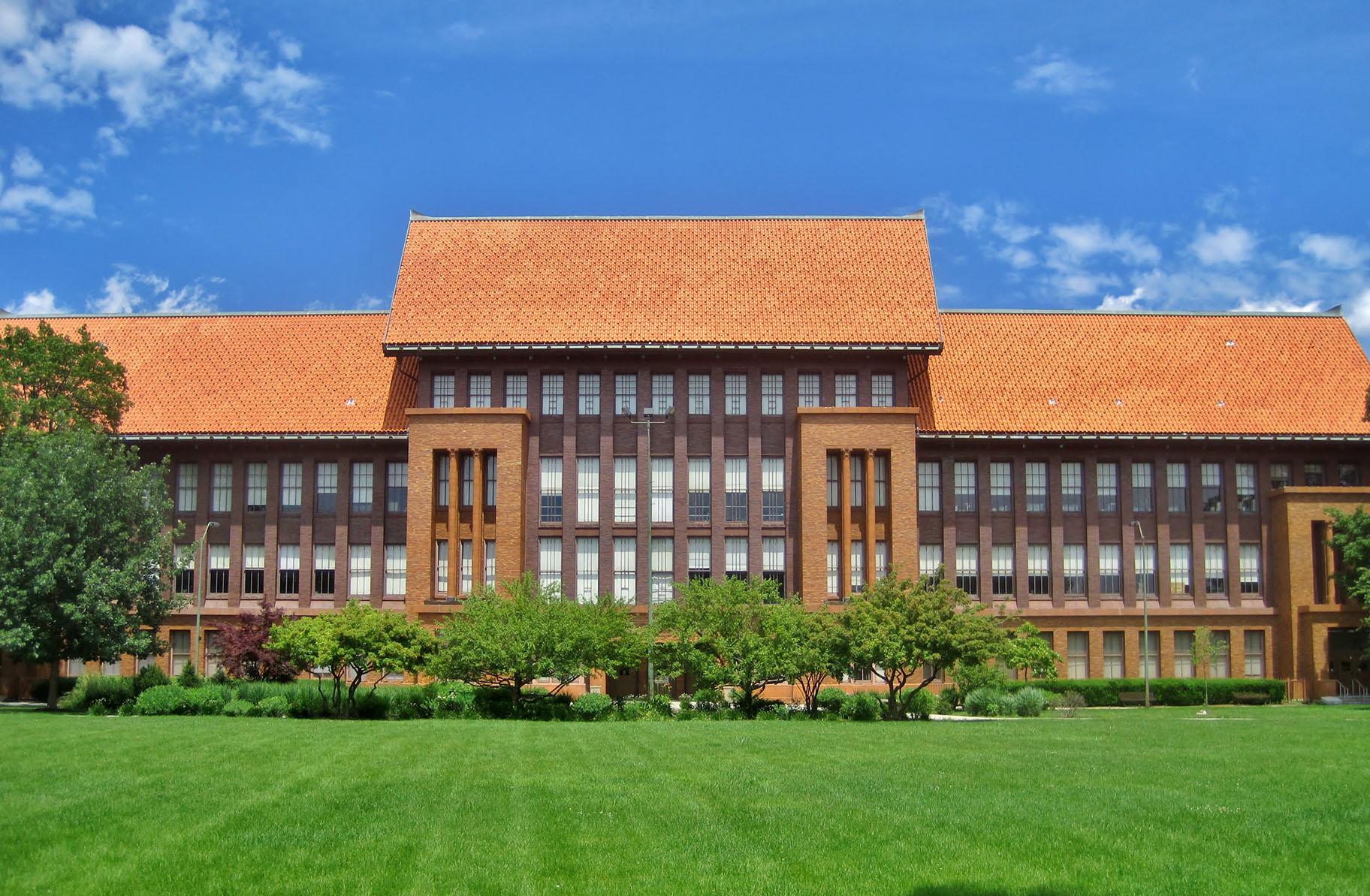 Carl Schurz High School (Carl Schurz High School / Wikimedia Commons)
The massive building includes several Prairie-style characteristics: notice the emphasis on the horizontal over the vertical, which you see in the long rows of big windows.
On the inside, don't miss the domed library, which features murals painted by Perkins' wife, Lucy Fitch Perkins, who was a prolific children's book writer and illustrator. 
And Schurz actually has a twin! Bowen High School on 89th Street near the Chicago Skyway was built by Perkins from identical plans, also in 1910.  
Columbia Yacht Club
One last spot we'll highlight is the Columbia Yacht Club just south of Navy Pier, which is housed in a massive former Nova Scotian railroad ferry called the Abegweit. 
For decades, the boat ferried both passenger and train cars between Prince Edward Island and New Brunswick in Canada, and was reportedly one of the most powerful icebreakers in the world. It was purchased and retrofitted by the yacht club in the early 1980s and hasn't left the dock since.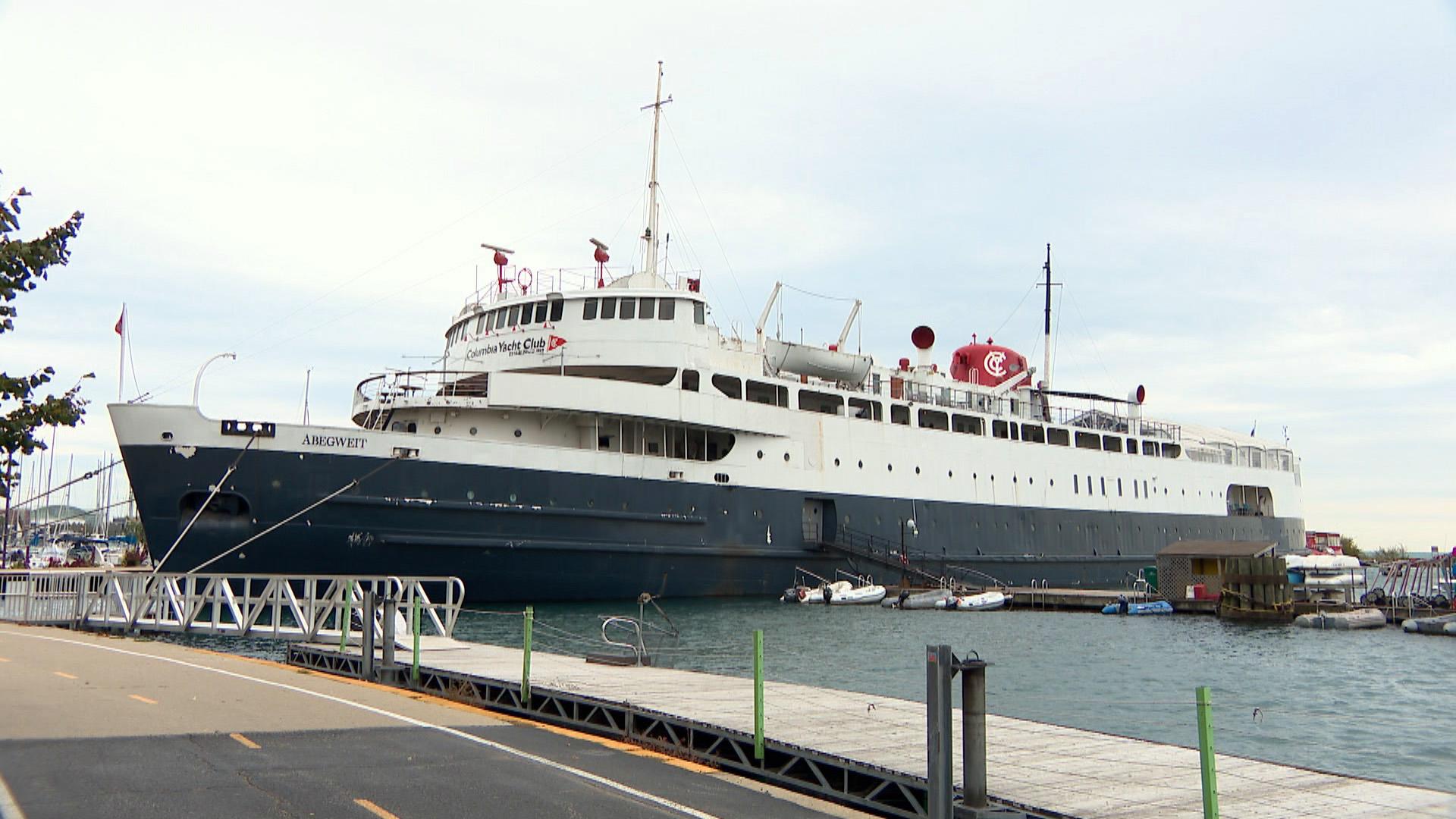 ---
More Ask Geoffrey: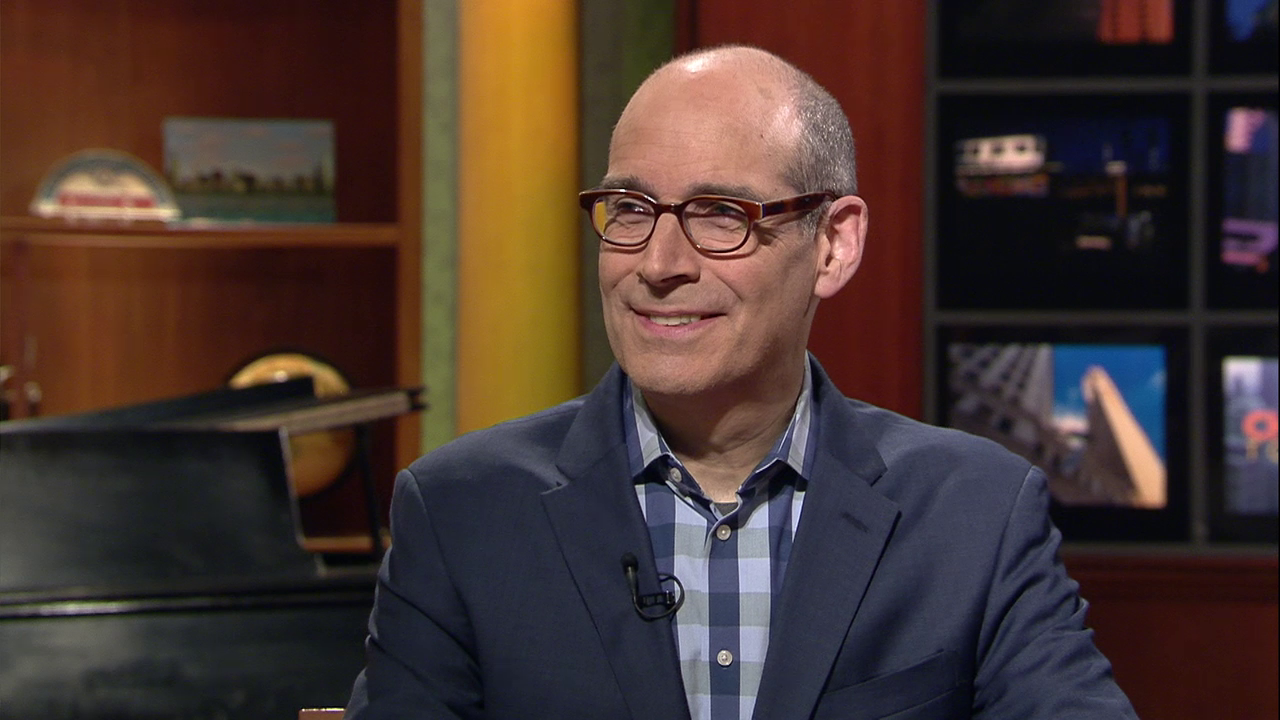 Did you know that you can dig through our Ask Geoffrey archives? Revisit your favorite episodes, discover new secrets about the city's past, and ask Geoffrey your own questions for possible exploration in upcoming episodes. Find it all right here.
Do you have a question for Geoffrey? Ask him.
---