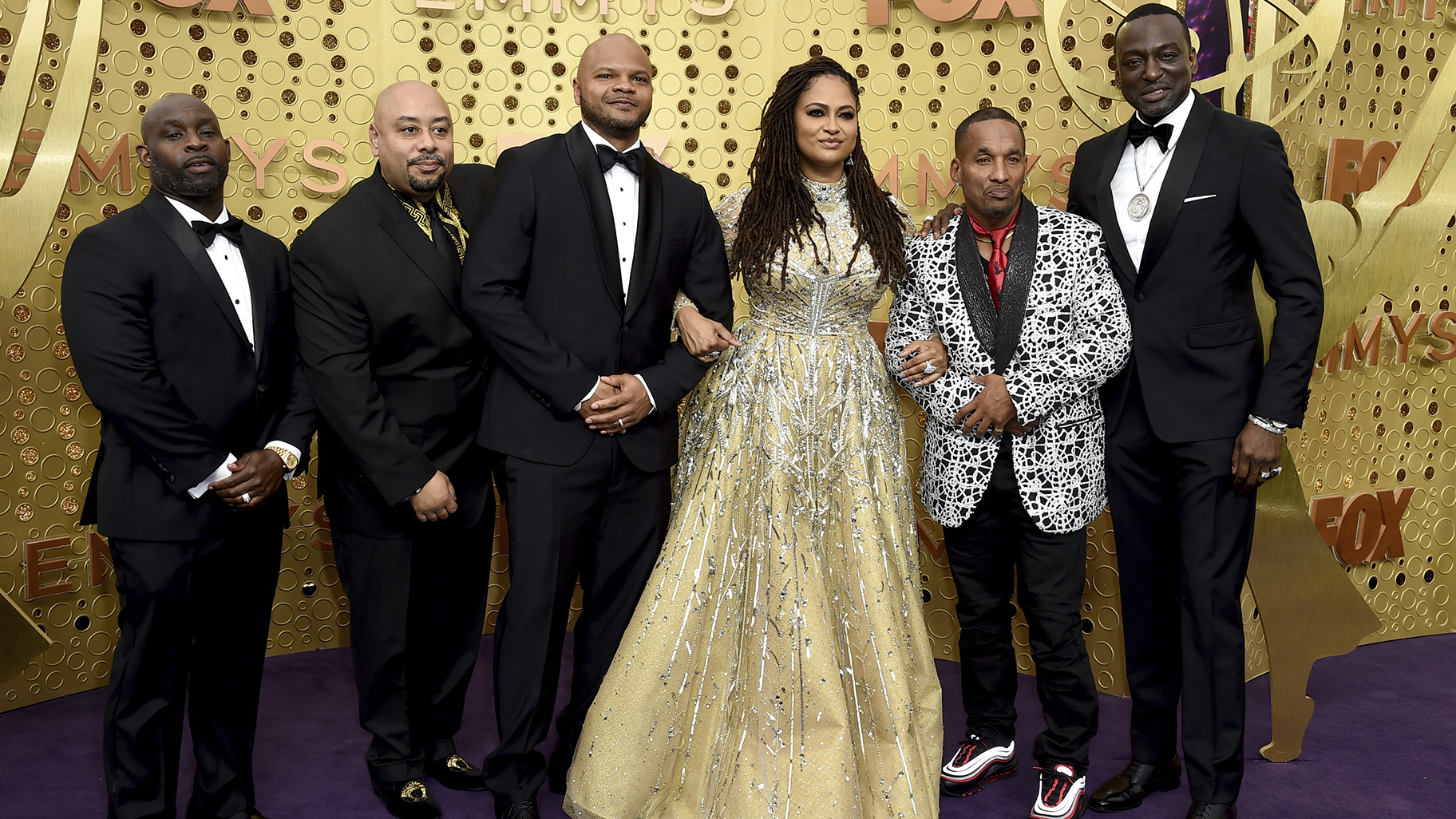 Ava DuVernay, center, is joined by Antron McCray, Raymond Santana, Kevin Richardson, Korey Wise and Yusef Salaam, of the Central Park Five, during arrivals of the 71st Primetime Emmy Awards on Sunday, Sept. 22, 2019, at the Microsoft Theater in Los Angeles. (Photo by Jordan Strauss/Invision/AP)
A Chicago-based company that trains law enforcement agencies in a controversial interrogation technique is suing Netflix and filmmaker Ava DuVernay over her series "When They See Us," which the company claims disparages and defames its business.
John E. Reid & Associates filed a federal defamation lawsuit this week in Chicago, claiming that the hit miniseries detailing the case of the Central Park Five in New York City harmed the company's reputation and business by equating its interrogation model with illegal and coercive methods.
"The program falsely represents that squeezing and coercing statements from juvenile subjects after long hours of questioning without food, bathroom breaks or parental supervision, is synonymous with the Reid Technique," Reid & Associates' attorneys state in a 41-page federal complaint.
The four-part Netflix series explores the true story of five black and Latino teenagers from Harlem who were coerced into confessing to a rape they did not commit in 1989. The series follows the teens over several years, including the lead-up to their eventual exoneration in 2002 and their lives afterward. 
In its final episode, the show depicts a conversation between New York City detective Michael Sheehan – who was involved in eliciting the defendants' false confessions – and Nancy Ryan, a Manhattan district attorney who led the 2002 re-investigation that led to the Five's exoneration.
During that conversation, one of Ryan's partners tells Sheehan: "You squeezed statements out of them after 42 hours of questioning and coercing, without food, bathroom breaks, withholding parental supervision. The Reid Technique has been universally rejected. That's truth to you."
Reid contends its method has not at all been "universally rejected." The company claims that the description of those interrogations – specifically withholding food and bathroom breaks during intensely long interrogations with minors – does not reflect the real Reid Technique.
"Defendants fabricated the conversation including the references to the Reid Technique," the complaint states. "Defendants did so to make the program more appealing by spreading blame for the wrongful conduct to Reid. Defendants intended to incite an audience reaction against Reid for what occurred in the Central Park Jogger Case and for the coercive interrogation tactics that continue to be used today."
Reid describes its interrogation process as a "structured interview" that consists of three stages: fact analysis, investigative non-confrontational interview and interrogation. And the company says it explicitly prohibits subjects being assaulted or denied any rights.
Critics of this technique, however, have claimed it can be used to psychologically coerce subjects into giving a false confession, specifically juveniles or those with mental handicaps. Reid denies this and said that, when used properly, the technique is extremely effective.
"False confessions are not caused by the application of the Reid Technique," the company said in a document on its website found under the heading "Critics Corner." "They are usually caused by interrogators engaging in improper behavior that is outside of the parameters of the Reid Technique."
In its lawsuit, Reid is seeking damages in excess of $75,000 as well as a court order prohibiting Netflix from airing "When They See Us" in its current form, or before any "defamatory references" to the Reid Technique are removed.
Reid is also asking the court to force both Netflix and DuVernay to give up any profits associated with the series.
Netflix representatives could not immediately be reached for comment. 
The Associated Press contributed to this report.
Contact Matt Masterson: @ByMattMasterson | (773) 509-5431 | [email protected] 
---
Related stories:
Is Chicago Really the 'False Confession Capital'?
What Leads to False Confessions? 'Making a Murderer' Attorneys Weigh In
'Making a Murderer' Defense Attorney on Broken Justice System