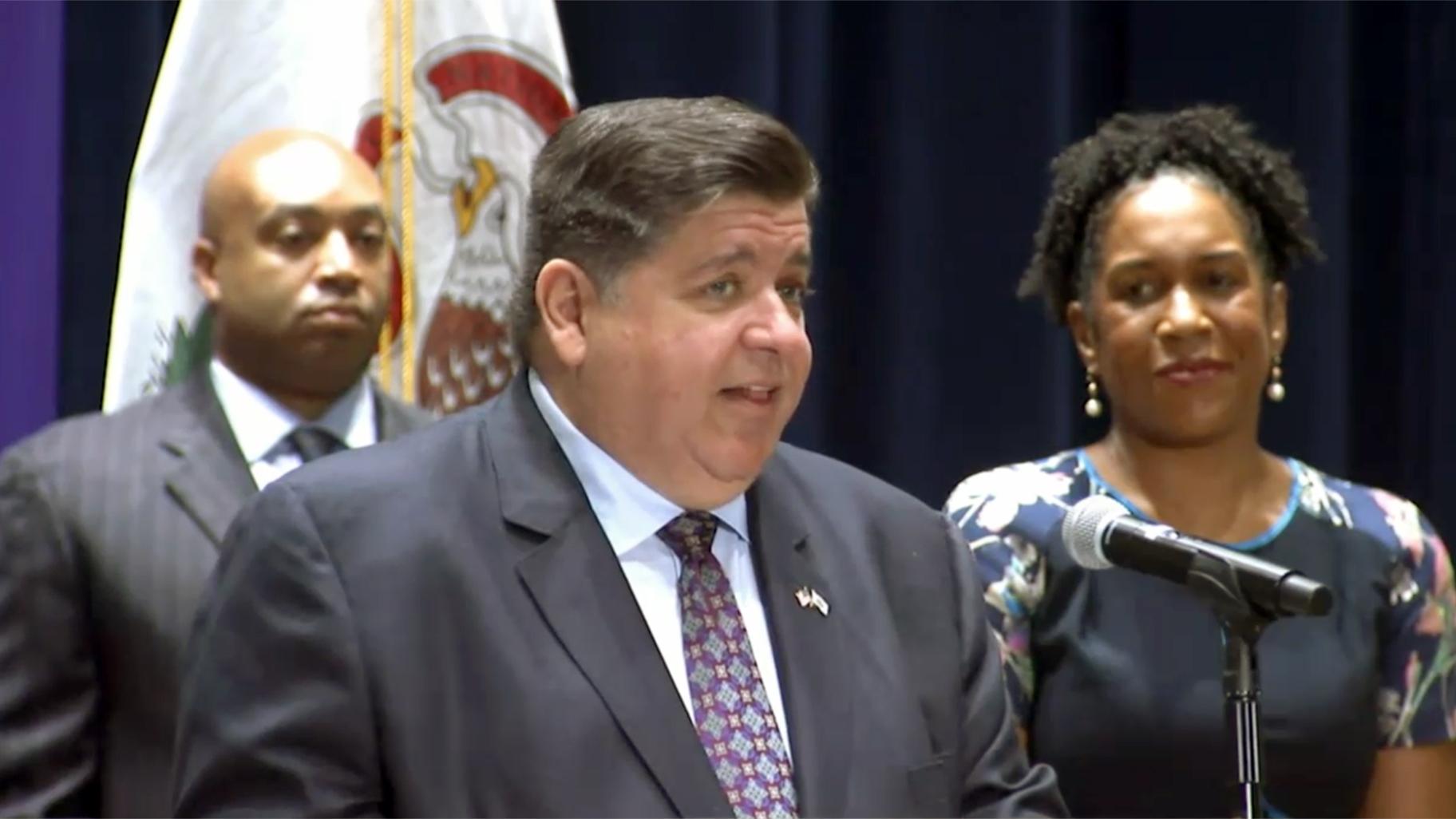 Gov. J.B. Pritzker speaks at Northwestern's Pritzker School of Law before signing into law new criminal justice legislation on Thursday, July 15, 2021. (WTTW News via Governor's Office)
Working to reverse a notion that Chicago and Illinois have become false confession capitals in the U.S., Gov. J.B. Pritzker signed new legislation Thursday that makes Illinois the first state to ban law enforcement officers from lying to juveniles during interrogations.
Senate Bill 2122, which prohibits the use of deceptive tactics by all law enforcement when interrogating a minor, was part of a package of criminal justice legislation the governor signed at Northwestern's Pritzker School of Law.
"False confessions have played a role in far too many wrongful convictions," Pritzker said, "leading to painful and often life-altering consequences … and that rings true for the youth who are most vulnerable to these tactics. My deep hope is that Illinois is setting an example for the entire nation to pass this law in all 50 states."
The bill will take effect at the start of next year.
Illinois has recorded more criminal exonerations than any other state in each of the past three years, according to data collected annually by the National Registry of Exonerations, and many of those cases have involved false confessions.
A 1969 decision by the U.S. Supreme Court allows law enforcement officers to make false statements during interrogations. But Pritzker's office noted that both the 7th Circuit Federal Court of Appeals and Illinois Court of Appeals have condemned that practice when interrogating minors because of a heightened risk for false confessions.
Under the new bill, a confession given by someone under the age of 18 would be deemed inadmissible in court if that confession was "procured through the knowing use of deception."
Standing beside Pritzker as he signed the legislation Thursday was Terrill Swift, who spent 15 years in prison after he and three other teens who were dubbed the "Englewood Four" were coerced into confessing to a 1994 rape and murder they didn't commit.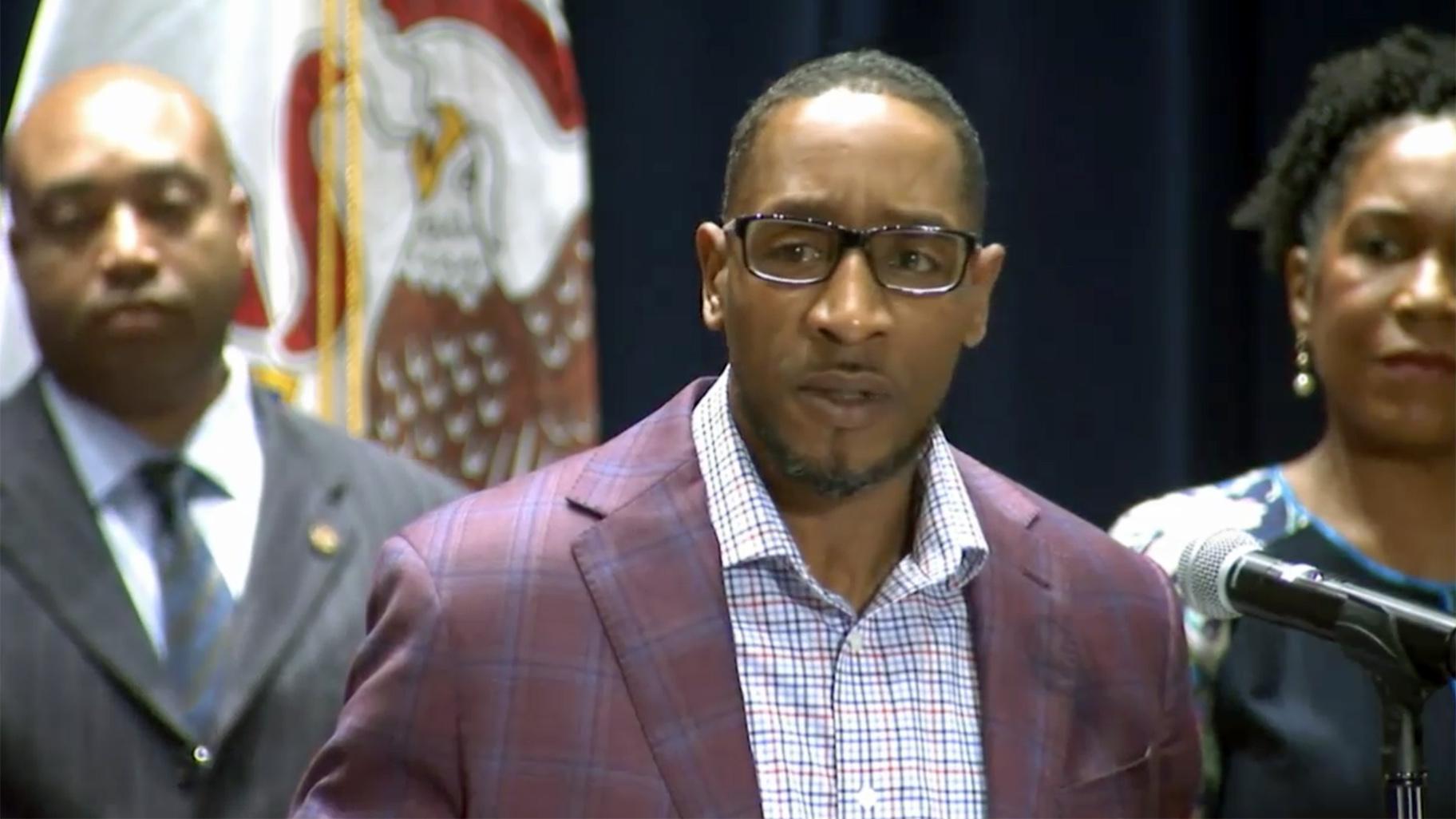 Terrill Swift speaks on Thursday, July 15, 2021. (WTTW News via Governor's Office)
"This happens so much and it's something that needs to change," Swift said. "This bill passing is a great step, but we still have so much work to do because there are so many brothers and sisters still (in prison) now wrongly."
Along with SB 2122, Pritzker on Thursday signed three other bills:
— Senate Bill 64, which encourages the use of restorative justice practices by making statements made while using these practices privileged;
— Senate Bill 2129, which allows state's attorneys to petition for the resentencing of an offender in their county if they believe the original sentence "no longer advances the interests of justice";
— House Bill 3587, which creates a Resentencing Task Force Act to study ways to reduce Illinois' prison population.
"This is a moment when we get to mark, truly, one of the most joyous and important accomplishments for a fair and safe criminal justice system," Pritzker said, "and something that should make people all across the state proud."
Contact Matt Masterson: @ByMattMasterson | [email protected] | (773) 509-5431
---