On a recent Tuesday morning, Sister Stephanie Baliga was moving pallets of food from the walk-in cooler to the food pantry. The line outside was long. 
When Baliga started college, she never imagined that one day she'd be wearing a nun's habit and feeding the poor.
But, back then, her priority wasn't Jesus – it was running.
"I started running when I was nine, and pretty much running became my life," she said. "It was how I defined myself."
At the University of Illinois, Baliga was the sixth-fastest freshman in the nation. She was training five hours a day. 
But as a sophomore she fractured her foot and couldn't run for 12 weeks.
"As soon as you have five hours of free time you start thinking about lots of things," she said with a smile. "Which eventually lead me to pray and lead me to really ask god what was going on in my life and who am I and what am I doing?"
She says the answer that came to her was clear: dedicate your life completely to god.
"I didn't even know what that meant! But I eventually figured out that that usually means you become a nun," she said.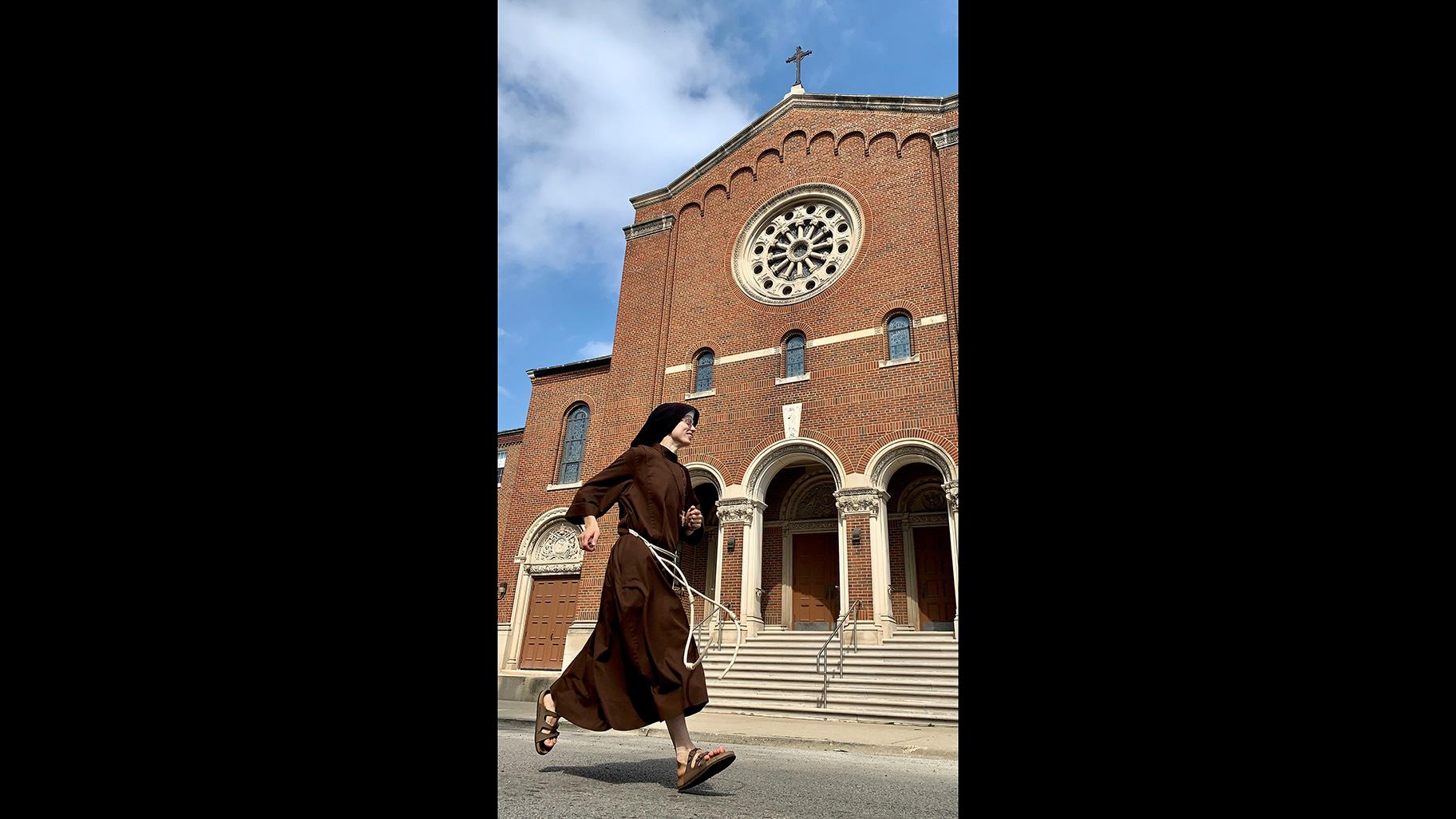 Sister Stephanie Baliga runs past the Our Lady of the Angels church in Chicago. (Jay Shefsky /
The religious community that Baliga joined almost 10 years ago is the Mission of Our Lady of the Angels in the West Humboldt Park neighborhood on the West Side.
Many people know Our Lady of the Angels for its tragic history. In 1958, a horrific fire tore through the school, killing 92 students and three nuns – and injuring many more.
When Baliga first visited in 2010 as part of her own process of discernment the mission was still pretty new. It was founded by Father Bob Lombardo, who had been recruited by Cardinal Francis George to create an urban mission in the buildings of this former parish.
"Right now this area has many non-Catholics living in it and yet there are still people that have great need," said Lombardo. "As we like to say, we do what we do because we're Catholic not because the people we serve are Catholic."
Since its founding, the Mission of Our Lady of the Angels has succeeded in drawing young people to religious life. Ten sisters and one religious brother have joined Lombardo. The average age is just 31.
The population of nuns in the U.S. is aging and shrinking quickly. And while there are no definitive statistics, the number of new nuns is believed to be growing. 
Baliga offers one explanation: "In our world where a lot of meaning has been removed from life, and a lot of times there is no truth – like everything is 'OK,' a lot of women are attracted to such a radical lifestyle where they give up everything for what they believe is true."
And Baliga is still running – but her goal isn't the Olympics. It's raising money for the mission.
Each year she trains a group of mission volunteers and supporters to run the Chicago Marathon – which she is also participating in.
"All the money that we raise for the 103 people that are running the Chicago Marathon is going to be used to help renovate Our Lady of the Angels school to be our new community center for the neighborhood. We're going to have 40-50 beds for volunteers on the third floor and then we're going to have new social service outreach on the second floor and a new pantry on the first floor," she said.
What do her old running pals think of her life today? 
"Honesty a lot of people are not surprised," she said. "Because I have always been a little bit extreme!"
Note: This story was first published on Oct. 10, 2019.
---
Related stories:
Chicago Marathon Director Carey Pinkowski Reflects on Evolution of Race
Parkinson's Disease Not Slowing Down Runner's Marathon Goal
Mickey Alice Kwapis Wants You to Love Taxidermy As Much As She Does
---