Mickey Alice Kwapis carefully lays a dead parakeet on a tray. Then a cup of water.  And a scalpel. She wets the bird's feathers to expose the center of its belly, where she will make a cut. 
"I usually wear gloves when I work on larger animals," she says, "but with birds they're so delicate it helps to be able to feel where I'm sticking my hands."
Kwapis, who is 29, knows that she doesn't fit most people's idea of what a taxidermist looks like. And she is trying to change that.
As she confidently removes the parakeet's insides she smiles and says, "I definitely have learned a lot more about animal anatomy than I ever thought that I would, originally wanting to be a visual artist and then becoming a taxidermist."
Kwapis primarily works on smaller animals – rats, squirrels, rabbits, birds – mostly because she does her taxidermy in her Chicago apartment. She does not do hunting trophies. And while she once avoided anthropomorphic taxidermy ("I used to think it was really tacky") she now has fully embraced squirrels in dresses and rats eating sushi. "It starts a conversation with people who maybe previously thought taxidermy was really gross, or didn't understand what it was at all," she says. And it sells better than anatomically accurate taxidermy.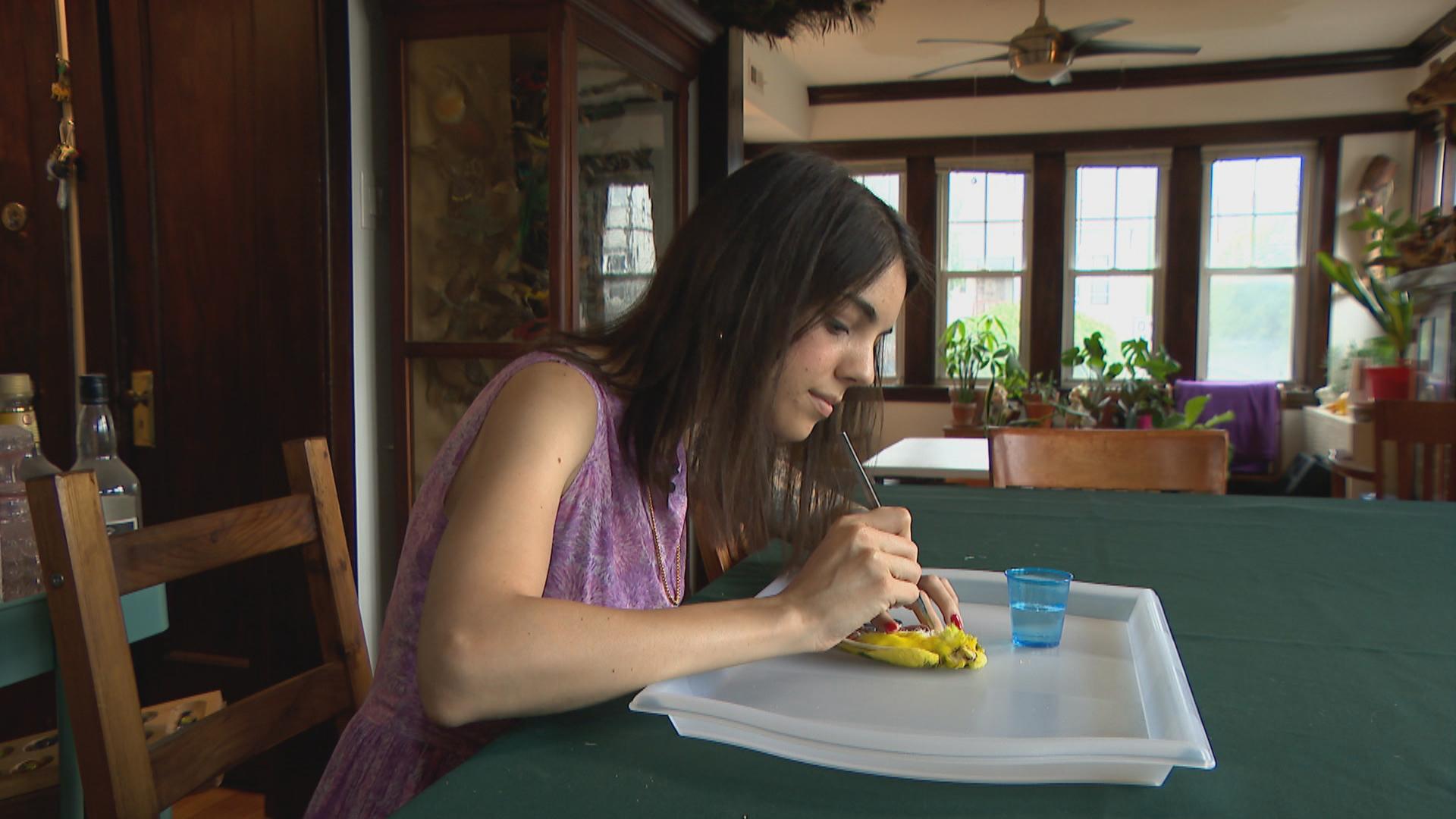 Mickey Alice Kwapis
But these days, Kwapis is more focused on education than selling he work at craft fairs. "I've been teaching workshops for over seven years, and I would say about 95% of my students are women, and the majority of those women are within my age group."
She has also started a nonprofit, called The Specimen Museum. (More on this below.)
"The specimen museum is not actually a museum that people can visit – yet," she says with a smile. "I pack up about 40 specimens from my own collection and I take them into public schools and other public community organizations. I would go the library and rent a classroom."
"Once they're done looking at my specimens we do an owl pellet dissection or a butterfly pinning activity - something 'hands on,'" she says.
While Kwapis knows that some people see taxidermy as dark or creepy, she says that, for her, love of taxidermy grew out of her love for animals that are alive. "I grew up with my mom working on a petting farm when I was a kid. And so, you know, everything that's alive has to die eventually, and it was always just this really sad thing where we just had to bury them."
Kwapis does not kill any animals for her work. She coined the term "sustainable taxidermy" and is very careful about where she gets her animals. Some die in pet stores. Some are trapped as pests and would otherwise be disposed of. And some have come from people who hunt for food; she skins the animals and sends back the meat.
There may be another reason why people are often surprised that Kwapis is a taxidermist. 
Not only is she a young, non-hunting woman, she is also quite sunny.
"I guess there is a little bit of the creep aspect depending on what your outlook is," she says. "But for me, I don't think that I'm creepy. I know that what I do is odd, but my goal is to normalize it. Because taxidermy is so important for education, for conservation, for protecting our wildlife. To use deceased animals as a tool to help other people fall in love with the wild world is – it's really rewarding, and I hope that I can help other people get involved in it, too."
Video: Mickey Alice Kwapis talks about The Specimen Museum.
---
More on this story
You can see Mickey Alice Kwapis' taxidermy at the Crampus Holiday Market in Logan Square on Dec. 17, 2019.  
Note: This story was first published Sept. 19, 2019. It has been updated.
---
More from Jay Shefsky:
Lifelong Dollhouse Maker Dreams of Creating a Museum
For First Time in 30 Years, Vinyl Records Being Made in Chicago
As a Young Man, He Traveled with 'Railroad Tramps' and Documented Their Lives
---