A onetime tattoo artist is back on the scene. He no longer inks people – he's an acclaimed painter sought after by collectors locally and abroad. And his new series of paintings features tattoo art.
If you're younger than 60, George Klauba has tattoos older than you.
TRANSCRIPT
Paris Schutz: Animal heads on human figures. Heavily tattooed bodies.
A battle between angels and demons played out in acrylic paint.
George Klauba, artist: These things are screaming inside of you to get out. It's a lot of your inner thoughts, fears, feelings, wishes, whatever, and they start to bubble out into the surface, you know. Release them.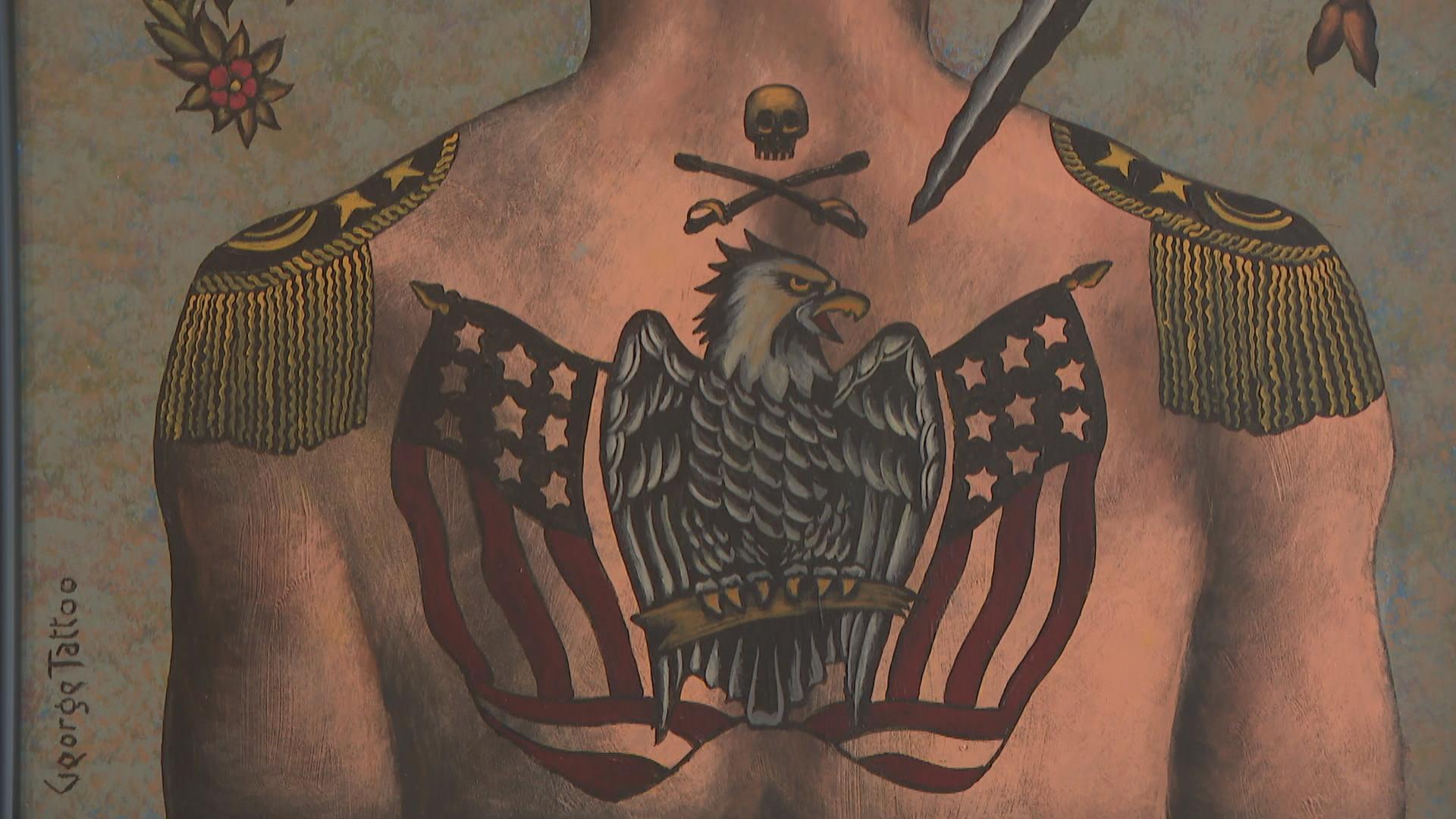 Schutz: These are the latest works from an 81-year-old artist who thought he was through with painting.
Klauba: My wife died three years ago and afterwards I just couldn't do any artwork.
The brushes just fell out of my hand, the paint just made me sick. Everything.
It was probably about two years before I did anything and things have been going good ever since with the painting.
Schutz: Klauba grew up in Marquette Park and joined the Navy out of St. Rita High School.
In the 1970s he worked in a tattoo parlor on Archer Avenue.
He showed us a tattoo he got back in 1957.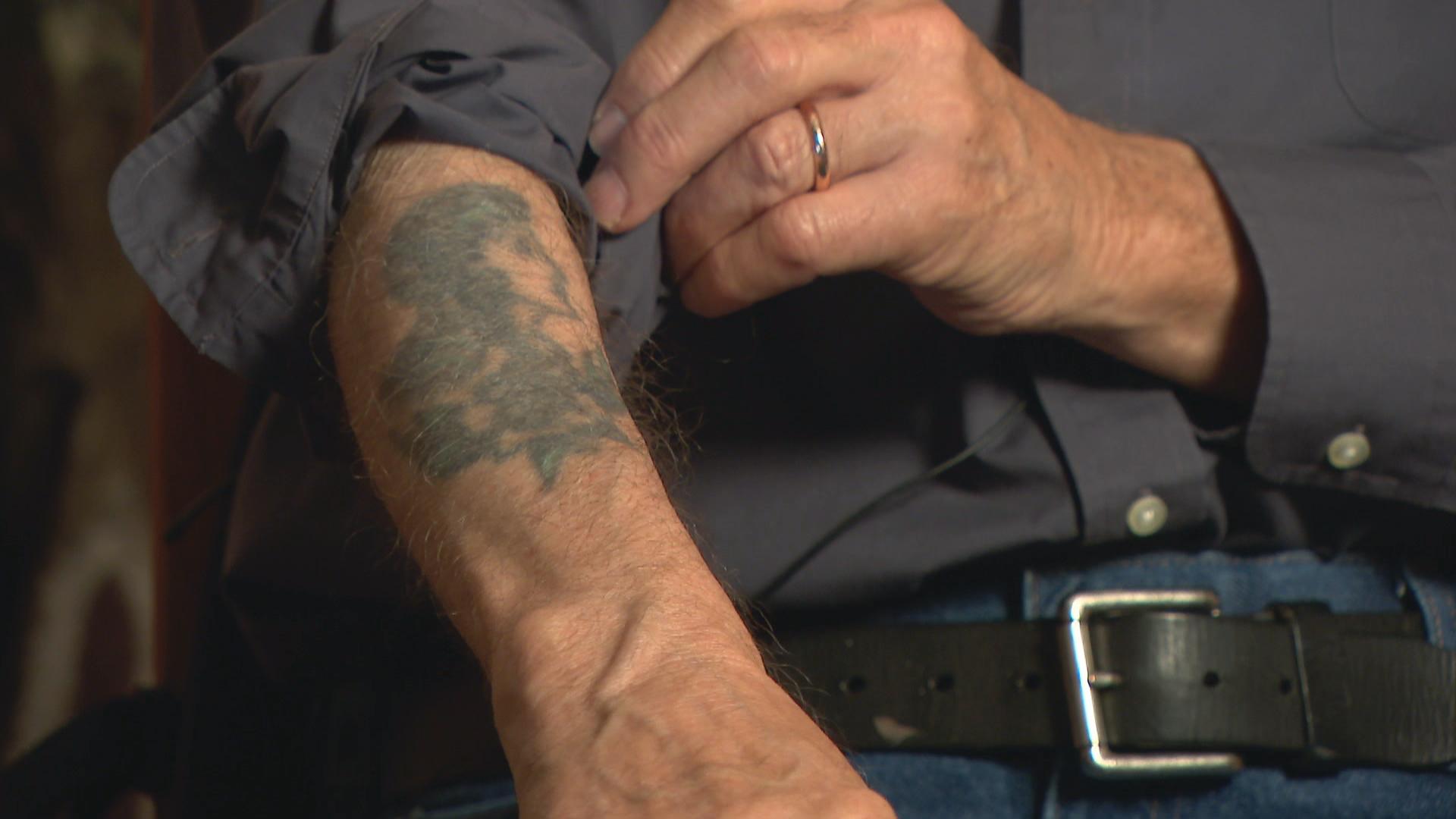 Klauba: It's pretty faded right now, just as much as I'm faded.
Schutz: But it wasn't his first tattoo.
Klauba: I grew up on the Southwest Side and hanging around with the guys we had sort of a little neighborhood gang, and I tattooed myself and I tattooed the other guys with "The Chi-Lads" was the gang. It was the Chicago Lads with a dagger in it.
In school and art classes, I was always doing things with ships and seas from World War II and with skulls and things. Snakes. I love snakes. I used to hunt garter snakes as a kid and used to catch them.
Schutz: While his painting career was on hiatus, his longtime gallery – the highly respected Ann Nathan Gallery – closed when the owner retired.
Klauba found kindred spirits at a new space – Hofheimer Gallery – to show the latest series of drawings and paintings he calls "Last Chance Tattoo."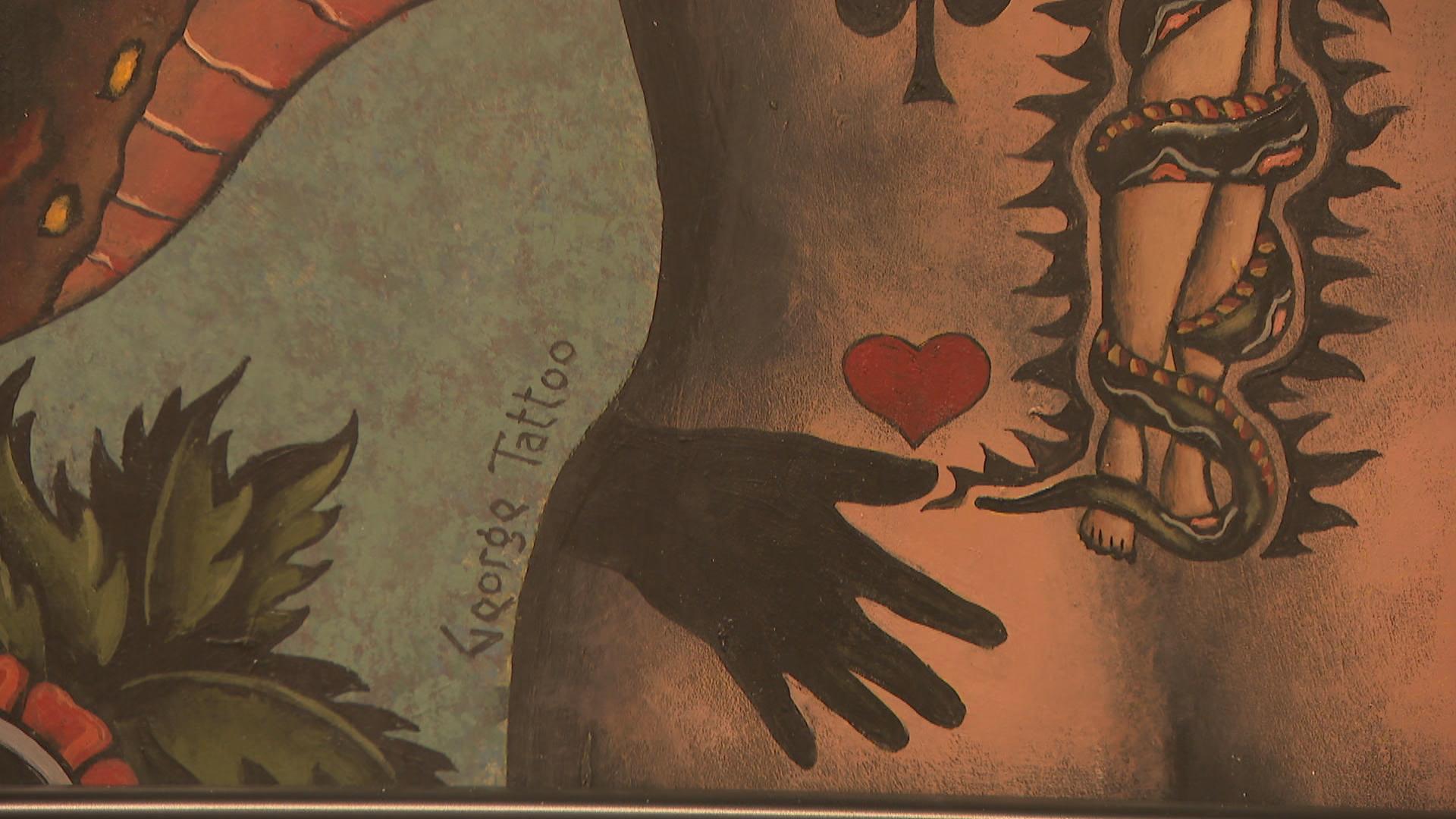 And he's gone back to using the name George Tattoo that he used back in his tattooing days.
He's well aware that the recent work is filled with pain and mortification.
Klauba: There's mortification in life, you know, put it that way. And that's what tattooing is, it's life.
Being somebody like my age too, your feelings of mortality are a little bit different. I'm pretty heavy on doing skulls, I'm thinking of death more too, and that's a part of it and it's a good part of it.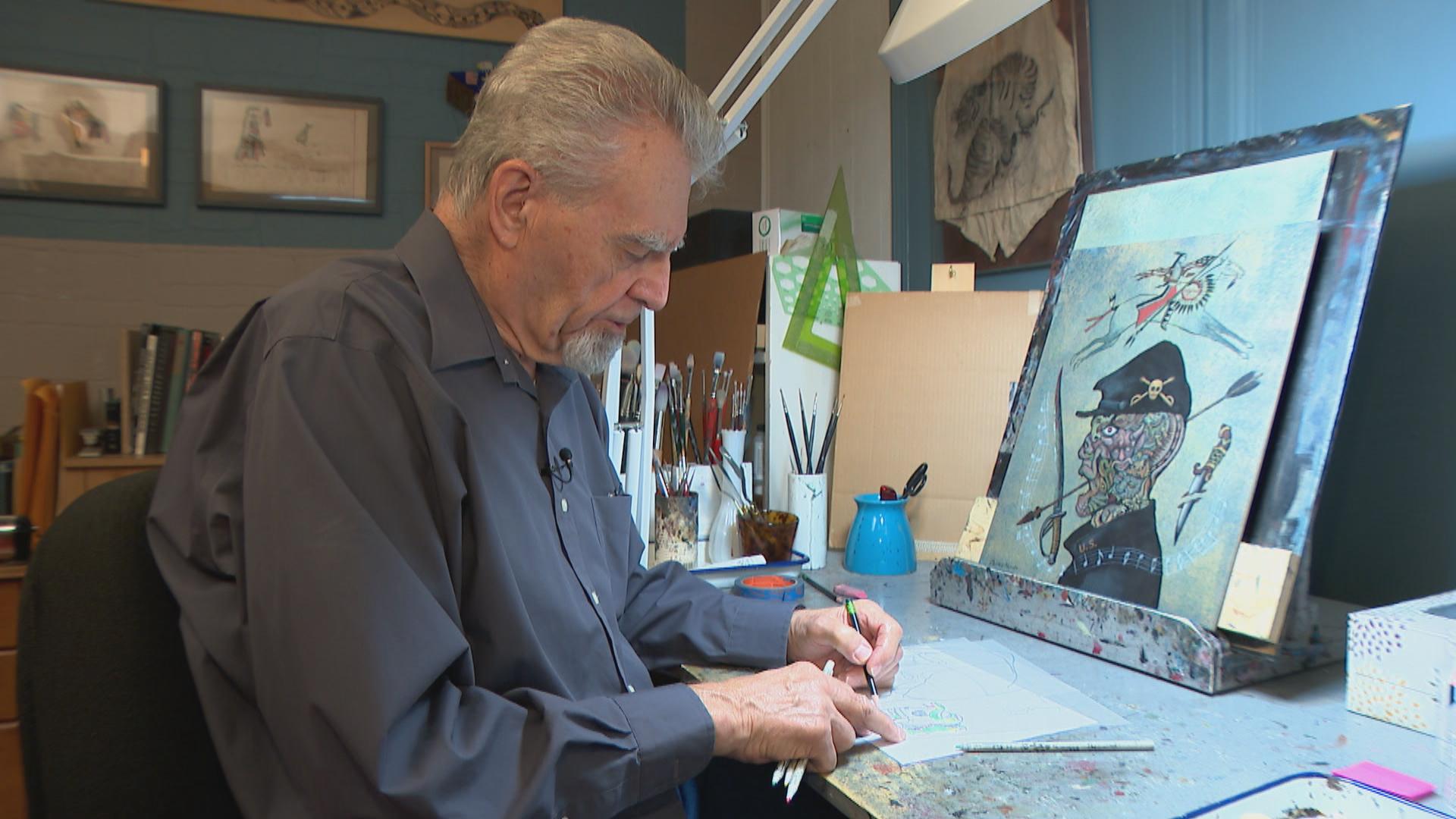 Schutz: He has mixed feelings about the popularity of tattooing these days.
Klauba: Today, I don't know about tattooing. You'd have to talk to young people about that, but from what I see in a lot of younger people today – everybody's younger than me, God – but from what I see it's a lot of design. Before, it seemed like it was always what you feel and what you wanted to represent or what you were a part of.
Just from the earliest times people were impregnating their bodies with ink or blood or dirt or whatever to have spiritual symbols that they would carry and it would give them strength, it would give them hope, it would give them love … everything.
Tattooing goes bone deep. And it's what we are deep inside.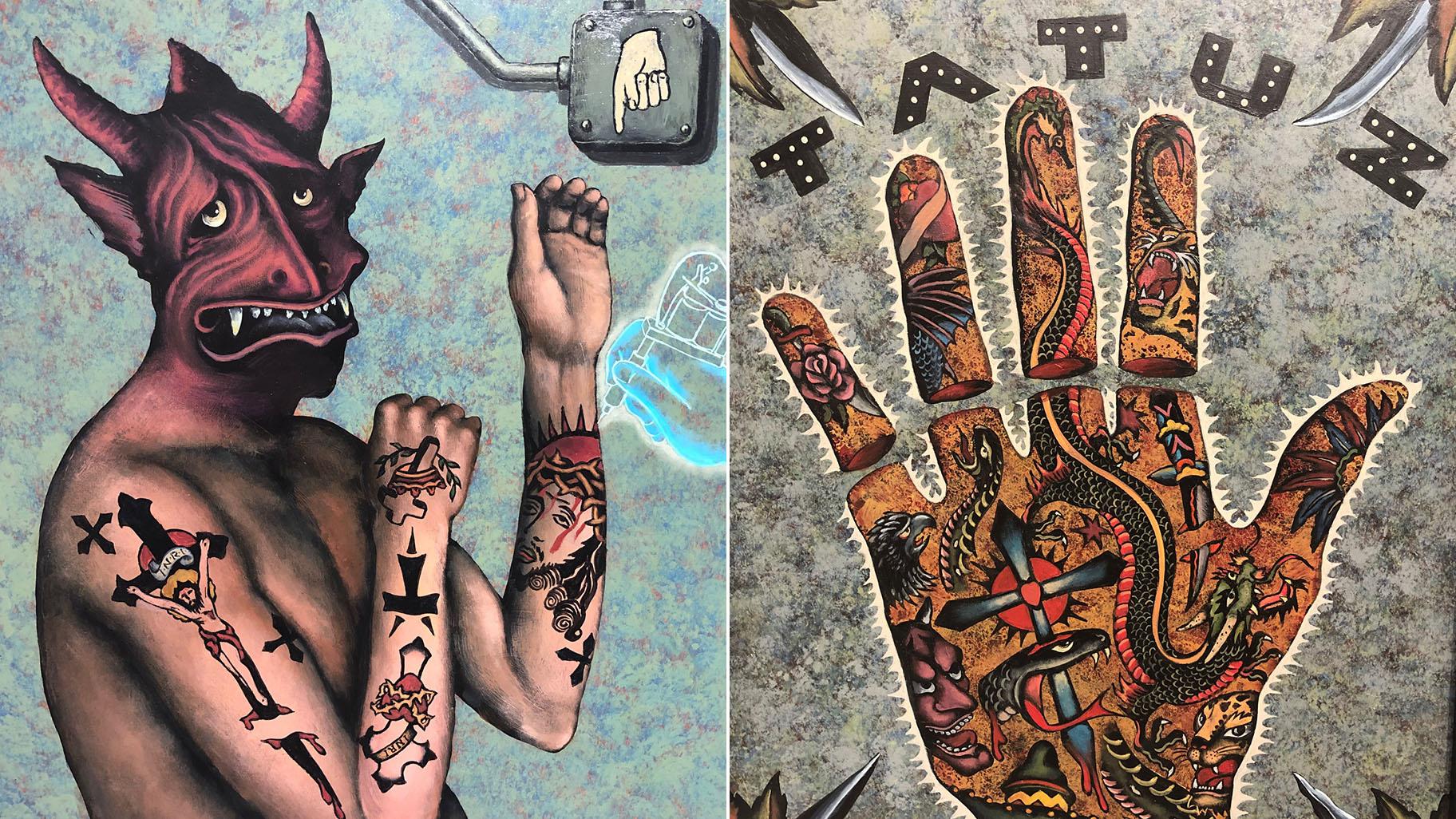 Photos of work by Chicago artist George Klauba. (Marc Vitali / WTTW News)
More on this story
George Klauba – or George Tattoo as he's sometimes known – has a new show of work at the Hofheimer Gallery on North Damen Avenue. "Last Chance Tattoo" runs through Nov. 2, 2019.
Note: This story was first published on Oct. 10, 2019. It has been updated.
---
Related stories:
'What Came After' Exhibition Explores Legacy of Chicago Imagism
Crème Sheri Brings a Big Personality to All Things Jazz
At Bridgeport Arts Center, Artists Search for Meaning in Migration
'Nice Ink, Granny!': Local Senior Brings Color to Chicago
---