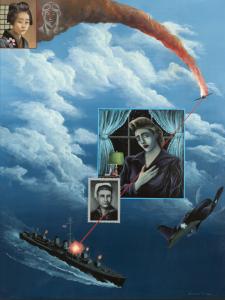 The artist George Klauba grew up in Chicago in the 1940s. He recalls being at the family home in Marquette Park with his parents and grandparents, listening to them for news of the war.
"And I remember riding the streetcar with my mother and seeing people with tattoos that read Death Before Dishonor and Remember Pearl Harbor," he told us. The vets came back "with arms tattooed and memories etched upon their faces." The returning soldiers let the neighborhood kids play with souvenirs of the war, some of them stained with blood.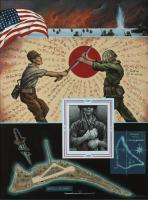 A favorite uncle in the Naval Reserve survived when his destroyer was attacked by kamikazes and sunk in the Philippine Sea in 1944. The service members in his family inspired Klauba to join the Navy in the '50s. By the '70s he worked in graphic design for the Chicago Sun-Times and apprenticed as a tattoo artist on Belmont Avenue. He turned to fine art in 1980.
Klauba recently painted a series of 18 paintings that reflect on emotion and honor. They were made with enormous empathy toward the fighting men of both sides and their loved ones back home.
In his pictures, battles play out against celestial bodies and the ocean's depths. Each acrylic painting vividly tells a narrative from different viewpoints. Tattoo art, flags, and maps embellish his haunting visions of the Pacific War.
This former sailor is serious about the sea. He was married in 2006 at the historic Seamen's Bethel in New Bedford, Mass., a chapel immortalized in "Moby Dick." Several years ago, Klauba painted an unforgettable series of images based on Herman Melville's book.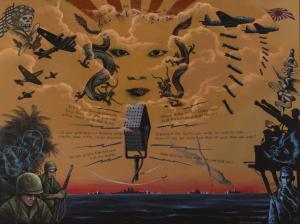 George Klauba is represented by Chicago's Ann Nathan Gallery. He's just published a small, significant book, "Nerves on Fire," that includes reproductions of his 18 South Pacific paintings. It's worth a close look by history buffs and art enthusiasts alike.