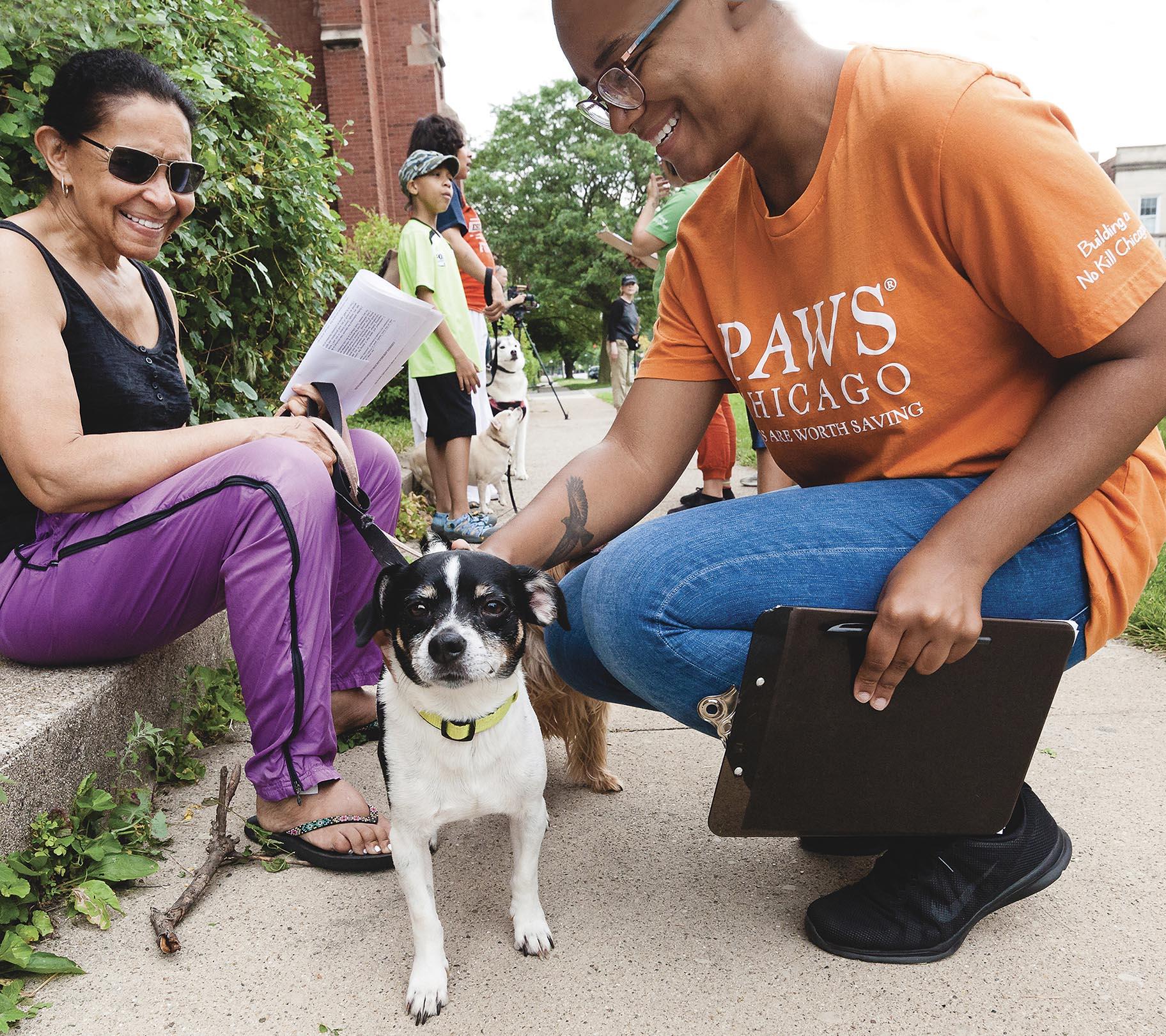 Since 2014, PAWS Chicago has operated a door-to-door outreach program aimed at reaching areas of the city with the highest rates of homeless pets. (Courtesy PAWS Chicago)
Five years ago, staff and volunteers with PAWS Chicago began knocking on doors near 57th Street and Racine Avenue as part of a new program to reach pet owners in Englewood. The response was overwhelming.
"Once people saw that we were there to help them and bring their animals back, it just completely opened up," said Laurie Maxwell, director of community outreach for PAWS Chicago.
Since launching the door-to-door program in 2014, PAWS facilitated spay and neuter clinics, veterinary care and other services to 13,000 pets and 6,600 families, touching nearly every block in Englewood.
About 95% of the pets reached through the program are not spayed or neutered, with residents facing a lack of access to clinics, transportation or other obstacles, Maxwell said.
"We selected Englewood because it was a pet resource desert." Maxwell said. "There's no Petco. There's no veterinarian. There's no place to buy a leash or a collar. But people have pets; people love their pets."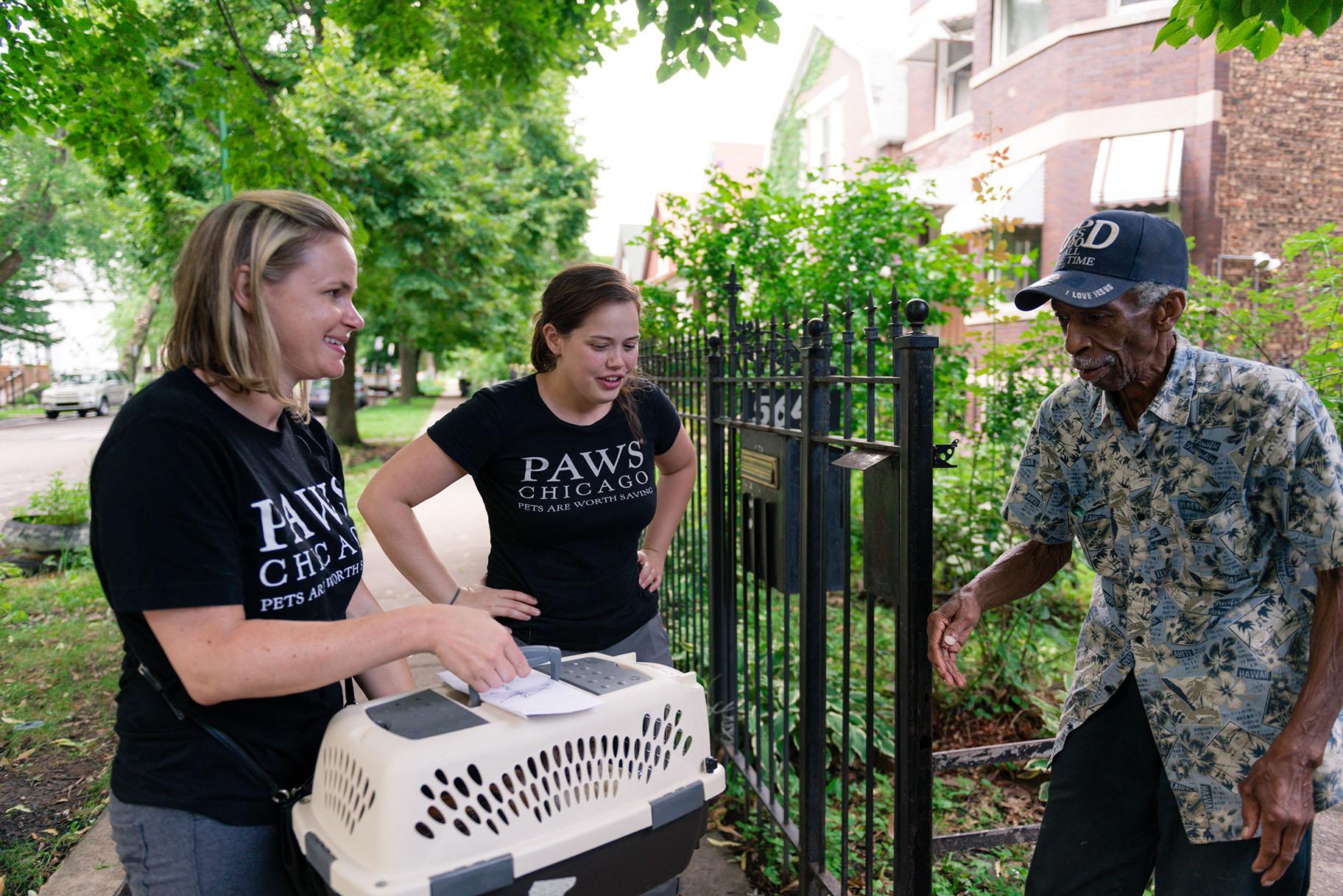 PAWS has provided services to 13,000 pets in Englewood since 2014. (Courtesy PAWS Chicago)
With the nearest pet store about 3 miles away, Englewood pet owners have jumped at the opportunity to have their dogs or cats spayed or neutered for free at PAWS' Lurie Clinic in Little Village. Staff and volunteers pick up the pets at an owner's home and drop them off afterward.
Demand for the spay/neuter service is so high that appointments have been consistently booked two weeks in advance for the past five years, Maxwell said.
To keep up with interest, PAWS is opening a new outreach center in Englewood on Thursday. The center will include a community space and offices inside the basement of St. Stephen's Lutheran Church, 910 W. 65th St.
PAWS says the new center will allow it to maintain a permanent presence in the neighborhood while expanding services such as free spay/neuter clinics, veterinary exams and and a Pet Food Pantry that already distributes 2,500 pounds of food each month in Englewood and Back of the Yards.
Maxwell said a veterinarian will be on-site once a week to provide care for sick or injured pets.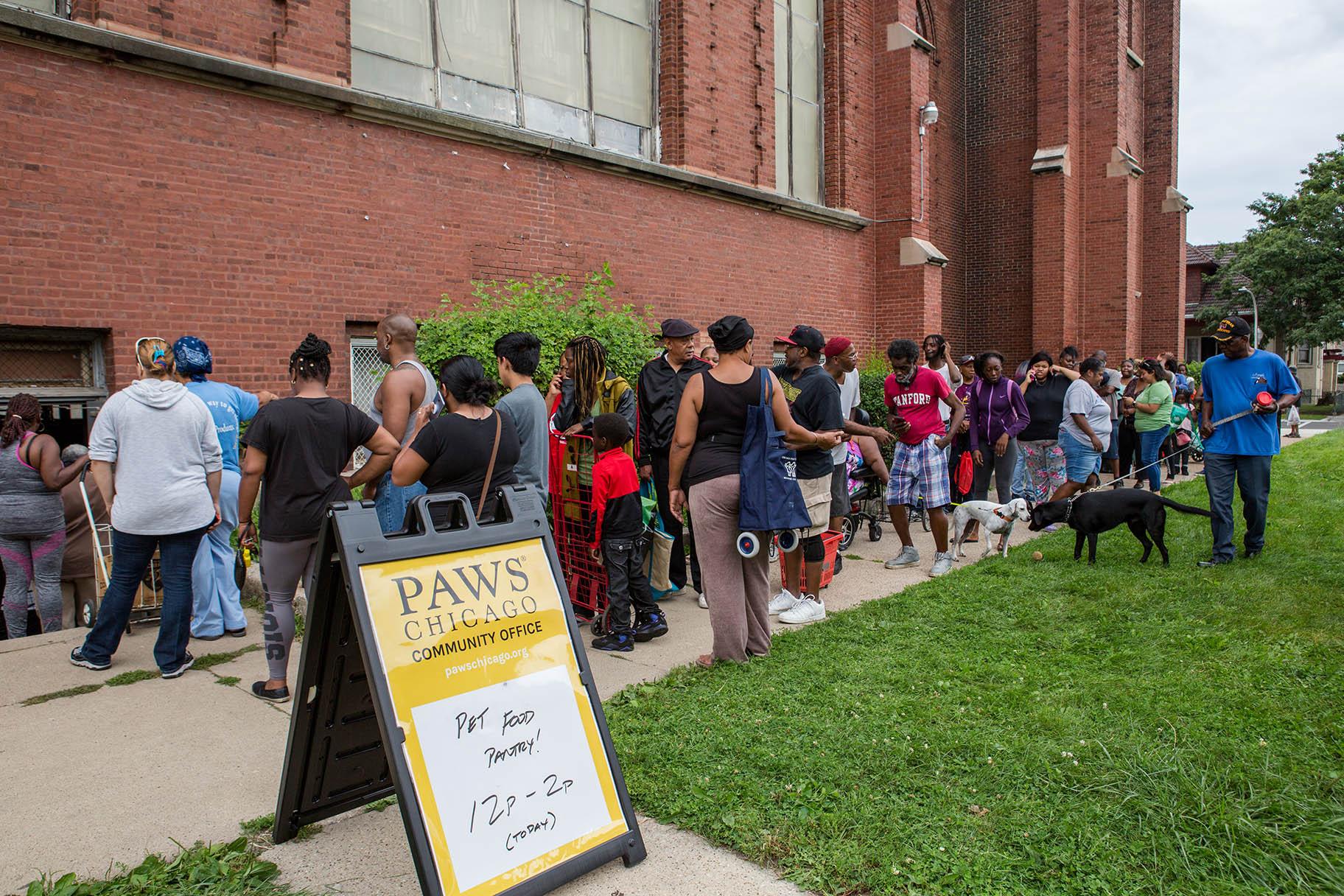 PAWS' Pet and Food Pantry distributes 2,500 pounds of food each month to residents in Englewood and Back of the Yards. (Courtesy PAWS Chicago)
The center will also host a community cats program that trains residents to care for feral cats in the neighborhood. Volunteers will be able to build shelters for outdoor cats using rubber containers, styrofoam, straw and other materials, Maxwell said. The program will also include a trap, neuter and return component that aims to spay or neuter feral cats.
Maxwell said the new center will soon host an apprenticeship program offering job training skills to community members interested in careers as a veterinarian or veterinary assistant.
A grand opening for the new center is scheduled for 10:30 a.m. Thursday at St. Stephen's.
"This is a community that has a lot of pets in it, and people want these services for their animals," Maxwell said. "[The center] is now an animal welfare anchor in a community where there are no other pet resources."
Contact Alex Ruppenthal: @arupp | (773) 509-5623 | [email protected]
---
Related stories:
Chicago Shelter Launches Partnership With Facial Recognition App to Find Lost Pets
With New Screening Process, City Shelter is 'Fast-Tracking' Cat and Dog Adoptions