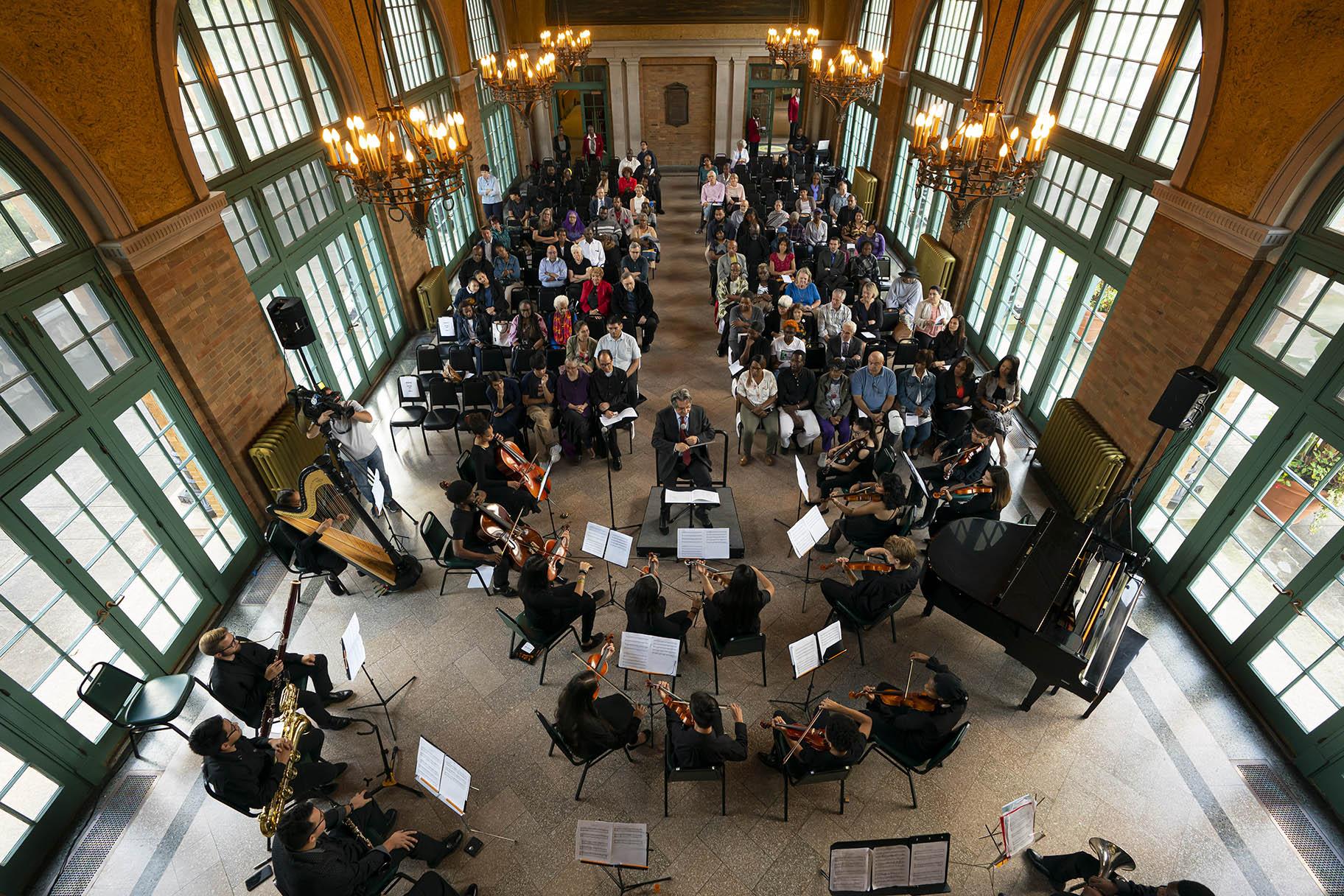 A community music rehearsal with the Chicago West Community Music Center and Riccardo Muti at the Columbus Park Refectory. (Photo by Todd Rosenberg)
When Maestro Riccardo Muti, music director of the Chicago Symphony Orchestra, heard students from the Chicago West Community Music Center perform at a benefit event in June, he said he was "impressed with their dignity and ethical approach to their music style."
And after hearing the voice of 20-year-old soprano Jessalle Jakes, Muti said he'd be back to work with the young musicians.
This week, he made good on that promise, leading a special community rehearsal at the Columbus Park Refectory. It was hosted by the CSO's African American network.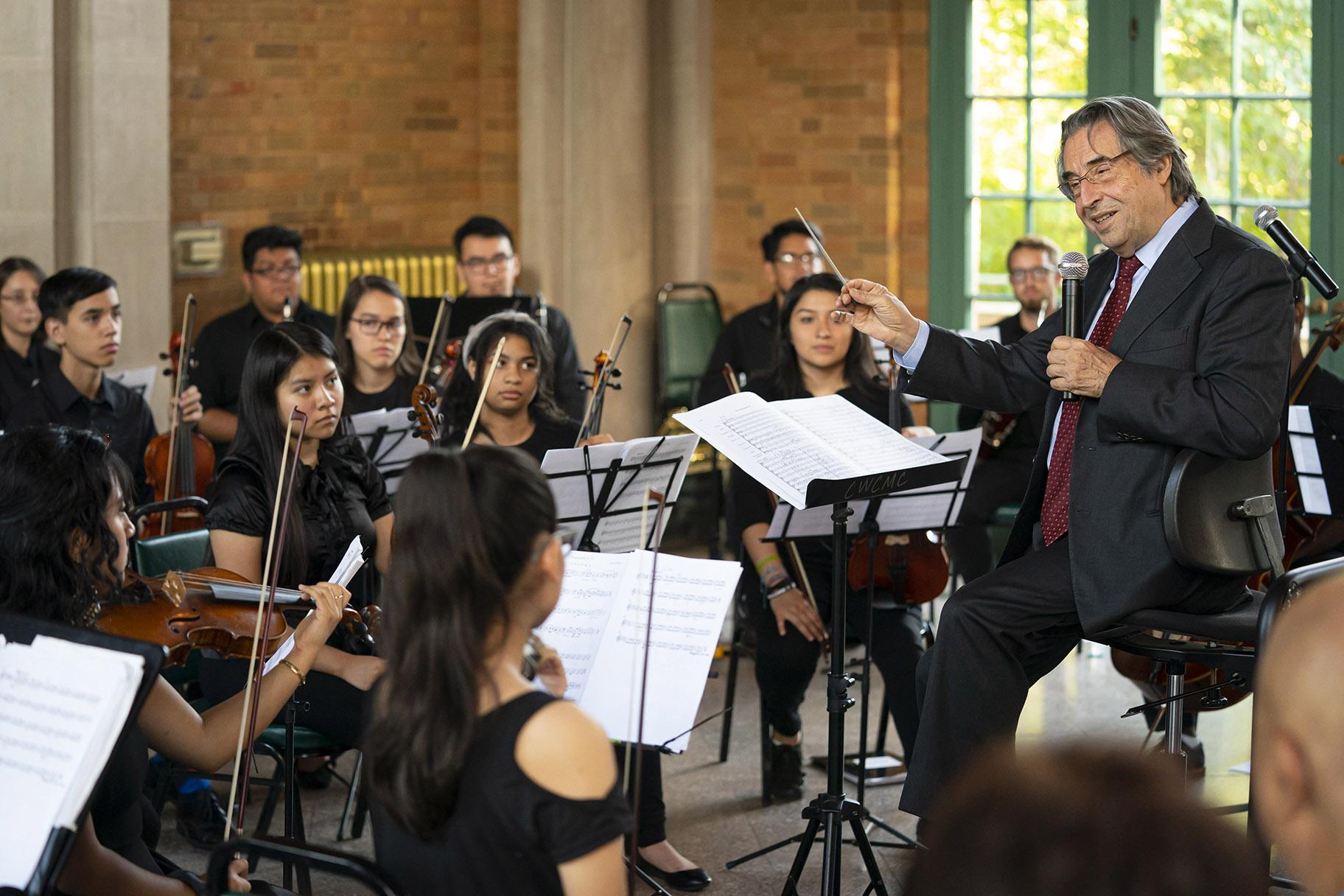 (Photo by Todd Rosenberg)
"Music is a part of the enrichment of our soul," Muti said before instructing the students to play. And in an unplanned unison, both the orchestra and Muti begin to sway to the rhythm of the song. 
The orchestra, consisting of violins, cellos, flutes and clarinets, first played Schubert's Entra'acte No. 3 from "Rosamunde." Muti stopped the students quickly and began to critique their crescendos, sounding out the harmonies he wanted them to recreate. His imitation quickly led to a joke that made everyone in the room laugh.
Twenty-year-old Sydeny Smith, who plays cello, was nervous. "Having a conductor like him teach us was kind of nerve wracking," Smith said. "Normally you wouldn't think of a conductor with a big name to be that laid back. So that kind of calmed our nerves down, it made us relax and be more comfortable with learning from him."
Halfway through the rehearsal, Muti moved to a piano to begin vocal lessons with Jakes, the soprano. Together they worked on word pronunciations of the Italian opera song "Vissi d'arte" from "Tosca" by Giacomo Puccini. It's a song Jakes had been rehearsing for a month, and while she says the song is tough, Muti's presence eased her nerves.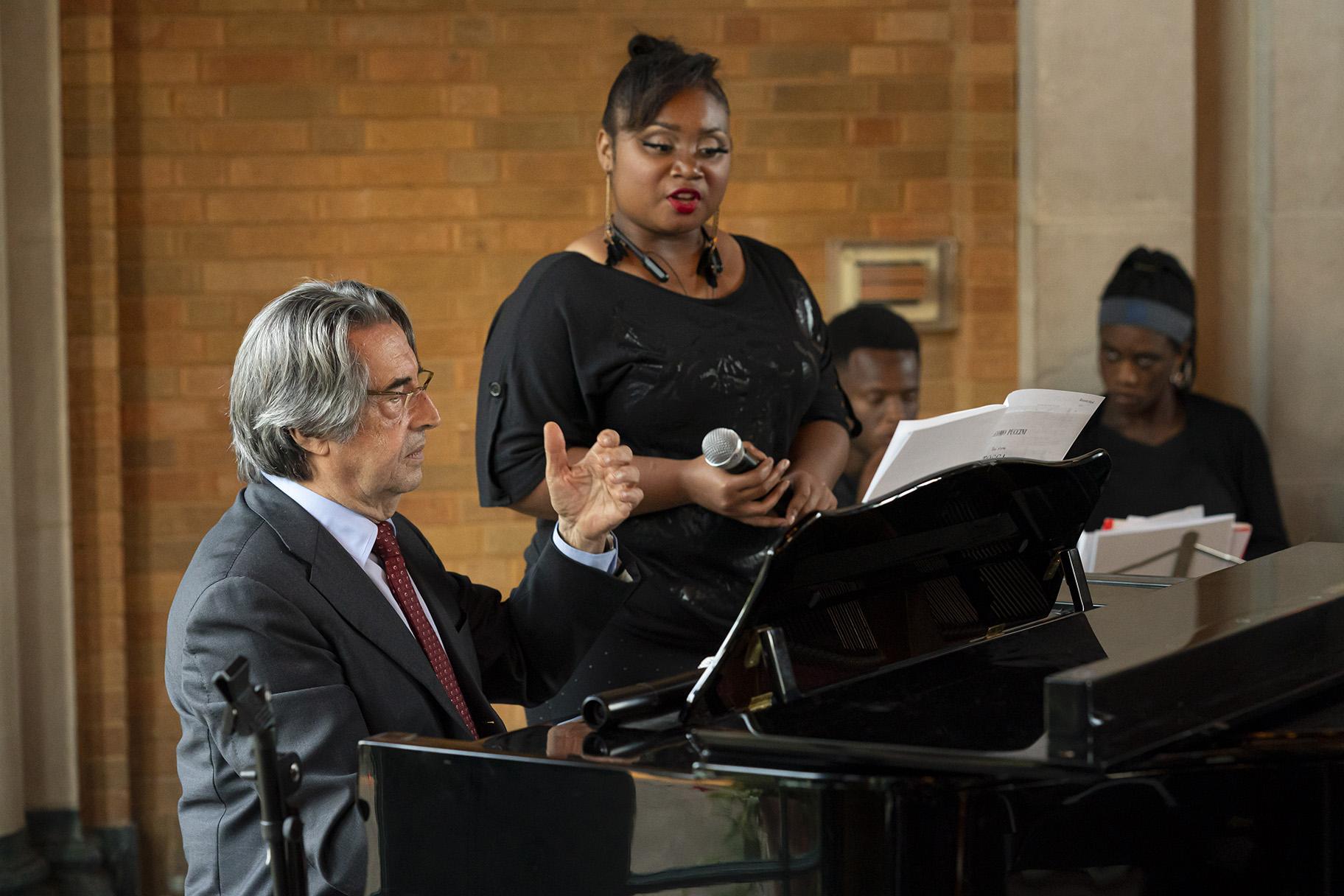 Chicago Symphony Orchestra Zell Music Director Riccardo Muti works with soprano Jessalle Jakes. (Photo by Todd Rosenberg)
"He relaxed me," Jakes said. "I was nervous because I thought I was going to expect something else from him that would make me want to change myself to fit his personality. But after a while, I don't think I needed to because he made me feel at home. It was like magic happened. It was very magical and just unexpected. I was like, 'Wow'. It was just unpredictable."
Muti then instructed the orchestra – now brimming with insight he had given them over the previous two hours – to play.
"You heard such an improvement in their playing by the end of the rehearsal," said Sheri Blakely, a fan of the music center. "To see them take his notes and improve that quickly was just so awesome to see." 
Muti stood in front of the orchestra, conducting with Jakes singing at his side.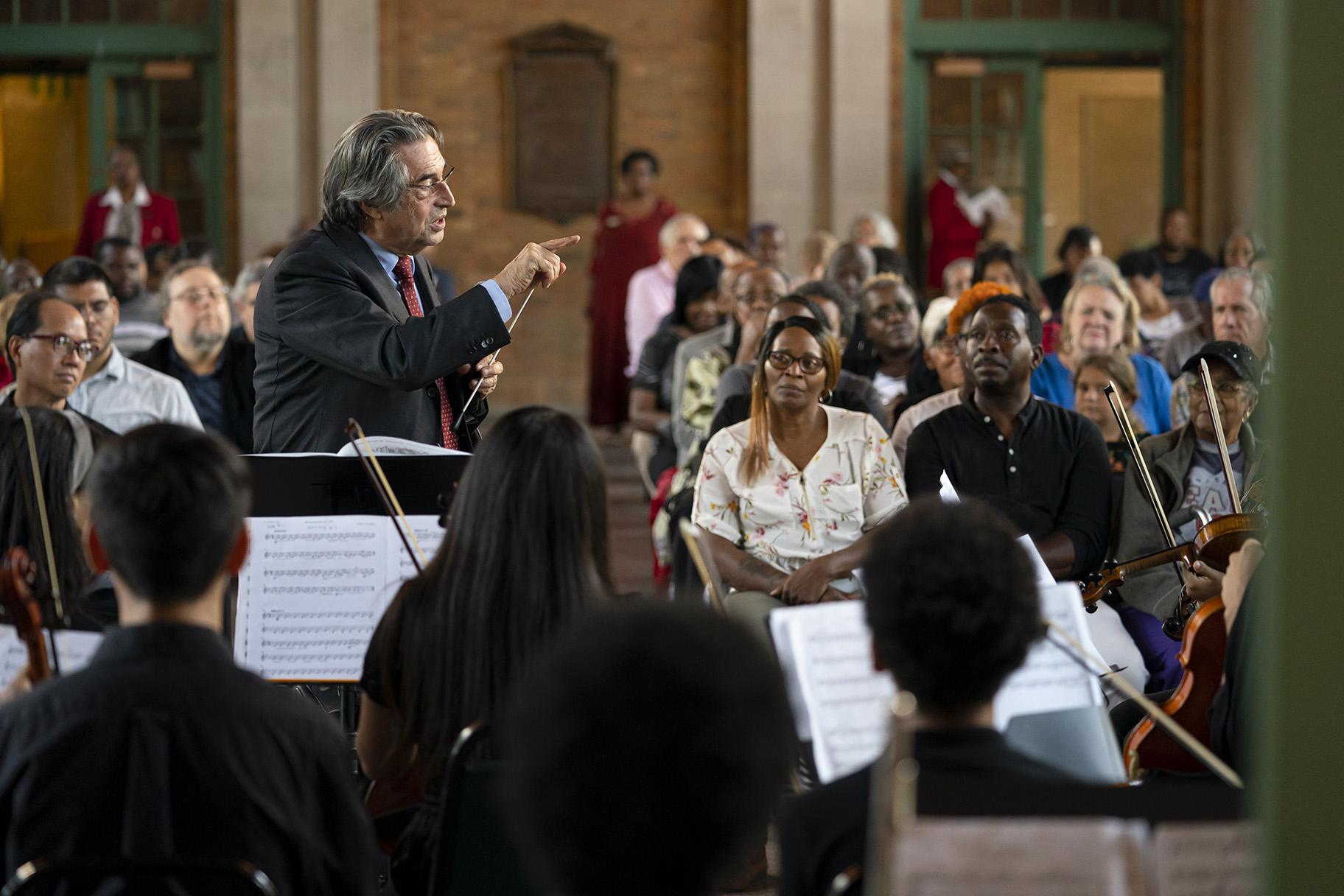 (Photo by Todd Rosenberg)
"Perché, perché, Signor," Jakes sang, filling the entire room at her highest octave. "Ah perché me ne rimuneri così?"
A roar of applause quickly erupted from the audience and the group bowed. In front of their beaming faces, Muti announced this was not the end, and promised to be back again.
Follow Angel Idowu on Twitter: @angelidowu3
Angel Idowu is the JCS Fund of the DuPage Foundation Arts Correspondent.
---
Related stories:
For 20 Years, Music Center a 'Beacon of Hope' on Chicago's West Side
CSO Opens Season with Glorious Grieg, Stunning Shostakovich and More
CSO's Opening Salvo in Beethoven 250th Birthday Celebration Proves Composer Forever Young
---