The Chicago West Community Music Center is celebrating 20 years of expanding the minds of area young people by introducing them to classical, jazz and blues music. We recently joined them for an outdoor concert as they paid tribute to a couple of Stax recording artists you may recognize.
TRANSCRIPT
Angel Idowu: Recognize that tune?
How about that one? Well if you don't, these kids sure do.
The Chicago West Community Music Center has been bringing classical music with a twist into the lives of young Chicagoans for 20 years.
It was founded by the husband-and-wife team of Howard and Darlene Sandifer.
Howard Sandifer: We started what we called the Lawndale Community Music Center because we both are from North Lawndale, and called it a "music conservatory without walls" because we didn't have a building. So we started at our kitchen table as a 501c3 and went wherever there was a need for music. Communities, schools, churches, neighborhoods, and from there it grew. In this past year on average, we've reached about 800 kids each year now.
Idowu: Laci Adams is one of those 800. She's been playing the cello since she was 8 years old.
Laci Adams: It's rare that you see African Americans or blacks or browns playing string instruments. That's rare to see. If you look at the (Chicago Symphony Orchestra), you barely see any black people there. So to be able to see people that play instruments like me that look like me is actually very powerful.
Idowu: She'll be attending Howard University in the fall to study finance. She's one of many students at the Chicago West Community Music Center who studies more than just music.
Darlene Sandifer: We don't expect for every student that comes through to be a major musician. We have students who have gone through our programs, they've gotten scholarships – music scholarships – but they're studying to be an engineer, they're studying to be a nurse. They have all kinds of goals.
Idowu: The Sandifers say it took some time, but they've taught children how to fall in love with all types of music.
Darlene Sandifer: We do a lot of what they call a lot of "old school" music and they would say, "Ms. Sandifer, why you teaching us all this old music?" and then they would go home and their parents would love it. So now they understand the reason why we started teaching them old school, per say. It's because they have to understand where they came from, how music started.
Howard Sandifer: So in addition to playing music, writing music, producing music, they're sound engineers. We have security people learning about security. There's so many aspect of the music industry and we want them to understand that for those who are really prepared, there's some things you can do. But you've got to be prepared, you've got to have skills.
Idowu: Maestro Ricardo Muti of the Chicago Symphony Orchestra recently participated in the organization's annual gala.
Muti was so impressed with the work of the students, he agreed to return and teach a master class in October.
Darlene Sandifer: The love of music is what we're trying to teach. I think Muti said it best when he said that you have to have love in your heart in order to create music. So we want to pull that out of them; we want to pull something good out of them. Because there's enough bad stuff that's being talked about in the community.
Idowu: And it's the community aspect that keeps the students coming back year after year.
Doriyon Ward, student: It's great to be around other people who feel as strongly about music as you do. You're able to connect more with a certain group of people.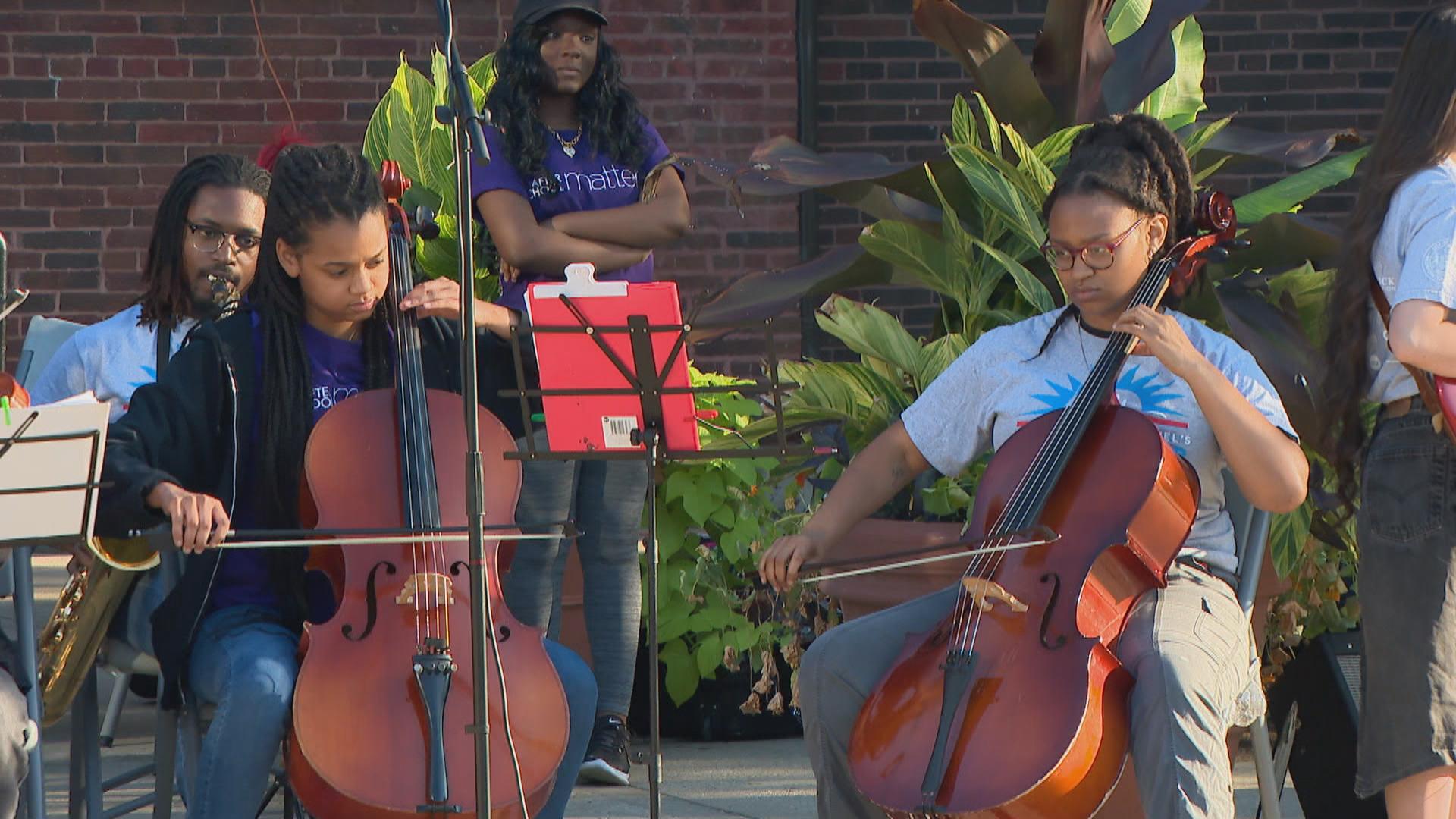 Adams: We definitely have made a family here. Mr. and Mrs. Sandifer definitely being our parents, and we're all brothers and sisters doing this music thing, trying to figure it out and uplifting each other so that others see us and are like, "Wow I want to be like them one day. Oh they're from the West Side?"
You normally hear bad things about the West Side, but you see there's some beacon of hope and beacon of light coming from the West Side, because we're doing great things.
---
More on this story
The Chicago West Community Music Center has also taken the children to perform overseas, including China and Paris.
Their final concert of the summer is this Friday at the Garfield Park Field House at 6 p.m.
Follow Angel Idowu on Twitter: @angelidowu3
Angel Idowu is the JCS Fund of the DuPage Foundation Arts Correspondent.
---
Related stories:
Chalk Artist Nate Baranowski is Transforming Chicago Sidewalks
Blues Prodigy Christone 'Kingfish' Ingram Hits Chicago
Keya Trammell Was Bullied for Alopecia. Now She is Bald and Proud.
---