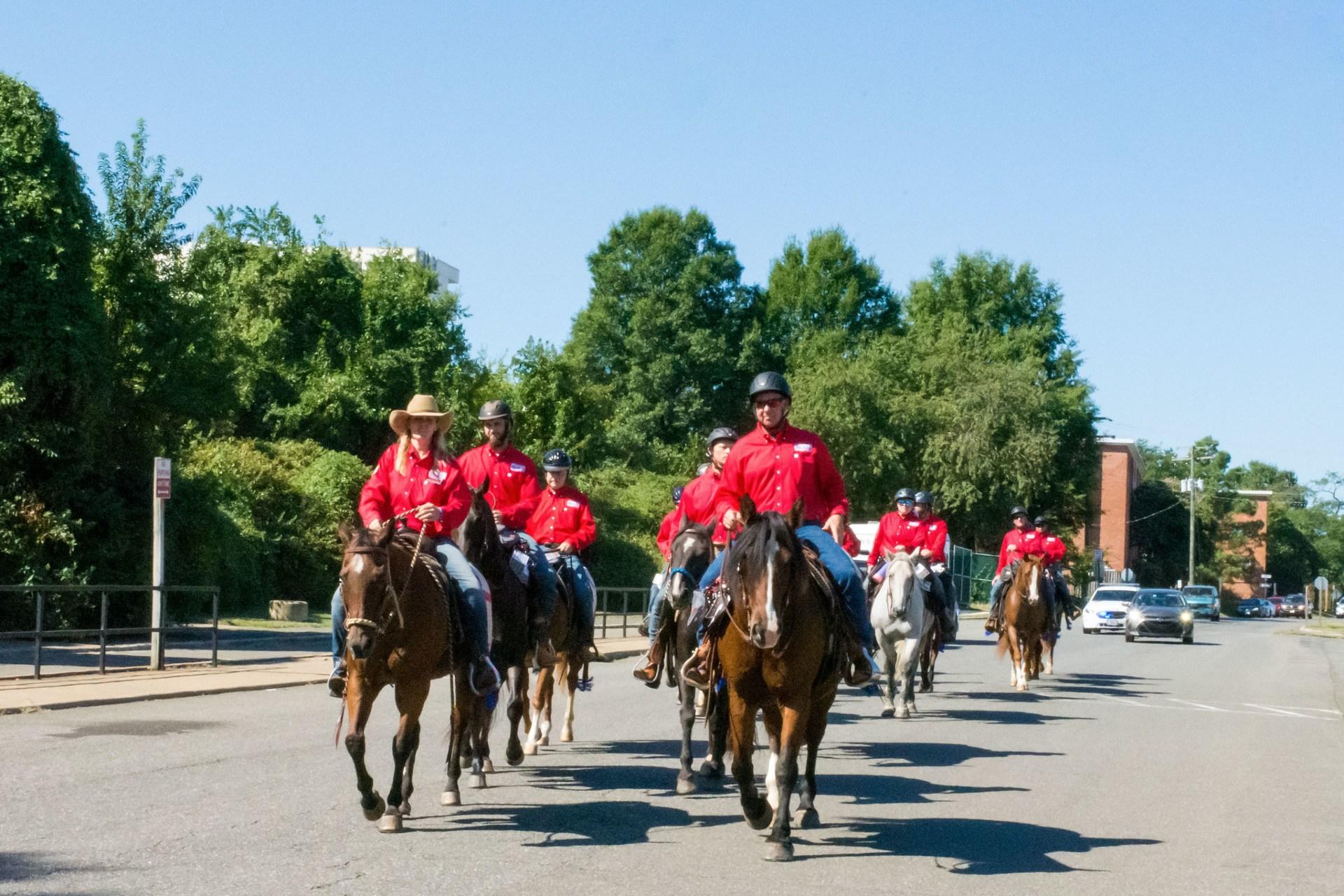 Veterans ride through Washington, D.C. on Sept. 7, 2019 as part of BraveHearts' "Trail to Zero" campaign. (Courtesy of BraveHearts)
U.S. Army veteran Mitchell Reno, 36, says horses saved his life.
Reno, who served in Iraq, Afghanistan and Korea's Demilitarized Zone from 2001-2004, had post-traumatic stress upon his medical retirement from the Army.
"I experienced anxiety, hypervigilance, migraines, stress," Reno said. He also drank excessively and had prescriptions for more than 16 medications at one point.
He also dealt with flashbacks related to his deployment, including an incident in which a mortar exploded near him in Afghanistan, causing a brain injury that led to seizures.
Reno says he was hospitalized multiple times over the years for post-traumatic stress. "I was very suicidal," he said. "I was suffering really bad. I didn't care to live in this world for a long time."
But things changed in late 2016 when he began working with therapeutic horses at BraveHearts, a nonprofit based in Harvard, Illinois. "It was pretty much a godsend … and pretty much saved my life," he said. "I tried everything and I was literally at the end. I had nothing to lose but my life."
Now, Reno is hoping to reach his fellow soldiers and raise awareness about veteran suicide, which claims the lives of 20 veterans every day, according to the U.S. Department of Veterans Affairs. In 2016, 162 veterans died by suicide in Illinois, representing more than 10% of all suicides, according to the agency.
Losing fellow veterans to suicide is like losing family, Reno says. To shine a light on the issue, he will join 13 other veterans on a 20-mile horseback ride through downtown Chicago on Saturday. Each mile of the ride will represent a life lost to suicide.
The ride is part of BraveHearts "Trail to Zero" campaign, which seeks to reduce the number of veteran suicides to zero, according to BraveHearts President and COO Meggan Hill-McQueeney.
"Losing veterans to suicide is just simply not acceptable. These great men and women served our country without asking anything in return," said Hill-McQueeney. "(Reno) is amazing and probably the strongest person I know mentally, physically and emotionally. I can't imagine our country not having him in it and so many more of his brothers and sisters."
Reno says he's thankful for the 18 months he spent on the BraveHearts farm. "I've been sober for three and a half years now," he said, adding he has drastically reduced the number of medications he takes as well. Now, he only takes ibuprofen and medications to manage his seizures. "My family attributes everything to the horses. They gave me something."
The ride is scheduled to begin at 9 a.m. Saturday and will receive an escort from the Chicago Police Department's mounted unit. The route passes several Chicago landmarks, including Buckingham Fountain, Soldier Field and Wrigley Field.
Participants will write the names of veterans who have died from suicide on ribbons that are carried during the ride. Anyone interested in having a veteran's name included in the Chicago ride can contact Hill-McQueeney at [email protected].
"This ride is about remembering and honoring those we have lost and letting those families know they're not forgotten," she said. "For those who are suffering and hurting, we're letting them know they matter."
Another ride is scheduled for Nov. 2 in Houston, and Reno says he'll be there. "I can promise you I'll be on every ride. I'm so thankful for the organization and the horses," he said. "I just want to reach somebody – whoever I can – so that this thing ends up at zero (suicides). I don't want to ride 20 miles through (multiple) cities a year, but I will if it gets it to zero."
Contact Kristen Thometz: @kristenthometz | (773) 509-5452 |  [email protected]
---
Related stories:
FCC Proposes New 3-Digit Suicide Prevention Lifeline
UChicago Podcast Strives to Bridge the Civil-Military Divide
Social Worker Shares Intimate Stories from Chicago's Mental Health System
Medal of Honor Recipient on His Path from Bullied Victim to War Hero
Suit Settled in Teen Suicide that Led to Illinois Law Change
---