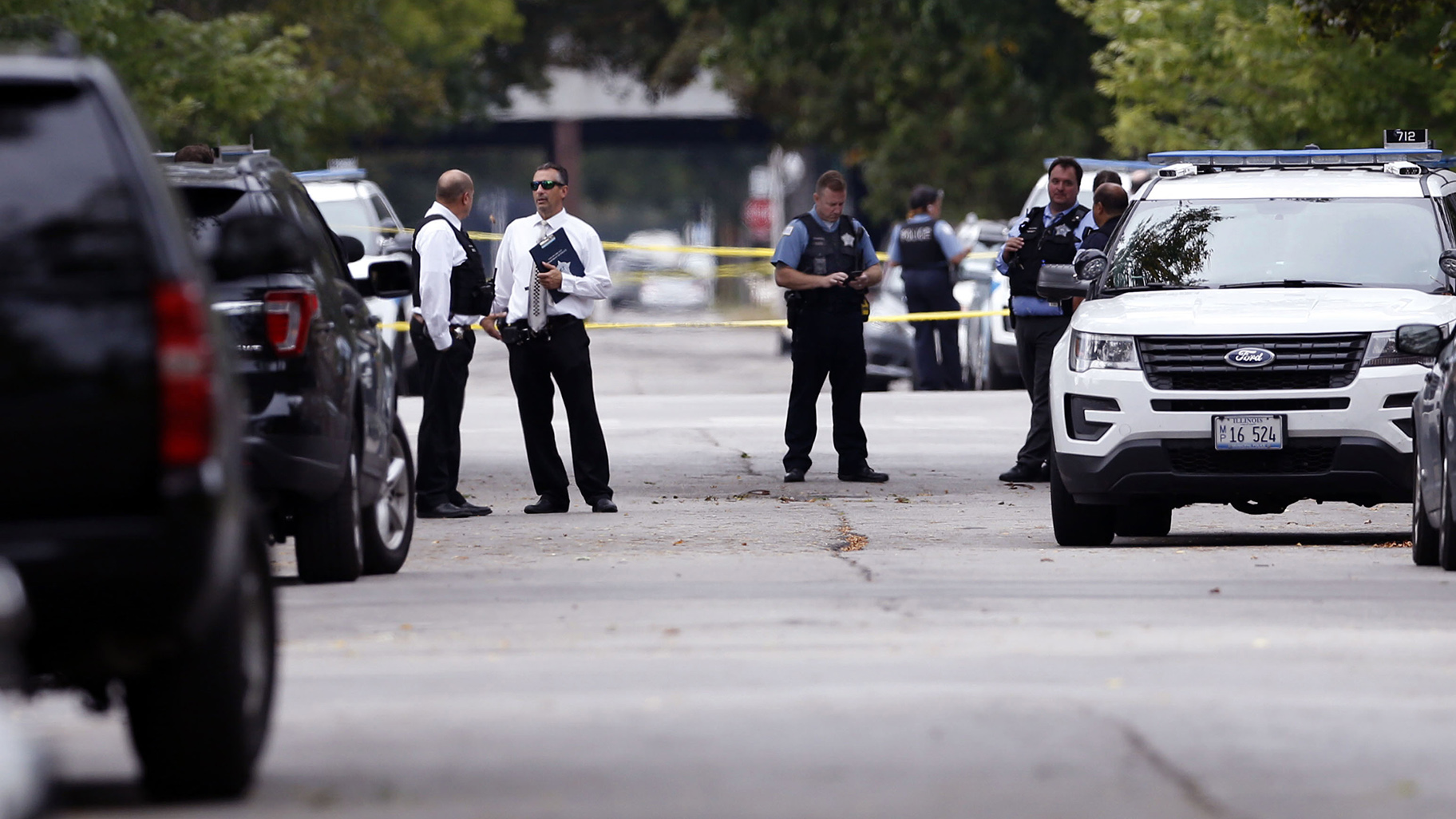 A police officer was shot while serving a warrant on Chicago's South Side on Saturday, Sept. 21, 2019. The man suspected of shooting the officer and of being the cyclist who shot a woman in broad daylight near downtown days earlier has been captured, police said. (Kevin Tanaka / Chicago Sun-Times via AP)
Criminal charges have been filed against the man who Chicago police say shot one of their officers and a woman in two separate incidents over the last week.
Michael Blackman, 45, who was arrested over the weekend, was charged Monday with five counts of attempted murder. Those charges account for the Saturday shooting of a police officer in West Englewood and Blackman's previous alleged attack on North Milwaukee Avenue last week.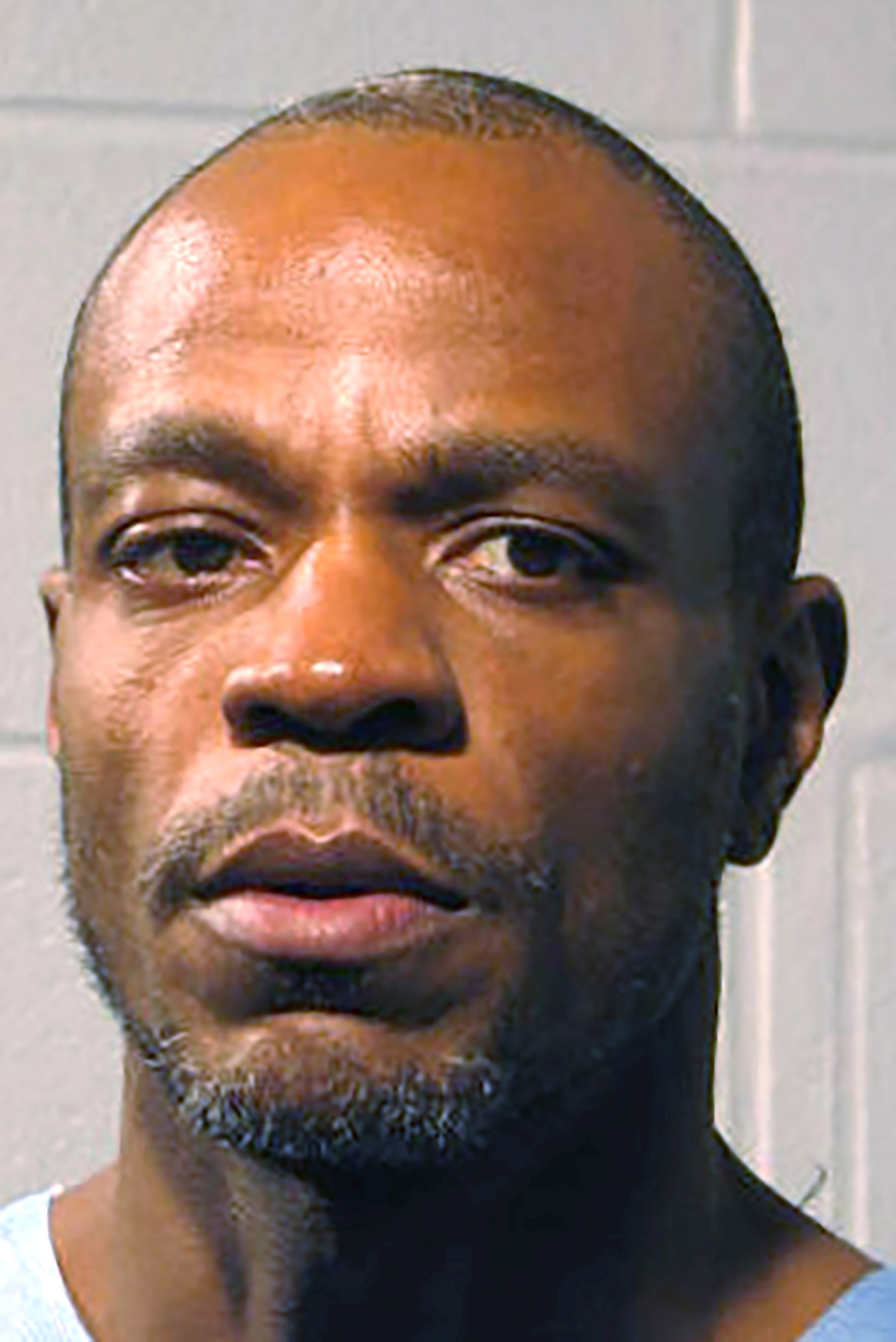 This undated photo provided by the Chicago Police Department on Saturday, Sept. 21, 2019 shows Michael Blackman. (Chicago Police Department via AP)
Calling him an "engine of violence," CPD First Deputy Superintendent Anthony Riccio said Blackman has been suspected in several past burglaries as part of his "escalating illegal activity."
"It's no stretch to say Mr. Blackman posed a clear and present danger to the people of Chicago," Riccio said during a press conference Monday morning.
Blackman was shot multiple times by police during his arrest and remains hospitalized, though he is expected to recover. Police say he's been interviewed but invoked his right to remain silent.
Police allege Blackman approached a 28-year-old woman around noon last Wednesday in the Fulton Market District and shot her once in the back before fleeing on a bicycle. She was hospitalized but is expected to survive.
CPD Deputy Chief Brendan Deenihan said there's no clear motive for the shooting. Blackman previously worked as a Jimmy John's delivery driver and has had past confrontations with security at the building where the woman works. But Deenihan said there's no direct connection between Blackman and the woman.
"He's the only one with the answer right?" Deenihan said. "And he wouldn't tell us."
Investigators tracked the suspect through pieces of surveillance footage from dozens of cameras in the area, Riccio said, before an anonymous tip turned police onto a nearby bike shop where Blackman stopped shortly before the shooting.
After identifying and locating Blackman around 8:40 a.m. Saturday morning, he allegedly fired several shots at police, striking an officer multiple times – once in the groin and twice in his lower left leg.
The wounded officer, whose name has not yet been released, is 40 years old and a 16-year Chicago police veteran in the fugitive apprehension team, CPD Superintendent Eddie Johnson said Sunday during a news conference at Christ Medical Center in Oak Lawn, where the officer was treated.
The officer underwent multiple surgeries and was listed in stable condition. He lost nearly a third of his blood despite applying a tourniquet on himself, according to CPD spokesman Anthony Guglielmi.
"He came basically bleeding to death," said Jane Kayle Lee, the trauma surgeon who operated on the officer for about two hours. "He had already lost a significant amount of blood."
Lee said she thinks the officer will have a "good recovery."
Detectives flank First Deputy Superintendent Anthony Riccio in a sign of support and solidarity for the hard work that went into the apprehension of Michael Blackman after he shot a woman and a police officer last week. pic.twitter.com/lxFjjJqyVy

— Anthony Guglielmi (@AJGuglielmi) September 23, 2019
---
In a statement, the police department said it learned Blackman may have been hiding in a vacant lot on 6400 block of South Hoyne Avenue.
Officers executing a search warrant in that area Saturday engaged in another gun battle with Blackman, who was shot multiple times in the lower body and transported to Christ Hospital. No police officers were struck or wounded during this incident.
A Cook County judge denied bail for Blackman at a hearing Monday afternoon. He did not appear in court as he remains hospitalized.
The Associated Press contributed to this report.
Contact Matt Masterson: @ByMattMasterson | [email protected] | (773) 509-5431
---
Related stories:
Police: Suspect in Cop Shooting, Bike Attack Captured
Father Michael Pfleger: Gun Violence 'Not Just a Chicago Problem'
Kim Foxx Hopes to 'Right Wrongs of the Past' With Pot Expungements
---