Chicago's mayor and aldermen are vowing to take strict action on vaping while welcoming the sale of cannabis. Those two vices dominated the discussion at a City Council meeting Wednesday, where another testy exchange between the mayor and an opposing alderman took place.
First up: Marijuana sales
Mayor Lori Lightfoot on Wednesday formally introduced her ordinance that would set up zoning restrictions for marijuana dispensaries. Some aldermen are pushing back against the mayor's proposal to ban pot sales in the city's central business district. The so-called exclusion zone would be bordered by the Chicago River and LaSalle Street on the west, Ida B. Wells Drive on the south, Lake Michigan on the east and Oak Street on the north.
Downtown Ald. Brendan Reilly (42nd Ward) and some of his colleagues balked at the plan, saying the city needs to tap the downtown tourist market.
"I don't think we need to have dispensaries on our prime retail strips like the Mag Mile and State Street," he said, "but I do think there is room for licenses in other parts of the central business district that doesn't interfere with residents or conflict with schools. So my hope is to have a dialogue and work things out in the next few weeks."
City Council Black Caucus leader Ald. Roderick Sawyer (6th Ward), backed Reilly's stance.
"I think if we did anything, if we're talking about raising revenue and funds, I would double the fee for licenses in the central business district as opposed to eliminating it totally," Sawyer said.
Lightfoot's ordinance also establishes seven cannabis zones across the city; each would have a limit on permits for new dispensaries. Lightfoot says she doesn't think opening marijuana stores downtown will generate much revenue, and she did not appear open to altering her proposal.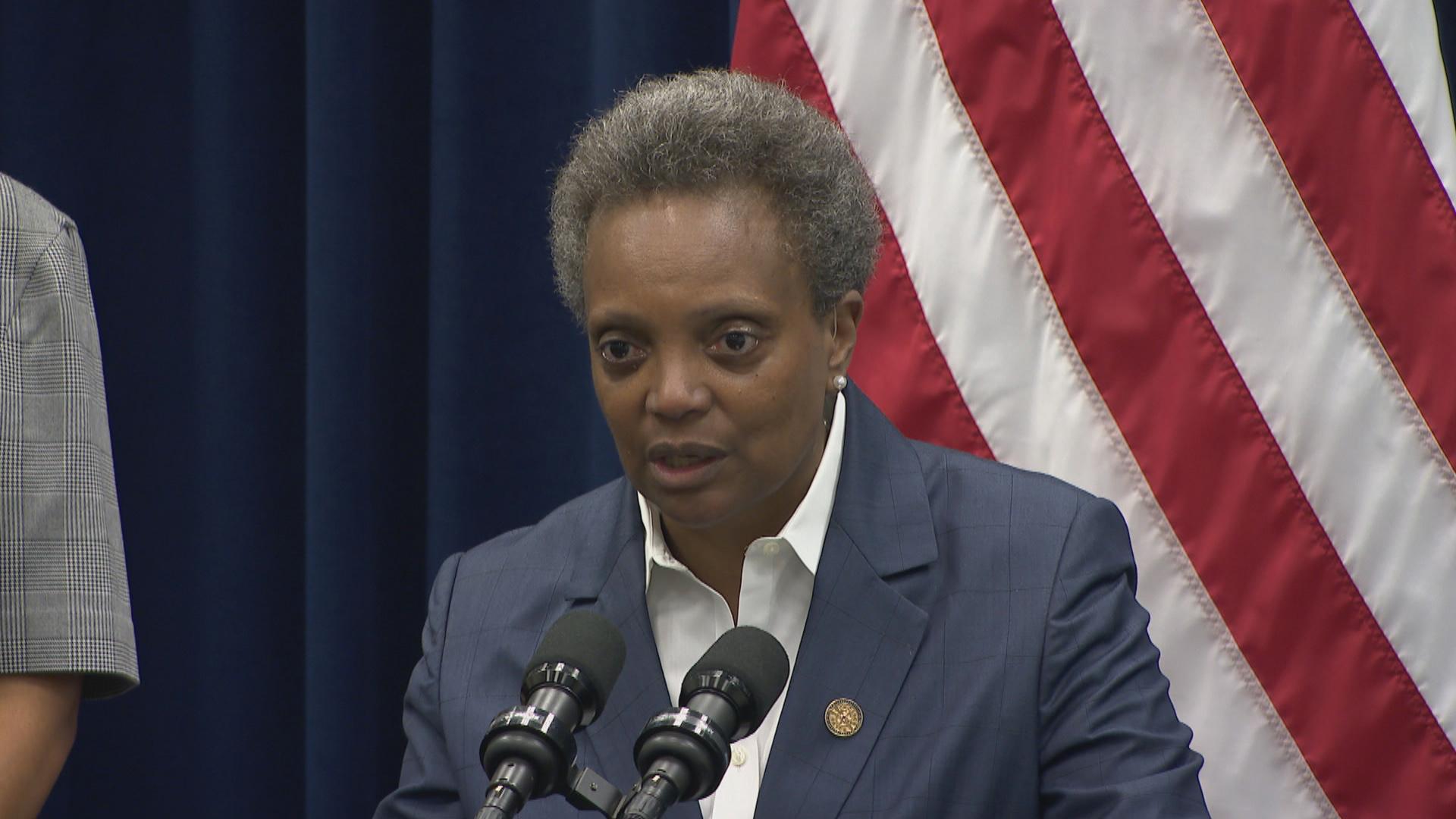 Mayor Lori Lightfoot speaks to the media following a City Council meeting Wednesday, Sept. 18, 2019. (WTTW News)
"We'd like to see the opportunities for economic development spread throughout, and as you also know, the area along the Mag Mile and parks is incredibly important to our hotel and tourism business," Lightfoot said. "We want to make sure those stay family friendly locations, but also the map provides plenty of locations in River North, West Loop and South Loop."
A representative of a large medical cannabis company that will be vying for legal pot business says he, too, hopes Lightfoot reconsiders.
"It's understandable that there might be some areas that they don't want dispensaries to be, and the city has that privilege," said Jason Erkes, a spokesperson for Cresco Labs. "But putting dispensaries where people live, work and come to visit is important and perfectly legal, and that stigma shouldn't prevent it from happening."
The ordinance also establishes a buffer of 500 feet between schools and marijuana stores, and bans pot stores outright in any residentially zoned area. According to the proposal, any permit would have to be approved by the city's Zoning Board of Appeals, a separate body of four members appointed by the mayor. Some aldermen say perhaps this a situation in which aldermanic prerogative is needed so that aldermen have the final say over permits.
Vaping restrictions
As they prepare to welcome pot sales, City Council is also making moves to restrict vaping. Ald. Ray Lopez (15th Ward) introduced an ordinance Wednesday to ban it outright.
"No exceptions, a complete ban on e-cigarettes, vaping and all the accessories that go with it," Lopez said. "They're trying to encourage use, so we must do a total ban in the city of Chicago. No retail, no giving it away, no bartering, nothing, or else risk a $5,000 fine."
Lightfoot has also recently expressed her opposition to e-cigarettes. On Monday, she proposed a citywide ban of flavored e-cigarette products in an effort to curb underage vaping.
The issue caused a dustup during Wednesday's council meeting as Lopez tried to throw Lightfoot a curveball. In the middle of the meeting, he stood up and asked Lightfoot and his colleagues to throw out the normal rules of procedure and take an immediate vote. The mayor didn't buy it.
"I rule your motion out of order," Lightfoot said. Lopez tried to appeal to his colleagues to suspend the rules to have an immediate vote, but Lightfoot shot that down, noting that the rules of order only allow suspending the rules to consider a resolution, not an ordinance.
Normal rules indicate that once an ordinance is introduced, it must then go to a committee where there will be hearings and a committee vote. If it passes out of committee, the ordinance then moves to the full City Council for a vote. Lightfoot called the request by Lopez a political stunt.
Follow Paris Schutz on Twitter: @paschutz
---
Related stories:
Crain's Headlines: Lightfoot Administration Rolls Out Pot Plan
Kim Foxx Hopes to 'Right Wrongs of the Past' With Pot Expungements
Lightfoot Proposes Citywide Ban on Flavored E-Cigarette Products
Suburban Teen With Severe Lung Damage Files Lawsuit Against E-Cigarette Maker Juul
---