A pair of headphones. A cellphone. And a picture of home. What do all of these items have in common? They're what some North Lawndale students say makes them feel safe.
And they're all on display at the Lawndale Pop-Up Spot, a community museum housed inside a shipping container in the North Lawndale neighborhood at 16th Street and Spaulding Avenue.
"In the exhibit we talk about what are the causes of violence, but also what are some possible solutions to it," said Jonathan Kelly, the pop-up's co-founder.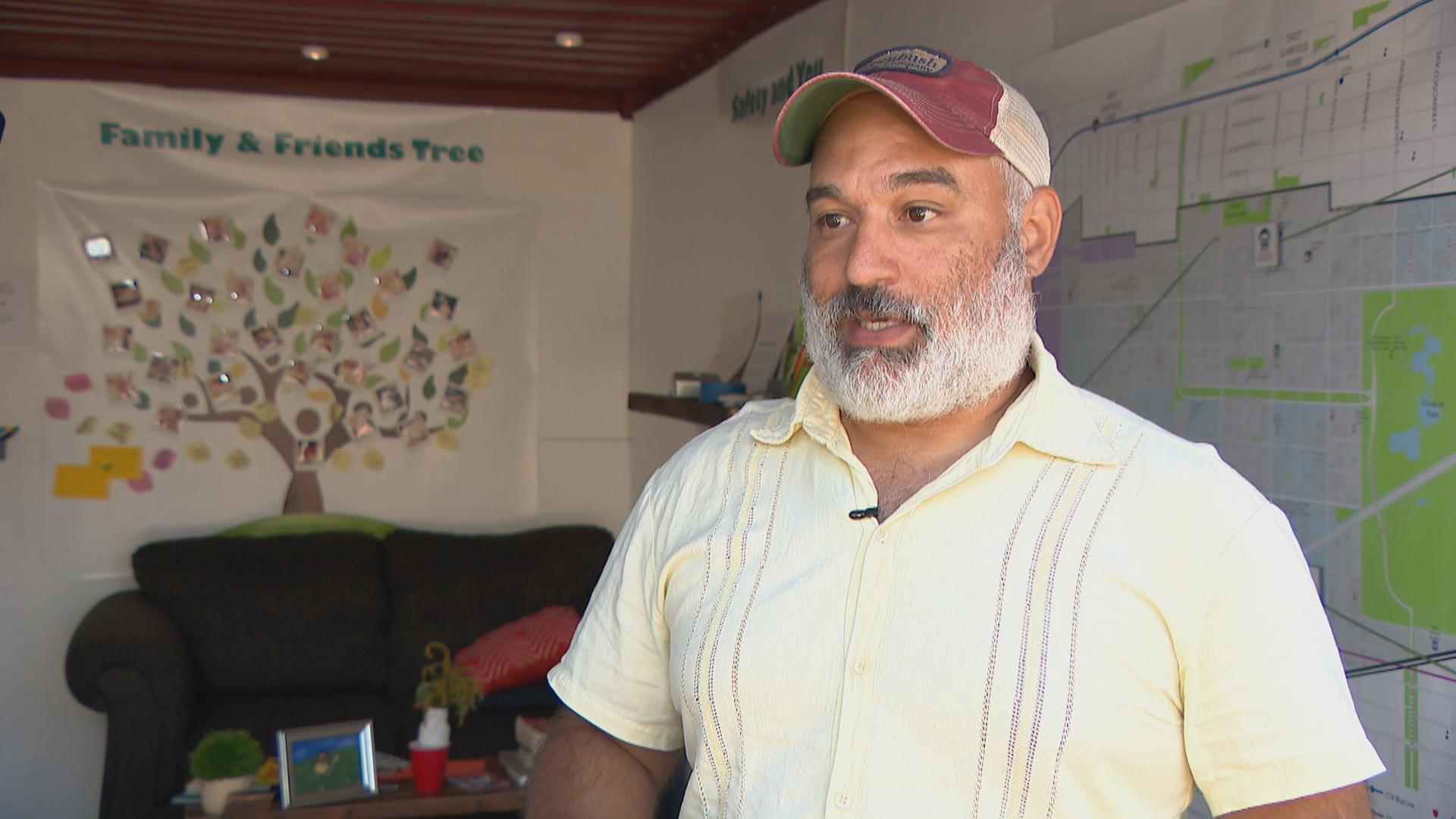 Jonathan Kelly, co-founder of the Lawndale Pop-Up Spot. (WTTW News)
"What are some ways we can enhance safety, peace and nonviolence in the community," he said, "and who are some of the community organizations that are working to create and nonviolence in the community?"
The community museum does more than invite residents to explore the instillation. It creates a safe space with their stories.
"We're inviting people to bring in their own artifacts," Kelly said. "So this woman in the neighborhood has this project that she calls 'Un Gun.' That's just what it is, trying to get rid of guns."
The instillation is interactive. Residents are encouraged to share what makes them feel safe by writing on the message board, creating a family tree, or learning the history of the neighborhood with the help of a neighborhood map.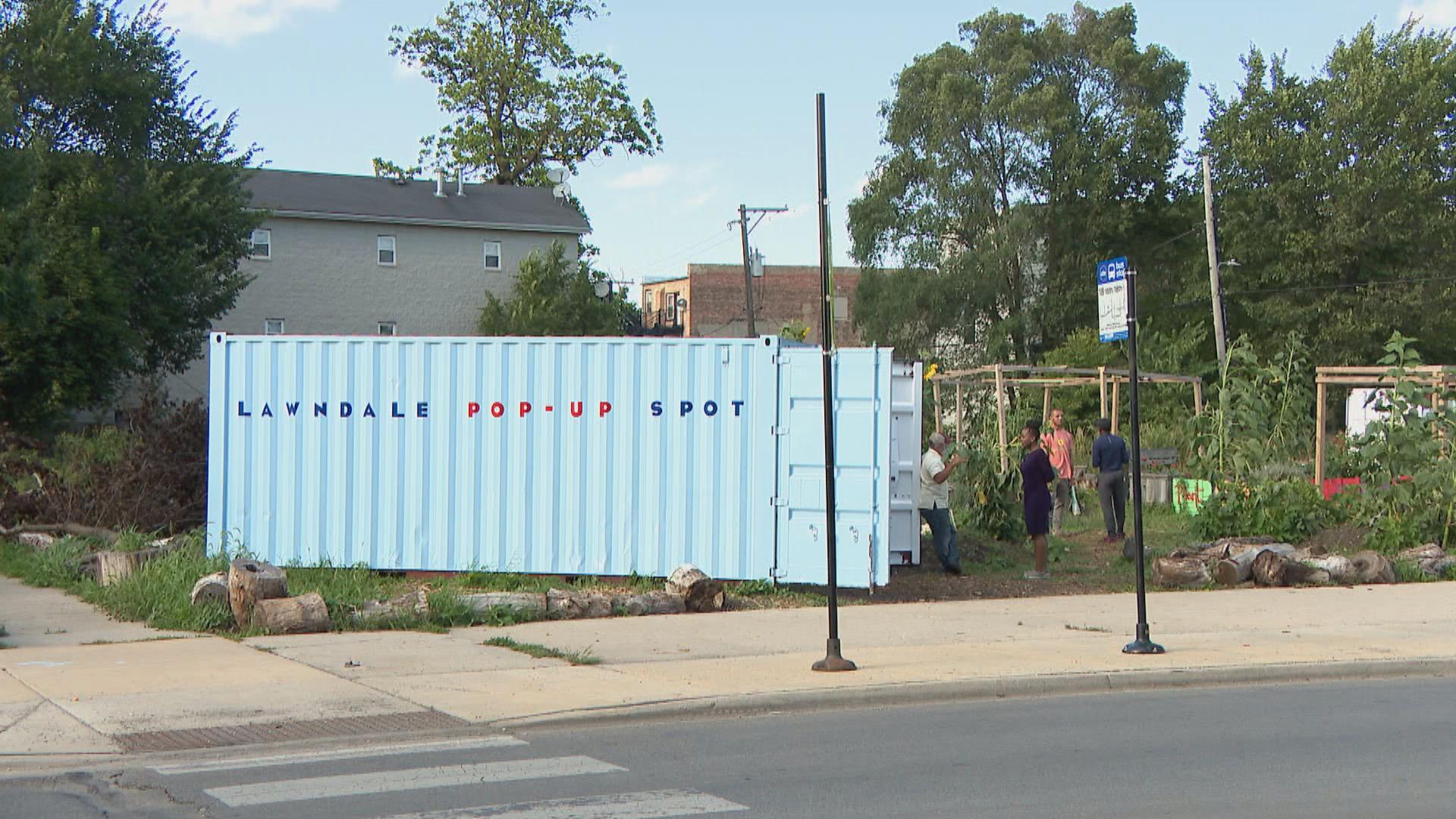 The pop-up has worked with a handful of local partners, including a community garden and a neighborhood grant. Residents say the 20-foot shipping container has already begun to elevate 16th Street.
"Having so many community activities has completely changed the narrative and the outlook of the space and Lawndale's view of it," said Ian Wylie, director of facilities at the community garden.
"It's a place children can come and appreciate it and be safe in the environment, as well as our seniors could also come," said Charles Jenkins, a resident of North Lawndale. 
"The community is accepting it very well. They like it, they think it's a good idea to have it," said Kelly. "It's an excellent use of a container that would otherwise be junk. It's just a positive approach to beautifying North Lawndale again."
Vacant lots have taken the place of local businesses where the pop-up spot resides. That's one of the many goals of the pop-up and the garden it sits in: to bring businesses back to 16th Street.
"We want to hire some folks in the neighborhood to keep it open for as many hours as possible, and ultimately expand and have more public spaces in the garden that we can have events," said Kelly. "The hope is that by seeing a space that's activated and gets people out, some potential local retailers or people in the neighborhood are like, 'Hey I could put my coffee shop here. Or my restaurant.' And we can start getting some more street activity and really build 16th Street to where it could be."
---
More on this story
The Lawndale Pop-Up Spot is open through October from 4-6 p.m. Tuesdays and Thursdays; and 11 a.m.-2 p.m. Saturdays. Tours and off-hour viewings can be arranged by emailing [email protected].
Follow Angel Idowu on Twitter: @angelidowu3
Angel Idowu is the JCS Fund of the DuPage Foundation Arts Correspondent.
---
More from Angel Idowu:
'The Founders' Art Project Connects Communities Along CTA Green Line
DJ Booth at 95th Red Line Station Offers More Than Free Music
Chalk Artist Nate Baranowski is Transforming Chicago Sidewalks
---