Street art is transforming some local sidewalks – in 3D style.
You may have spotted a cheetah leaping off the ground, or the earth crumbling under your feet before realizing it was actually … chalk.
TRANSCRIPT
Angel Idowu: Nate Baranowski never imagined himself as a chalk artist or "chalker."
But he loves being able to create art that people can feel a part of … literally.
Nate Baranowski: Something like chalk art is where you actually interact with the community that you paint in. People who don't typically say, "Oh, I love art" can relate to chalk art.
Idowu: Chalking for about eight years now, Baranowski's skill has taken him all over the world.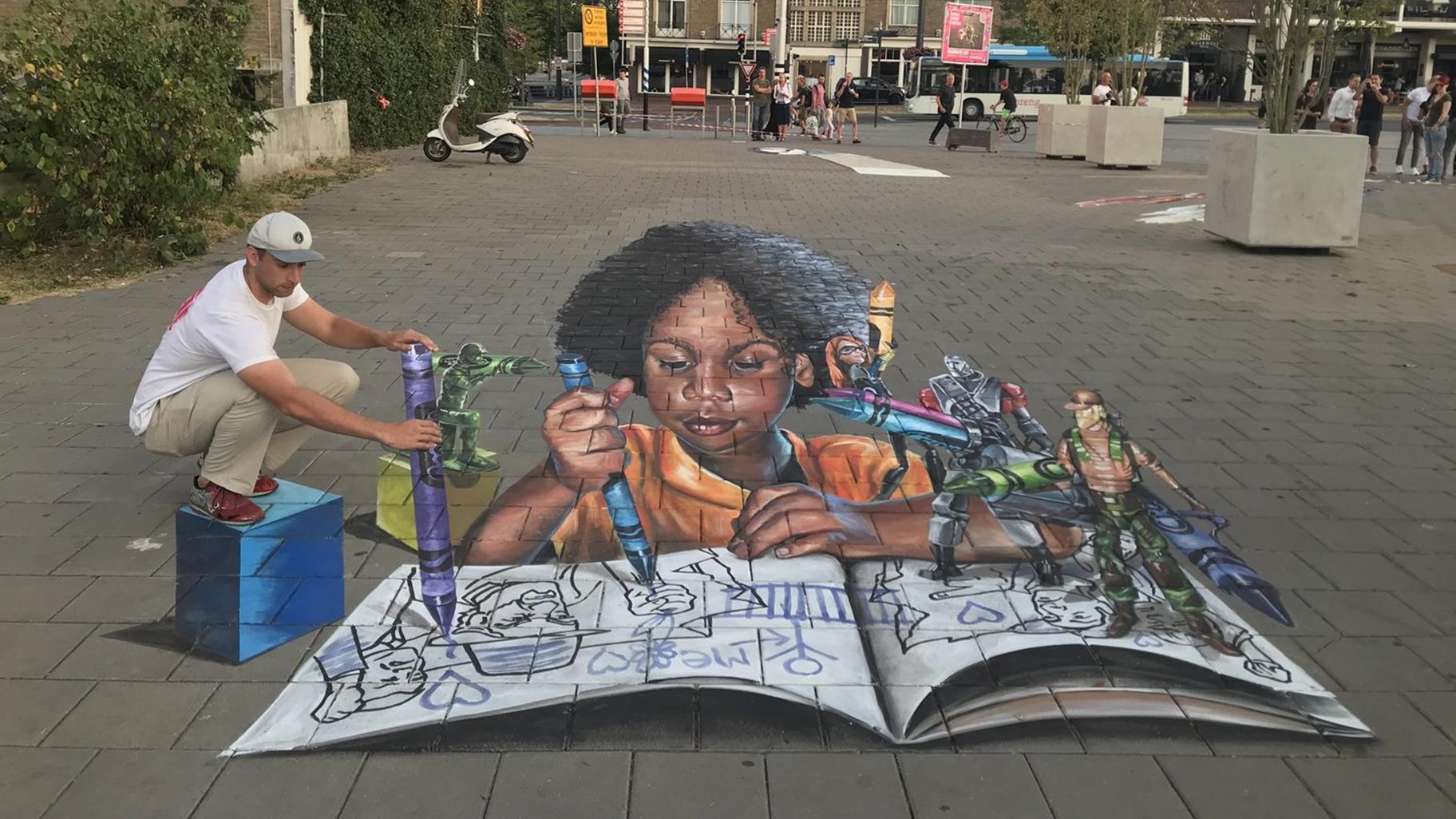 (Courtesy Nate Baranowski)
Baranowski: I've created in festivals in California and Florida and New York. International world street painting festivals in the Netherlands, Kosovo and Dubai has a big street painting festival. I also created some painted murals down in Florida – I've painted at a Tex-Mex restaurant, done some stuff for Disney recently for movie premieres.
Idowu: But of all the places he's been, Chicago's most famous chalk artist says there's no place like home.
Baranowski: It's kind of what I've dreamed of since starting as a professional chalk artist, is doing something close to home. It's a lot cooler than traveling and creating art for people that are far away. I love that but I also love being in Chicago.
Idowu: Baranowski says coloring inside the lines isn't all fun and games. It can also be really taxing on the body.
Baranowski: It's a lot more sitting and standing and crouching. At the end of the day you're exhausted. So it's a little bit of getting in "chalk shape." You constantly have to keep hydrated and stay focused, because it's easy to kind of drift and just be like, "I'm done with this."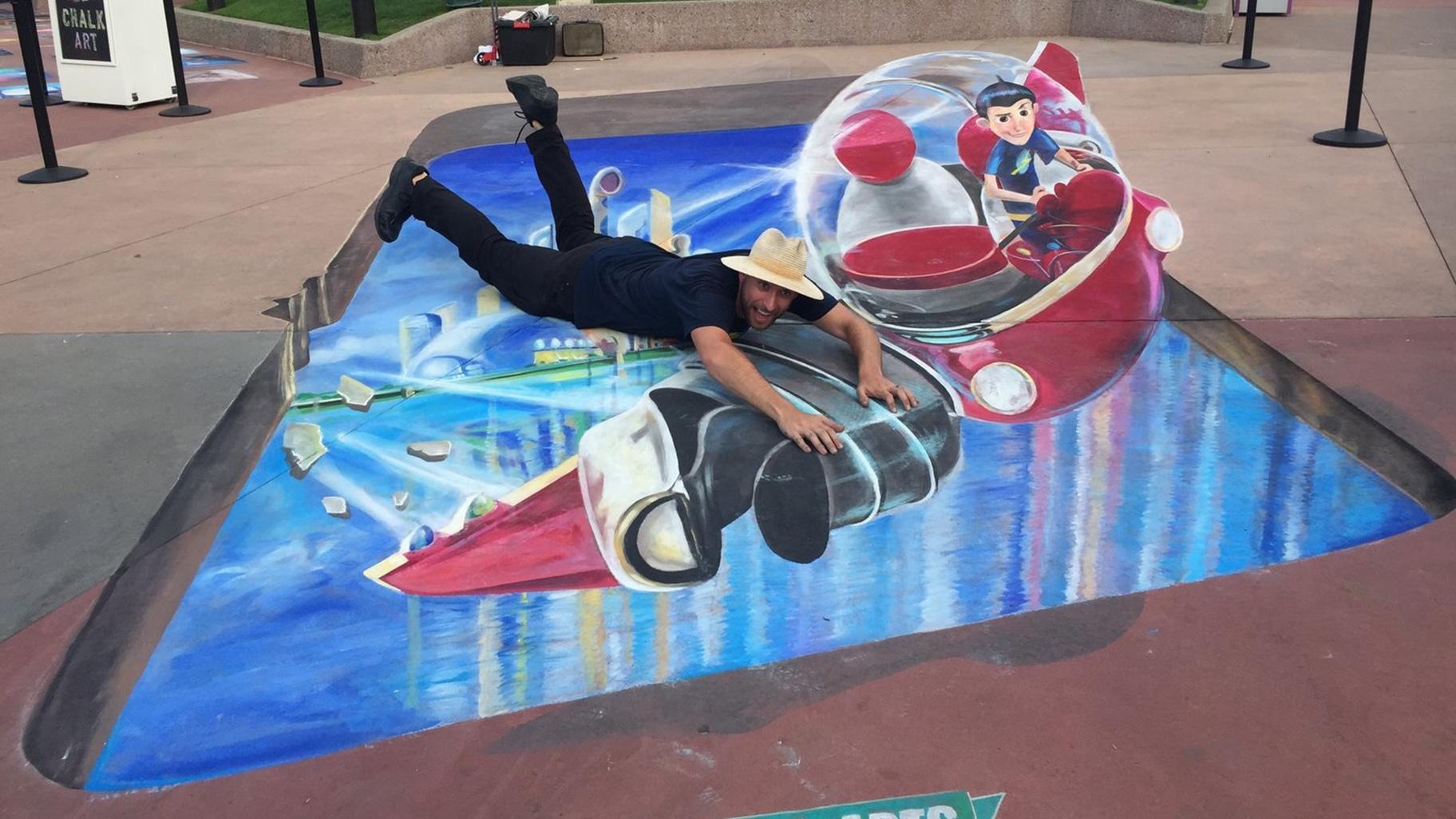 (Courtesy Nate Baranowski)
Idowu: Unlike a painting, the average chalk art only lasts about a week. For Baranowski, that's what keeps the craft interesting.
Baranowski: It's like going to a musical concert. You can only see that performance one time. That's how it is with chalk art.
Idowu: With the help of Photoshop, Baranowski expands his intended image into an "anamorphic stretch," giving it a 3D look. 
Baranowski: So what you're doing is creating it so it looks 3D from one point. So if you look to the side of my artwork, it looks all stretched out and weird. But come from the exact spot when you take a picture with your camera, it looks like it's either popping up out of the ground or going into the ground.
Idowu: With the help of temporary liquid chalk also known as tempera paint as the image's base, Baranowski then paints grid by grid with a paint roller.
Baranowski: This is great because when you're actually posing on the piece, you don't get chalk all over you.
Idowu: It doesn't look like much now, but in a few short hours, Baranowski's chalk art will go from this, to this.
Interested in chalking but don't know where to start? Baranowski shares a tip.
Baranowski: The great thing about chalk, especially if you're just starting as a kid, is that it's all washable, which you could see as a negative, but you could also see as: any mistake you make you can wash it away. So it's great for kids to like get into artwork.]
---
More on this story
Nate Baranowski says he loves creating chalk art most of all. But his second favorite is painting portraits. He's been painting for about five years now.
Follow Angel Idowu on Twitter: @angelidowu3
Angel Idowu is the JCS Fund of the DuPage Foundation Arts Correspondent.
---
Related stories:
Drawing History: Chicago Tribune Editorial Cartoonist on Slowing Down
Chicago's 'Queen of Tape' Makes Art with Duct Tape
Bright Idea from Longtime Professor Brings Neon Art to Rogers Park
---