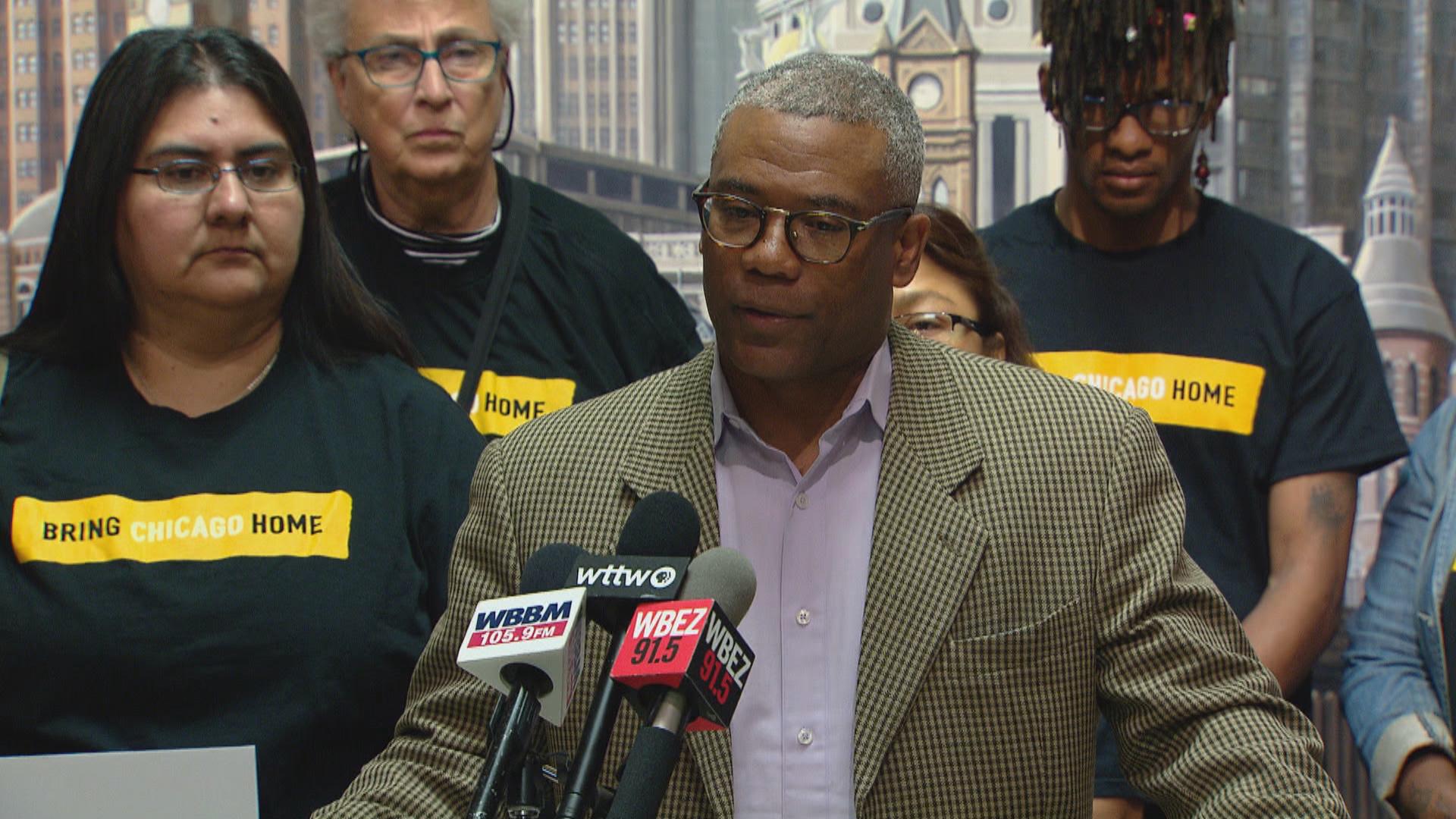 Ald. Walter Burnett, 24th Ward, speaks at a press conference about homelessness among Chicago Public Schools students on Thursday, Sept. 5, 2019. (WTTW News)
More than 16,000 Chicago Public Schools students dealt with some form of homelessness last school year, a majority of whom lived in 10 predominantly South and West side wards. Now, Chicago aldermen and a local nonprofit are calling on Mayor Lori Lightfoot to support what they believe could be an "immediate solution."
Members of the Chicago Coalition for the Homeless on Thursday asked the mayor to back an increase to the city's real estate transfer tax and use those funds to directly address homelessness affecting families and students.
Advocates say a stable local funding stream is necessary because the vast majority of local homeless families aren't eligible for federal benefits.
"There's really very little that anyone can do right now with the current resources to lead the charge on this because there simply is no available housing," Julie Dworkin, director of policy for the Chicago Coalition for the Homeless, told WTTW News. "We have thousands of people on the waitlists for public housing, there's very little turnover in our existing permanent supportive housing units.
"Most of those are for single adults … the federal government has prioritized single adults over families for many years. So very, very few of those units are for families and then on top of that, the vast majority of families that are homeless are not eligible.
The U.S. Department of Housing and Urban Development confines its definition of homelessness primarily to those who live either in shelters or in places "not meant for human habitation."
But 90% of homeless CPS students live in temporary shared housing, an arrangement sometimes called "doubling up," where they split a residence they don't own or rent with other families. That type of homelessness isn't recognized by HUD, meaning federal funding isn't directed to help those families.
Instead, Dworkin said, local dollars must be allocated to fill that gap.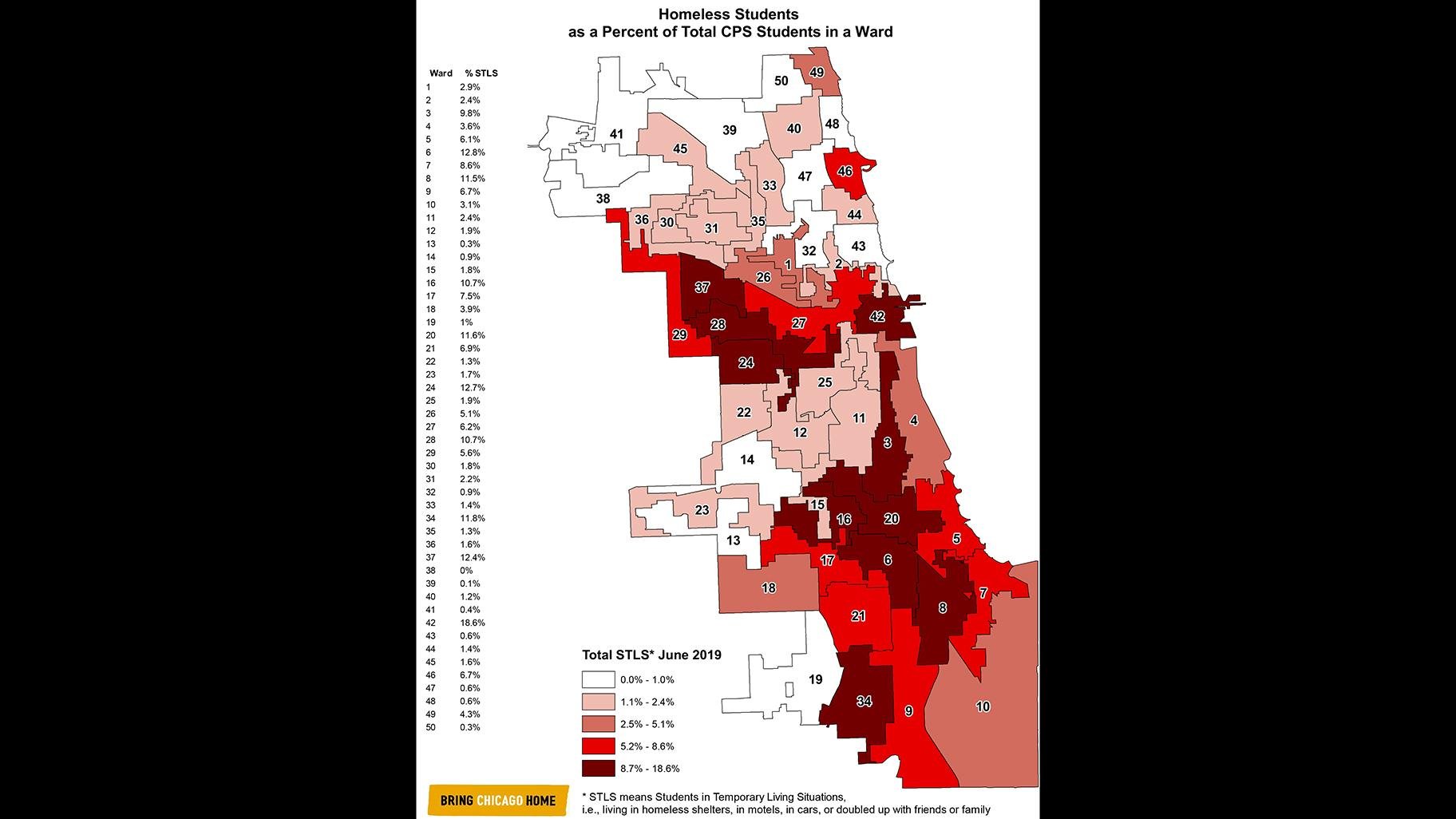 Percentage of homeless Chicago Public Schools students in each Chicago ward. Click to enlarge. (Courtesy Chicago Coalition for the Homeless)
There were 16,451 homeless CPS students during the 2018-19 school year, according to a coalition analysis. Black students make up 37% of the school district enrollment, but they account for more than 80% of the homeless student population.
The wards with the highest totals include the 20th (1,078 students), 24th (1,028), 28th (976) and 27th (865). Aldermen from two of those wards – Jeanette Taylor (20th) and Walter Burnett (27th) – stood with coalition leaders Thursday to call for action.
"I can understand homeless people who are not looking for a place to go," Burnett said during a press conference at City Hall. "But when you have families and children who are dying, literally fighting for somewhere to have shelter over their heads and not to have to worry about the outside elements bothering them, us in Chicago, we need to do something about it."
The only way the real estate transfer tax can be increased is through a ballot question. That's what the coalition is asking for, along with a stipulation that a "significant" percentage of those dollars are legally dedicated to fighting homelessness.
"That could be in the form of rent subsidies for private market apartments," Dworkin said. "It could be in the form of the construction of new housing or it could be in the form of the preservation of existing affordable housing with any new units being dedicated to families experiencing homelessness."
Advocates are pushing for a hearing on the tax before the end of the month in order to meet a deadline to include the question on the March 2020 ballot. But no such hearing has been scheduled as of yet.
"We need to put the people first. We need to help the needy and not the greedy," Burnett said. "What I'm saying is that, give us a piece of it. Carve out a piece of it and make homelessness a priority."
Contact Matt Masterson: @ByMattMasterson | (773) 509-5431 | [email protected]
---
Related stories:
Emanuel Opposes Tax on High-End Real Estate to Address Homelessness, Lead
Chicago Photographer Captures Toll of Opioids, Homelessness
Coordinated Effort to End Homelessness Takes Luck Out of the Process
Lockers for Homeless Youth Meet Critical Needs
---