Tents set up in a homeless encampment along DesPlaines Street north of Roosevelt Road. (Kristen Thometz / Chicago Tonight)
Organizations in Chicago have spent decades helping the city's homeless find housing. But until recently, there was no overarching system in place to help track those efforts – or the people in need.
Last year, that changed with the launch of the city's Coordinated Entry System, which helps track homeless populations in Chicago and match people with the appropriate housing providers, according to Stephanie Sideman, a senior project manager at the Corporation for Supportive Housing, one of the system's lead agencies.
Required under the U.S. Department of Public Housing and Urban Development, the system "was created so that there could be an accessible, equitable path for people facing homelessness and getting them into housing," said Sideman. "It's really a system that's designed to take the luck out of the process."
Before its launch, eligibility criteria for homeless individuals and requirements for housing varied among providers. "If you were homeless or experiencing a housing crisis, you'd have to know what services are available, go to them and apply, and you might get on 25 waiting lists," said Maura McCauley, director of homeless prevention, policy and planning for the city of Chicago Department of Family and Support Services.
Under the new system, a single application collects data about an individual's needs. That data is then fed into a system that tracks the city's homeless population and serves as a housing prioritization list to match them with an appropriate provider.
"With a severe shortage of housing resources, it's critical that the community is able to appropriately prioritize people with the greatest needs for housing and connect them with the appropriate housing partners," Sideman said.
Since its launch, the coordinated entry system has assessed the housing needs of 10,929 individuals, according to CSH. Of those, 1,135 were matched with a housing provider and have moved into their units.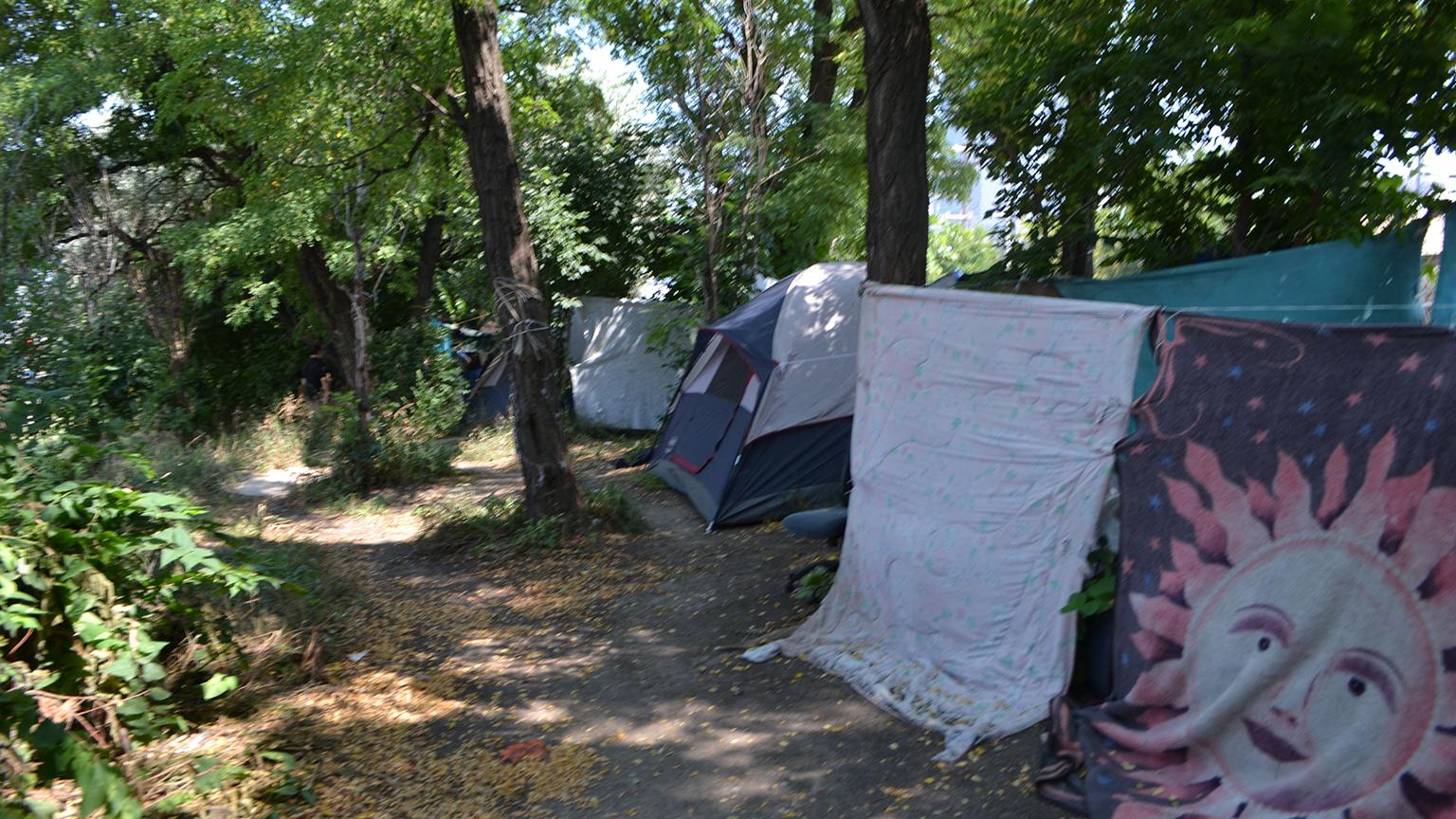 Tents set up in a homeless encampment along DesPlaines Street north of Roosevelt Road. (Kristen Thometz / Chicago Tonight)
"I feel we are really working together as a system," said Kathy Booton-Wilson, COO of Deborah's Place, which provides permanent supportive housing to women. Before the new system was put in place, such agencies were more focused on serving their individual populations and "didn't really talk so much to each other," she said.
Now, there's more of a team approach, according to Betsy Benito, director for CSH's Illinois program. Every agency that works with a homeless individual is kept informed of that person's progress. "We're forming teams around individuals and families as they're moving into housing," Benito said.
Booton-Wilson recalls a woman who "went straight from the hospital into an apartment." Without the Coordinated Entry System, she says Deborah's Place staff might have lost track of the woman. Had that happened, she would have been released from medical care and put back on the street – and a waiting list for housing. "It hasn't been an easy road for this person," Booton-Wilson said. "But what's really nice is even while she's struggling with issues, she's doing it in a place where she has an apartment to come back to every night."
The system has also highlighted the need for people to assist homeless individuals with services, from helping with applications to gathering documents and getting people to appointments. "It's a lot to expect of somebody without a stable place to stay – they're focusing on survival – to go everywhere and follow the path (to housing) in a linear fashion," said McCauley.  
The rollout of the system hasn't been without challenges, however. "Building trust has been a huge part of the process," McCauley said, adding community partners took a "leap of faith" to commit to the system's standardized guidelines, procedures and goals. "A lot of organizations' capacity is being tested and pulled in different ways (with the new requirements)."
Currently, there are 9,116 homeless individuals in Chicago, according to data collected via the new system, including 1,564 people applying for housing on behalf of families with children. "It's really hard telling people we don't have a place to put you," Booton-Wilson said. "I guess the other challenge is there is not enough housing for all the people out there who need it."
Chris Robinson, manager of the Heartland Alliance Health outreach team, agrees.
"We are up against enormous odds as far as funding for homeless individuals. In spite of that we go out there every day against those odds to serve individuals who need us," Robinson said. "No matter how many people we serve, we always leave one out there."
Contact Kristen Thometz: @kristenthometz | [email protected] | (773) 509-5452
---
Related stories
Advocates: 'We Have to Come to Them' to Address Homelessness
Lockers for Homeless Youth Meet Critical Needs
Citypak Provides Cover, Storage for Those With No Place to Call Home
---