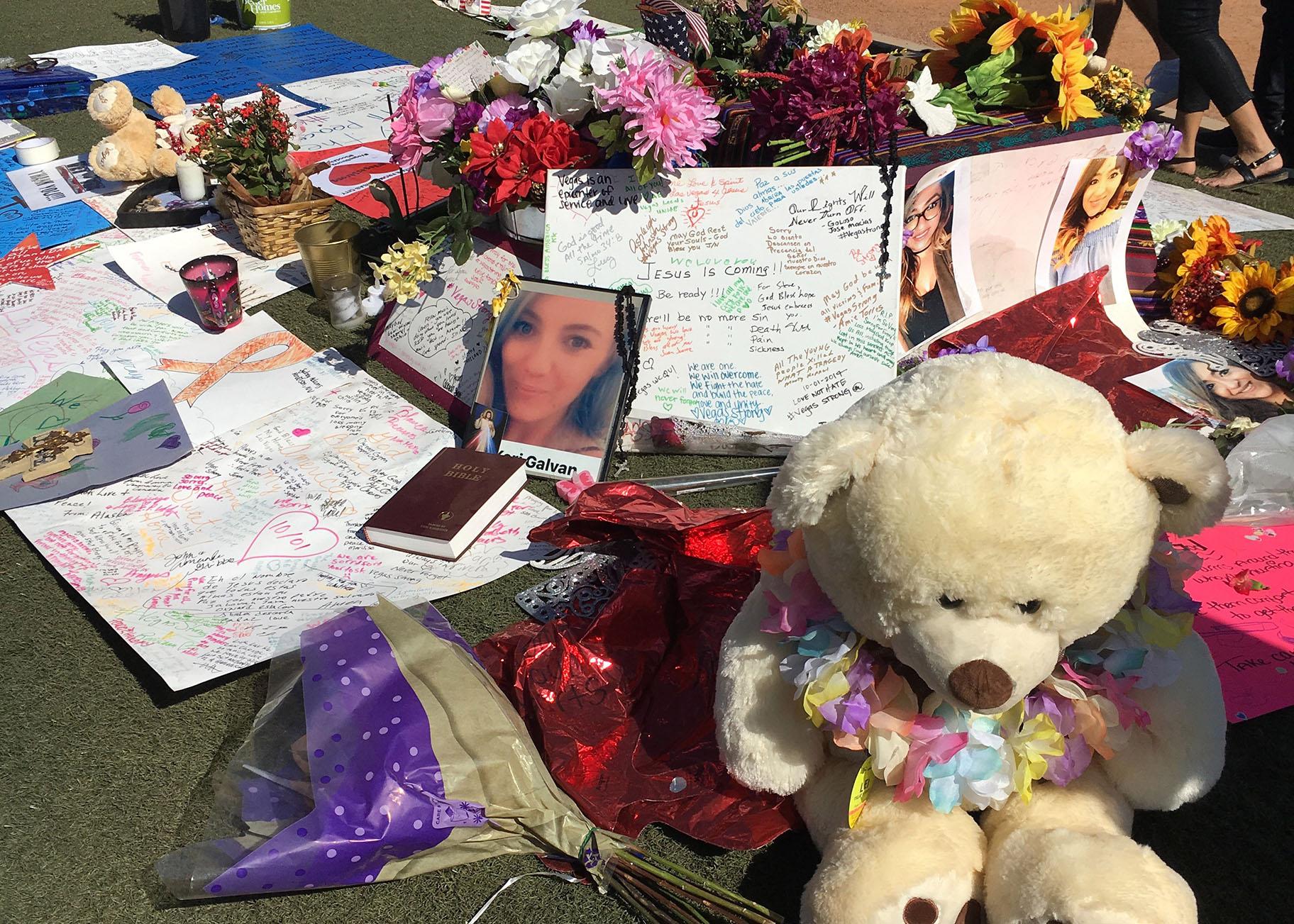 A memorial in Las Vegas for victims of the Oct. 1, 2017 shooting that left 58 dead and more than 500 wounded. (Jay Smith / WTTW News)
As the nation mourns victims of recent mass shootings in El Paso, Texas, and Dayton, Ohio, a local researcher says the country could see two to four more mass shootings this year.
"Mass shootings will continue," said Lori Post, a Northwestern Medicine sociologist and epidemiologist who has been studying American mass shootings and massacre trends between 1982 and 2019.
The shootings on Aug. 3 and 4 marked the fifth and sixth mass shooting of the year and the first time multiple mass shootings occurred within 24 hours, according to Post's research, which defines a mass shooting as an event in which four or more people are killed during a single event in a public place.
Post's data shows the number of mass shootings has been increasing steadily since 1982 to its current total of 97, with at least one mass shooting per year since 2002. She tracks the shootings using a subset of data from a Mother Jones investigation along with additional data extracted from media reports, interviews and police reports.
Last year, there were eight mass shootings in the U.S. – the most shootings in a single, recent year. But with six mass shootings so far in 2019, the country is on track to match or surpass last year's record, according to Post.
"Of the 97 mass shootings, 81% of the mass shooters used a semi-automatic rifle or pistol," said Post, the director of the Buehler Center for Health Policy and Economics at Northwestern. "When a semi-automatic rifle or pistol is used, the death count gets higher.
"Most shooters bring several guns with large, high-capacity magazines to a massacre … Even if you believe people kill people and not guns kill people, people can use a semi-automatic gun and mow down 100 people in a minute."
Her research found most mass shooters are between the ages of 17 and 25, and overwhelmingly white and male. "These are people who are calculating, coordinated planners," she said of mass shooters. "They are full of hatred."
While many believe mental illness is a prominent driver of mass shootings, Post says that's not the case. "Less than 4% of mass shooters have a diagnosable mental health illness," she said. "If we prevented everyone with a mental health diagnosis from owning a gun, it would do nothing to slow down mass shootings. It might stop a lot of suicides, domestic violence and homicides, but it would not stop mass shooters."
Despite the grim statistics and forecast for the year, Post says such shootings can be prevented. "These are people committing acts of hatred fueled by hatred and we as Americans can do something about that and put a stop at every juncture," she said.
"We all need to be involved in stopping hate speech, calling it out when it is said or posted on social media and notifying the police when threats or plans of violence are named, because once an individual has developed a massacre plan, they are extremely dangerous."  
The creation of a federal universal background check is imperative to stop mass shootings, says Post, who says a patchwork of state laws creates loopholes that can be exploited. She also recommends maintaining a central accounting system of people who stockpile weapons and ammunition.
Contact Kristen Thometz: @kristenthometz | (773) 509-5452 |  [email protected]
---
Related stories:
Gun-Control Backers Concerned About Changing Federal Courts
Trump Says He Wants Background Checks, Also Reassures NRA
Gun Control Proponents Demand Action in Wake of Mass Shootings
Chicago Responds to Weekend Carnage With Condolences, Calls for Action
Trump Vows Action After Shootings, But Gives Few Details
---