After weeks of protests and demonstrations calling for his resignation, Puerto Rican Gov. Ricardo Rosselló is expected to step down Friday.
His ouster comes in the midst of an ongoing scandal involving leaked private messages, some of which mocked victims of Hurricane Maria, that ensnared Rosselló and much of his administration.
But less than 24 hours before Rosselló is expected to leave office, it's still unclear who the next governor will be.
As one of his last acts, Rosselló put forward veteran politician and lawyer Pedro Pierluisi to fill the vacant secretary of state post, next in line for the governorship under the U.S. territory's constitution.
The Puerto Rican House of Representatives is expected to vote on Pierluisi's confirmation Friday afternoon. If he is rejected, Justice Secretary Wanda Vázquez automatically becomes governor as the next in the order of succession, even though she has said she would unwillingly accept the job.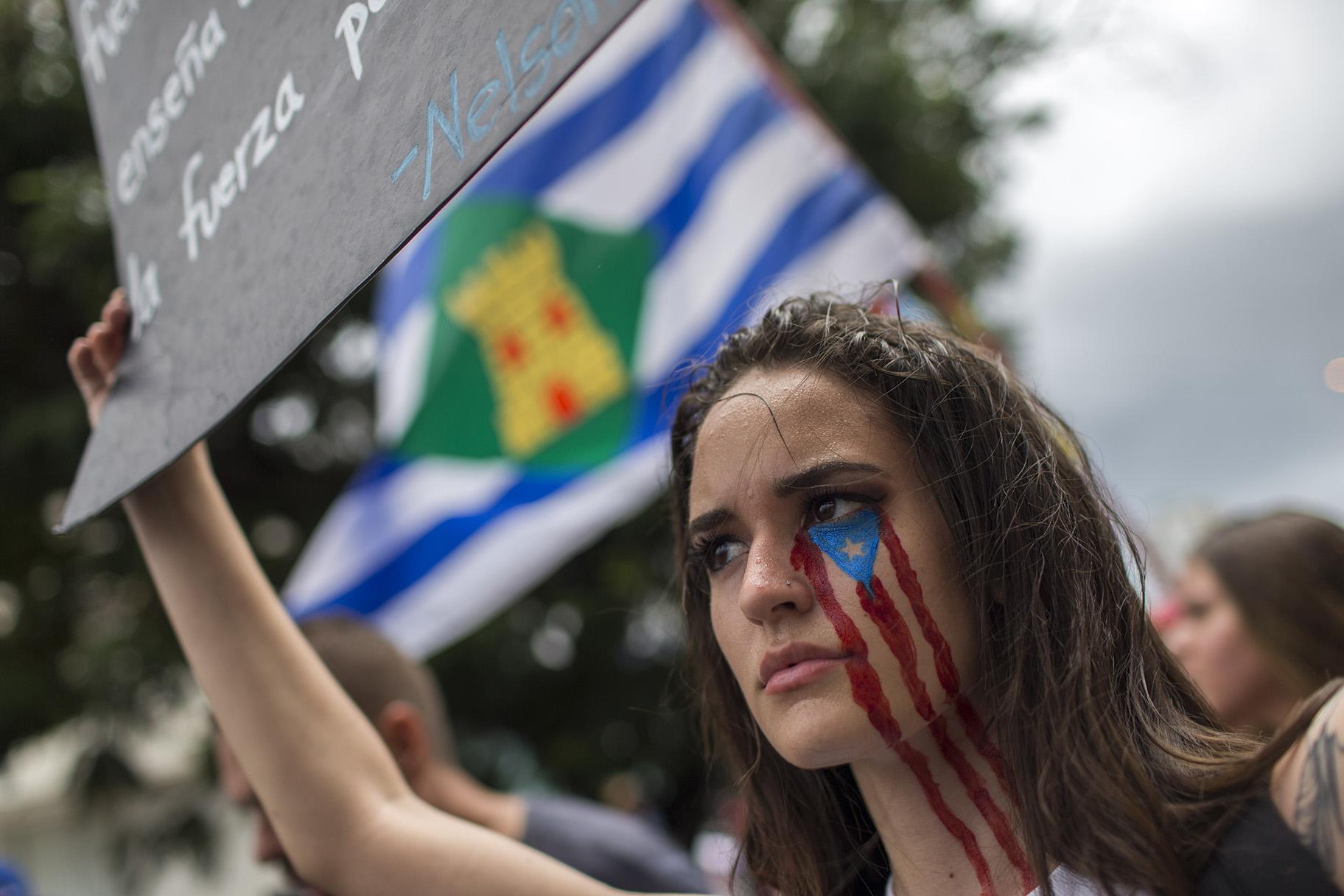 In this July 25, 2019 photo, a young woman takes part in the festivities to celebrate the resignation of Gov. Ricardo Rossello, after weeks of protests over leaked obscene, misogynistic online chats, in San Juan, Puerto Rico. (AP Photo / Dennis M. Rivera Pichardo)
In Chicago, members of the city's large Puerto Rican community have gathered at rallies over the past few weeks in solidarity with protesters.
Cristina Pacione-Zayas is the co-chair of the Puerto Rican Agenda of Chicago, a collective of Puerto Rican organizations in the city.
"So many of us are connected back to the island through family members that we have there, or close friends, so it's very much felt even though we are quite a distance away," she said. "The overall sentiment was really just being in alignment with the massive demonstrations that were happening on the island, really as a rejection of the status quo."
She says the ongoing political situation in Puerto Rico is "a symptom of a larger issue, the larger issue being the relationship that the island has with the United States – and that being a colonial relationship. That really hinders the stability to have a sustainable economy, and be self-determined and self-actualized."
Omar Torres-Kortright, executive director of Chicago's Segundo Ruiz Belvis Cultural Center, agreed. He says the uncertainty on the island could actually could be a chance to bring greater attention to Puerto Rico's status as neither a state nor a country.   
"If anything, this current climate helps the conversation, because it's Puerto Ricans showing up in the hundreds of thousands in the streets … it's a really good testament of 'Hey, something's going on down there, maybe we should pay attention to Puerto Rico.'"
The Associated Press contributed to this report.
---
Related stories:
In Maria's Wake, Young Puerto Rican Family Now Calls Chicago Home
Cardinal Blase Cupich Visits Hurricane Survivors in Puerto Rico
In Chicago's Humboldt Park, Relief for Puerto Rican Evacuees
---