Skateboarding is much more than a sport or hobby to Kristopher Long.
"It has given me a sense of work ethic, confidence, overcoming fear of failure," Long said. "I think that skateboarding teaches you many other skills that make you successful in life and when you're successful on your skateboard it challenges you to keep going and progress."
Long is showing kids the basics at Go Grind, a youth skate camp that's a collaboration between the Chicago Park District, which has six skate parks throughout the city, and Chicago Action Sports, a local organization providing skate equipment and instructors.
The weeklong camp at Piotrowski Skate Park, located in the Little Village neighborhood on Chicago's West Side, culminated in a Go Grind skate clinic on Friday.
The clinics, which are free and open to all skill levels, occur somewhat regularly in Chicago skate parks, but this was the first Go Grind skate camp, which is intended for children and costs $28 for the full week. The next camp will start on Aug. 5 at Logan Boulevard Skate Park.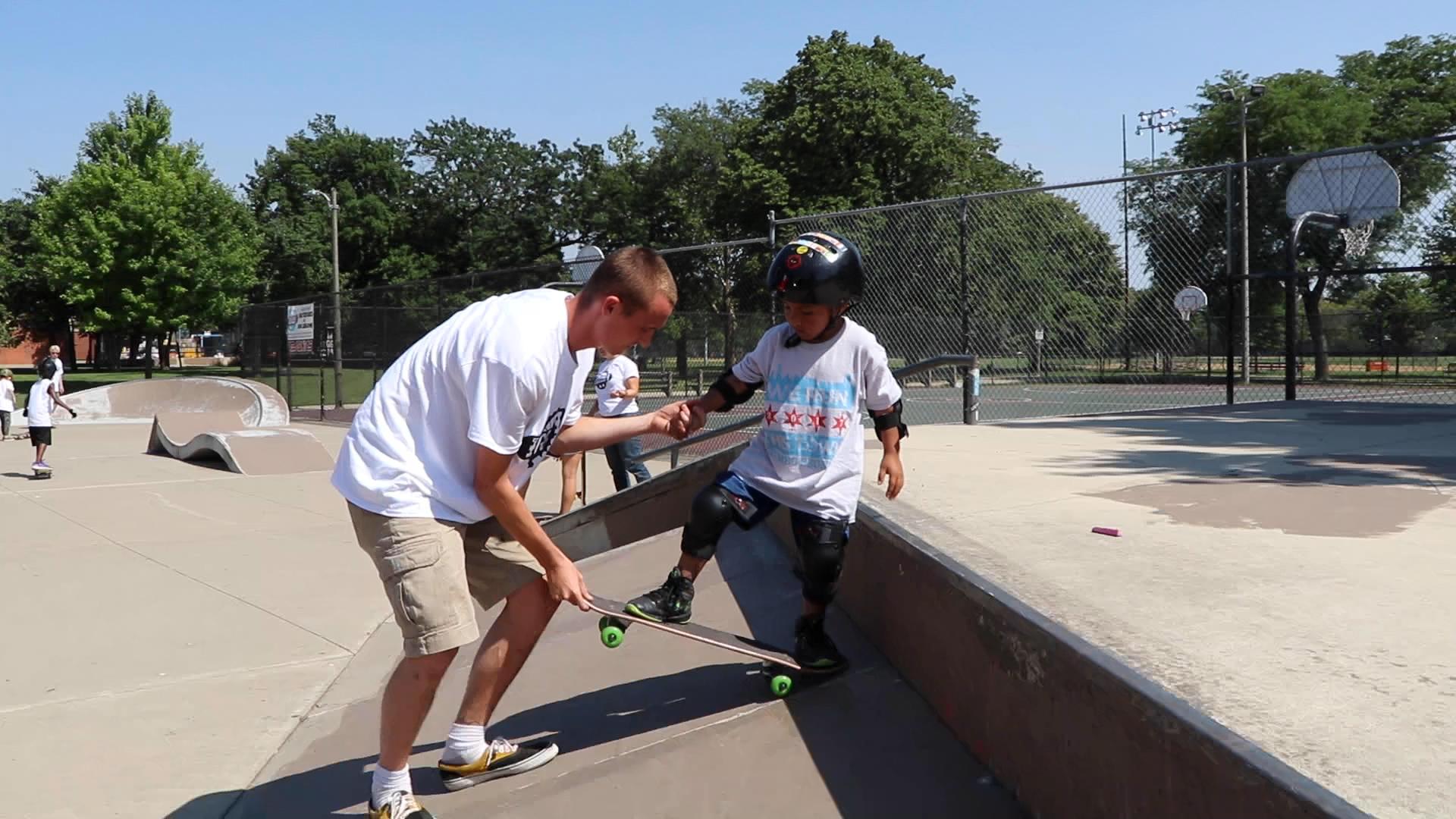 Skate instructor Grant Katula helps a young skater "drop in" on a ramp at Piotrowksi Skate Park. (Evan Garcia / WTTW News)
Chicago Action Sports instructor Ariel Ries said city skate parks provide a crucial resource to young skaters, but stressed the importance of pairing programming with skate ramps and rails.
"If you just had this skate park and didn't give these kids the foundations to use it in the correct way, it might become a gathering of something that's not action-sport related or it might just turn into kids getting into trouble or vandalizing things," Ries said. "So you need to give them the tools, you gotta give them the equipment and the knowledge to take that and built from it."
The sport is making mainstream progress – skateboarding will soon make its Olympic debut at the 2020 Olympic Games in Tokyo.
Chicago's six skate parks are free and open to the public:
• Burnham 31st Street Skate Park, 5491 South Shore Drive
• Grant Skate Park, 1135 S. Michigan Ave.
• La Villita Skate Park, 2800 S. Sacramento Ave.
• Logan Blvd. Skate Park, 2430 W. Logan Blvd.
• Piotrowski Skate Park, 4247 W. 31st St.
• Wilson Skate Park, 700 W. Wilson Ave. 
Follow Evan Garcia on Twitter: @EvanRGarcia
---
Related stories:
Skateboarders Grapple with Adulthood in New Documentary 'Minding the Gap'
JB Skating: Chicago's Smoothest Creation
Take it Outside: 10 Summer Activities In and Around Chicago
---