On Sunday, the final mass at St. Adalbert church in Pilsen is set to take place. The Archdiocese of Chicago announced in June that despite years of protests and preservation efforts, the church will close. It's part of a archdiocese-wide revitalization effort called Renew My Church.
Community groups have vowed to appeal the closure to the Vatican, and have been coming up with their own plans for how St. Adalbert might remain a community-centric space.
Blanca Torres of the St. Adalbert Preservation Society said supporters have tried to get the archdiocese to sell the church for a nominal amount to a group of parishioners who'd be responsible for the upkeep and use the space for weddings, funerals and occasional masses. But Torres thinks that and other proposals like it have fallen on deaf ears. "At this point, it seems like they're adamant about selling it and not letting us stay a sacred site at all," she said.
The historic church, first built for Pilsen's growing Polish community and now a home to many Latino parishioners, has for years been flagged as an endangered building in need of repair and preservation. Community groups have been fighting its merger with neighboring parishes and the closure of the church since it was first announced in 2016. Block Club Chicago reports the archdiocese is in "'advanced discussions' with several potential buyers, but no one's made a deal to buy the Pilsen church property yet."
The Rev. Don Senior, president emeritus of the Catholic Theological Union, said while the changes sparked by Renew My Church can be painful, the project is driven by urgent pressures: declining mass attendance and youth participation, fewer priests and costly infrastructure needs.
"The heart of this process is, in fact, not the closing of parishes, but an attempt to revitalize the Catholic community," Senior said. "The ultimate mission of the church isn't about real estate. It's about building communities of faith."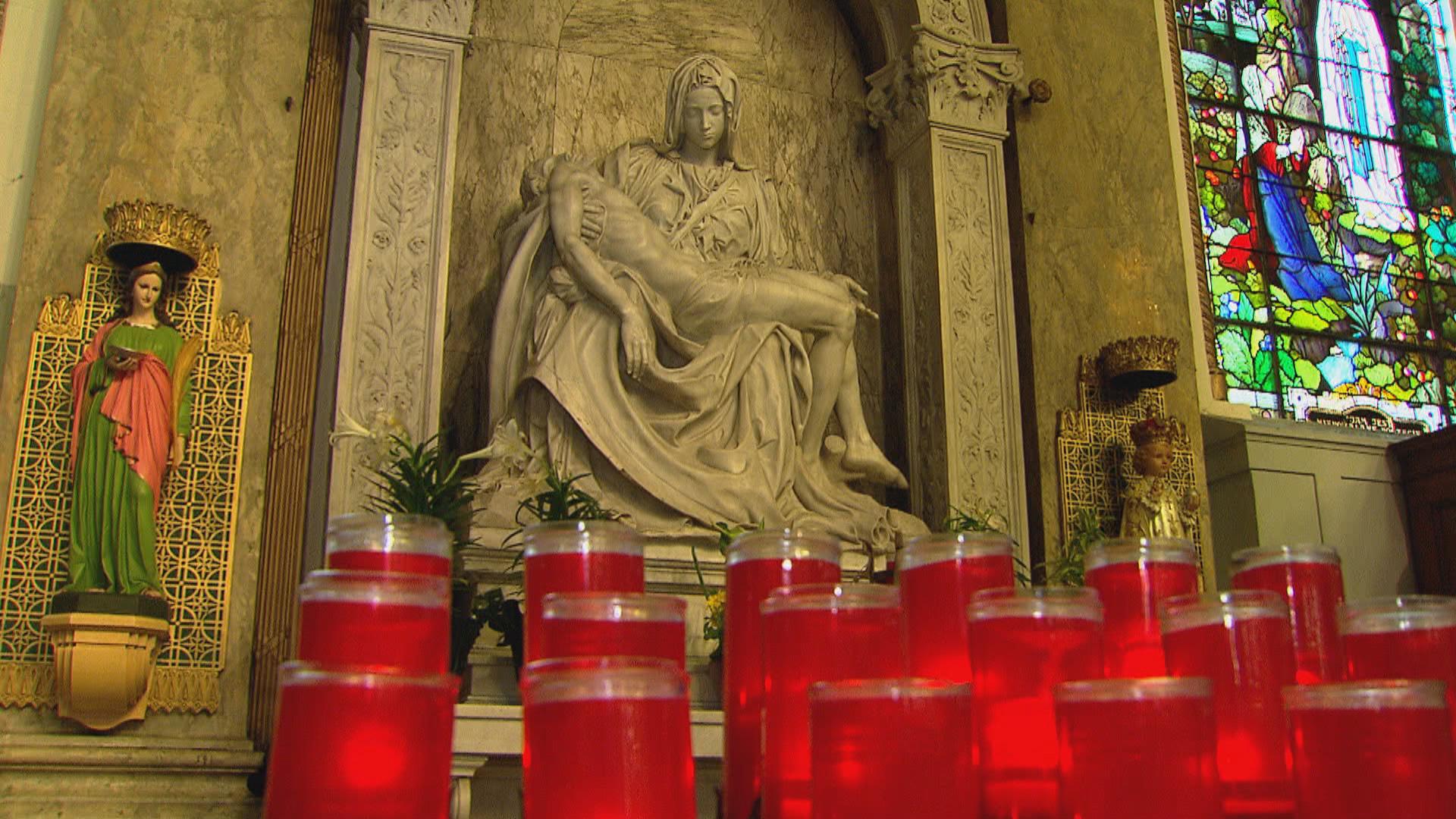 In a statement, the Archdiocese of Chicago said, in part: "Renew My Church, a response to the challenges of our time, is intended to build greater discipleship, create loving communities, and inspire witness … Some parishes will see structural changes, and some will not. In groupings where parish, church, and/or school changes do occur, many factors such as changing demographics, the condition and sustainability of buildings, and weekly Mass attendance contribute to those decisions. All changes are intended to establish a more secure and sustainable foundation for ministerial renewal and vitality."
Torres says while opponents of St. Adalbert's closure still have hope for a reversal, they're also thinking about what happens if they're unsuccessful.
"Our main goal is to stay a sacred site, but moving forward, we have to listen to the broader community here in Pilsen … so there won't be what was once a vibrant Catholic parish and now could become a black hole and sit there vacant," Torres said. "We don't want that."
---
Related stories:
Conversion of Logan Square Church into Apartments Sparks Gentrification Debate
Despite Fundraising Efforts, Future of Historic Church Remains Bleak
Pilsen, Hyde Park Sites on List of State's Most Endangered Historic Places
---