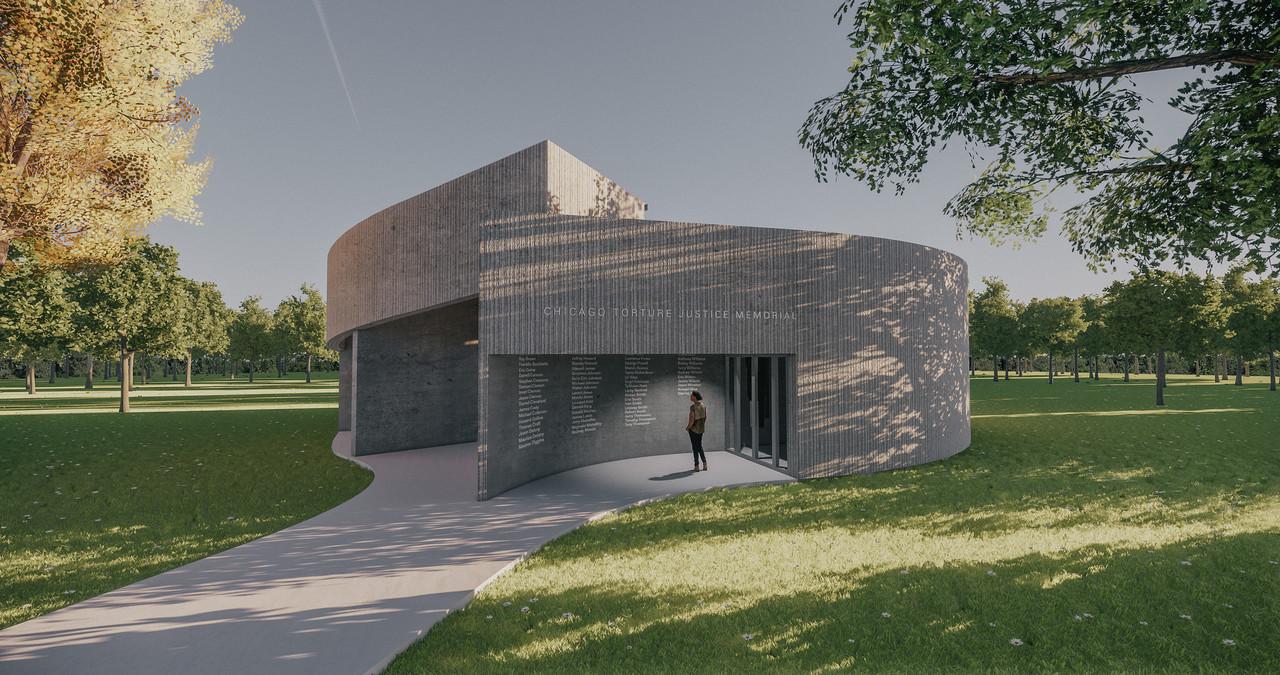 Chicago artists Patricia Nguyen and John Lee's design, "Breath, Form & Freedom," has been selected for a public memorial dedicated to those who were allegedly tortured by former Chicago police Cmdr. Jon Burge. (Patricia Nguyen and John Lee rendering)
More than 120 black and Latinx men, women and youth are believed to have been systematically tortured by former Chicago Police Cmdr. Jon Burge and men under his command from 1972 to 1991.
A memorial to those survivors was proposed as part of a reparations ordinance approved by Chicago City Council four years ago. With the selection of a design this past spring, it is one step closer to becoming a reality.
"This is a devastating history here in the city," said Joey Mogul, a founding member of the Chicago Torture Justice Memorials that formed in 2010 to fight for justice on behalf of Burge torture survivors. "We need to mark this in the city. We need to inscribe this tragic history in Chicago so everyone can learn from it."
Allegations against Burge began in the 1970s after he had risen in the ranks of the Chicago Police Department and was made commander. Burge was alleged to have operated a "midnight crew" that, among other things, used cattle prods to brutalize and torture hundreds in police custody.
Anthony Holmes, who was arrested on May 30, 1973, is believed to be one of Burge's first victims. Holmes says Burge repeatedly shocked him with an electric box and suffocated him with a plastic bag, which led to Holmes's false confession to murder. "He did what he wanted to do, and I told him what he wanted to hear," he said. "I was broken. He broke me."
Holmes spent 30 years in jail before being released on parole in 2004. He, along with other survivors, shared their stories with designers, as well as their wishes for what they'd like to see in a public memorial.
Chicago artists Patricia Nguyen and John Lee's design, "Breath, Form & Freedom." (Patricia Nguyen and John Lee rendering)
Six Chicago artists were selected to contribute designs for the proposed memorial, including artists Patricia Nguyen and architectural designer John Lee, whose design titled, "Breath, Form & Freedom" was selected.
"When survivors were asked what they wanted, 100% said they want to make sure survivors' names were on it," including space for those who may come forward in the future, said Nguyen, an Uptown resident who co-founded the arts organization Axis Labs with Lee. Those names will be engraved along a wall at the entrance of the memorial, making it the first feature visitors would see.  
That public acknowledment is vindicating, says Holmes. "Nobody believed us. Nobody believed us when we were trying to tell them about (Burge)," he said. "This memorial will show what was going on. ... Someday we might be gone, but our names will be there (on the memorial) and that (will show) we gave all that we could to correct this wrong that they did to us."
The 1,600-square-foot design includes a winding corridor that features a timeline of events in the Burge case, from his CPD promotion to the allegations of torture to survivors' stories and Burge's 2006 conviction of perjury and obstruction, and beyond. (Burge served time in prison from 2010 to 2014. He died on Sept. 19, 2018 at the age of 70.)
Upon exiting the enclosed corridor, visitors will enter an open courtyard, which Nguyen and Lee say will include landscaping and could be used for a variety of purposes, including art exhibitions, workshops and field trips for Chicago Public Schools students.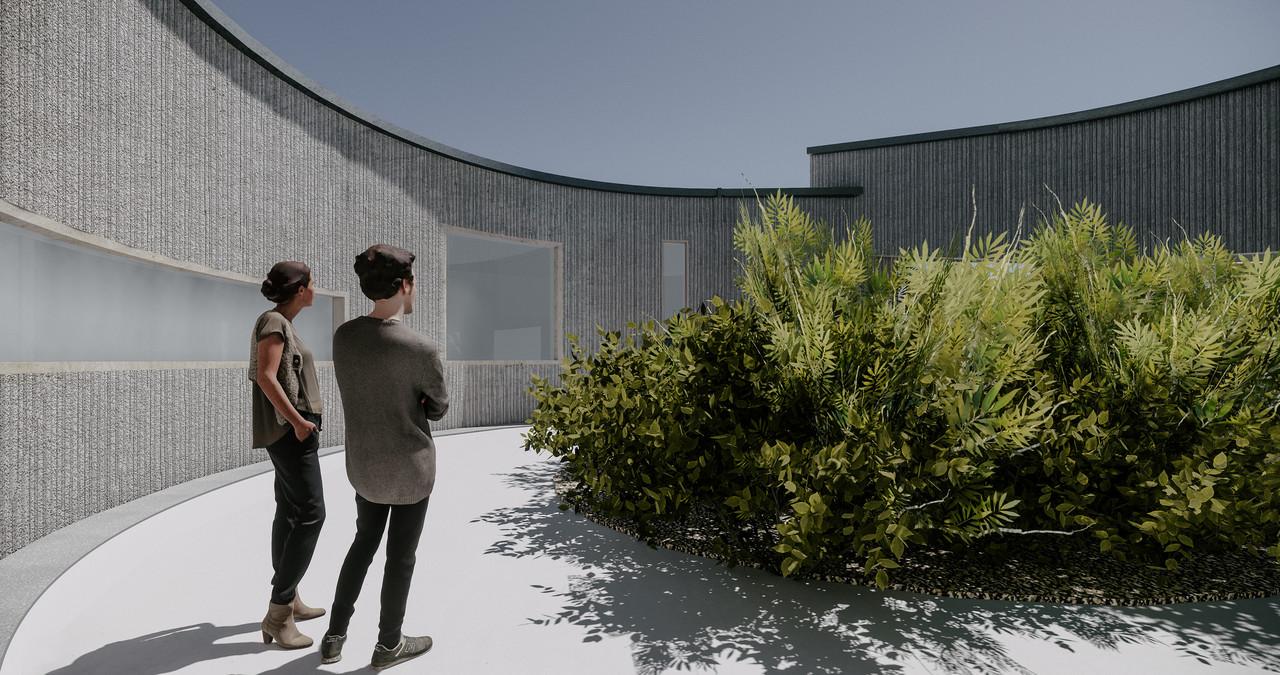 The memorial "Breath, Form & Freedom" includes an open courtyard. (Patricia Nguyen and John Lee rendering)
Two years ago, CPS began teaching about the crimes, cover-up and conviction of Burge. "It seems fitting to have this memorial in the city and have our CPS students visit and learn from it, and see a tangible, cognizable struggle for justice that succeeded and won," said Mogul. "I can't imagine a more hopeful lesson to students."
In addition to CTJM's efforts to see the memorial realized, an arts and culture advisory committee suggested in a 110-page transition report that the Lightfoot administration fund the memorial and other initiatives outlined in the reparations legislation within Lightfoot's first 100 days. CTJM estimates the memorial will cost about a half million dollars. A representative from the Lightfoot administration did not return a request seeking comment on the memorial.
The memorial is intended to be constructed in a park setting. A location has yet to be determined but will likely be on the South or West Side. "Many of the torture survivors believe that's the most appropriate place for memorials as that's where they were tortured and lived," said Mogul.
Artists Nguyen and Lee hope the memorial spurs empathy and action.
"We hope that people are able to connect with the stories of survivors and what they had to go through, connect with the movement for reparations, learn about a history of Chicago that is not known and is so vital to understand how our city functions," Nguyen said. "And leave with hope and continued urgency to commit themselves and future to justice and to freedom."
Contact Kristen Thometz: @kristenthometz | (773) 509-5452 |  [email protected] 
---
Related stories:
'The Torture Machine' Recounts 50 Years of Fighting Police Misconduct
Chicago Man Who Says He Was Beaten Into 1991 Murder Confession Sues City
'Midnight Years' Memoir a Story of Surviving Jon Burge
Survivors of Torture Under Jon Burge Find a Place of Respite
---