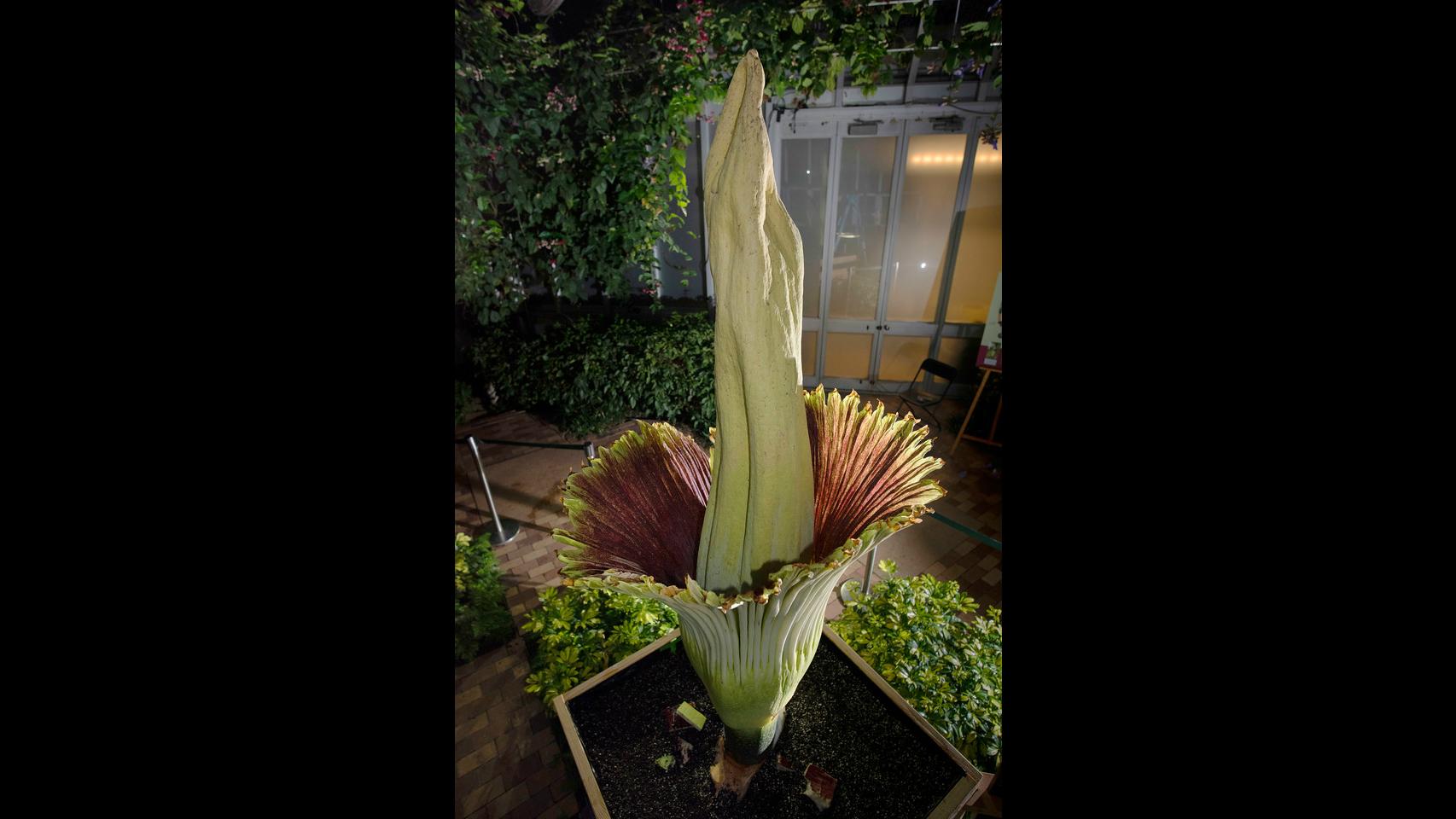 Java, a corpse flower at the Chicago Botanic Garden, bloomed May 23, 2019. (Courtesy Chicago Botanic Garden)
Java the corpse flower bloomed last week after growing to a record-setting height of 82.5 inches, setting a pair of records at the Chicago Botanic Garden.
In addition to surpassing Spike, a corpse flower that grew to 82 inches last April, Java is now the quickest to re-bloom at the garden, doing so less than two years after first blooming in June 2017.
Titan arum plants – nicknamed corpse flowers because of the rancid stench they release upon flowering – typically go three to five years between flowering events, said Patrick Herendeen, the Botanic Garden's senior director of systematics and evolutionary biology.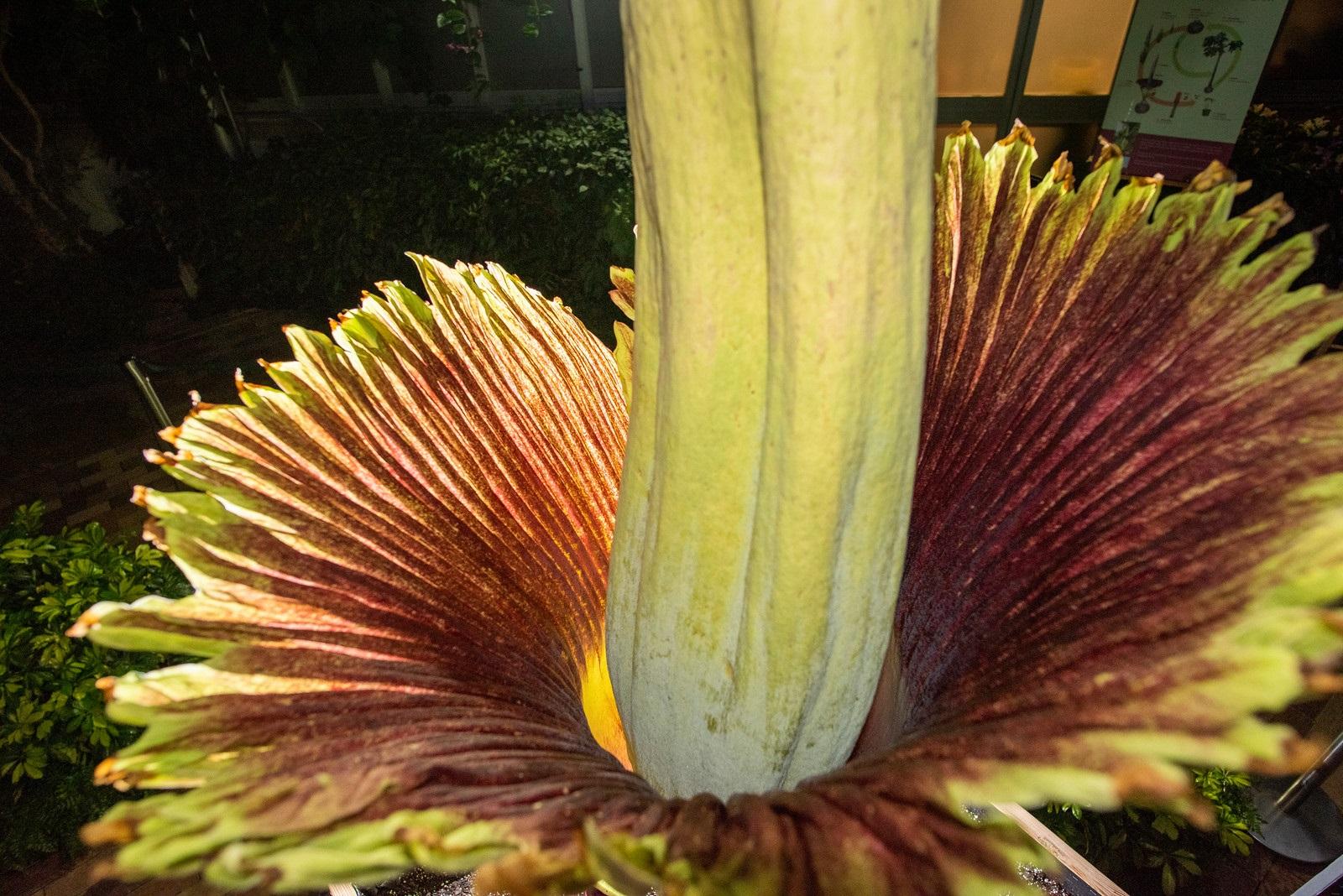 The inside of Java the corpse flower after it bloomed on May 23, 2019. (Courtesy Chicago Botanic Garden)
After first showing signs of flowering about six weeks ago, Java began to sprout earlier this month. Two weeks ago, a handful of staff used a forklift to move Java from one of the Botanic Garden's production greenhouses to its display location in the Semitropical Greenhouse.
Shortly after 4 p.m. Thursday, the Botanic Garden reported that Java had reached 82.5 inches, setting a record for its tallest corpse flower. Within four hours, Java started to bloom, its leafy sheath peeling away and exposing its giant spadix, the inner spike of of the plant, which attracts beetles, flesh flies and other pollinators.
Over the next day or two, Java's spadix released a foul stench, which, coupled with the red color of the inner spathe and flowers, can trick pollinators into thinking the plant is decaying meat.
The stench emitted by Java and other corpse flowers has been described as a combination of limburger cheese, garlic, rotting flesh and smelly feet, according to the Botanic Garden.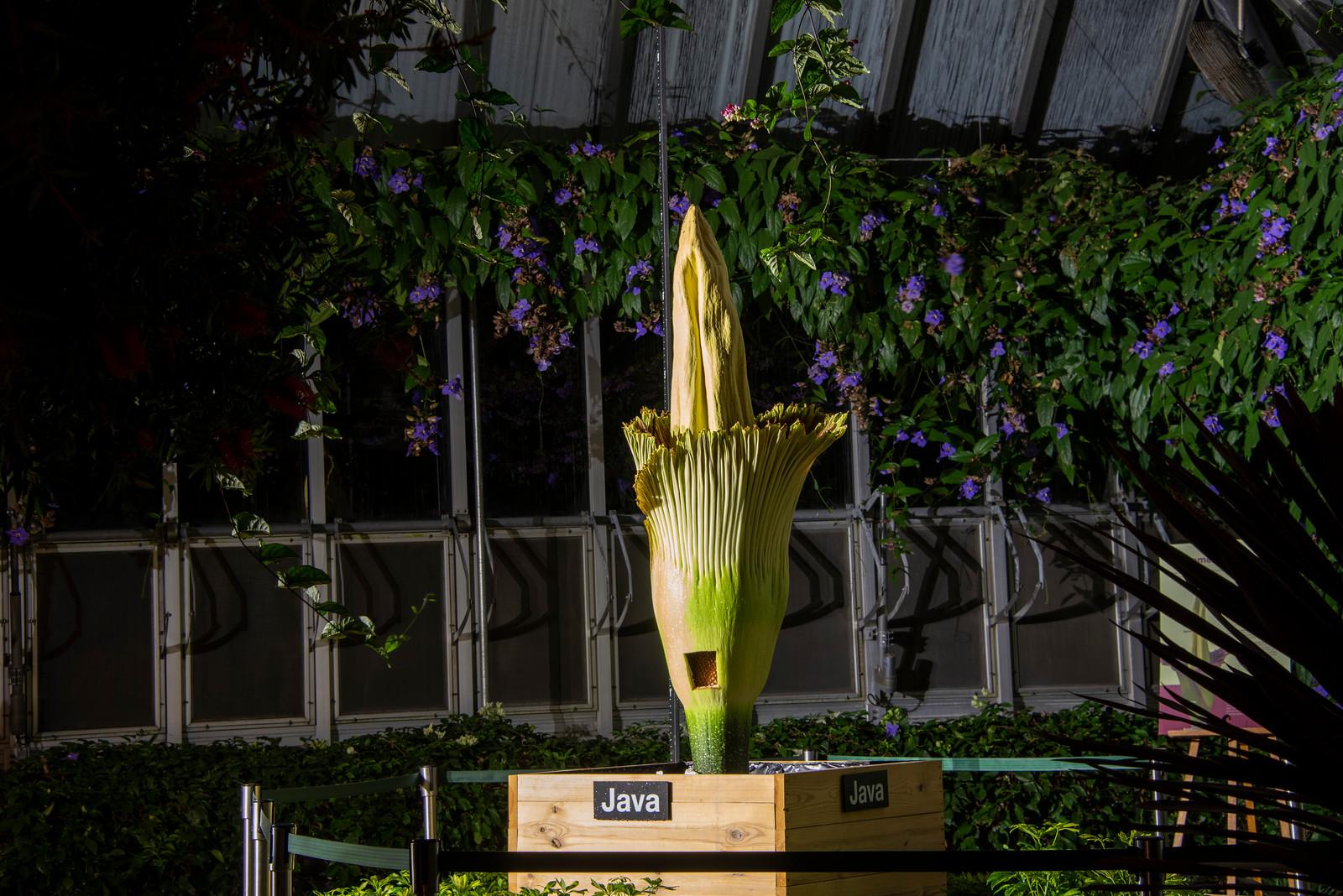 Java the corpse flower begins to open May 23, 2019 at the Chicago Botanic Garden. (Courtesy Chicago Botanic Garden)
Corpse flowers stay open for just 24 to 36 hours, and a live webcam shows that Java has returned to its pre-bloom form.
Java is one of about a dozen corpse flowers housed in climate-controlled greenhouses at the Botanic Garden in Glencoe. The flowers are native to the equatorial rainforests on the Indonesian island of Sumatra, and they thrive in heat, humidity and shade.
Seven titan arums, including Java, have been nurtured by the garden's horticultural team since 2003. Over the past four years, a handful of the plants have bloomed, drawing hundreds of thousands of visitors to see the smelly, colorful flowers up close.
Contact Alex Ruppenthal: @arupp | [email protected] | (773) 509-5623
---
Related stories:
Java the Corpse Flower is About to Bloom Again — Sooner Than Expected
Alice the Corpse Flower on 'Bloom Watch' at Chicago Botanic Garden
At Nearly 7 Feet, Corpse Flower Spike Sets Botanic Garden Record
Corpse Flower Sprout Blooms at Chicago Botanic Garden