The idea that women are born to shop is baked into America's consumer culture, but women weren't always welcome in centers of commerce. After the Great Fire of 1871 leveled the heart of the city, Chicago used its newly blank canvas to turn itself into a center of capitalism – a realm that historically belonged to men.
But as department stores, theaters, and restaurants beckoned to wealthy women at the turn of the 20th century, the Loop became a testing ground for women's increasing presence in the public realm, challenging notions about women's place in the world and changing how the young city's streets functioned. The new book "A Shoppers' Paradise" digs into the retail revolution wrought when women and State Street intersected.
We speak with the book's author, Emily Remus.
Read an excerpt from the book here.
---
What prompted you to write this book?
I grew up in Chicago area, western suburbs, and I spent a lot of my childhood coming downtown, I'm sure a lot of viewers had a similar experience of going down State Street and looking at store windows, going to Walnut Room for Christmas, that type of thing. I was really interested in the city's commercial landscape, and when I started graduate school, I started to think about the development of the retail district and how it transformed the city and the way the residents interacted with the city, particularly women. For me thinking about the growth of the retail district and the way that it opened new opportunities and changed the way women living their lives in this period was really compelling.
Was Chicago unique in how the shopping district developed, or are there other cities where similar evolution occurred?
Chicago's unique for a number of reasons but not necessarily because of its development of a shopping district. Chicago is unique in that it had a blank grid to work from after the fire, but the reason it's particularly interesting is because the turn of the 20th century is really the center of the American consumer economy, and Chicago is home to the largest and most profitable department stores and the largest mail order houses. Sears Roebuck and Montgomery Ward, Marshall Fields, Carson Pirie Scott, the Fair, the Boston Store: those stores have tremendous reach along with the mail order houses. Chicago's situated on the nation's railroad network, so people in the West are getting a lot of their consumer goods from Chicago because they can order from these mail order catalogs, but also because the city's enormous department stores' wholesale divisions are supplying a lot of the smaller stores in the West.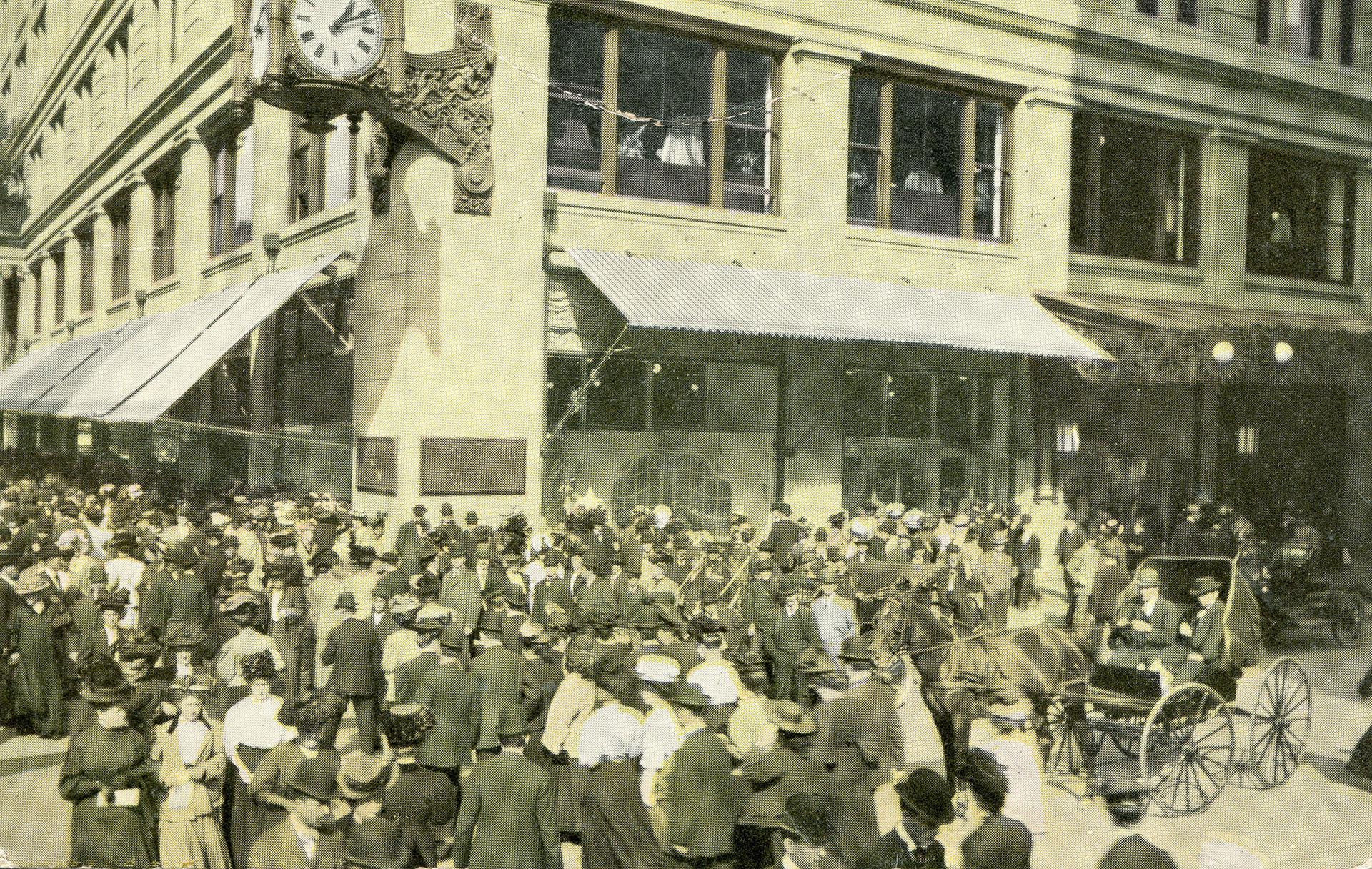 Traffic at State and Washington streets. (Private collection of Emily Remus)
Marshall Field's is the largest department store for a time after it finished its renovation in 1907. In this moment, people are looking to Chicago because of its prominence as an innovator and the sway it had over the national economy. The other interesting thing to think about is that it's dealing with the problem of congestion and crowding downtown before other cities are because the Loop is hemmed in on three sides by water. So that raises the question of what is a city for – is it for shopping and leisure, or is it for production and distribution? Chicago, unlike a lot of other spaces, has a really concentrated central business district in this moment, so they're grappling with questions of priority in terms of what belongs downtown before other cities are. The question of whether we should be making room for all these women shoppers downtown becomes so pressing.
Between high hats and hoopskirts, women's apparel is a recurring issue in how women were perceived and treated at the turn of the century. Do you see any modern-day parallels in women's apparel in the public space?
The reason my institution Notre Dame has been in the news was the leggings protest. There's a tremendous amount of policing of women's clothing – the legging issue raises a question that's similar to what's being asked in the time period I'm looking at – do women have a right to wear whatever they want in public even if it's perceived to impinge on other people? Who has a right to be undistracted in church is what raised the issue at ND. In the question of hoopskirts, do women have a right to take up a space on public transit when there aren't enough seats for everyone? Do they get to wear whatever hats they want in a theater when some people have paid for a ticket? A lot of this policing around women's clothing – perhaps it has some justification, like, shouldn't people be able to see a stage when they buy a ticket?
But it's interesting that this always ends up being women's clothing. A lot of these conflicts about whose rights trump whose, sometimes women end up losing those fights for the public good, but there's a lot of conflict over fashion in the time period I'm looking at just because the women are coming into a space for the first time in massive numbers. The hoopskirts that hadn't been a problem in 1860s when people were spending their time in private spaces are a different story when women are coming into the Loop in massive numbers by the 1890s to go shopping and go to the theater. What do you do with people on public transit when their skirts can literally take up 6 feet in dimension? How do you deal with a large number of women coming into these spaces with fashions that could potentially congest or crowd already crowded streets?
And the question of women's theater hats really speak to a new understanding of consumer rights, which wasn't something well-founded in this period, the notion that consumers have particular rights that should be protected, so the question of theater hats is not an obvious one. Initially, the hats, people tolerated them because ladies deserve respect and out of respect for them they should be able to wear their hats in public even if it's blocking my view of the stage. But we start to see in this period a new perception of consumer rights as people start to think more about the relationship between the state and people's consumption, and what does the purchase of something guarantee you?
Many people are familiar with Upton Sinclair and the Jungle and Chicago's meatpacking industry, and all the regulations that were put in place to protect consumers from bad meat, but even before national laws were enacted, Chicago was thinking about consumer rights on an everyday level. If I buy a theater ticket, what does that guarantee me as far as whether the business owner has a right to tell a woman to take off her very tall hat in a theater? These are questions that weren't coming up when women weren't in public. So with the development of theater being open to women, come a lot of new questions about how do we deal with women in public when they don't dress like men and expectations on them were very different.
In the moment I'm looking at, the downtown is oriented to men – women were not the majority of workers or businesspeople so the downtown, the central business district, had been oriented toward men – when women had been coming downtown initially, there aren't any restaurants that will accept them without an escort, there's no place for them to sit down and chat with friends, there aren't even many bathrooms they can access. It's really a sense that they're unwelcome visitors in the beginning of this period. By the end of the period, because of the way the consumer economy developed, there's a growing perception that, OK, I guess they do belong here and they are rightful occupants of this space and so there are both cultural and also physical accommodations the city has to make to incorporate that. It's a dramatic development both commercially but also culturally in the way it incorporates women into this once masculine space.
In this time period, the interests and concerns of women were looked at as frivolous and silly until businesses realized there was money to be made from them. Do you think that attitude has changed at all since that time?
If we think about a lot of what women do today it's still perceived as frivolous and superficial, and the only reason it's accommodated is because it makes money. I don't think that attitude has gone away – anything that is female-specific tends to be dismissed as superficial, whereas men's interests are usually seen as manly and important. I do think there was serious recognition that there was economic benefits to what women were doing. Ladies lunching and going to the theater or shopping were still seen as silly feminine activities but they were also recognized as being important to the health of downtown.
What has changed on State Street since the time period you studied?
Thinking about a massive number of women coming into a space – now we're almost dealing with the opposite problem of cities but Chicago in particular dealing with more and more people shopping online so we're dealing with these legacy spaces from a different moment of capitalism. As more women and all people generally are not shopping downtown, we see more of those businesses on State Street shuttering and we're trying to grapple with that. What do you do first when a bunch of women are shopping downtown, and now what do you do with a city that was built for this type of shopping environment and now that's shifting elsewhere? Marshall Field's is selling off a bunch of its top floors, Sears closed, State Street itself is struggling – everyone wants mixed-use space where there's retail on the ground floor but increasingly people aren't going to brick and mortar stores. So how is that going to shape the way that the city operates and is it going to change the way the city was built to accommodate women? The split of online shopping is much more gender balanced than in-person shopping – men do about 43% of online shopping which is much higher than in-peson, so what's that going to mean for retail spaces and urban spaces as a whole.
---
Related stories:
How Technology is Changing the Face of Retail
In 'Red Meat Republic,' the Story of How Beef Made Chicago and Changed America
Vintage Maps Offer Unique Perspective on Chicago History
---